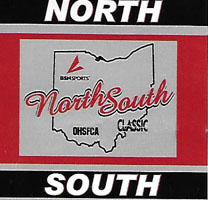 At the end of the 2021 season Austin Brawley was named 1st Team All-Ohio for his exceptional play on the defensive side of the ball.  This time around however, in the annual Ohio North South All-Star Football Game played at Paul Brown Tiger Stadium, he was named Offensive Player of the Game, in a contest that the North won 39-18.  Although no official statistiss were recorded, Brawley did catch six passes, one of which was a long bomb that set up a touchdown, and he recovered an onside kick at the end of the game.  Two gains were called back due to penalties: a difficult 25-yard over-the-shoulder catch along the sideline and a 15-yard touchdown on a toss-sweep when he lined up at the tailback position.  In addition, Brawley played half-time on defense and on special teams.  All in a day's work for the future Kent State Golden Flash.
Brawley joined Massillon offensive lineman Jaiden Woods on the winning team.
Other notable players in the game included Austintown Fitch quarterback Devin Sherwood, who threw four touchdown passes and was named the team's Most Valuable Player, and Green wide receiver Trey Martin, who grabbed two of those scoring tosses.