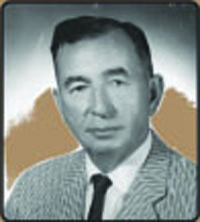 Written By Mike Riordan
Carl F. "Ducky" Schroeder
A Legend Among Legends
"DUCKY WAS A FOOTBALL LEGEND WHERE IT IS DIFFICULT TO BE A LEGEND: MASSILLON.  WHEN WE MOVED TO MASSILLON, I QUICKLY LEARNED WHAT A TREASURE HE WAS.  HE WAS VERY WARM AND WELCOMING TO OUR FAMILY.  A GREAT TIGER LEGEND, ON AND OFF THE FIELD."
Chris Spielman – March 17, 2022
"Ducky".   Massillon.   Two names that exemplify champions, winners, leaders, legendary, the best of the best. Two names that stand apart, yet are forever joined together. Among heroes, champions, winners, leaders and the best of the best, this is where "Ducky" will always be remembered; as a legend among legends.
How is it that a young boy from Canal Fulton, Ohio, would end up amongst some of the most famous and influential men in all of football? Who would have guessed that his influence would expand well beyond Massillon; being recognized nationally as Mr. Football in Ohio?  What life choices would guide him and eventually usher him into the Massillon Washington High School Wall of Champions?
IN THE BEGINNING
Carl "Ducky" Schroeder's father Fred was born in 1868 in Hessen, Germany, and moved to America in 1880 at the early age of twelve. Taking up the trade of a butcher, he eventually owned The Meat Market in Canal Fulton. "Ducky's" mother, Elizabeth Ruehling, was born in Oberschupf, Germany, in 1872.  At the age of 17 she immigrated to America, enduring six long weeks by way of steerage at the bottom of a ship, with animals, manure and unthinkable smell. Later, Fred and Elizabeth became a couple and married in 1902, welcoming their first son, Carl, on March 25, 1905.
As a boy, Carl enjoyed swimming in the Ohio and Erie Canal and the Tuscarawas River in his hometown, Canal Fulton. When he emerged onto dry land, he would walk like a duck, earning the moniker, "Ducky".  All of his life then he would be known as "Ducky", and not so much as a nickname but as a precious identifier.
His athletic career began at Canal Fulton High School. Quickly noticed as a standout athlete, "Ducky" was asked to come play for Massillon. So in 1923, prior to his senior year, he took his talent to Massillon to play football (fullback, linebacker), baseball (pitcher) and basketball for the Tigers.
"I made some sort of reputation in Canal Fulton, so that Massillon became interested in my ability and asked me if I would like to play there," Schroeder said.  "Massillon was blazing a trail of glory at that time. If there was anyone I wanted to play with at that time, it was Massillon. In the area surrounding Massillon, you could say that about any boy.  I was lucky enough to have a chance to do that.  If I hadn't played at Massillon, I would have never received a chance to go to college." (1)
CIRCLE OF INFLUENCE
If you were able to choose, from this list of great men, a positive influence as a guide thru life, who would you choose?  Pick; one should be enough.
Paul Brown?   (Father of Modern Football, Multiple Championships and HOF coach)
Knute Rockne?  (Multiple Championships, player and HOF coach)
Jim Thorpe?  (Greatest athlete possibly of all time, Multiple Championships and HOF player and coach)
Pop Warner?  (Multiple Championships and HOF coach)
Bill Edwards?  (Multiple Championships and HOF player and coach)
 (Selected in 1958 as the "Greatest Massillon Tiger of all Time" and Bill Belichick's Godfather)
Woody Hayes?  (Multiple Championships and HOF coach)
Don Fletcher?  (Multiple Championships and HOF coach)
Dave Stewart? (Multiple Championships and HOF coach)
(Coached Paul Brown, Bill Edwards, Don Fletcher, Harry Stuhldreher among other greats)
General Douglas MacArthur? (Army 5 Star General, 10 Commands Held, 11 Battles /Wars, Mexican Revolution, World War I, World War II, Korean War) (22 Major Military Awards / Medals)
So who do you pick?  Well "Ducky's" circle of influence included all of these exceptional men, plus many, many more.
A CENTURY PAST
"Ducky" first played for Tiger Head Coach Dave Stewart.  Under his leadership, the 1923 Tigers were looking toward another championship season, with a line-up that included Bill Edwards, Paul Brown, Don Fletcher, Vince Define, Bob Pflug, Jimmy Price and Robert Boerner, to name a few.  "Ducky" would line up as a plunging fullback, while playing linebacker on defense.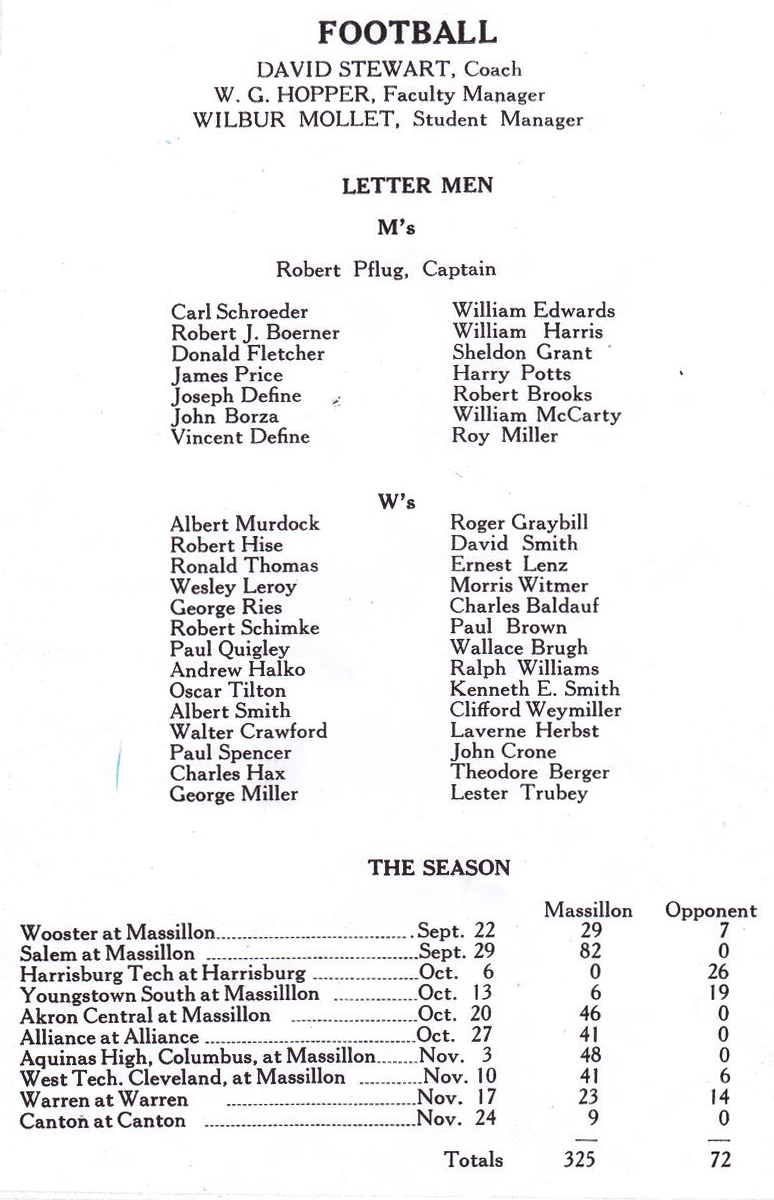 Massillon won their first two games before traveling, for the first time out of state, to Harrisburg Tech, PA.  It was there that the Tigers suffered their first defeat in two seasons, being shut out 26-0. It was discovered years later that Harrisburg Tech was also a night school and anyone who attended classes, regardless of age, was eligible to play varsity football. So it turned out that the Massillon teenagers had lost to a team comprised of players in their 20s and possibly their 30s.
The next week was also a loss to a strong Youngstown South team, 19-6. Was the loss because of the physical stress from traveling out of state the week before to play against an adult team?  Or was it just too much Wes Fesler, a three sport athlete and Ohio State Varsity O HOF charter inductee, 1930 Big Ten MVP, 3-time consensus 1st-Team College Football All-American, and College Football HOFer?
The Tigers regrouped and won their next five games and took a 7-2 record into the annual McKinley fray. Reporting during "game" week The Evening Independent wrote: "The athletes whom Canton fears most are Vincent Define, the Navarre speed merchant, and "Ducky" Schrader, the Canal Fulton line cracker." The Tigers wouldn't disappoint.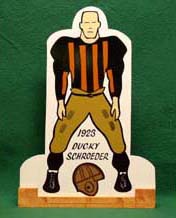 Massillon defeated McKinley, 9-0, that day and received the Canton University Club trophy emblematic of Stark County scholastic grid supremacy. Finishing the season strong, the 8-2 Tigers had shut out half of their opponents and "Ducky" ended the year with the second most rushing touchdowns. Loaded with athletes, Massillon boasted seven first team All-County players.
This December 3, 1923 Evening Independent excerpt is regarding the All-County selections:
"Johnson at fullback, also seems to be a selection made more to give Canton representation in the backfield than anything else. The colored athlete may have been Canton's best ground gainer but he could not advance the ball with the same degree of power that Schrader did for Massillon. Schrader is relegated to the second team by the Canton writer but his place seems to be on the first team. A plunger of Schrader's type furnishes the first eleven with more driving power than it would have with Johnson in the fullback position." (2)
With that said, is Schrader "Ducky's" last name?  Schrader is how it appeared in newspaper articles, stat sheets and team photos. But in the 1924 Massillon year book it was properly spelled Schroeder. There seemed to be a debate on how to properly pronounce his last name. It turns out that the "roe" in German is pronounced like an "a". With the mystery solved, the correction was made after the football season.

1923 Massillon Varsity Football Team (Schroeder is the 13th player from the left)
SEMI-PRO DAY

Still enjoying the thrill of victory the day after beating McKinley, "Ducky" joined the Canal Fulton Triangles Semi-Pro football team.  Named as coach, "Ducky" can be seen in street clothes in the 1923 team photo below (taken at Akron's Buchtel Field) along with Don Fletcher, his Massillon and Canal Fulton High School teammate.   The Triangles competed in a welterweight league that included the Massillon Maroons.  Remember, these times were at the very beginning of the newly formed NFL, with the Akron Pros being crowned the first NFL champions in 1920. However, it was the same stage as the Pro Massillon Tigers who dominated a decade earlier, with six championships in six years, followed by the Canton Pro Bulldogs, champions in 1922 and 1923.
In the local newspaper the Triangles were given equal billing to the Massillon-McKinley game.  In one of the tougher contests, the Triangles were up against a very strong South Akron Awnings team and expected a very hard hitting game.  On Sunday November 25, 1923, the Triangles lost 34-0.  The following day, both the Triangles-South Akron Awnings (aka Allen Billiards) game story and the Massillon-McKinley game story appeared side by side in The Evening Independent.
So how good was the South Akron Awnings football team?  "For 14 exciting seasons they played … hastening the demise of the 1920 professional championship Akron Pros, matching skill with even the Ironton Tanks and Portsmouth Spartans and gaining enduring fame in New York, Pennsylvania and Michigan as well as their home state." (3)

1923 Canal Fulton Triangles / Merchants Football Team (Schroeder is on the left of the second row) (*)
KING OF KINGS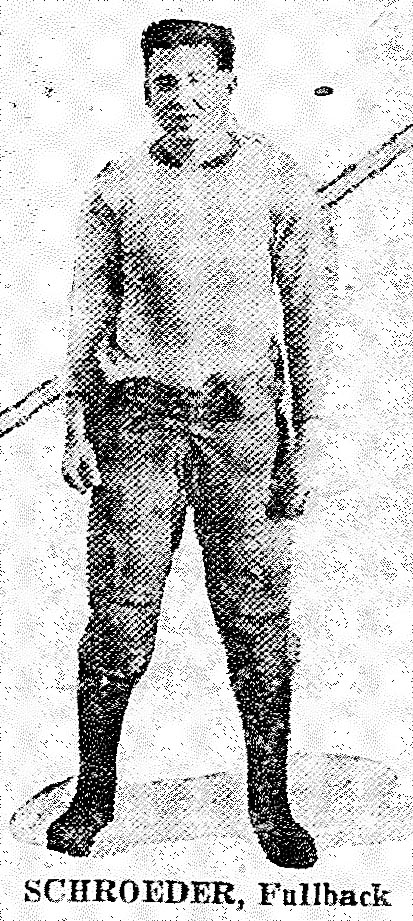 The following year "Ducky", along with teammate Don Fletcher, moved to Bristol, Tennessee, to enroll in and play football for King College (photo at right). As a freshman "Ducky" was the No. 2 fullback.  Wherein the previous year, 1923, the King football team laid claim (albeit self-proclaimed) to a world scoring record, having tallied 507 points in a 9-game season. They also established a two-year National Collegiate scoring record with 1,005 points, while giving up only 61. They compiled a record of 14-2-1 in 17 games over two seasons, outscoring the opposition 59-4 on average.  The high point came during an October 21, 1922, game vs. Lenoir College of Hickory N.C. during which the King Tornados won 206-0.
So why did "Ducky" and Don go to King College? Was it because King College was a scoring machine? Or, could it be that there was a connection with the Canal Fulton Triangles? The following excerpt is from the November 2, 1924, Sunday Repository regarding the upcoming Hire-A-Fords Semi-Pro football game with the Canal Fulton Triangles:
"Several members of the Triangles formerly played with the King College team of Tennessee, which lately has become one of the strongest teams of the South. Van Norman, the Triangle coach, formerly tutored King College Teams." (4)
"Ducky" would end up leaving after just one season.  After playing on their fourth team together, (Canal Fulton H. S., Massillon Tigers, Canal Fulton Triangles and King College) Don Fetcher would eventually move on to Carnegie Tech and then coach championship high school football for 22 years. Don was inducted into the Pittsburgh Football Hall of Fame as only the second high school coach to ever be accorded that honor.

1924 King College Football Team (Schroeder is pictured in the first row, second from the left; Don Fletcher is immediately behind)
HIGHER EDUCATION
Somehow 'Ducky", after King College, got in four years of education at Wittenberg Lutheran College where he was reunited with former Massillon teammate Bill Edwards. Both "Ducky" and Edwards would play for Wittenberg and eventually coach there. "Ducky" remembers, "I chose Wittenberg one night when a man from the college came to the 'Y' (YMCA) in Massillon. There were seven of us there, and all seven went to Wittenberg." Could it be his decision to go to Wittenberg was made easier since his mother was such a strong Lutheran, while King College was Presbyterian?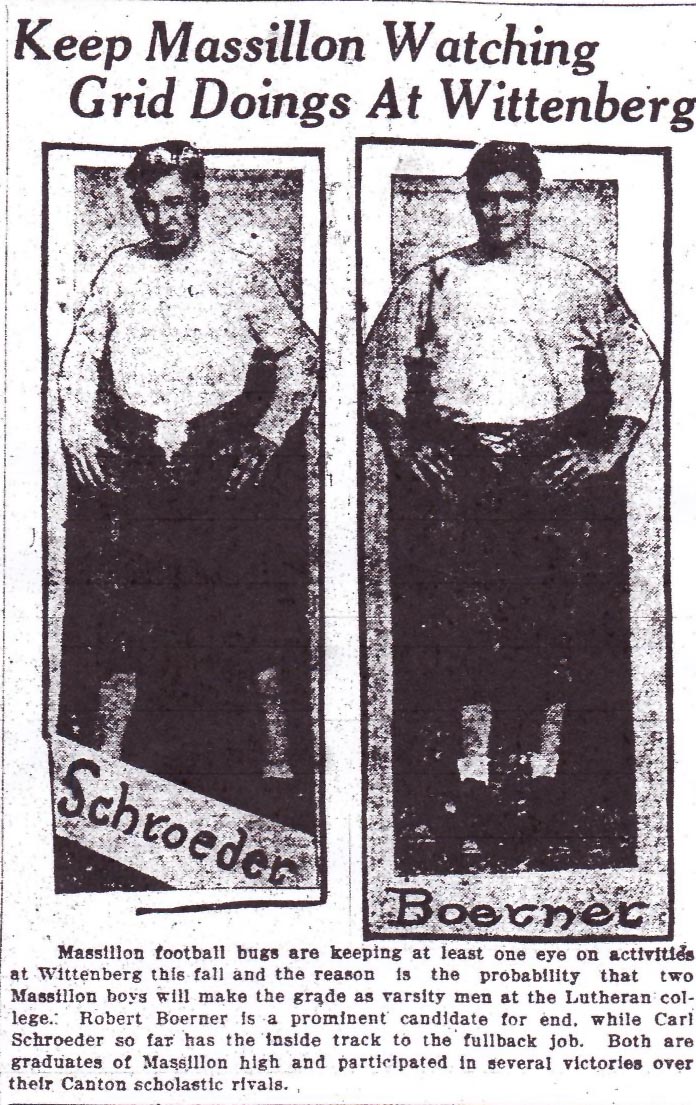 At Wittenberg "Ducky" played football in 1926-28 for HOF football coach Ernie Godfrey, who then moved on to Ohio State to become a member of their coaching staff for 32 years. Interestingly, the Fighting Lutherans battled Ohio State, although unsuccessfully, for three years prior to his departure.  As a 3-time All-Buckeye Conference and All-Ohio fullback in 1927 and 1928, "Ducky" may have broken the national rushing attempts record in 1927 against Ohio University when he carried the ball 44 times for 176 yards. This mark is still stands as the current Wittenberg record. Equally impressive is the fact that "Ducky" never came out of the game, playing linebacker the entire time, a true 'iron man' performance. Also in 1927, "Ducky's" last-second touchdown against Cincinnati gave Wittenberg a 6-0 victory, winning the Buckeye Conference Title. Then in 1928, Wittenberg beat Ohio Wesleyan, who that season had defeated both Syracuse and Michigan.  That year they were the Buckeye Conference Co-Champions. Considering "Ducky" was also a 3-year standout pitcher for the Fighting Lutherans' baseball team, he was recognized on Wittenberg's All Time players list as Honorable Mention for the 1920s

Coach Godfry was one of the first to put on summer clinics. Taking advantage of this opportunity, "Ducky" attended three straight years and as luck would have it Knute Rockne was there one of those years.  In "Ducky's" opinion Rockne was "The Greatest Speaker". One of "Ducky's" all time thrills came when he asked Rockne to demonstrate a blocking technique.
"In 1928 I demonstrated for Coach Knute Rockne," "Ducky" said. "Coach Rockne and I were walking off the field. I'll never forget. I said, 'Coach, would you show me that block again that you were showing out on the field?' He said 'Sure". So in the heat of the day, everybody had gone, he stayed out there with me for fifteen minutes and showed me several different blocks that he was using. Then he said, 'By the way, where are you from?' I said, 'Massillon, Ohio, have you heard of it?' He looked at me and said', You know I have.' Because he used to play with the old Massillon Pro Tigers.
"Knute Rockne was the number one public speaker I've ever heard. He was sort of a humble man.  When I asked him to show me those blocks, I was just a player at Wittenberg.  I was attracted by his humility.  When he got up to speak in the Wittenberg Chapel, the place was just jammed, and you could hear a pin drop. He had a way of saying words that was just magnetic." (1b)
"Ducky" learned the fundamentals from some of the most famous men in football history including, at another summer clinic, discovering techniques from Jim Thorpe and Pop Warner.  Warner was one of the early coaching legends; a career that spanned 43 years, having won four national championships and coached Thorpe at Carlisle; and who invited Jim Thorpe to participate at this coaching clinic. "Ducky" remembered, "Pop Warner was a very fascinating person.  I watched Jim Thorpe giving exhibitions on punting, place kicking and drop kicking. I can look back and feel that I really got a good basic knowledge of football from famous men like that. "Ducky" passed his knowledge on to Massillon players."(1c)
TRAVELIN' MAN
Upon graduating in 1930 from Wittenberg College, where he majored in English and earned a Bachelor of Education Degree, "Ducky" got the bug and coached for a month at Waynesburg H.S. Following this short coaching stint he played some semi-pro ball with local teams then moved to Uniontown H.S. where he coached for three months. Subsequently, "Ducky" became Athletic Director and head coach for all sports at Miami Military Institute in Germantown, Ohio, from 1930-32.
Picked from a field of 30 applicants, Newcomerstown H. S. Superintendent Wayne Hayes (Woody's father) hired "Ducky" in 1932 to be head coach of all sports along with teaching science class. It was there that "Ducky" hired Woody just out of high school for his first football coaching job as an assistant coach of the defense. "Ducky" said "I probably have known Woody longer than anyone in the coaching business."
Unfortunately, 1932 was also a year of disappointment for "Ducky" because he wanted to be on Paul Brown's coaching staff at Massillon.  Even though he was not chosen, they became lifelong friends and it has been said that Paul Brown's best friend in Massillon was "Ducky".
Disappointment turned to bliss in 1934 when "Ducky" married Gertrude Hammer of Canal Fulton, Ohio.  At the time, "Gert" was a secretary for the Republic Steel Corp. and would spend the next 63 years happily married to "Ducky".
Time to move on, but before leaving Newcomerstown in 1935 several of his players wrote a touching note to "Ducky" praising the coach by saying, "… we admire you for showing no discrimination whatsoever, and we hope your future career of coaching will be onward and upward."  The note ends with this poem:  "You cannot eat this farewell note. Nor sell it that is true. But please keep it in your collections. For we are thinking of you." He was so very proud of this note, that "Ducky" did keep this with his collections, making copies years later and handing it out to anyone interested.
For the next two years "Ducky" was head coach for all sports at Logan H.S. before moving on to Salem H.S. to coach football and basketball from 1936 – 40. Interestingly at this time, Massillon great Chuck Mather was coaching at Leetonia H.S., which is only five miles away from Salem. This was an opportunity for the two coaches to get together and compare 'grid' notes if need be every few days. Shifting once again in 1941 and 1942 "Ducky" was assistant football and basketball coach for Mount Union before travelin' back to Springfield where he took the head coaching job for football and basketball at his alma mater, Wittenberg, 1942 and 1943.
"Speaking of his 1-5-1 season as head coach of Wittenberg football team in 1942, "Ducky" explains, 'We didn't know who was going to be on the team one week to the next because it was World War II. Lou Ryman (former head basketball coach at Lehman High) was our halfback. When I went to his room, he had just received his notice to report for active duty. He was in tears because he knew he couldn't play in the game that week against Denison. Four guys on our team paid the supreme sacrifice as they died in the service of their country.' "Ducky" was granted a leave of absence at Wittenberg because of the war. During the war he trained Air Corp cadets."(5)   In the 40's "Ducky" had trained more than 700 Air Force cadets who would move on to become WWII pilots.
"'Ducky' using his training as he wrote his thesis on the Army Air Corp Physical Training Program, obtaining his master's degree in physical education from Ohio State University in 1944. He remained in Springfield as physical director of the YMCA in 1944-46 and (first) director of athletics, health and physical education for Springfield Public Schools in 1946-48".(5a)
CITY OF CHAMPIONS
Throughout 18 years "Ducky" had bounced around coaching for nine different teams until 1948 when he was hired by Chuck Mather to coach at Massillon. Finally, he had found his home, coaching football and baseball, teaching high school and supervising the winter conditioning program.
For six years (1948-53) Coach Mather would lead the team with "Ducky" at his side coaching the ends. Mather's teams compiled a 57-3 record, a 95% winning percentage, and outscored opponents by an average of 37-7.  In addition, Mather's record six state championships tied Paul Brown's mark. Known as the 'Mechanical Coach' for his use of innovative coaching aides, Mather also claimed three national championships. Against McKinley the Tigers won all six contests, by an average score of 32-5 and had finally in 1950 caught up with McKinley for total wins in the series. Several years ago Homer Floyd (Massillon great and civil rights hero) when speaking of coach "Ducky" recalled that he had "nothing but wonderful memories of the man."
Regrettably, 1954 was another year of disappointment when Mather left to take the head coaching job at the University of Kansas and took his entire coaching staff with him. All but "Ducky". There were over 100 applications to replace Mather, but "Ducky" again was overlooked.  Ultimately, Tom Harp was selected. As fortune would have it, someone had figured out that "Ducky" would be more valuable to Massillon as an assistant long term than as a head coach short term.  Ironically, after four years when the Kansas job did not pan out well, Coach Mather and his assistants were all out of a job.  Surviving the slaughter, "Ducky", not one to hold a grudge, would later say that one of his prized possessions was his autographed copy of Chuck Mather's book, 'Winning High School Football".
Following a Tiger program that had just won two straight national championships, six straight state championships and owned six straight wins over McKinley, Harp had his work cut out for him.  He ended up staying two years compiling a record of 17-2-1, an 89.5% winning percentage.  His team's average score was 28-8 per game. He won the state championship his first year with a 9-1 record and extended the streak over McKinley, winning 26-6.  The following year he was second in the state with an 8-1-1.  And then he left.  But he was always thankful that "Ducky" was still around from Coach Mather's staff.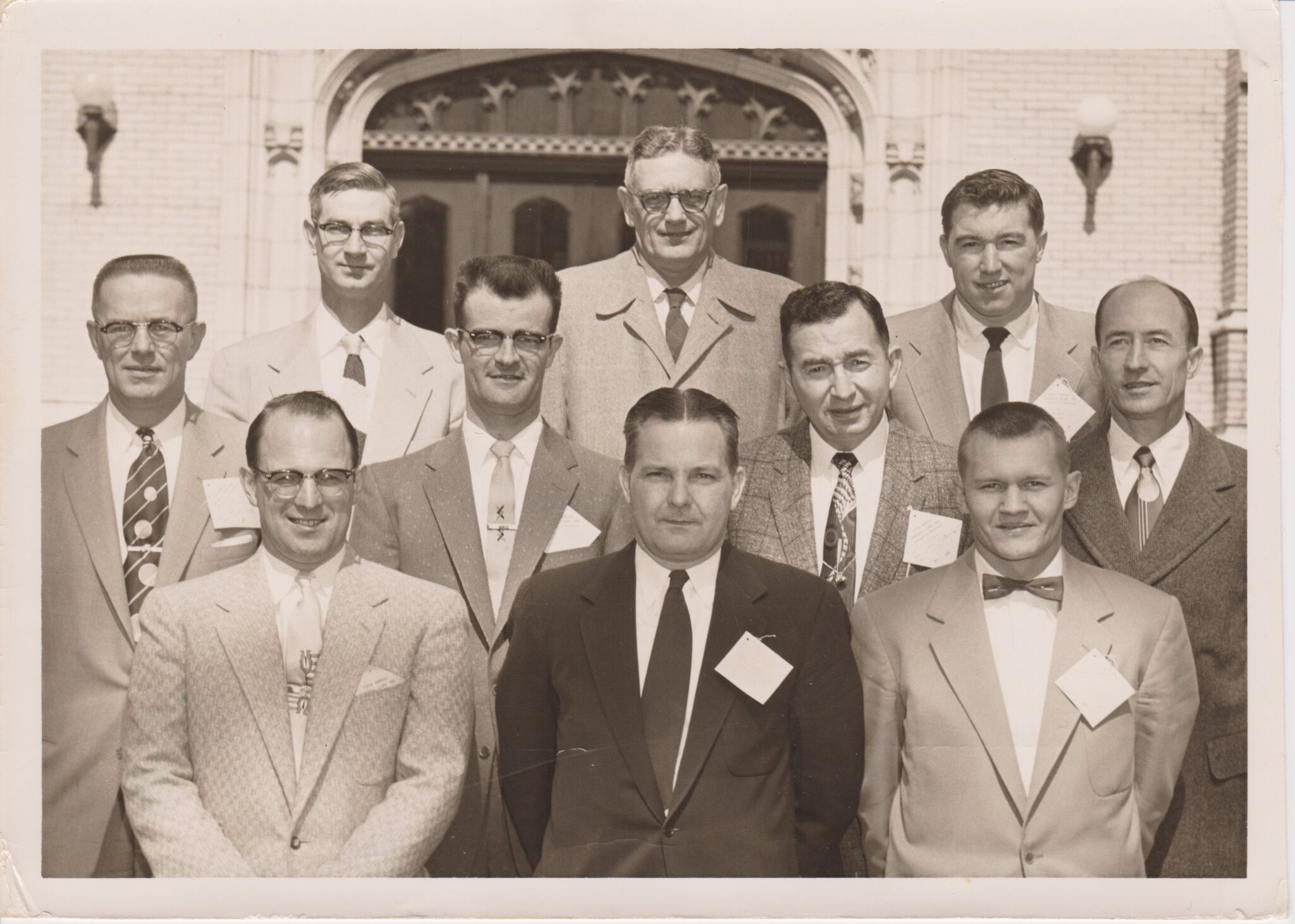 One of many clinics and camps that "Ducky" attended can be seen in this 1955 photo of the speakers at the Wooster Coaches Clinic.  Notice Tom Harp in the back row behind "Ducky" and Lee Tressel (future college football HOF) from Mentor H.S. in the front row.
In the photo — 1st row, left to right: Cal Eckert (Beach City), Junie Ferrel (Barberton), Lee Tressel (Mentor); 2nd row: Jim Scullion (Lakewood), Wes Boals (Jeromeville), "Ducky" Schroeder (Massillon), Even Koons (Springfield); row 3: Charles Ogg (Johnsville), Bob Shaw Washington Court House, Tom Harp (Massillon).
Tressel would take over as head coach in '56 and would be at the helm for two years.  With a combined record of 16-3, an 84% winning percentage, his teams outscored the competition by a 24-8 margin. In his first year the Tigers finish 8th in the state going 8-2 then improved the following year, beating McKinley 25-7, and finishing second in the state at 8-1. Jim Tressel (former Ohio State Head Coach) still remembers when his dad would take him over to "Ducky's" home to discuss the week's game strategy.

1948 Massillon Varsity Football Team (Schroeder is on the far right of the first row)
WINNER WINNER
In 1958, Massillon hired Leo Strang to be the next Tiger coach. "Leo Strang understood "Ducky's" importance to the program even before he accepted the head job at Massillon. 'I knew "Ducky's reputation, and I knew I had to keep a coach at Massillon so I would be able to know what had gone on in certain situations and who the people were that were true boosters that I could go and ask for help in any way. It's very difficult going into a new situation unless you have somebody you can rely on who knows the background and the history. "Ducky" was the best defensive end coach that I knew of anywhere…When I took the Kent State job I would have liked to have taken "Ducky" on, but it would have been totally unfair to Massillon…totally unfair to him…and I knew that Earle Bruce wanted to keep him." (1d)
He gave "Ducky" the responsibility for coaching long side ends and long side tackles on offense and middle guard and linebackers on defense. Leo's accomplishments are impressive: 54-8-1 record, an 84.7% winning percentage, while outscoring the opponents by a 31-7 average. Known nationally as a football trendsetter, Leo's Tigers had six wins and no defeats against McKinley, outscoring the Pups by a margin of 26–8. From 1958-63 the Tigers were twice named national champions, three times state champions, once state runner-up and once 4th in the State.  "Ducky" was quoted later saying "Leo was responsible for bringing back the unbalanced line after years of dormancy."
BATTER UP
"Ducky" also coached the Tiger baseball team, for 16 years from 1948 to 1963. He had taken his teams to the regional finals five times, to the state finals in 1955 and to the state semi-finals in 1960. Some of the outstanding baseball team members that played for "Ducky" include:
Dick Mrofka – 1955 All-Ohio pitcher-Chicago White Sox- 1997 Stark County Baseball HOF
Jim Houston – Wall of Champions, Ohio State 2x MVP, College HOF, '64 NFL Champion
Dave Canary – Wall of Champions, Pop Warner All-American, 4 time Emmy Winner
Mike Hershberger – Wall of Champions, All Ohio Pitcher & Outfielder, 10 years in the Big Leagues
Joe Sparma –  Wall of Champions, Ohio State Football National Champions 1961, Detroit Tigers 1968 World Series Champion, Stark County Baseball HOF 1978, Stark County Football HOF 2011
Tom Moser – Cleveland Indians Minor league 4 years
Bob Khoenle – 1950 Tiger National Championship team – played for Purdue
Bill Stoner – 1950 Tiger National Championship team- coached for Waynesdale
Ray Flickinger – Cleveland Indians minor league
Dick Barcus –  played for Miami
Clyde Slicker –  played for Oberlin
The current Massillon baseball field is named in honor of "Ducky": Carl "Ducky" Schroeder Field – Home of Massillon Tiger Baseball." On hand for the official dedication were Mike Hershberger and Leo Strang.
NEVER SAY NEVER
"In early 1964, I got a call from the Massillon school superintendent asking if I would be interested in discussing the head football coaching job at Massillon," said Earle Bruce. "I really wasn't interested because things were on a roll in Sandusky. But I drove to Elyria and met with the superintendent privately. I thought I was going to be offered the job and I told him I wasn't really interested.
"Shortly after I returned to Sandusky, my phone rang, and it was Woody. Carl "Ducky" Schroeder, the legendary Massillon assistant, had called Woody and told him to call me. 'You can't turn that Massillon job down!' Woody said. 'Earle you'd better look at that job a little harder. You can't go wrong'…" (6)  And with that call, along with "Ducky's" influence, Woody's encouragement and Massillon's passion, Earle Bruce became head coach of the Massillon Tiger football team.
Reverting back to the balanced line, "Ducky" would coach the ends and tackles. In '64 the Tigers were 9-0 going into the McKinley game, while owning a 7-game winning streak in the series. But the Tigers were down 14–0 at half time.  Harold Steiner (Canal Fulton Triangles teammate and brother-in-law) recalls what "Ducky" heard Earle saying going into the locker room, "this is not the way I wanted to end my first season here," To which "Ducky" replied, "you are in Massillon where the game isn't over until it's over." Staging one of the greatest come from behind victories of any Massillon team, the Tigers won this televised game 20-14.
Years later, Dave Whitfield (1969 Ohio State captain) would say that "Ducky" was the best coach he ever had as far as teaching techniques. (7)
It was in 1964 where "Ducky" met his second favorite speaker, General Douglas Macarthur. "I met MacArthur when he was the speaker at the American Football Coaches Association convention at the Waldorf-Astoria in New York City," he said.  "When he heard I was from Massillon, Ohio, he said, Massillon, Ohio, that's a great football town." (5b)
In 1965, again undefeated 9-0 going into the McKinley game, the Tigers for a second time trailed 14-0 at half time, but this time on the road. In the locker room Earle says to "Ducky", "Holy man, are we playing bad." "Ducky" said 'Coach, we've got another half'. Earle replied '"Ducky", you don't come back two years in a row against a team like Canton McKinley'. "Ducky" said "Massillon can do it, coach.' Earle said, 'My God "Ducky", the odds are tremendous this won't happen." (8) Executing another miraculous comeback, the Tigers went on to win 18-14 to give Coach Bruce back-to-back undefeated seasons, back-to-back state championships and back-to-back national championship runners-up. He left after two seasons , his teams finished with a 20-0 record, garnering a 1.000 winning percentage, while beating the opponents by a 27-6 margin, and remains the only undefeated and untied head coach in Massillon Tiger football history. Earle Bruce, in 2002, was inducted into the College Football HOF.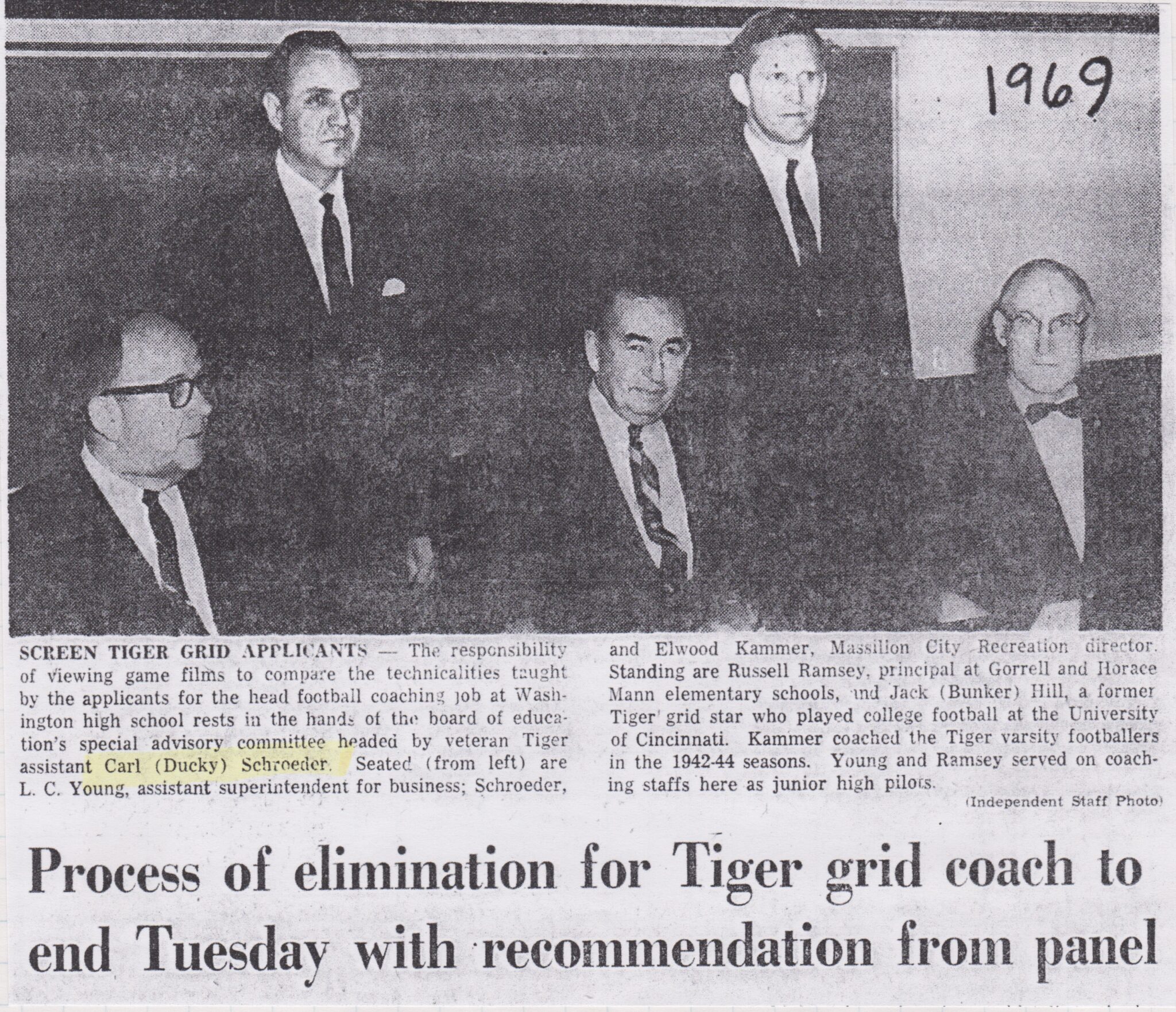 Under new coach Bob Seaman, who worked under Bruce from 1960-63, "Ducky" again was responsible for coaching the ends. But disaster struck.  After 34 consecutive winning seasons, Massillon's streak came to an end in 1966. Two years later Seaman's term ended with a 3-year record of 20-9-1, a 66.6% winning percentage, and scoring an average of 19-12 per game. With his only win over McKinley in 1967, the 9-1 Tigers finished 2nd in the state.  It has been said of Seaman that he never grasped the importance of tradition at Massillon, which is paramount for best performance by allowing each player to know where he stands.
Moving forward, in 1969 the Washington High School Board of Education picked "Ducky" to head up a special advisory committee consisting of five men responsible for recommending a new head coach. Elwood Kammer, former championship Tiger head coach, Jack (Bunker) Hill, former Tiger football great, L.C. Young, assistant superintendent for business, and Russell Ramsey, principle at Gorrell and Horace Mann elementary schools joined "Ducky" on the committee.  The group recommended Bob Commings.
A BAKER'S DOZEN
Commings, with one of the most knowledgeable football minds in Ohio, brought his winning habits to Massillon.  Along with the veteran, "Ducky", John Brideweser also joined the Tigers as an assistant coach.  Brideweser would leave the following year to take over the head position at Canton McKinley. The year 1970 was "Ducky's" last year of football coaching at Massillon. Capitalizing on winning habits the Tigers went 10-0, were named state champions, were honored as 2nd in the nation, and scored over 41 points while giving up less than 3 points per game. Closing out his storied career, the Tigers captured their 13th state championship when "Ducky" was coaching from the sidelines.  In the two years he spent under Commings the Tigers went 17-2-1, an 89.4% winning percentage, and averaged a score of 36-7.  His final year would also mark the first year of the live Obie Tiger era.
Coach Commings spoke on the enormous impact "Ducky" had on his career.  "Legendary "Ducky" Schroeder had a profound influence. All of us head coaches probably got more renown, but I think the one guy you most closely associate with Massillon would be "Ducky". And it may be out of bounds to say – no, I don't think it's disrespectful to Paul Brown to say that at all. They both played here, but "Ducky" stayed so long." (8a)
 "Ducky" Schroeder may be the most beloved coach in Massillon Tigers history.

1970 Massillon Varsity Football Team (Schroeder is in the last row, third from the left)
HOME SWEET HOME
After 23 seasons coaching the Tigers, of which 15 teams were undefeated on the 'Sacred Turf', "Ducky" retired from the Massillon School System. At his farewell goodbye, before the 1971 Cleveland Heights opener, he admitted that "he had found a little heaven in Massillon." Gifted with the ability of turning the complex into the simple, this wise, kind, patient and gentle coach, with the heart of a champion, will always be the one-n-only, never to be repeated, never to be duplicated.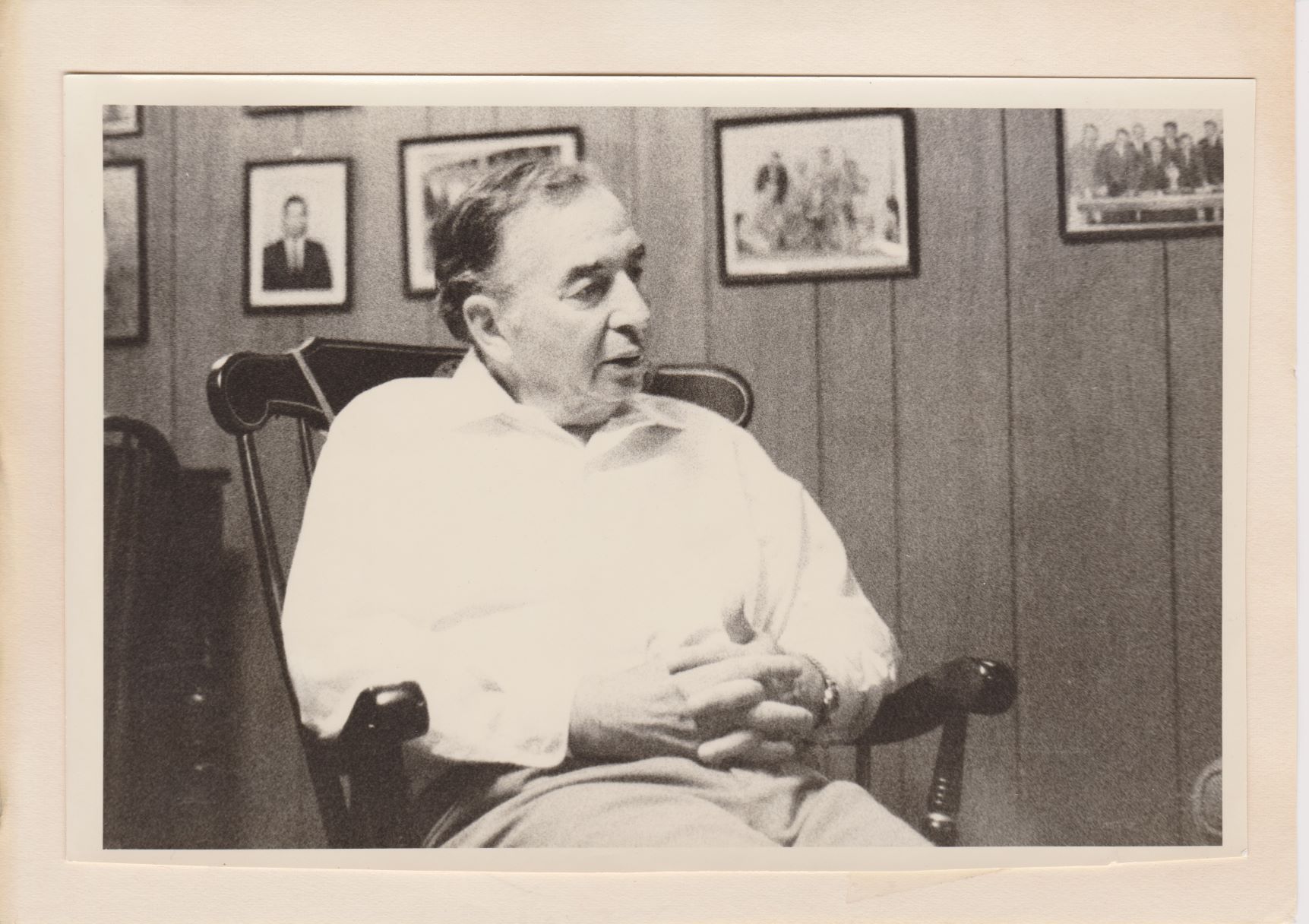 So why didn't he leave for bigger and better opportunities? Well, he just liked living at home in Massillon. In addition to his busy schedule, he swam at the YMCA, regularly golfed at the Elms, for several summers managed the old Meadows golf range on Lincoln Way and coached local American Legion junior baseball teams. Living, working and being involved in community functions are what he loved while at home in Massillon.
Remember when Rockne asked where he was from? Should Canal Fulton have been the correct answer? After all his family was from Canal Fulton, he grew up in Canal Fulton, he played sports for Canal Fulton H.S., excluding his senior year at Massillon, his best friend and long-standing teammate was from Canal Fulton and he was on the Canal Fulton Triangles Semi-Pro Football Team. Yet, when Rockne asked where he was from, "Ducky" answered Massillon. Could it be this was a foreshadowing of his ultimate destiny?
DO THE MATH
Winding up his career at Massillon as player and coach, "Ducky", finished with a record of 209-29-4, an 87.8% winning percentage, while averaging over 30 points for the Tigers and giving up less than 8 points per game for the opponents. While coaching at Massillon, the Tigers won five national championships, coming in second three times; the Tigers won 13 state championships, coming in second four times; averaged a state title better than one every other year. For his 23 years of coaching, the Tigers finished first or second in the State 17 times, equating to 74% of the Massillon Tiger football teams during the "Ducky" era.  These numbers are unmatched by any Tiger coach in Massillon Tiger football history.
Against McKinley as a player and coach the Tigers won 80% of their games, 19 victories vs. only 5 defeats, and enjoyed a 9-game winning streak over McKinley from 1957–65.  In the 24 years of battle Tiger teams were never shut out while the Pups were held scoreless seven times and were held under double digits an additional six times. Points scored over the 24 games on average were over 22 for the Tigers while giving up just over 10 per game for McKinley.
Amazingly at Massillon, "Ducky" played with, played for, coached with or coached for eight different Massillon Tiger football head coaches who won state championships: Paul Brown, Dave Stewart, Elwood Kammer, Chuck Mather, Tom Harp, Leo Strang, Earle Bruce and Bob Commings. So how excellent and how important was "Ducky's" influence? Simply put, consider this: in his first year of coaching, the 1948 Tigers were state champions and in his last year of coaching, the 1970 Tigers were state champions. Sadly, the Tigers have not won a state championship since, spanning over half a century. Is it fair to argue that "Ducky" is the greatest Massillon Tiger assistant football coach of all time? I submit yes, by far; nobody close.
Having the eye of the Tiger, with the heart of a Champion, "Ducky" knew what it meant to be a Massillon Tiger and made sure his stalwarts played like Tigers.
MR. FOOTBALL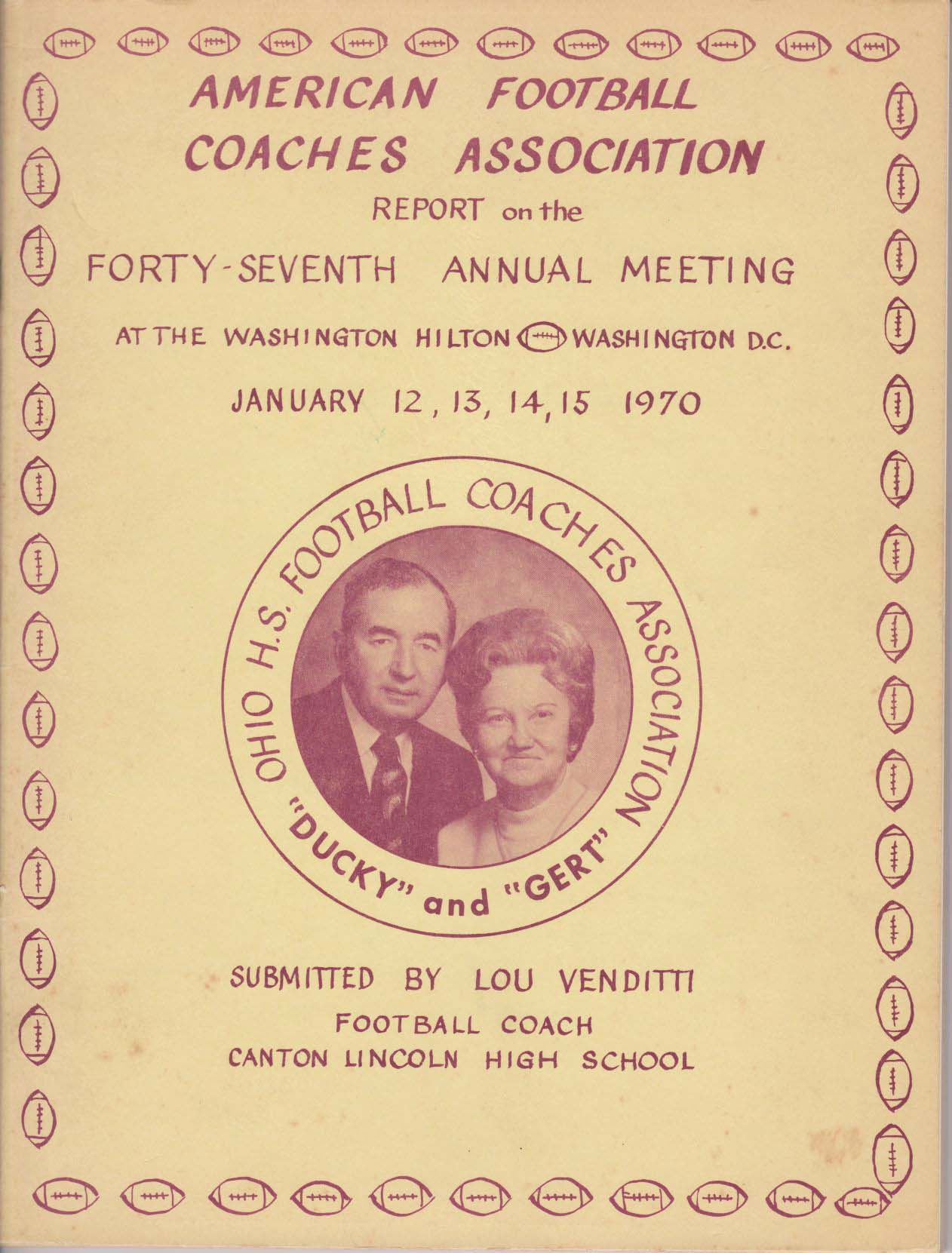 Outside of his coaching duties "Ducky" was always very active. In the early 1940's "Ducky" was the driving force in establishing the Ohio Football Coaches Association. Following, in the mid 1940's he was the brains behind organizing Ohio's North-South All-Star football game.  For 30 years "Ducky" served as Secretary-Treasurer of the Ohio High School Football Coaches Association. "Gert", while employed in the office of L. J. Smith-Superintendent of Massillon Public Schools, did a lot of her husband's paperwork, so much so that The Coaches Association jokingly referred to her as secretary and "Ducky" as her assistant.
For 25 years from 1955-80 "Ducky" was the Mid-American representative of the Rae Crowther Blocking Sled Company of Philadelphia, selling 2-man and 7-man blocking sleds for football practices. "Ducky" was a 6-year member of the National Federation Rules Committee for High School Football, including being involved in establishing high school overtime rules, opening the door to the play-offs. Furthermore, he spent five years as the director of the Big 33 Football Game played in Hersey, PA, which pitted the best of Ohio against the best of Pennsylvania.
"Ducky" was always on the go, volunteering and organizing so many football camps, participating with so many committees and speaking at so many banquets and engagements. A good example is ten years after he retired, "Ducky" was asked to emcee the 1981 North South All-Star Banquet where he introduced guest speaker Woody Hayes, his longtime friend and colleague. What can be said of "Ducky's network of players, coaches and administrators from the high school, college and professional ranks, which most certainly is well into the thousands of people?  It is not surprising that he was nationally known as "Mr. Football" in Ohio.
HOF ZONE
Being a regular attendee at the Pro Football HOF luncheons, "Ducky" was appointed President of the Pro Football Hall of Fame Club in 1976.  Throughout the years "Ducky" would invite VIPs to the event. For example, Mike Hersberger of the Chicago White Sox was a guest in 1963 while in 1979 Earle Bruce, Nick Vrotsos and "Ducky" were reunited and shared some laughs at the luncheon. On another occasion, "Ducky" was joined by former Tiger greats Tommy James (National Champion at all levels High School Massillon, College Ohio State and Pro Cleveland Browns) and his brother Don James (College Football HOF and National championship coach).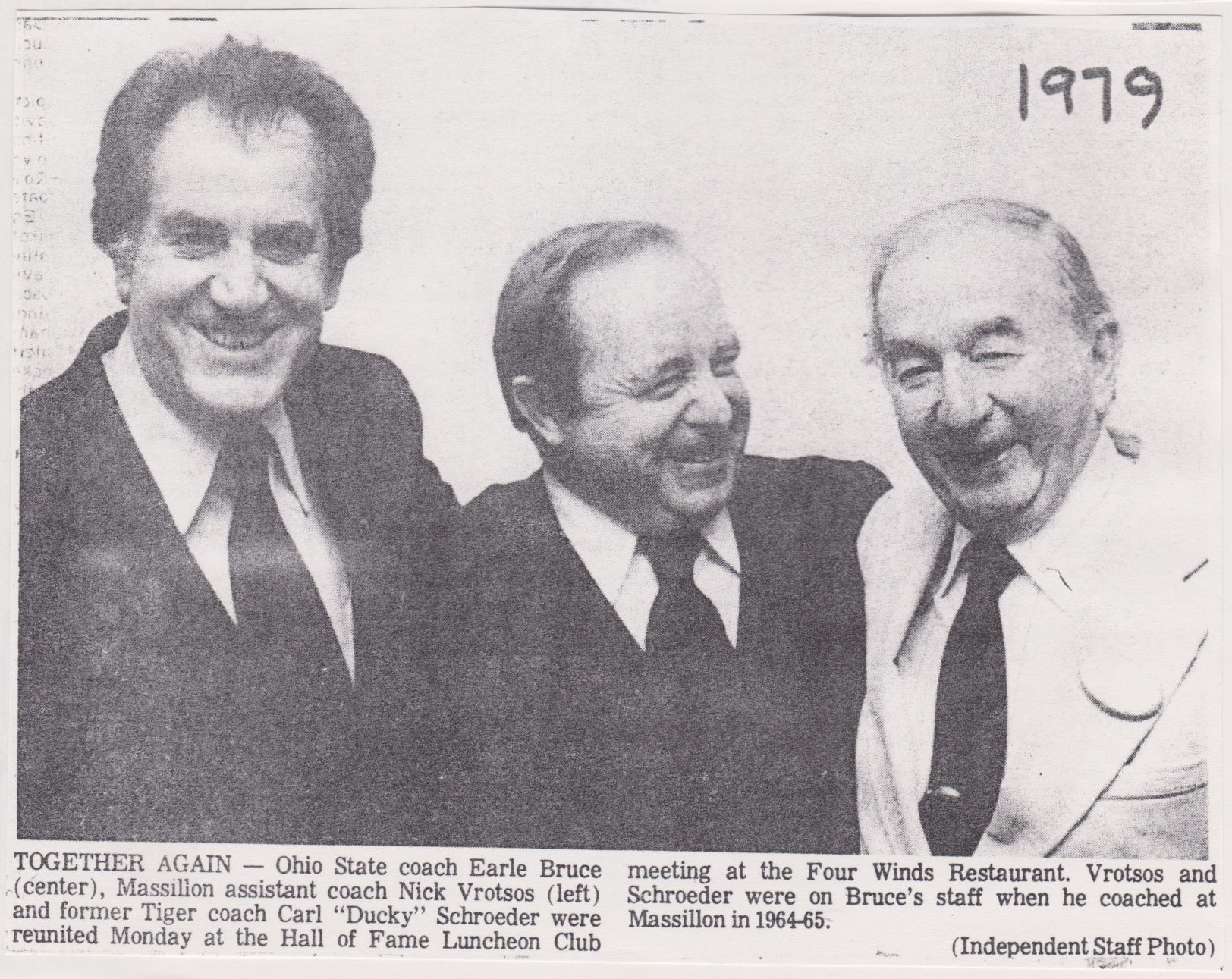 Speaking of the Hall of Fame, "Ducky" recalled that he took the time to write down a few of the outstanding collegiate and professional athletes that participated in the North-South All-Star game.  Some even returned to play in the NFL HOF Game. Telling one of his countless stories, "Ducky" goes on about pro HOF quarterback Roger Staubach of the Dallas Cowboys who played in the All-Star game, but not as quarterback. He was listed as a "defensive back' in the 1960 program.  When "Ducky" mentioned this to HOF Cowboys coach Tom Landry he sarcastically questioned "Is that right? Then I'll have to ask Roger why the heck he isn't a better tackler?"
Among the host of outstanding all-stars, including a plethora of Massillon Tigers, and the likes of Joe Nuxhall Cincinnati Reds HOF and Bo Shembeckler College Football HOF, the following is a partial list of professional football players "Ducky" remembers meeting with at the Ohio North South All-Star game:
Len Dawson NFL HOF, Kansas City Chiefs Super Bowl Champion and MVP
Paul Warfield NFL HOF, Miami Dolphins 2x Super Bowl Champion, Ohio State 2xHOF & National Champion
Jim Marshall Ohio State HOF & National Champion, Minnesota Vikings Ring of Honor
Allen Page NFL HOF Minnesota Vikings (Ring of Honor), College Football HOF, Notre Dame HOF, Presidential Medal of Freedom
Jim Houston College Football HOF, Ohio State HOF & National Champions, Cleveland Browns NFL Champions
Dick Schafrath Ohio State HOF & National Champion, Cleveland Browns NFL Champions, Ohio State Senator
Tom Matte Ohio State HOF, Baltimore Colts Super Bowl Champion
Jim Tyrer Kansas City Chiefs HOF & Super Bowl Champion
Bob Ferguson College Football HOF, Ohio State HOF, Pittsburg Steelers
Jim Lynch College Football HOF, Notre Dame HOF, Kansas City Chiefs HOF & Super Bowl Champion
Dave Foley Ohio State 2xHOF & National Champion, NY Jets and Buffalo Bills
Bob Babich College Football HOF, Miami of Ohio HOF, San Diego Chargers and Cleveland Browns
Ross Browner College Football HOF, Notre Dame HOF, Cincinnati Bengals
George Izo NFL record holder quarterback, Cardinals, Redskins, Lions, Steelers
George Sefcik NFL coached in 2 Super Bowls, coached for 7 NFL teams and 2 college teams
WHAT'S YOUR SECRET
What was his secret??  "Ducky" reflected on a good family life. "I consider myself lucky to have such a fine mother. Mothers you know have a lot of influence on our lives." Loving immigrant parents, Christian values, strong work ethic, an appetite for education, the devotion to teach and a passion to succeed.  These are the intangibles that defined his life. He was blessed by being at the right place at the right time.
Early on "Ducky" was described by his fellow coaches as "a genial guy most of the week, but a bloodthirsty character during the game." John McVay (All-Ohio and 5-time Super Bowl champion) recently recalled, "He was a wonderful guy to everybody. He coached like he was your uncle or your big brother."
Knowing so many championship caliber and HOF players and coaches, surrounded by so many great football minds throughout his lifetime, who knows how many people were impacted by "Ducky's" extensive circle of influence.
ON A ROLL
Spotlighting Carl "Ducky" Schroeder (1905-1997), the Massillon Museum featured a month long exhibit in 2015 to honor this revered longtime Massillon Tiger coach.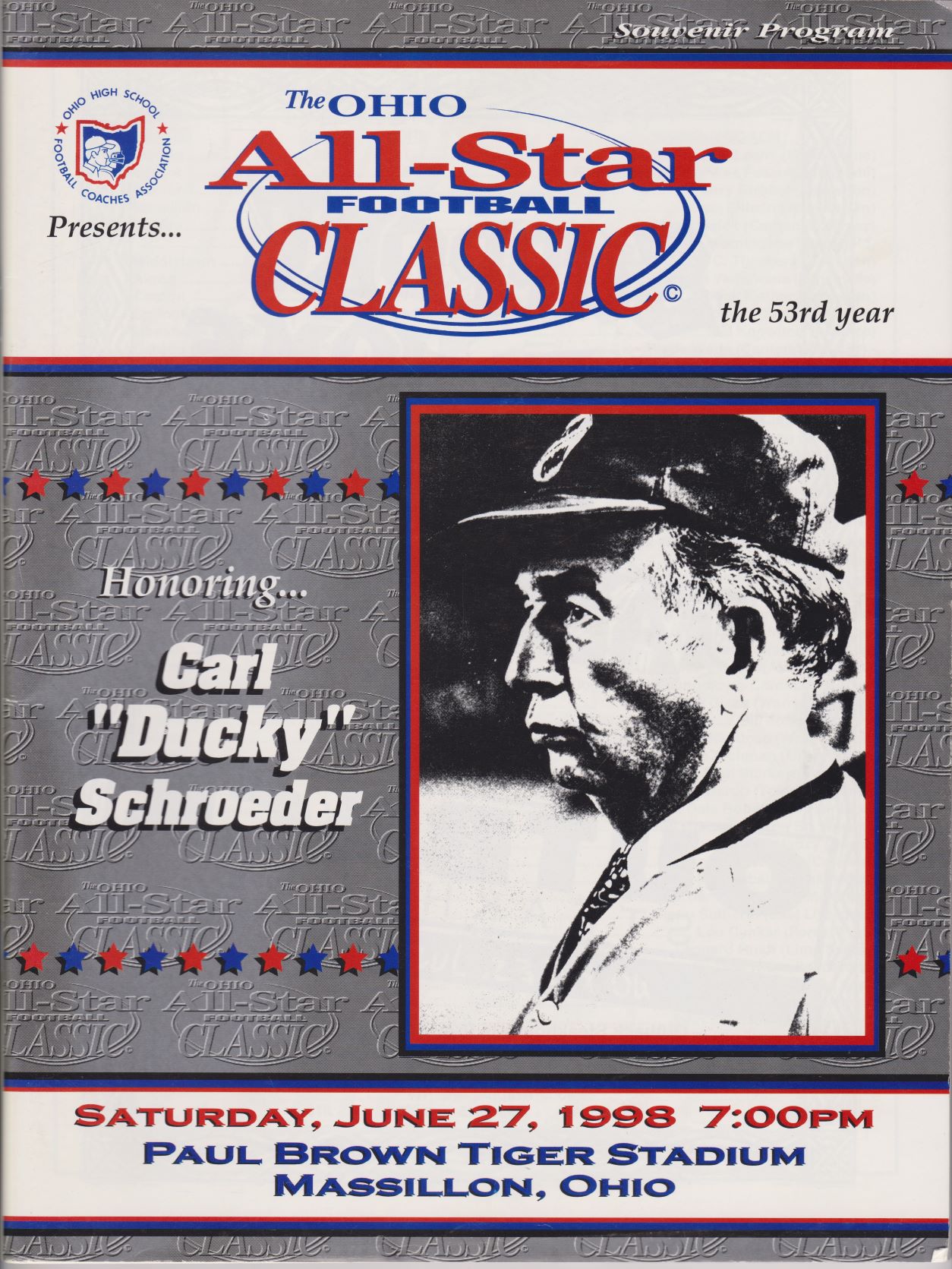 Additionally "Ducky" was honored by the following:
The National Federation of High Schools.
The National High School Football Coaches Association, along with his wife "Gert".
Elected President of the Pro Football HOF Club 1976
The establishment of the Carl F. "Ducky" Schroeder scholarship and outstanding senior offensive lineman award to be presented at the annual Tiger football awards banquet.
Wittenberg's Varsity "W".
The Massillonian yearbook was dedicated to "Ducky" in 1956.
The Massillon Washington High School Baseball Field named Carl "Ducky" Schroeder Field in 1992
"Ducky" and "Gert" became the only husband wife combination to be inducted into the Ohio High School Football Coaches Hall of Fame.
The Ohio All-Star Football Classic in its 53rd year, played Saturday, June 27, 1998 at Paul Brown Tiger Stadium Massillon, Ohio Honoring Carl "Ducky" Schroeder.
The Ohio High School Football Coaches Association paid tribute to "Ducky":
"The Ohio High School Football Coaches Association and Carl "Ducky" Schroeder may be combined into one because "Ducky" was the driving force behind the organization.  "Ducky" was the main man who worked with other coaches in the early 1940's to form and mold the Coaches Association.
"Ducky" served as secretary-treasurer for thirty years and his mind absorbed the history of Ohio high school football. He shared that knowledge with the entire nation.
He was recognized all over the United States as Mr. Football in Ohio. "Ducky" was the brains behind the development of Ohio's North-South game that has been a star attraction in Ohio for 53 years.
"Ducky" and his wife "Gert", were friends to every coach in Ohio and they never forgot a face.  Ohio high school football and the Ohio High School Football Coaches association are so rich from the guidance of "Ducky" Schroeder.  "Ducky" was a man loved by all.  Somewhere "Ducky" is looking down on this game tonight with a grin and a chuckle, knowing with pride that his creation lives on.
"Ducky", the Ohio High School Football Coaches association thanks you for your guidance, help and friendship.  We want everyone to know that we miss this wonderful man and if there is football in heaven, "Ducky" is calling the plays."
"Without a doubt, "Ducky" was the greatest human being I've ever known… He probably did more for high school football than any other individual I know" — Nick Vrotsos… long time Tiger coach.
HITTING THE HALL
"Ducky" and or "Gert" have been inducted into the following Hall of Fames:
Ohio High School Football Coaches Hall of Fame "Ducky" 1972
Ohio High School Football Coaches Hall of Fame "Gert" 1977
Wittenberg Hall of Honor 1986
Stark County High School Football Hall of Fame Jim Craig Award 2014
Massillon Washington High School Tiger Football Hall of Fame "Ducky" and "Gert" 2015
Massillon Washington High School Wall of Champions 2015
Massillon Washington High School displays a Hall of Fame for football head coaches who have won a state championship. If an exception were to be made to this class of hall of famers, no one is more deserving than Carl F. "Ducky" Schroeder.
Below, from left to right: Massillon Wall of Champions plaque, Tiger Football Hall of Fame plaque, Wittenburg Hall of Honor plaque, 2015 Massillon game program.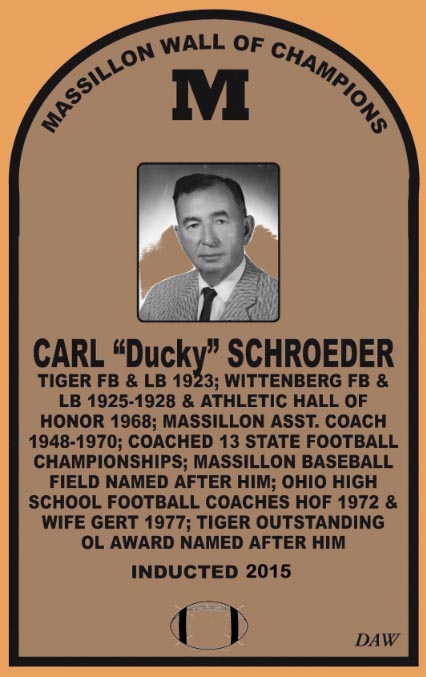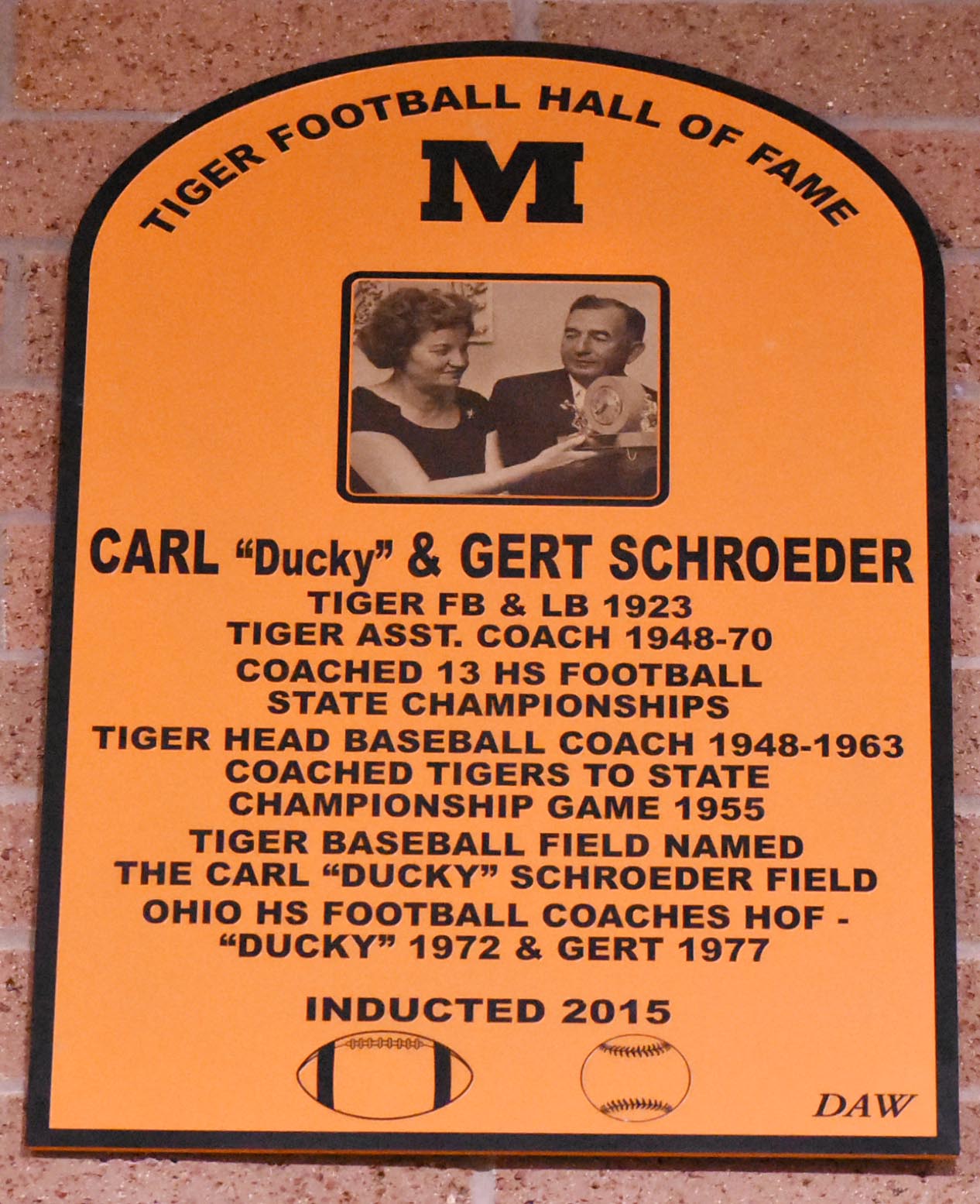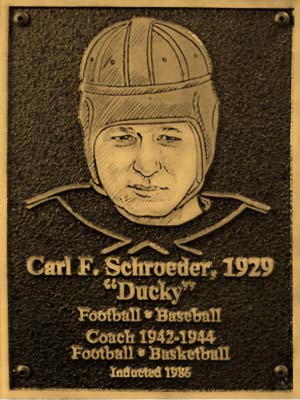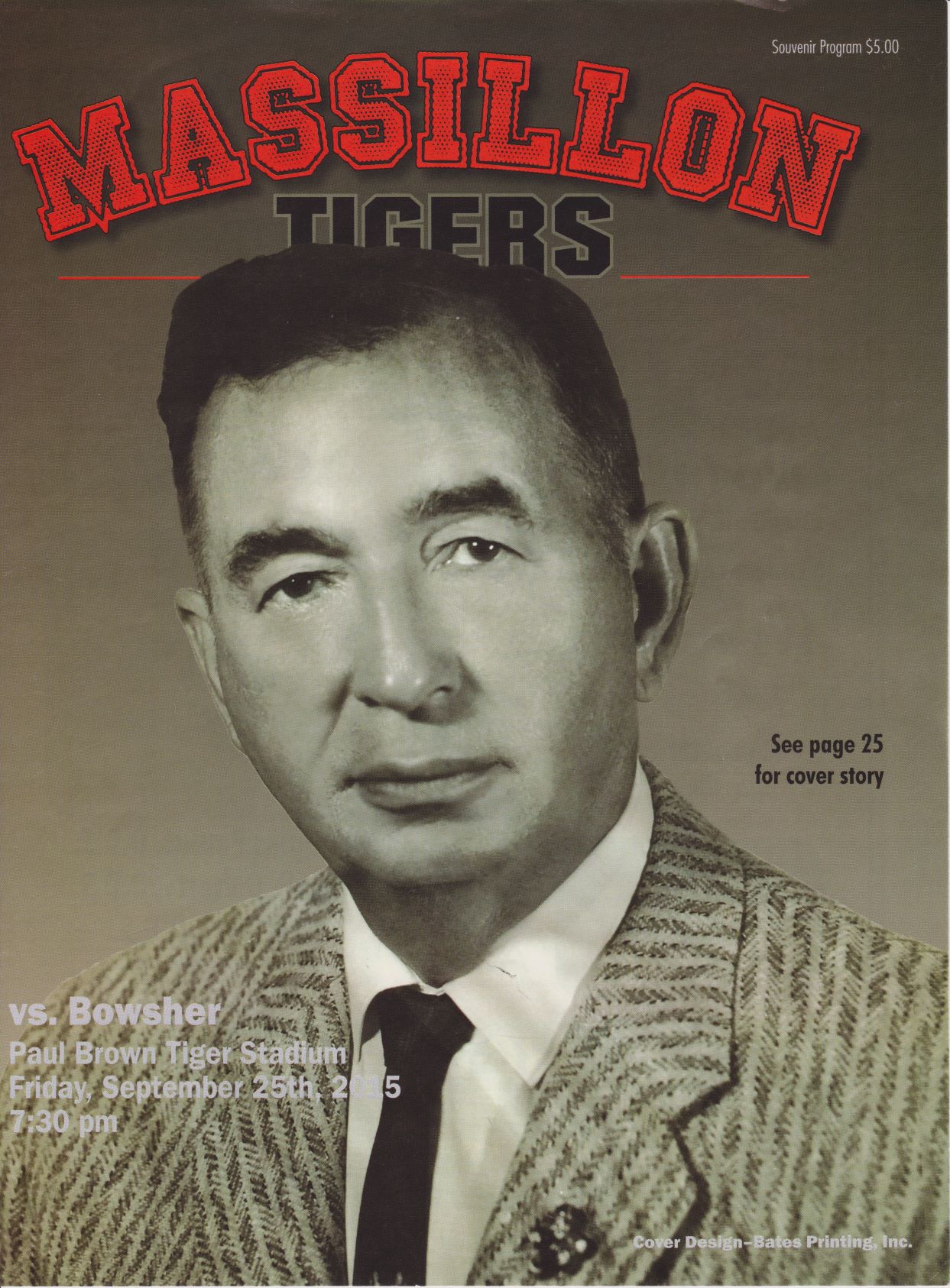 R.I.P.
Massillon-McKinley game #105, November 1st 1997, at 92 years young "Ducky" passed away.
Over his lifetime, "Ducky" was involved with football notwithstanding longer than he wasn't.
United States Representative Ralph Regula of Navarre paid tribute to "Ducky" the week of his death on the floor of the House of Representatives.
From the Congressional Record Online through the Government Printing Office (www.gpo.gov)
Congressional Record, Volume 143 Issue 156 (Saturday, November 8, 1997)
(Extensions of Remarks) (Page E2254)
TRIBUTE TO NOTED MASSILLON BASEBALL AND FOOTBALL COACH
___________________
HON. RALPH REGULA
of Ohio
in the house of representatives
Friday,  November  7,  1997
Mr. REGULA.  Mr. Speaker, I would like to pay tribute to a special person, Carl Frederick  (Ducky)  Schroeder who died on November 1, 1997 after a brief illness.  He was born on March 25, 1905 in Canal Fulton to Elizabeth nee Ruehling and Frederick Schroeder.  He lived in the Massillon area most of his life.  It was said that as a young boy,  he spent much of his time swimming in the Ohio Canal and the Tuscarawas River, and that he used to  "walk like a duck on land"  hence the nickname  "Ducky".
Ducky began his athletic career in Canal Fulton and Massillon where he was a standout in baseball and football.  Upon graduation, Ducky played football at Kings College in Tennessee but subsequently transferred to Wittenberg University where he was a standout pitcher for three years. He also was a football star and still holds the record for most carries in one game – 44 times for 176 yards while also playing linebacker on defense. After graduation Ducky went on to obtain a Master's Degree in Physical Education from Ohio State University.
Starting in 1930 Ducky embarked on a long illustrious career of public service as a teacher and coach. For example, up until he began his career at Washington High School, Ducky was head football and basketball coach at the Ohio Military Institute, Newcomerstown, Logan, and Salem High School and was Athletic Director for both the Springfield YMCA and High School.
On the collegiate and military level Ducky was assistant football and basketball coach at Mount Union College and was head football and basketball coach at Wittenberg University. For the WWII war effort, Ducky trained more than 700 Air Force cadets who later went on to become pilots.
However, it was his career in public service at Massillon for which he will be most remembered. In 1948, Ducky returned to Massillon High School where he taught and coached until his retirement in 1971. As head coach of the baseball team, he took the team to the state finals in 1955 and the state semifinals in 1960. During his 23 years as assistant football coach, the Tigers won 13 state championships and it was Ducky's job to supervise the winter conditioning program. He also coached several professional baseball and football players.
Ducky selflessly gave of his free time to promote sports. He was on the Big 33 Committee which led to five Ohio-Pennsylvania all-star games. He was secretary/treasurer of the Ohio High School Football Coaches Association and was inducted into the Ohio High school Coaches Hall of Fame. Ducky was past president of the Professional Football Hall of Fame Club in Canton. He also served as sales representative for the Rae Crowther Blocking Sled Company. In recognition for all his service to Massillon Athletics, he had one of the best high school baseball facilities dedicated to him – The Carl "Ducky" Schroeder Field.
In 1935, a group of athletics at Newcomerstown High School wrote Ducky upon his leaving that school. Their letter reads as follows:
Dear Coach:
On behalf of the colored boys of Newcomerstown High School, permit me to bid you a fond adieu. We regretfully say that you must leave us, because we consider you equal to or better than any coach who had been or shall be here. We admire you for showing no discrimination whatsoever, and we hope your future career of coaching will be onward and upward. Though our conduct at times was not commendable, we feel that your instructions were for the best. Though we have nothing to offer you as a remembrance of us, we hope you will sometimes think of us. The colored boys of NHS bid you farewell. Signed  Matthew Scott,  Booker Russell,  Sidney Jones,  Buster Cohen,  Ed McCall,  "Fat" Jones,  Killie Sterns,  Osie Dansby.
Ducky is survived by his wife of 63 years, Gertrude, his sister Helen Ellis, and numerous nieces and nephews, great nieces and nephews, and great-great nieces and nephews. He was a longstanding member of St. John's Lutheran Church of Canal Fulton.
____________________________
Written by Mike Riordan
I will always be a Tiger mostly in part because of my   "Aunt Gert" and my "Uncle Ducky".
Special Thanks to:
Chris Spielman – Detroit Lions HOF Ring of Honor "Pride of the Lions", College Football HOF, Ohio State HOF, Massillon Tigers Football HOF and Wall of Champions
Margaret Gramlich – Executive Assistant to Ownership and President / CEO of Detroit Lions
Mary Ann King – For her personal contributions to this article
Bailey Yoder – Curator of Football Heritage, Massillon Museum
Gary Vogt – Massillon Tigers Football Historian
Don Engelhardt – Massillon Tiger Football Museum and massillontigers.com Web Site Programmer
Massillon Tiger Football Booster Club and the Massillon Museum
The Massillon Independent
The Canton Repository
References:
(1)(1a)(1b)(1c)(1d) From A Century of Heroes by Scott H. Shook
(2) The Evening Independent 12/3/23 pg8 Massillon Draws Seven On All-County Eleven
(3) The Suncheaters The Story of the South Akron Awnings 1923-1941 forward
(4) The Sunday Repository 11/2/24 Fords Face Hard Encounter Today At Canal Fulton
(5)(5a)(5b) The Repository 'Ducky' is Super Sport of Stark County by Art Schrock 5/3/81
(6) Earle A Coach's Life by Earle Bruce  Orange Frazer Press, Inc.
(7) The Massillon Tiger Story The First Hundred Years by John E. (Jack) White Jr.
(8)(8a) Massillon Memories by Scott H. Shook
(*) The 1923 Canal Fulton Triangles Team Photo is archived in the Pro Football HOF Canton, OH, the Paul Brown Massillon Museum, Massillon, OH, the McKinley Presidential Library & Museum Canton, OH, and on display at the Canal Fulton, OH – Heritage Society History Museum.