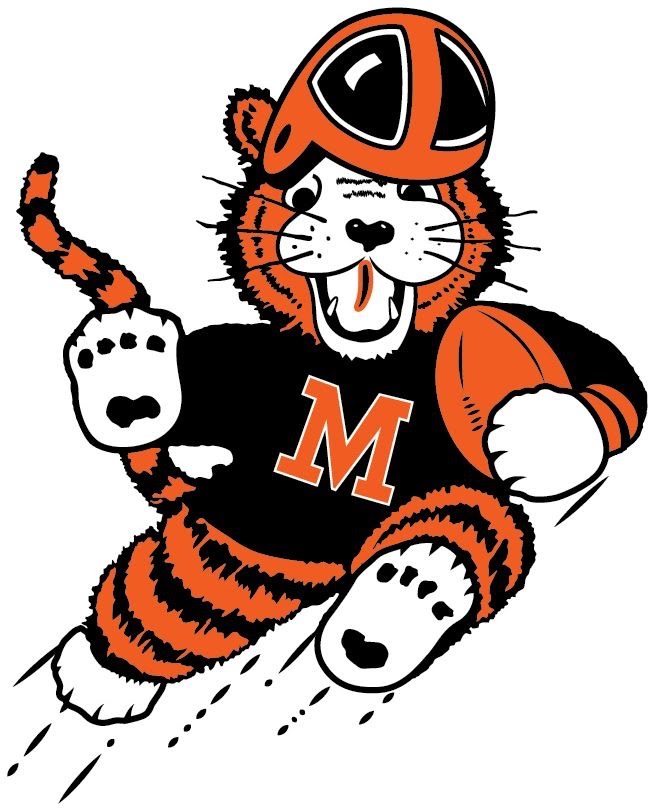 It was a night of recognition at St. George's Church for the 2021 football team banquet as several awards were presented to the players, officially wrapping up another successful campaign.  This year's squad compiled an 11-3 record and a fifth consecutive trip to the playoff regional finals.  Only a controversial call at the end of the Green game derailed what might have been a chance to advance to a fourth straight state title game.  It was also a season marked by inexperience, key injuries, player interruptions and replacement starters.  But the team endured nevertheless and set the table for continued success.
Head Coach Nate Moore opened the event by thanking the many individuals and groups for their unending support.  "We have so much support," he said, "and it allows us to keep doing this."
Following dinner the assistant coaches presented the various participation awards, while expounding on each player's individual achievements and effort.  Then the special awards, most of which were selected by the players themselves, were presented by various teammates to the winners.  They included:
Coach of the Year – Dan Hackenbracht (safeties)
Captain Awards – Darrius McElroy and Dominic Salvino
Brandon Burlsworth Character Award – Jaiden Woods
Thayer Munford ACT Award – Nick Hatheway
John Pizzino, Sr. Academic Football $1,000 Scholarship – Nick Hatheway
Paul David Memorial Academic Award – Jaiden Woods
Bob Smith / Bill Snyder Sportsmanship Award – Kurtis Miller
Offensive Scout Team Player of the Year – Anthony Hillard
Defensive Scout Team Player of the Year – Malachi Card
Lunch Pail Award – Jaiden Woods
Hardnose Award – Austin Brawley
Carl "Ducky" Schroeder Outstanding Lineman Award – Jaiden Woods
Offensive Player of the Year – Darrius McElroy
Defensive Player of the Year – Ryan Zentkovich
Special Teams Player of the Year – Austin Brawley
Lifters of the Year – Darrius McElroy and Dominic Salvino
Tom Harp Coaches' Award – Dominic Salvino
Most Valuable Players – Darrius McElroy and Austin Brawley (the voting was too close to select just one)
"It was an unbelievable year," said Moore.  "So much fun to be around.  An 11-5 record.  Five straight 10-win seasons."  Four  particular games stood out to him:
Austintown Fitch – 31-21 win.  Down 14-10 late in the second quarter, Fitch's quarterback connected on a 74-yard pass for a sure touchdown.  Only Ryan Zentkovich chased down the receiver and stripped him of the ball at the 2 yard line.  The ball then rolled out of the end zone for a touchback.  Three plays and 80 yards later Massillon took the lead and held on for the victory.  "Fitch, on the road, where they play good football," said the coach.  "Facing adversity from every direction.  The table was set for an upset.  They had all the momentum.  But we kept fighting and made some big plays.  If we don't get that game, who knows how the rest of the season would have gone."
Wooster – 31-0 win.  Returned consecutive punts for touchdowns to take an early 14-0 lead. "Absolute domination by our defense and special teams," said Moore.  The Tigers held the Generals to just 128 yards of offense.
Big Walnut – 38-0 win.  Regional semifinals.  Undefeated opponent, averaging 43 points per contest.  "Unbelievable game top to bottom," remarked the coach.
Canton McKinley – 35-13 win.  Down 13-7 at the break, Massillon scored four second-half touchdowns in five possessions to put the game away, while holding the Bulldogs under 50 yards of total offense.  "No win sticks out like Week 10 against Canton McKinley.  We came out in the second half and really dominated the game, in all three phases.  Darrius McElroy completely dominated for a quarter and a half."  It was the sixth straight victory over the Bulldogs.  McElroy would earn the Great American Rivalries MVP award.
"I'm not ready to leave this team," summed up Moore.  "This football team was awesome.  I wanted to take them to the next round.  But we fell short."
The underclass players will now look forward to January 3 when they resume workouts in preparation for the 2022 season.  Unlike this past campaign, the Tigers will have a wealth of experience returning, plus several outstanding players off last year's 9-2 junior varsity team and 8-1 freshmen squad.  Massillon should be strong at quarterback, running back, defensive line, linebackers and special teams, with several rotation players ready for their turn at the other positions.  Based on this, look for Coach Moore to assemble another outstanding schedule that will challenge the team and help prepare them for a long post-season run.
Advanced Industrial Roofing in conjunction with ESPN990 presented the "I Went Through the Roof for the Tigers" award to the following players:
Offensive Player of the Year – Darrius McElroy
Defensive Player of the Year – Austin Brawley
Retiring Booster Club President Tim Boerner announced the 2022 president as Harry Haines.
All-County – Austin Brawley, Te'Jamere Nash, Marcus Moore, Riley Campbell, Dominic Salvino
All-District – 1st Team: Jaiden Woods, Marcus Moore, Riley Campbell, Nathan Depuy and Austin Brawley; 2nd Team: Freddie Lenix Jr., Te'Jamere Nash, Shane Rue, Camden Beasley and Ryan Zentkovich; Honorable Mention: Jalen Slaughter, Sam Snodgrass, Michael White, Ardell Banks and Nate Watkins (Austin Brawley was also named Co-Defensive Player of the Year)
All-State – 1st Team: Austin Brawley and Jaiden Woods; 2nd Team: Marcus Moore, Riley Campbell and Nathan Depuy
Several No. 1 performance records were set during the season, including:
Career rushing yards per game – Willtrell Hartson – 121.4
Single game punt return yards – Austin Brawley – 140 vs. Canton GlenOak
Single season punt return yards – Austin Brawley – 447
Single season punt return touchdowns – Austin Brawley – 3 (tied)
Career punt return touchdowns – Austin Brawley – 4
Single season kick returns – Austin Brawley – 20
Single season yards from tackles for loss – Nate Watkins – 70 (tied)
Single season fumbles recovered – Nathan Depuy – 6
Career fumbles recovered – Nathan Depuy – 6
Single season blocked kicks – Austin Brawley – 7
Career blocked kicks – Austin Brawley – 9
Single season PAT kick percentage – Nolan Hendricks – 100% (tied)
Career PAT kick percentage – Nolan Hendricks – 100% (tied)
Single season tackles for loss yards – Team – 382
Single season forced fumbles – Team – 15 (tied)