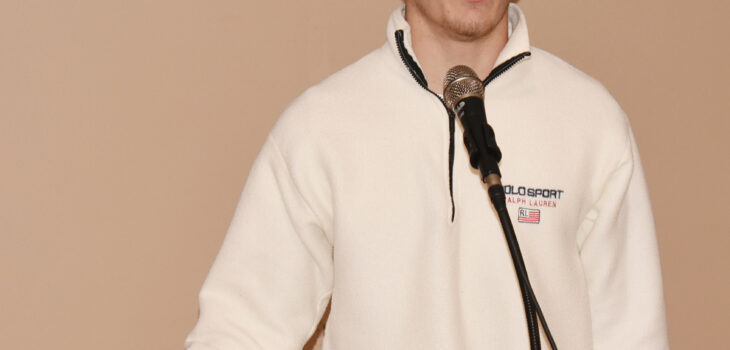 At the end of each season, the Touchdown Club honors one of the players with the "Bob Commings Memorial Hardnose Award."  That player would have received the most votes from among weekly tallies taken by the club members.  Past players honored include John Mulbach (Ohio State), David Whitfield (Ohio State), Chris Spielman (Ohio State), Shawn Crable (Michigan) and Brian Gamble (Illinois/Ashland).
Bob Commings was a very successful coach for the Tigers from 1969 to 1973, compiling a record of 43-6-2, including Massillon's last state championship (1970) and qualification for Ohio's first ever state playoff games (1972).  Commings departed following the 1973 season to become head coach of the University of Iowa and later coached at GlenOak High School, for which their field was later named.
This year's hardnose award winner is Austin Brawley, the Tigers' all-purpose player that led his team to an 11-3 record and runner-up finish in the regional tournament.  Austin received the award from Ben Liebermann, this year's president of the Touchdown Club.
The 2-year starter had a stellar career for Massillon, excelling on offense, defense and special teams.  He was also a member of the senior leadership group.  On offense this year he was the second leading receiver, catching 35 passes for 585 yards and four touchdowns.  On defense as a safety he was second on the team with 72.5 tackle points (57-31), intercepted 4 passes, broke up another 13, recorded 2 tackles for loss and forced 3 fumbles.  On special teams he returned 20 kickoffs for an average of 24.0 yards per return, returned 27 punts for an average of 16.6 yards per return and blocked 7 kicks, which is an all-time Massillon record.  In fact Austin made major plays in nearly every game, including:
Pickerington Central – 7.5 tackle points
Canton GlenOak – 79-yard punt return for a touchdown
Reynoldsburg – 39-yard pass interception return
Warren Harding – 89-yard kickoff return for a touchdown to open the game
Lakewood St. Edward – 49-yard pass return for a touchdown; 60-yard kickoff return; team-leading 8.0 tackle points
Austintown Fitch – team leading 6 pass receptions, including a long of 50 yards
Euclid – 47-yard pass reception for a touchdown; pass interception
Canisius, NY – team-leading 4 pass receptions for 109 yards, including a 72-yard pass reception for a touchdown; team-leading 9.0 tackle points
Wooster – 44-yard punt return for a touchdown; team-leading 5.0 tackle points
Canton McKinley – 28-yard pass interception return
Columbus Independence – 53-yard punt return for a touchdown
Westerville South – team-leading 6 pass receptions for 70 yards, including a 40-yard reception for a touchdown
Big Walnut – team-leading 3 pass receptions; team-leading 8.0 tackle points
Green – pass interception
And let's not forget last year's punt return against Perry in the playoffs, where he chased down the ball and returned it 80 yards for a touchdown to open a commanding 28-6 third quarter lead.
Also presented at the Touchdown Club was the Lunchbox Award, which was given to Jaiden Woods, emblematic of his concerted day-to-day effort throughout the entire year.
Congratulations to both of these fine senior players.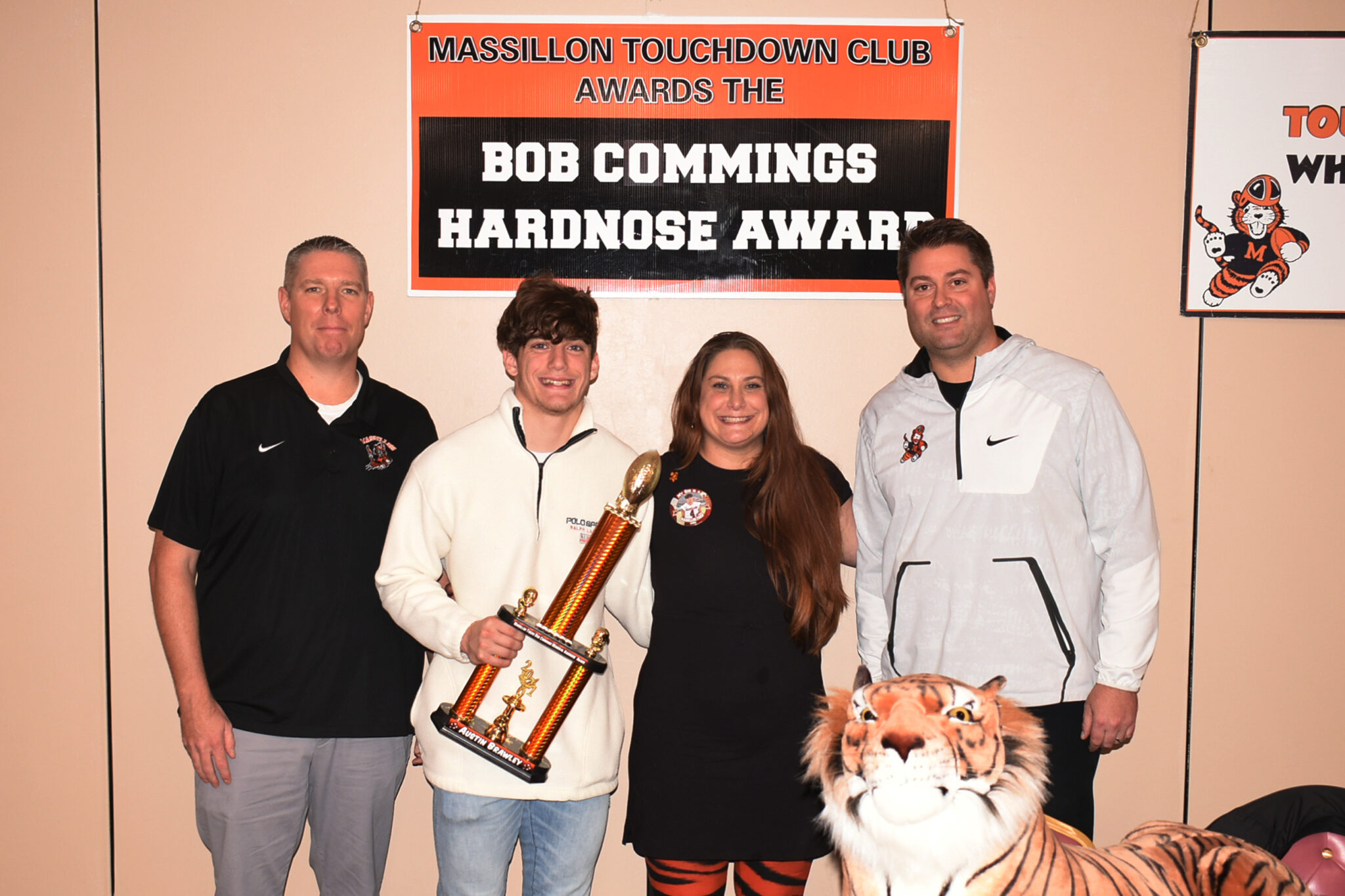 Left to to right: 2021 Touchdown Club President Ben Liebermann, Hardnose Award Winner Austin Brawley; mom Libby Ginther and Massillon Head Coach Nate Moore.
Left to right: 2021 senior leadership group players Austin Brawley, Jaiden Woods, Darrius  McElroy, Dominic Salvino, Massillon Head Coach Nate Moore.