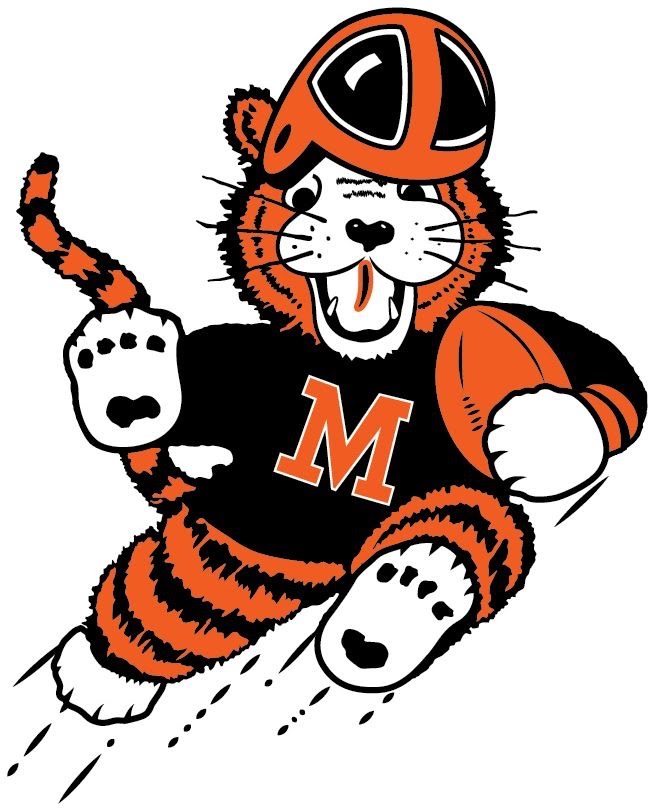 In regional final playoff action No. 4 Massillon lost to No. 7 Green, 26-25, finishing the season with an 11-3 record.  The game was played at Mansfield's Arlin Field Stadium.
The Tigers were favored in this one but lost with less than a minute remaining when Green's Trevor Van Horn connected with Trey Martin for a 16-yard touchdown pass.  Green advances to the state semifinals where they will face Cincinnati Winton Woods.  The other semifinal pits defending champion Akron Hoban against Avon.
All-in-all it was a good game spoiled by some unfortunate referee calls.  Right from the start there were issues.  On Green's second play from scrimmage, Van Horn threw a sideways screen pass that was dropped by the receiver.  The referee closest to the play ruled it incomplete, but the side judge on the far side of the field called it a backward pass and a fumble, which Massillon then recovered.  The Tigers would score the opening points a few plays later, but only after the Bulldog head coach was assessed a 15-yard penalty for disputing the call.  A review of the film shows that the pass was thrown parallel to the line of scrimmage and was thus incomplete.
In the second quarter Green had the ball at the Massillon ten facing a fourth down and a half yard to go.  Van Horn tried a quarterback sneak but was stopped dead in his tracks.  But the side judge ruled that he had advanced a full yard and awarded the Bulldogs a first down, overruling the ref on the opposite side of the field, who was closer to the play.  That led to Green's first touchdown.
But the coup de gras came with 24 seconds left in the game.  Green was behind 25-19 on the scoreboard and was facing a 4th and 10 at the Massillon 25 .  It was undoubtedly the play that would decide the game.  Martin lined up near the right sideline and headed straight for the end zone looking to high top the ball and score.  Zahnii Berry was on defense but ended up trailing Martin by about a yard.  At the one yard line Martin stepped out of bounds with his right foot, which would have made him an ineligible receiver, unless he was pushed out, which he was not .  He stepped out again with his right foot after he had crossed the goal line.  Now in position to catch the ball at the corner of the end zone he was challenged by safety Austin Brawley, who had beat him to the spot, jumped straight up and intercepted the pass, as ruled by the back judge, who  was standing five yards from the catch.  It was a clean play as neither player interfered with the other.  But the side judge, who was some twenty yards away from the play ruled that one of the Tiger players had interfered.  Ironically, it was his fifth pass interference call against Massillon.  The side judge also failed to drop his hat at the spot where Martin had stepped out of bounds to indicate such.  The penalty gave Green new life and they scored the winning points two plays later.
In all, the two teams were flagged a combined 30 times, 20 against Massillon and 10 against Green.  Inexcusable, considering both teams were good enough this year to advance to a regional finals game and were not highly-penalized teams.  What ever happened to letting the kids sort it out on the field?  So it was indeed a good game spoiled by some bad referees.
As expected, Massillon was certainly a tough out in the playoffs.  It took a career effort from Van Horn to bring his team to victory.  He threw a whopping 57 passes and completed 31 for 276 yards and four touchdowns.  Ten of the passes went to Martin, for 129 yards and three scores.  Obviously, Green knew they wouldn't be able to run the ball (26 carries for 54 yards), so they resorted to using an empty backfield formation (5 wide receivers) exclusively throughout the game.  The 57 passes were most ever thrown against Massillon in a single game.
The Tigers' game plan was to run the ball and found success with quarterback Darrius McElroy, who carried 20 times for 136 yards and scored all three touchdowns.  Shane Rue also added a field goal, his eighth of the season.  But the base first down scheme, which involved 23 runs and just two passes, struggled since Green was blitzing their middle linebackers each time.  As a result, Massillon's longest drive less penalties was just 37 yards.  But it wasn't for lack of effort that they lost the game.  The Tigers gave it their all from start to finish.
"Congratulations to Green as they move forward in the state playoffs," said Massillon Head Coach Nate Moore in his opening remarks at the final Booster Club meeting.  "Unfortunately we couldn't get it done in spite of a great effort.  It was a great play when Austin picked off the ball at the end.  But we didn't make enough plays to overcome twenty penalties."
Stats:
Jalen Slaughter – 5 for 11 passing for 41 yards
Darrius McElroy – 2 of 5 passing for 5 yards; 20 carries for 136 yards and 3 touchdowns; 4 punts for 34.5 ave.
Freddie Lenix Jr. – 14 carries for 67 yards
Austin Brawley – 3 receptions for 11 yards; 6 kick returns for 77 yards; pass interception
Camden Beasley – 8.5 (8-1) tackle points
Maverick Clark – 8.0 (5-6) tackle points
Ressieo Kirksey – 1.5 tackles for loss; 1 sack
Coach Moore brought all of his senior team leaders to the meeting.  They included:
Austin Brawley – wide receiver / safety
Riley Campbell – wide receiver / defensive lineman / outside linebacker
Nathan Depuy – inside linebacker
Darrius McElroy – quarterback
Kurtis Miller – wide receiver / cornerback
Angelo Salvino – long snapper
Nate Watkins – wide receiver / outside linebacker
Jaiden Woods – offensive lineman / defensive lineman
Each player addressed the attendees and thanked the Booster Club and community for the great support, saying he was sorry they couldn't take it farther in the playoffs.
"What a tremendous career these guys had," said Moore.  "They had a great senior year.  It didn't end the way we wanted.  We lost to a team we should have beaten.  But they were part of a lot of wins.  A lot of people thought we wouldn't be very good (just four returning starters and the loss of some key starters early in the season due to injury).  I couldn't be prouder of these guys.  This is a great group of outstanding young men.  And they grew so much as leaders.  It was one of the most fun seasons I remember.  These guys raised the bar on effort and leadership.  I'm proud to stand with them today."
Massillon ended the season with an 11-3 record, the fifth year in a row that they won at least ten games.  During past six seasons the Tigers have compiled a 67-14 mark, including four regional championships and three trips to the state finals.  And the future bodes well with the talent coming up  from the lower grades.
Next season's schedule will see the return of Canton GlenOak (A), Warren Harding (H), Austintown Fitch (H) and Canton McKinley (H), games that cover Weeks 2, 4, 6 and 10, respectively.  That leaves six open dates for Moore to fill.  Look for another big name Ohio team for the opener and perhaps an out-of-state team or two.
Go Tigers!