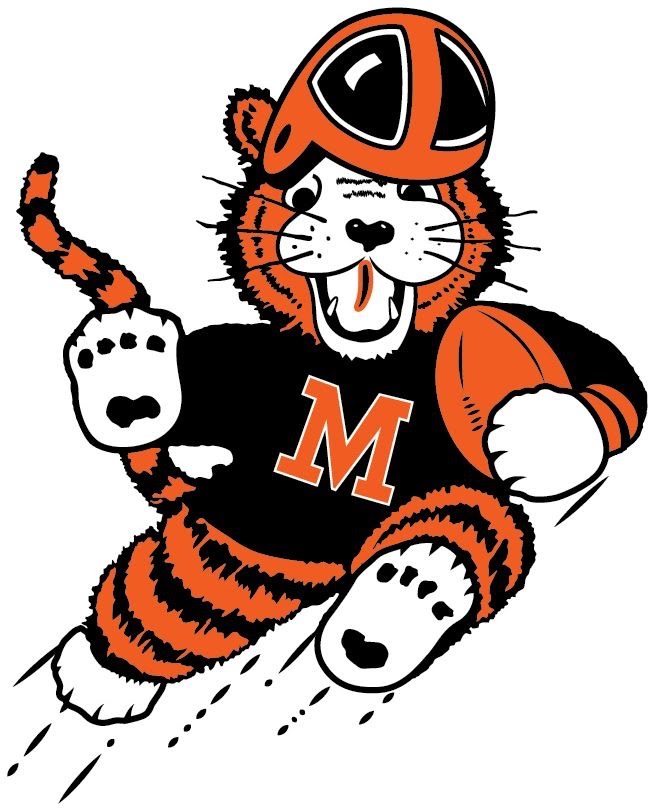 In Round 2 playoff action Massillon defeated Westerville South (8-3), 50-19, to improve their record to 10-2.  All-time win No. 919.  Next up is a playoffs regional semifinal matchup against No. 1 regional seed Big Walnut (12-0) on Friday at 7:00 pm.  The game will be held at Mansfield's Arlin Stadium.
With the victory last Friday, the Tigers have now won at least ten games in each of five consecutive season, which is a first since the introduction of the post-season playoffs some fifty years ago.  Prior to that, in seasons limited to ten games, it has never been done.
Westerville South
Coming into the South game Massillon was considered as a modest favorite by several national computerized rating systems.  But after a running clock finish, they are once again proving that at least for this year the Tigers have been generally underrated.  Or perhaps starting with the Wooster game they are finally coming into their own.
Against Westerville, Massillon scored four four straight touchdowns to open the game and took a 28-13 lead into the locker room.  They fashioned it via drives of 73, 77, 60 and 45 yards using a mixture of runs and passes.  In the run game it was a Freddie Lenix Jr., Darrius McElroy and Camden Beasley combining for 23 carries and 145 yards (6.3 per att.).  The big one was a 53-yard jaunt to paydirt by Lenix on the fourth play of the game.  Freddie finished with 226 yards and two touchdowns and is consistently proving to be an adequate replacement for the injured Willtrell Hartson.  He would later spring for an 84-yard TD run, giving the Tigers an insurmountable 43-13 third quarter lead.
Freshman Jalen Slaughter had another good day at quarterback and during the four TD drives he completed 8 of 9 passes for 107, including a 40-yard scoring pass to Austin Brawley, who found himself wide open on a crossing route post pattern.  Also catching passes were Ardell Banks, Kurtis Miller and Riley Campbell.  Slaughter finished with a 12 of 18 effort for 168 yards and three touchdowns.  Jalen's quarterback efficiency rating is now 163.9, which is creeping up on Aiden Longwell's career mark of 174.1.  McElroy was used exclusively in the wildcat formation in the Tigers' 2-quarterback system.  He literally, along with the offense line, plowed the road to the end zone.  Darrius also completed 3 of 3 pass attempts.  He has now hooked up on 15 of his last 18 passes, showing that he is also a threat to pass.
Although Westerville was able to score a few touchdowns, it was Massillon that controlled the tempo throughout.  But South was able put up the best rushing numbers of any previous Tiger opponent, gaining 181 yards.  Their two tailbacks averaged a combined 6.1 yards per attempt, proving once again that every opponent n the playoffs is good in some form.   But South's passing game was sporadic (12 of 27) and they only converted a first down on 2 of 10 third down passing attempts.  Meanwhile, the defense simply couldn't get Massillon off the field on third down.  The Tigers converted on 9 of 12 attempts and were successful on their only try on fourth down.  They were also effective on 6 of 9 third down passing attempts.,
"It was a really good week by our offense," said head coach Nate Moore at the weekly Monday Booster Club meeting.  "We really executed.  We played at a high level.  We had a pretty good game defensively, but had a little trouble with the outside zone."
Guest players were inside linebacker Nathan Depuy, offensive tackle Te'Jamere Nash and long snapper Dominic Salvino.  Their comments are summarized below:
We played as a team.  Freddie Lenix Jr. and Ryan Zentkovich really stood out.
The offense showed up.  Played all four quarters.  Scored four straight touchdowns to open the game.
We have lifted each other up the last couple of week and come together.
It's hard to play Massillon for four quarters due to the physical play and conditioning.
We throw so much offensively at the opponent's defense that they are prone to get confused and occasionally line up incorrectly, such as during the uncontested touchdown pass from the one yard line.
We are now working at a high tempo on offense to pressure the defense.  We can do that now that the starting lineup has been locked down.
Stats:
Freddie Lenix Jr. – 22 carries for 228 yards and two touchdowns; long of 84 yards (2nd half)
Darrius McElroy – 8 carries for 47 yards and two touchdowns; 3 of 3 passing for 21 yards; two punts averaging 35.5 yards
Jalen Slaughter – 12 of 18 passing for 168 yards and 3 touchdowns
Austin Brawley – 6 receptions for 70 yards and a touchdown
Ardell Banks – 5 receptions for 89 yards and a touchdown
Ryan Zentkovich – 9,0 (5-8) tackle points; pass interception with 31-yard return
Nathan Depuy – 7.0 (5-4) tackle points; one tackle for loss
Big Walnut
This is the first ever meeting between Massillon and Big Walnut.  The Golden Eagles are a member of the 8-team Capital Division of the Columbus-area Ohio Capital Conference, a division that also includes Westerville South, Dublin Scioto and Canal Winchester.  In the five years previous to the 2021 season they compiled an overall record of 19-33.  In last year's playoffs in which every team qualified they defeated Logan 62-0 and then lost to Scioto 31-13.  They also own a 17-8 all-time playoff record, which includes a Division 3 state title in 2007.
Big Walnut will enter the game against Massillon with a 12-0 record, averaging 43 points a game and giving up 13.  But they are also moving into unexplored territory owing to this year's unusual success, with no recent playoff experience at this level.
Notable wins this season include:
Westerville South (8-3): 38-7
Dublin Scioto (8-4): 28-20
Canal Winchester (7-5): 45-24 and 38-7.
Moore noted that schematically they are similar to the Tigers more than any other team they've played this year.  The offense operates out of a 3-back spread (quarterback, tailback, fullback) with 2 X 1 receivers.  They are very multiple in their play calling: some unbalanced, motions, shifts.  A run-first offense, they will use some play-action, screens and occasional deep throws.
Personal-wise, the offense is a young group with a starting lineup that includes just three seniors, along with five juniors and three sophomores.  Although the line is not stacked with notable players, it competes well as a group and is among the better ones Massillon has seen.  They are well coached and get off the ball.  The linemen average 6′-2″, 234 lbs.  The best among the group is junior left tackle Grant Conklin (6′-4″, 280).  Physical and athletic.
The running attack revolves around sophomore tailback Nate Severs (5′-11″, 205), who this year has gained 1,719 yards (8.5 yds/att.).  Moore considers Severs as the best running back the Tigers have faced this year.  He is a tough, physical runner, with good speed. He is also strong and possesses good patience and vision.  He will bounce it to the outside.  The backup, sophomore Garrett Stover (6′-2″, 190), is also very good.
Passing is not Big Walnut's strength, but they do have a good possession receiver in junior Grant Coulson (5′-11″, 180),.  He is the No. 1 target with 21 catches for 268 yards and four touchdowns.  In the gun is sophomore Jake Nier (6′-2″, 190).  He's probably more of a runner than a thrower.  Not bad on tag screens and play action.  A good field general.
The defense has aligned in a 4-3 in some games and a 3-4 in others.  The secondary uses match coverage, similar to  Massillon.  They will also use some cover-4 and some cover-6.
The strength of the defense is the front four, which averages 6′-1″, 216 lbs.  Two players stand out: senior defensive tackle Christian Takatch (6′-3″, 220) and junior defensive end Ethan Clawson (6′-4″, 220).  Takatch leads the team in tackles-for-loss and sacks.  He is strong and hard to move.  Clawson is second in both categories.  He's tough and plays very hard.  Both can cause problems for an offense.
Other defensive players to keep an eye on are senior outside linebacker Lucas Tindall (6′-1″, 210) and Garrett, who plays safety.
Playoffs
Should the Tigers defeat Big Walnut, they will advance to face the winner of the contest between No. 7 Green and No. 14 Wooster, both of which fashioned upsets last week.  Green defeated No. 2 Hoover 14-10 and Wooster beat No.  6 Scioto 20-10.