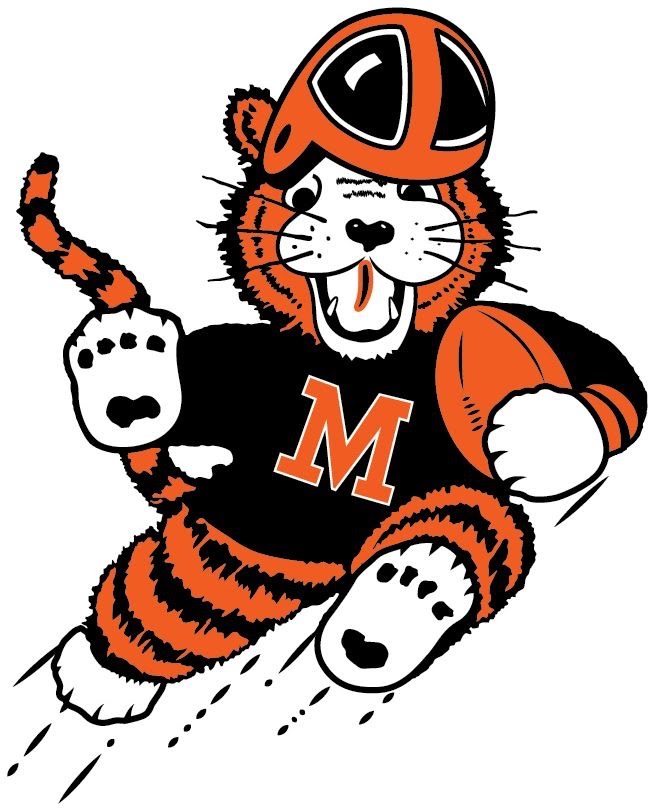 In Round 1 playoff action, Massillon defeated Columbus Independence (5-6), 76-22, to improve their record to 9-2.  All-time win No. 918.  Next up is a second round playoff home game against Westerville South (8-2) on Friday at 7:00 pm.
JV (9-2): Defeated Medina Highland, 23-14.  It was Highland's first loss.  Season over.
Columbus Independence
It's playoff time, when winners move on and losers go home.  It's a time when serious contenders "take no prisoners."  And the Tigers did just that in dismantling an outgunned Columbus Independence eleven, 76-22.  Massillon left no doubt by scoring 62 first-half points, a feat that is ranked 3rd all-time behind Sun Valley's 73 in 2018 and Youngstown East's 71 in 1991.
It was obvious from the start that Head Coach Nate Moore wanted to give his freshmen quarterback, Jalen Slaughter, some reps in the passing game when the Tigers went to the air early.  "We hit them with tag screens right away," said Head Coach Nate Moore.  "If we get 5 yards we are happy."
In one half of play (the backups played the second half), Slaughter connected on 13 of 15 passes for 209 yards and two touchdowns.  That included a long one of 50 yards to Ardell Banks who, while streaking down the left sideline, caught the ball in stride to set up the next TD.  "Slaughter was really dealing," said Moore.
In the run game it was literally no match as Massillon's line had its way against the lesser skilled 76ers.  Meanwhile, Freddie Lenix continues to run well behind it after being inserted as a starter just a few games ago.  He finished his half with 99 yards and a pair of touchdowns.
Independence did show some spark on offense, particularly in the passing game, with quarterback Antonio Harris completing a respectable 12 of 21 passes for 135 yards and two touchdowns.  But once again, the Tigers held the running attack in check, surrendering under 100 yards for the 9th time in 11 games.
The special teams locked down the game with a Ryan Zentkovich punt block along with a Cam Beasley return for a touchdown and a long punt return by Austin Brawley for another TD
Moore said that they knew the 76ers weren't good, while Massillon executed at a high level.  He was pleased with the Tigers' performance and said they played an "overall good game."  "They weren't very good," he said.  "We executed at a high level, we had a really good day.  Their offensive tempo gave us some problems."
Guest players were long snapper Dominic Salvino, offensive / defensive lineman Jaiden Woods and offensive tackle Te'Jamere Nash.  Their comments are summarized below:
It's game-on now (with the playoffs underway).
The plan was to go hard and fast so the younger players can play.
The prep was good.  They matched what we prepped for.  Everything we saw in practice we saw on the field.
We were the better team.  We hit quick and got to our backups.
Approximately 60 guys got to play.
The last six quarters have been the best Tiger football of the season.
Stats:
Freddie Lenix, Jr. – 12 carries for 99 yards and four touchdowns
William Marshall – 9 carries for 57 yards
Cam Beasley – one rushing touchdown; punt return TD
Rasean Card – one rushing touchdown
Jalen Slaughter – 13 of 15 pass completions for 209 yards and two touchdowns
Anthony Hillard – 1 touchdown pass
Ardell Banks – 4 receptions for 97 yards
Kurtis Miller – 4 receptions for 77 yards
A.J. Jordan and Jalen Sample – one TD catch each
Ryan Zentkovich – 8.5 (8-1) tackle points; 1 tackle for loss; 1 fumble recovery; blocked punt
Nathan Depuy – 6.0 (5-2) tackle points
Austin Brawley – 5.0 (4-2) tackle points; 53-yard punt return for a TD
Nolan Hendricks – 6 PAT kicks
Westerville South
This is the 4th meeting with South, with Massillon holding a 3-0 advantage.  The score of last year's game was 45-36, after the Tigers held a 42-9 lead going into the 4th quarter.  They are not as good as last year's undefeated team, but they have good skill players.  Their season thus far:
Olentangy (3-8): 29-17 W
Hilliard Darby (8-3): 31-34 L
Dublin Scioto (8-3): 41-22 W
Big Walnut (11-0): 7-38 L
Westerville North (3-8): 62-21 W
Delaware Hayes (3-8): 49-7 W
Canal Winchester (7-4): 16-14 W
Franklin Heights (0-8): 65-0 W
Worthington Kilbourne (4-7): 29-6 W
Uniontown Lake (5-5): 32-10 W
Offensively, they utilize the spread formation, but don't feature the pass as much as last year with the departure of stellar quarterback Peter Petrozo.  Stepping into his place is sophomore Dom Birtha (5′-9″, 175) (67-115, 911 yds, 12 TDs), who has been the starter since game 6 (a 38-7 loss to Big Walnut) and has been the spark for the offense since .  Moore says plays well for his grade .  Look for more of a balanced attack.  The line is average, although they have a good pair of running backs in senior Brandon Armstrong (5′-8″, 160) (111-883, 10 TDs) and sophomore Nasir Phillips (5′-10″, 195).  The best lineman is junior guard Craig Horton (6′-0″, 280).  The best position group is the wide receivers, led by returning starter senior Kaden Saunders (5′-11″, 165) (30-321, 4 TDs), who holds an offer from Penn State.  He is also ranked No. 56 nationally in the senior recruiting class.  Last year against Massillon he caught 9 passes for 169 yards and two touchdowns.  He may be the fastest player on the field Friday night.
Defensively, they align in a 3-4 with some cover-1 and cover-3.  The secondary players tend to allow some margin in coverage.  They also don't feature the secondary in the run support.  The line is average-to-good, as are the linebackers.  Both safeties are good.  And Saunders is also found at cornerback.  The best interior players are senior outside linebacker Jack Bates (5′-11″, 155) and junior inside linebacker Ethan Hanna (5′-11″, 195).  Bates has 62.5 tackle points, including 15 tackles-for-loss, and Bates has 53.5 tackle points.
In summary, watch for Saunders throughout the game, as he never leaves the field.  Wide receiver and some wildcat on offense (9-14, 94 yds); cornerback  on defense; return specialist on special teams.  He even punts.
South defeated Lake last week.  Moore was hoping for Lake win, since the Tigers have never faced them.
Playoffs
Should Massillon defeat Westerville South, they would face the winner of No. 1 seed Big Walnut and No. 9 seed Canal Winchester, presumably in Mansfield.
Go Tigers!