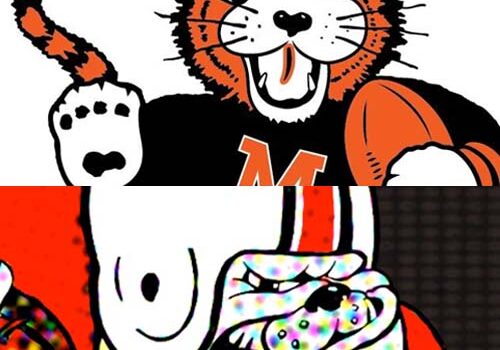 Massillon turns big plays, turnovers into another win over McKinley
'Watched them break right in front of us': Massillon Tigers football rallies to another win over Canton McKinley
CANTON – Massillon wanted to do something that hadn't happened in six decades. McKinley just wanted to accomplish something it hadn't done in six years.
On Saturday afternoon in the 132nd installment of The Game, the Tigers celebrated like it was the 1960s. They did so thanks to a 35-13 win over the Bulldogs in front of 11,094 at Tom Benson Hall of Fame Stadium, extending their win streak in the series to six in a row.
It is the longest win streak by either team in the series since Massillon won nine in a row from 1957-65. It makes it the fourth-longest win streak in the series.
"We just played better football," Massillon coach Nate Moore said after he improved to 6-1 against McKinley. "We came out and continued to play hard and execute a little better and make some plays. Football's a funny game. Sometimes you're playing hard and things aren't going your way and you just have to keep playing hard."
The Tigers will take a five-game win streak, and an 8-2 record, into their Division II, Region 7 playoff opener next week. Their likely opponent will be Columbus Independence.
McKinley falls to 6-4, but will head into the playoffs as a top-four seed in Division I, Region 1. The Bulldogs will await official word on their first-round opponent Sunday.
"In the second half, their guys made plays when they needed to," McKinley coach Antonio Hall said. "We left some plays out there. Hat's off to their guys, because they executed when they had to."
Big plays and turnovers were the story of the game for both teams. In the first half, it helped McKinley hold a 13-7 lead.
In the second half, it helped Massillon surge to the win. The Tigers scored 28 unanswered points in the second half, while forcing two of the Bulldogs' three turnovers in the game.
"We didn't do anything differently," said Massillon safety Austin Brawley, who set up the Tigers' third touchdown with an interception and also blocked a point-after try on McKinley's first score. "We just played our brand of football. Just watched them break right in front of us."
Two big pass plays helped to set up the Bulldogs' two first-half scores. On their first drive, Harold Fannin Jr. took a swing pass and ran 25 yards into Massillon territory to the 35.
Three plays later — including a Tiger pass interference — Khris Williams ran it in from 13 yards out for a 6-0 McKinley lead with 8:20 remaining in the first quarter. Brawley, though, blocked his seventh point-after kick to keep the lead there.
Freddie Lenix Jr.'s 49-yard touchdown run provided the Massillon answer five plays later. Shane Rue's PAT kick gave the Tigers a 7-6 lead with 5:53 left in the first.
Lenix finished with 179 rushing yards on 16 carries, scoring two touchdowns. Both scores were on long runs where he was barely touched.
"My line made it easier, for real," Lenix said. "Them boys made it way easier for me. They did every little thing they were supposed to. That's why I love them."
It took the second big first-half pass play for the Bulldogs to retake the lead. With less than five minutes remaining in the half, Cynceir McNeal pulled down a contested 50-yard pass to the Tiger 23.
Five plays later, Amarion Williams pushed his way into the end zone from a half-yard out to give McKinley the lead back at 13-7 with 1:38 left in the half.
Massillon had three other first-half drives cross the Bulldog 35. All three ended in no points: a fumble at the McKinley 34, a missed 38-yard field goal and an interception in the end zone by McNeal with four seconds left in the half.
Tiger mistakes nearly derailed their first second-half possessions, as flags left them in a third-and-14 from their own 21. A big pass play, though, helped them turn it into a 14-13 lead.