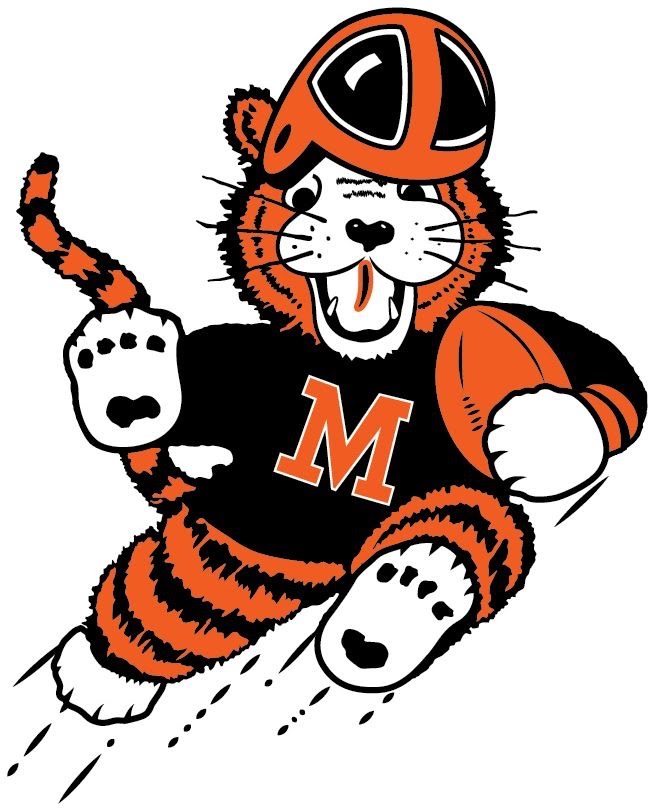 Massillon defeated Wooster (4-5), 31-0, to improve their record to 7-2.  All-time win No. 916.  Next up is a road game at Canton McKinley (6-3) on Saturday at 2:00 pm.
7th Grade (8-0): Season over.
8th Grade (6-2): Defeated Chardon, 34-16.  Season over.
9th Grade (7-1): Defeated Wooster 28-0.Plays home to Canton McKinley on Thursday, October 21, at 6:00 pm.
JV (8-2): Defeated Wooster, 29-0.  Season over.
Wooster
Call it a tune-up for the big one if you like, but the Tigers took care of business early in a 31-0 victory over Wooster.  Two punt returns kick-started the effort and Massillon cruised the rest of the way, while keeping a very good Generals passing attack in check.
On Wooster's first possession they faced a 4th and 2 at their own 38 and tried to draw the Tigers across the line early.  Failing to do that, the quarterback elected to punt from a short drop.  But a Massillon lineman got a hand on the ball and it landed at the Wooster 48, from where an alert Nathan Dupuy scooped it up and raced untouched to the end zone for the first score.  The second return was from Mr. Reliable, Austin Brawley.  He field a punt from the Generals' second attempt and sped through the pursuers for a 44-yard TD.  By halftime Massillon held a 31-0 lead and the game for all intensive purposes was over.
Stats:
Freddie Lenix, Jr. – 13 carries for 68 yards and two touchdowns in his first action of the season at running back
Jalen Slaughter – 6 of 14 passing for 48
Darrius McElroy – 4 of 5 passing for 19 yards
Ardell Banks – 3 pass receptions for 32 yards
Jaden Welch – 3 pass receptions for 19 yards; 4.5 (4-1) tackle points
Shane Rue – 5 kickoffs into the end zone; 3 punts averaging 45.3
Austin Brawley – 5.0 (4-4) tackle points; punt return for touchdown
Nathan Depuy – punt return for a touchdown
Camden Beasley, Marcus Moore – Each had a pass interception
Beasley, Depuy, Mike Wright, Jr., Maverick Clark, Jaiden Woods – combined for 4 quarterback sacks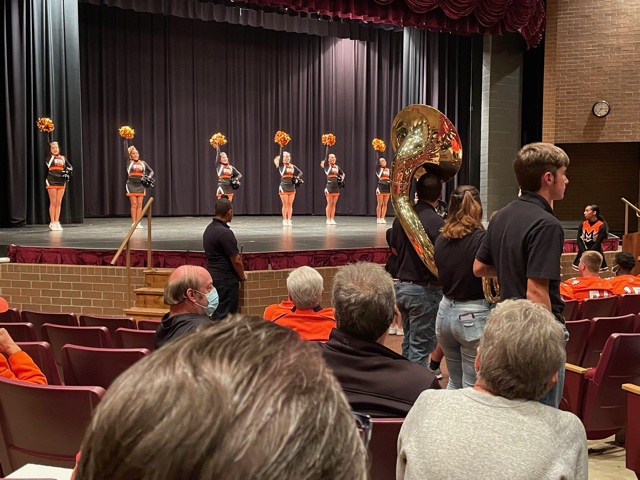 This being the week of the big rivalry game with Canton McKinley, the Booster Club invited the senior players, bandsmen and cheerleaders to get the week started.  Head Coach Nate Moore introduced the players and invited each one to share their best memory of a previous Massillon-McKinley game or other big moment in their career.
"The one thing that is consistent is they always go out and play hard," said Moore of this year's team.  And that starts with the seniors.  We only returned four starters and there was a lot of growing that had to happen pretty quickly."
The coach said that in spite of the inexperience it all came together in the game against Austintown Fitch.  The Tigers were down seven starters and were playing against a pretty good team on the road who had a great quarterback.  But Massillon kept swinging throughout the contest.  Moore recalled two plays that defined the game.  The first was when Ryan Zentkovich ran down and stripped the ball from a Fitch receiver who was on his way for a certain score.  The second was at the end game when the Tigers fumbled in the red zone and a Fitch player picked up the loose ball was streaking down the sideline for a touchdown that would have made it a one-score game.  That's when Ardell Banks jetted across the field and caught the him at the Massillon ten.  After that, the defense held on all four downs to close out the contest.  "I'm really proud of these players," said Moore.
Canton  McKinley
The Tigers and Bulldogs will face each other for the 132nd time in a rivalry that began in 1894.  Massillon currently holds a 73-53-5 lead in the series.  McKinley enters with a 6-3 record, with early losses to Mentor and Austintown Fitch and a recent setback to North Canton Hoover.  Their season thus far:
Mentor (4-5): 7-49 L
Austintown Fitch (5-3): 28-42 L
Huber Heights Wayne (7-2): 28-12 W
Massillon Perry (2-7): 27-25 W
Green (6-3): 34-14
North Canton (7-2): 0-24 L
Lake (5-3): 28-16 W
Massillon Jackson (8-1): 29-28 W
Canton GlenOak ((2-6): 26-34 W
McKinley has won six of their last seven games and is really playing good football right now, according to Moore.  They feature several skill players that are really good, while the offensive line has been improving.
The Bulldogs operate out of the spread offense and prefer the pass to the run in order to take advantage of their skill players.  Their passing scheme will present a lot of variety.
Two different players man the quarterback position: senior Amerion Williams (5′-8″, 165) and sophomore Keaton Rode (6′-1″, 175).  Williams is quick and scrambles well.  He is also good on option reads.  Considered an average passer.  Rode also runs well and is good on option reads.  Also considered an average passer, but has completed some big passes.
The primary targets are senior Harold Fannon (6′-3″, 220) and junior Cynceir McNeal (6′-4″).  Fannon is the No. 1 target and is considered by  Assistant Coach Craig McConnell to be the best receiver we've seen this year.  He gets off well and uses his big body to shield himself from defenders.  McNeal has great speed and is perhaps their deep threat.
Two players will rotate at running back: senior Khris Williams (5′-10, 190) and junior Treytonj Mackey (5′-9″, 210).  Both run vertical and run hard.
The offensive line has good size, averaging 6′-3″, 301 lbs.
The defense aligns in a 4-3, with a lot of cover-3 and cover-1.  They don't blitz a lot, but are very active in the secondary.  Both Fannin and McNeal are found on the field in this area.  Massillon will need to play hard, tough, physical football and foremost, establish the run.
The defensive front averages 6′-1″, 204 lbs.  Expect the Tigers, which average 6′-1″, 278 lbs., to have a sizeable advantage in this area.
Playoffs
A win over McKinley will assure Massillon of a Top-4 placement in the final computer ratings.  That would set the Tigers in position to have two home games in the playoffs.
Go Tigers!