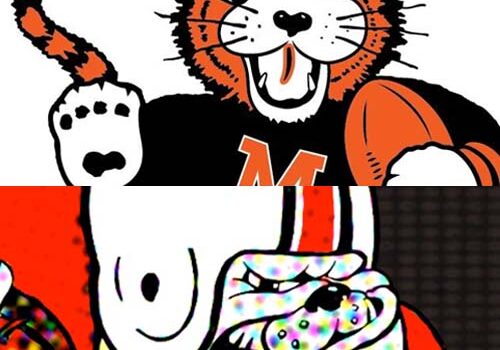 Massillon defeated Canton McKinley (6-4), 35-13, to improve their record to 8-2 and finish No. 4 in the final computer poll for Division 2, Region 7.  All-time win No. 917.  Next up is a first round playoff home game against Columbus Independence (5-5) on Friday at 7:00 pm.
7th Grade (8-0): Season over.
8th Grade (6-2): Season over.
9th Grade (8-1): Defeated Canton McKinley, 34-30.  Season over.
JV (8-2): Plays home to Medina Highland on Saturday, October 30, at 10:00 am.
Canton McKinley
The last time Massillon scored four touchdowns in a half against Canton McKinley was 1953 in a 47-7 blowout.  In fact, the Tigers have only accomplished that feat three times prior to last Saturday, the other two coming in 1951 and 1940.  Incidentally, all three Tiger teams captured state championships.  While the '51 and '53 Bulldog teams were not considered very good, this year's team finished a respectable 6-4, while the 1940 squad went 8-1-1.  So it was history of sorts in the making.  And one could say that it was the most productive half of football against McKinley in over 80 years.
Quarterback Darrius McElroy went down with an injury against Lakewood St. Edward in Week 5 and the freshman Jalen Slaughter has since done a good enough job to become the primary signal caller.  So in the minds of most fans the lingering question was how can Head Coach Nate Moore find a role for his senior captain.  That answer came in the second half of the game against Canton McKinley when Darrius was inserted into the offense as a "wildcat" quarterback with an empty backfield formation.  In essence, he became both the QB and the running back simultaneously  Obviously, the scheme worked as he helped lead an attack that resulted in  four touchdowns in five possessions, with the fifth ending in a fake field goal.  By game's end, McElroy had rushed for 88 yards and scored two touchdowns.  He also had a 14-yard TD pass called back due a penalty prior to the fake field goal.  For his effort, Darrius was named Player of the Game by the Great American Rivalry Series.  The coaching staff had developed McElroy's scheme throughout the week and debated whether to use it early or late, but couldn't settle on which.  In the end it was the start of the second half, but it could have been used earlier if needed.
Also coming up big was running back Freddie Lenix, Jr., who rushed for 179 yards and scored two touchdowns, on long runs of 49 and 68 yards.  Lenix, who hadn't run the ball since the 8th grade, was inserted into the lineup as recently as last week in place of the injured Willtrell Hartson.  Based on these results, the rust is off and future opponents must be aware of his speed and athleticism.  For his performance, Freddie was named Player of the Game by WHBC.
Aiding in all this was the outstanding play of the offensive line, which was the key in accumulating 371 yards rushing.
Meanwhile, the defense was simply spectacular, holding the Pups to just 64 yards on the ground (1.9 yards per attempt) and 114 yards in the air, while giving up a mere 41 total yards in the second half.  Nathan Depuy recovered his fourth fumble of the season, which ties the all-time Massillon season record.  And Brawley got his 7th block of the season during a PAT kick attempt after McKinley's first touchdown.
The Tigers have now won six straight games vs. the Bulldogs and ten of the last eleven, upping the series record to 74-53-5, while retaining the bell for at another year.
Moore said he felt good both before and after the game.  "I thought the kids were absolutely ready to go," he said.  "Our kids just kept playing hard.  We ran away with a pretty decent victory.  There were no halftime adjustments (referring to the deficit at the break).  When you keep playing hard, good things will happen."
The coach cited the outstanding play of several players.  He noted specifically that Jaiden Woods had his best game of his career and fullback Nate Hatheway has really improved.
Guest players were offensive tackle Te'Jamere Nash, offensive / defensive lineman Jaiden Woods, wide receiver / outside linebacker / defensive lineman Riley Campbell and offensive guard Reece Turpin.  Their comments summarized below:
We came in focused.  Strictly business.  We kept pushing.  They started to give up.
The offensive  line played really well.  Lenix really stepped it up.
We held each other accountable and helped each other through all the McKinley trash talk.
Stats:
Freddie Lenix, Jr. – 16 carries for 179 yards and two touchdown
Darrius McElroy – 13 carries for 88 yards and two touchdowns
Jalen Slaughter – 5 of 10 passing for 86
Ardell Banks – 2 pass receptions for 70 yards
Ryan Zentkovich – 5.0 (4-2) tackle points
Nathan Depuy – 4.5 (3-3) tackle points; 2 tackles for loss; fumble recovery; 2 yard rushing touchdown
Maverick Clark – 4.0 (3-2) tackle points; 2 tackles for loss (1 sack)
Austin Brawley – 3.0 (1-4) tackle points; pass interception returned for 28 yards; blocked extra point
Nate Watkins – 2 tackles for loss (1 sack)
Zach Liebler – fumble recovery
The first quarter grades are in and Moore was proud to announce that the team scored a 3.34 GPA.  Another win for the Tigers, he said.
Highest Honors 4.0+ – 14 players
High Honors 3.50 to 3.99 – 26 players
Honor Roll 3.30 to 3.49 – 6 players
Columbus Independence
The Tigers and 76ers will face each other for the first time in the initial round of the post-season playoffs.  Their season thus far:
Columbus Northland (3-6) – 54-6 W
Columbus DeSales (6-4) – 14-48 L
Hillard Davidson (7-3) – 0-20 L
Columbus West (0-9) – 76-6 W
Columbus Eastmoor Academy (6-3) – 16-47 L
Columbus Marion Franklin (4-6) – 28=30 L
Columbus South (7-3) – 22-54 L
Bolumbus Briggs (2-6) – 40-22 W
Africentric Early College (6-3) – 42-6 W
Columbus Walnut Ridge (1-7) – 36-6
Independence utilizes an old-style I-formation offense.  Defensively, they line up in a 3-4 odd front, but sometimes go to a 3-3.  The secondary likes cover-1, cover-3 and cover-4.
Playoffs
Massillon finished fourth in the computer poll, behind Big Walnut, North Canton Hoover and Olentangy Berlin.  The placement will provide the Tigers with a second home game should they be successful this Friday, against the winner of the game between Westerville South and Uniontown Lake.  Click here for the complete Division 2 bracket.
Go Tigers!