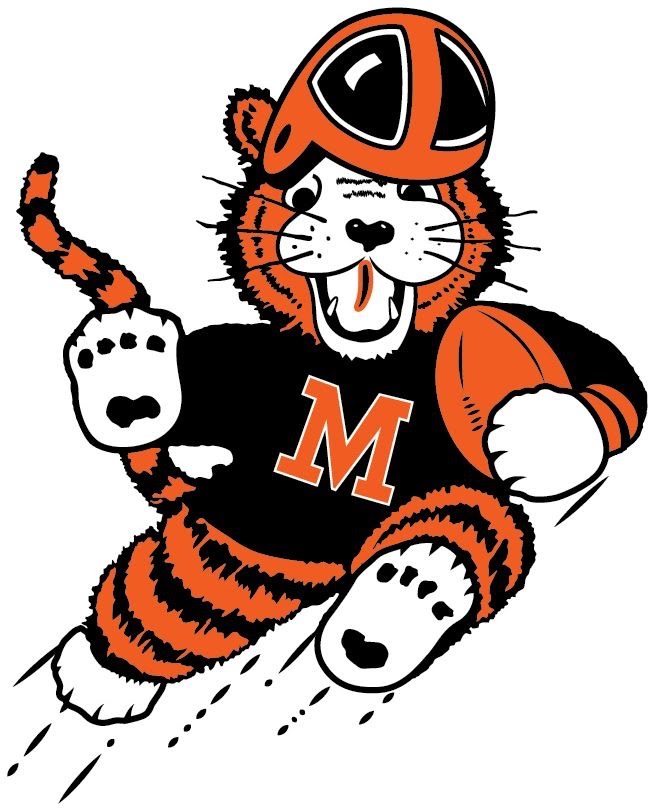 Massillon exploded with 36 second-half points to walk away from Euclid (0-7), 50-16, and improve their record to 5-2.  Next up is a home match against Canisius (4-0), the current No. 1 team in New York.
7th Grade (6-0): Defeated Canton Central 7/8, 30-20.  Plays at Canton (Don Scott) on Tuesday, October 5, at 5:00 pm.
8th Grade (5-1): Idle.  Plays at home (PBTS) against Canton on Wednesday, October 6, at 5:30 pm.
9th Grade (5-1): Idle.  Plays at Cleveland St. Ignatius on Thursday, October 7, at 6:00 pm.
JV (5-2): Defeated Euclid, 37-6.  Plays at Avon on Saturday, October 9, at 12:00 am.
Every Massillon team seems to express a characteristic unique to its own self.  For this year's team, it appears to be starting the game slowly, at least on the scoreboard, and then turning it on the rest of the way.  Through seven games, the Tigers have scored just 17 first quarter points and have only tallied once in first possessions of the game.  But it wasn't for lack of trying.  A fumble here.  An interception there.  A missed pass.  All have caused breakdowns.  Here's how it's gone so far on first possessions:
Pickerington Central – Punt, hampered by a penalty.
Canton GlenOak – 3 and out, punt.
Reynoldsburg – 3 and out, punt.
Warren Harding – 7-play drive covering 36 yards for a touchdown.
Lakewood St. Edward – 3 and out, punt.
Austintown Fitch – Punted from the Fitch 38 following an incomplete pass to a wide open receiver for a sure score.
Euclid – Fumbled into the end zone for a touchback.
The coaches and players are fully aware of this trait and hope to do better this week.  "We can't keep starting slowly," said Riley Campbell, who joined Jayden Woods as the guest players.
Against Euclid, Massillon fell behind 9-0 as the Panthers scored on their first two possessions via a field goal and a touchdown.  The Tigers then got it into gear and tallied 28 consecutive points to take control midway through the third period.  Camden Beasley kick-started the effort with a 67-yard gallop to the end zone.  He would end the game with 163 yards on 17 carries along with three touchdowns.  Also coming up big was the duo of quarterback Jalen Slaughter and receiver Ardell Banks, who joined during the game for four pass receptions.  On one series, after Beasley broke loose for a 49-yard run to the Euclid 2, Massillon suffered an errant snap and two consecutive penalties, which moved the ball back to the 23.  That's when Slaughter on third down connected for a touchdown with Banks, who leaped high over the defender for the score.  Basketball does have its advantages for this guy.  For the rest of the game the Tigers kept Euclid at bay by scoring five consecutive touchdowns to close it out.
"I'm really proud of the guys," said Head Coach Nate Moore.  "That was a tough game, a tough opponent.  That was a good team.  They played the best schedule in Ohio and they had a lot of great players.  We played hard.  We pulled some distance in the second half.  It was a really nice win for us."
Euclid entered the game with a 0-6 record.  But the mark was certainly deceiving in that every opponent holds a winning record and three were unbeaten at the time.  Euclid has an excellent quarterback (17-30-230) and some very good receivers, particularly in Claishon Ivory (7-145), who is being sought by the next level.  The Panthers just made to many mistakes to stay in the games against high caliber teams.
Player stats:
Jalen Slaughter – 9 of 14 passing for 156 yards and two touchdowns.
Darrius McElroy – 2 of 2 passing for 43 yards.
Camden Beasley – 17 carries for 163 yards and 3 touchdowns; 7.5 (6-1) tackle points.
Ardell Banks – 4 pass receptions for 68 yards and a touchdown.
Austin Brawley – 3 pass receptions for 62 yards and a touchdown; 5.0 (4-2) tackle points; 1 interception; 1 blocked kick; 50 return yards.
Maverick Clark – 6.5 (4-5) tackle points.
Notes from the coach and players:
We got it together in the second half.  We can't keep starting slowly.  We picked things in the second quarter and second half.
Euclid was using an unorthodox linebacker alignment and it took some time for the offensive line to adjust.  Once the Tigers learned their tendencies, they were able to open up the run game.
The defensive ends (Chase Bond and Riley Campbell) did a good job containing the quarterback in the option game.
Nate Watkins had another good game at outside linebacker.
Euclid had two really talented receivers that put a lot of pressure on the cornerbacks.
On Ressieo Kirksey's 36-yard touchdown run, the call was for power left.  But with the Panther linebackers overrunning the play and the opposite side linemen taking strange outside routes, a gaping hole was created in the middle of the line.  So Kirksey cut back (something you don't normally do in the power run game) and sped for the end zone.  With only the safety blocking his path, Ressieo gave a powerful stiff arm that literally pushed the defender to the ground and that's all it took finish it off.  Moore beamed, "that was awesome."
Canisius returns to the Massillon schedule for a second time, the first being in 2017 when they defeated the Tigers, 49-35.  In that one, the Crusader quarterback connected on 12 of 17 passes for 220 yards and two touchdowns.  They also ran for another 207.  The game was tied 21 apiece at halftime, but 21 third quarter points by Canisius spelled the difference.  Moore said this year's team is similar to Lakewood St. Edward in that there are no bad players on the field.
Canisius will again feature a strong passing attack, led by senior quarterback Tyler Baker (6′-1″, 180), who Moore considers may be the best player on the team.  He currently has offers from Army, Columbia and Penn, according to Maxpreps.com.  He can scramble and throw and is very accurate with short and mid-range passes, although not considered as a runner.
Offensively they utilize the spread offense with 2 x 2 and 3 x 1 receiver alignments.  Mostly 1-back, but some 2-back.  The offensive line has good size and skill with senior center Milan Milakovic (6′-1″, 295) as their best lineman.  The line is very good with pass protection.  The receivers are all good.  The best in the group is senior Josh Fillion (6′-1″, 195), who is also the No. 1 target for Baker.  He runs great routes and has great hands.  At running back is senior Lamar Thomas (5′-11″, 175), who Moore considers to be a good high school running back.
Defensively, the Crusaders align their front-7 similar to Massillon.  The secondary, however, is normally in a cover-2 with the press coverage on the corners.  This allows the safeties to support the corners on any deep routes, at the expense of not supporting the run game.  But that front-7 is very good.  The top lineman is sophomore Darrell Hamilton (6′-0″, 275), who is really good; strong, quick, good hands; best we've played against. Both inside linebackers are really good.  They play physical and downhill and are really well coached.  They will blitz often.  The secondary is good in zone coverage, although they tend to play a lot of man-to-man.
A win on Friday will go a long way in helping Massillon secure a Top-4 placement in the final computer ratings.  That would set the Tigers in position to have two home games in the playoffs.
Go Tigers!