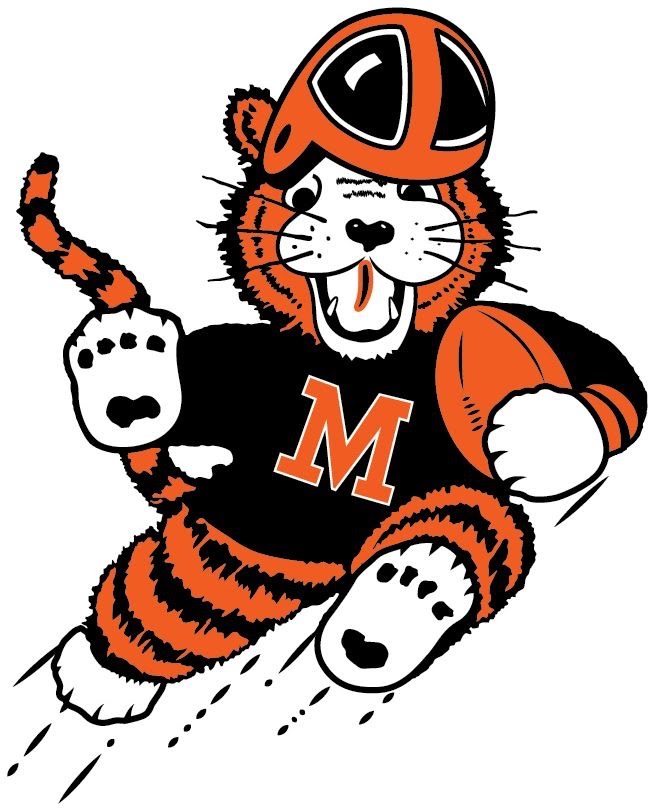 Massillon came from behind to defeat Austintown Fitch (3-2), 31-21 to improve their record to 4-2.  Next up is a home game against Euclid (0-6).
7th Grade (6-0): Defeated Austintown, 30-16.  This week's game against Akron Jennings has been canceled.
8th Grade (5-1): Defeated Austintown, 52-38.  Plays at Canton Central Catholic Wednesday, September 29, at 5:00 pm.
9th Grade (5-1): Defeated Austintown, 54-8.  This week's game against Euclid has been canceled.
JV (5-2): Defeated Woodridge, 20-0.  Plays at Euclid on Saturday, October 2, at 10:00 am.
The Tigers fell behind 14-0 early in the contest against Fitch.  But once the young replacement players settled in, they outscored the Falcons 31-7 the rest of the way.  Due to injuries and some off-field issues, Massillon was without several players who normally factor into first team action.  "We were down 7-8 starters and the game didn't start out well," said Head Coach Nate Moore.  "The kids settled down and started playing."
Following a Massillon punt to the one yard line, Austintown drove 99 yards to take a 7-0 lead.  Then, after intercepting the ball at the Tiger 42, they scored again.  The catalyst was stellar quarterback David Sherwood, Fitch's all-time leading passer.  On this night he completed 21 of 43 passes for 398 yards and a touchdown, the most passing yards Massillon has ever given up a game.  Sherwood also ran for another 42, after taking away 53 yards in losses from five Massillon sacks.  In fact, Sherwood either ran or threw on 66 of the Falcons' 77 plays, accounting for 440 yards, while the rest of the team lost 24.
Meanwhile, after those first two scores, the Tigers were able to keep the QB  at bay by adjusting their blitz to contain his scrambles.  For once outside the pocket, Sherwood was extremely dangerous with his legs.  In addition, the Tiger passing game got into gear to the degree that Massillon was able to take a 17-14 lead into the locker room.  After forcing a fumble at the Fitch 13, freshmen quarterback Jalen Slaughter connected with Ardell Banks on a fade route for the first score.  That was followed by a 42-yard field goal from Shane Rue.  Then, the Tigers drove 80 yards and converted on a 30-yard pass to Banks, who just got a foot down in the end zone.  The margin was helped by Ryan Zentkovich, who chased down a Fitch receiver and stripped him of the ball at the five, with the pigskin rolling through the end zone for a touchback.  In the second half, Massillon started to take over the game and gave up just a single score, while adding a Cam Beasley 4-yard run and a 7-yard pass reception by Riley Campbell for touchdowns.
"It was a whale of a game," said Moore.  "We were facing tremendous adversity personnel-wise.  It's fun to win a game like that.  We played a good quarterback, probably the best quarterback we've played.  Their defense loaded the box with extra guys that we can't block.  But we were able to throw out of it."
Player stats:
Jalen Slaughter – 11-21 passing for 205 yards and 3 touchdowns
Camden Beasley – 25 carries for 85 yards and a touchdown
Austin Brawley – 6 receptions for 142 yards; 2 blocked field goals (7 career blocks; 1st all-time); 3 kickoff returns for 72 yards
Ardell Banks – 3 receptions for 48 yards and 2 touchdowns
Nathan Depuy – 9.5 (8-3) tackle points; 1 tackle for loss; fumble recovery
Riley Campbell – 8.5 (7-3) tackle points; 3 sacks
Nate Watkins – 6.0 (6-0) tackle points; 2 sacks
Maverick Clark – 4.0 tackle points (3-2); pass interception
Guest players were wide receiver / defensive lineman / outside linebacker Riley Campbell, outside linebacker Nate Watkins, captain / quarterback Darrius McElroy and running back Willtrell Hartson.
Notes:
The younger players really stepped up.
5 blocked kicks by Brawley this year.
Ty Broyles stood out on special teams.
Zentkovich's punch out was huge, keeping Fitch from taking an insurmountable lead.
Ressieo Kirksey's move from inside linebacker to defensive line paid dividends with his speed at the position.
The blitz, especially off both edges, was a big factor in holding Fitch to seven points in the second half.
Fitch couldn't run on Massillon and abandoned that part of the offense early on.
Banks is turning into an exceptional receiver.
Brawley once again had a huge game.
Slaughter came through at quarterback and played well above his freshman grade.
Fitch was loading the box on defense; but once Massillon started to pass on them the defense became overly pass cautious, which then opened up the run.
Euclid comes into Paul Brown Tiger Stadium with an uncharacteristic 0-6 record, having faced several highly-ranked teams.  This is the first time Massillon has faced Euclid.  Scores so far:
Aurora (6-0): 21-63 L
Hudson (6-0): 34-40 L
Cleveland Heights (5-1): 14-46 L
Cleveland St. Ignatius (4-2): 14-44 L
Brunswick (4-2): 18-38 L
Medina (6-0): 0-40 L
Moore calls them talented and dangerous.  They have some very good players, several of whom can take it to the house if the defense makes a mistake.
Offensively, they operate out of the spread.  The quarterback, while not scrambler, throws a good ball to some very talented receivers.  The running back is really good, fast, quick and hard to bring down.
On defense, look for a 3-3 stack with cover-3 and some cover-1.  The strength of this unit is the defensive line, especially the nose tackle,  but all three are pretty good.  Expect to see something resembling a 3-5 alignment designed to stop the run.  This will be a hard group to block and the Tigers may once again need to rely on the passing game to move the ball.
Coach Moore asked the Massillon fans to bring more energy and fan noise to the games, since these young players feed off of this and play better.
Nick Pribich drew the Booster Club members to a website that is offering a cash prize of $500 to the school that clicks their site the most.  The link is c1cu.com.  Nick encouraged everyone to visit the site everyday throughout the rest of the season.
Go Tigers!