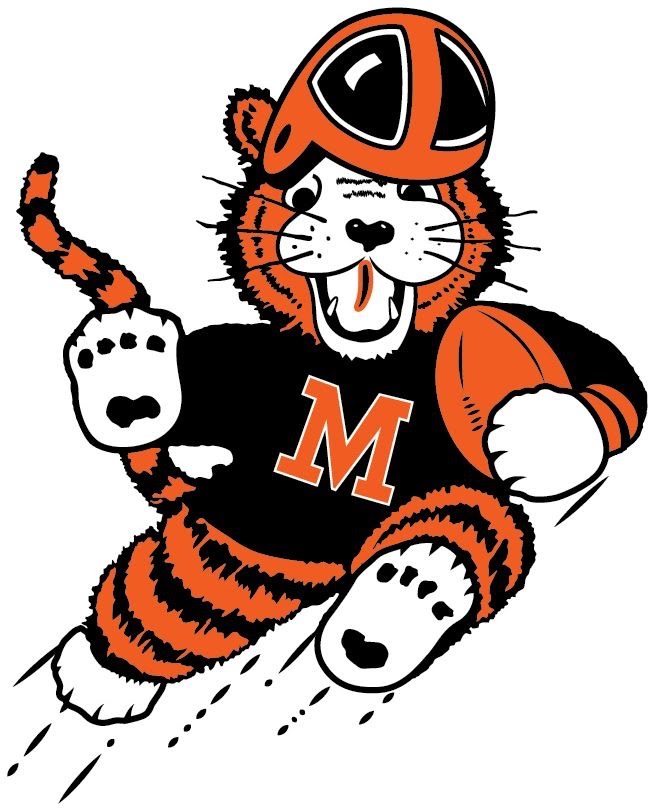 Massillon held off high-scoring Warren Harding and departed Mollenkopf Stadium with a 49-46 victory, improving its record to 3-1.  Next up is a home game against Lakewood St. Edward (4-0).
7th Grade (4-0): Defeated Warren, 20-8.  Plays Akron Kenmore at home on Tuesday, September 14, at 6:00 pm.
8th Grade (4-0): Defeated Warren, 56-20. Plays Akron Buchtel at home on Wednesday, September 15, at 6:00 pm.
9th Grade (4-0): Defeated Warren Harding, 28-0.  Plays Lakewood St. Edward away on Thursday, September 16 at 6:00 pm.
JV (4-1): Defeated Warren Harding, 32-0.  Plays Lakewood St. Edward away on Saturday, September 18 at 11:00 am.
At last week's Booster Club meeting, the players offered that they had a goal in the Warren game of starting early and then taking care of business.  Last Friday they did both.  First they opened up a 28-7 lead halfway through the second quarter and then they held off Warren's "in the zone" passing attack to secure the victory.  The Tigers ended up scoring seven touchdowns.  And it could have been two more, save for a fumble and a dropped pass deep in Warren territory.
Austin Brawley kick-started the affair with an 89-yard return of the opening kickoff for a touchdown.  Then Willtrell Hartson went to work, rushing 10 times for 75 yards as Massillon rang up three unanswered touchdowns to lead 28-7.  By game's end, Hartson had accumulated 287 yards on the ground, placing him third all-time in the single-game rushing column, behind his own record of 324 yards in last year's Westerville South game and Travis McGuire's 302 yards against Canton McKinley in the 1991 contest.
Credit the offensive line for opening up holes all night long using a variety of interior blocking schemes.  They were so efficient that the Tigers only punted twice, once in each half.  It also enable Hartson to run for more than ten yards on 13 of his 35 carries.
Sandwiched in there was a 35-yard touchdown pass from Darrius McElroy to Ardell Banks, who caught it around the 25 and then outraced the defense to the end zone.  McElroy, who is getting more and more comfortable in the pocket as the season goes along, may have finally found that "go-to" receiver.
"What a ballgame," beamed Head Coach Nate Moore.  "I'm proud of the guys.  The offense played well.  The offensive line took over the game.  The quarterback had his best game.  Banks had a huge game.  There were a lot of really good things."
But Warren, in the second half, was able to respond each time Massillon scored and eventually lost by extra points, thanks to a pair of PAT blocks by Austin Brawley.  In the first three games this year the Syracuse-bound Dom Foster was playing quarterback after being used last season solely as a wide receiver.  Occasionally, Dalys Jett, a late transfer from Indiana, was inserted at QB because he was considered the better passer.  But in this game, Jett was the quarterback all the way.
Apparently, Head Coach Steve Arnold knew his team could not run on the Tigers, as the Raiders' 23 carries for 94 yards could attest.  So he went pass all the way with Jett, a move apparently unexpected by the Massillon coaching staff, who were perhaps gaming for the running prowess of the swift Dom Foster.  But the junior Jett responded with a career day, completing 21 of 34 passes for 358 yards and six touchdowns, which was the 4th most yards ever thrown against a Massillon team.  Included in that were completions of 29, 38, 33, 65, 33, 33 and 26 yards, six of which went for scores.
The Tigers tried several defensive schemes throughout the game to stop the attack.  They tried blitzing, but the players were not "getting home."  They tried double-covering Foster, who caught five passes for 100 yards.  But that gave more opportunities to the speedy Tyriq Ivory, who ended up with ten receptions for 182 yards and three touchdowns.  But Jett kept extending plays with his scrambling ability, converting passes mostly when the coverage would break down.   IMG Academy would be envious of the speed and athletic ability of this passing combination.
"We were pretty dominant early and we had a chance to put it away," said Moore.  "But you have to give Warren credit.  They played really hard.  We didn't have much film on the quarterback.  He threw the ball really well and they had two great receivers.  We need to play better when the ball is in the air, especially on the long balls.  We need to get better there."
Guest players were McElroy, Brawley and Nate Watkins.   Their comments, along with some of Moore's, were as follows:
It was a dog fight the whole game.  But we came away with the win.
We started off fast.  The game is slowing down and we're coming together as a team.
We almost recovered a pooch kick with the 28-7 lead.  It would have sealed the game.
The PAT blocks were huge.  Now they're chasing points.
It's hard to hold onto the receiver when the quarterback is scrambling and receivers have left the intended routes.
Player Stats:
Willtrell Hartson – 35 carries for 287 yards and 4 touchdowns
Darrius McElroy – 10 of 16 passing for 114 yards and a touchdown; 1 rushing TD
Ardell Banks – 4 receptions for 68 yards and a touchdown
Ryan Zentkovich – 7.5 tackle points (6-3)
Austin Brawley – 6.5 tackle points (6-1); 89-yard kickoff return for a touchdown; two blocked extra points
Camden Beasley – pass interception
This week Massillon will face Lakewood St. Edward, which owns the following wins:
Toledo Central Catholic (2-2): 33-10
Rock Creek Christian, MD (1-1): 56-18
Mentor (2-2): 47-7
Cincinnati Elder (2-2): 48-14
It will be a tall task for the Tigers to come away with a victory, as the Eagles seem to have outstanding athletes at every position.
Offensively, St. Ed's uses the spread.  The best player is quarterback Christian Ramos (6'-2", 200).  Last year against the Tigers he rushed 14 times for 49 yards and completed 4 of 12 passes for 35 yards.  But he is much improved this year and is the catalyst for their offense.  Moore says that he is an outstanding runner and possesses great speed.
The offensive lie is not huge, with most players around 275 lbs., but they play extremely well as a unit.  They come off the ball and have good feet.  The wide receivers are all good players.  So far this season, the Eagles have only punted twice.
Defensively, they use four down lineman, two inside linebackers and five defensive backs, with one high.  They also favor the blitz on nearly every play, featuring any number of defensive backs providing the pressure.
The defensive line is really good, similar to Pickerington Central.  They are very active, have good speed, come off the ball well and use their hands well.  The linebackers are active and play downhill.  The safeties are all good in coverage.
"I like our game plan," said Moore.  "Our kids will play really hard, but we'll need to make some plays.  We can't beat ourselves.  We may also need a break or two."