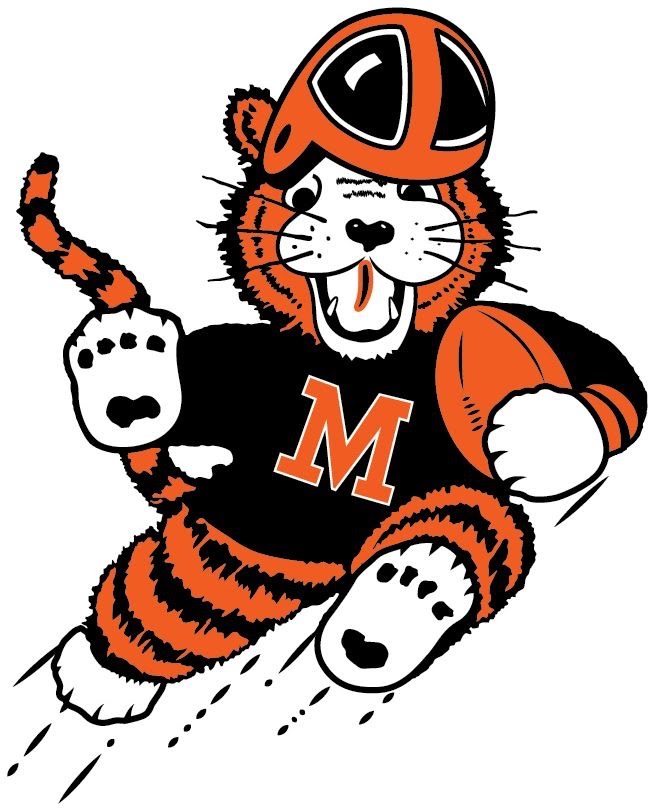 Massillon advanced to the Division 2 State Finals for the third consecutive year, but once again came up short in their quest for a first-ever playoff-era championship.  Nevertheless, 2020 was still regarded as an immensely successful season, especially given the impacts felt from the Covid-19 Pandemic.
In a normal year the Tigers would begin off-season workouts in January with weight lifting, conditioning and instructional sessions by position group.  Then during summer the players would participate in 7-on-7 passing contests and attend various college camps.  But by the end of February the spread of the virus had rapidly intensified and government health agencies had shut all of this down.  Students were sent home and provided daily instruction online, while all sports activities were curtailed.  Thus, the team wasn't together again as a whole until the beginning of August.  As a substitute, coaches maintained contact with the players using Zoom Meeting.  Also, a computer program was engaged for the players to use in recording their daily workout regimens as provided by the lifting coach.  For those that didn't have equipment, the Booster Club provided some help.
Safety of the players was of the utmost importance and the Ohio Department of Health took charge and it looked for a while that there wasn't going to be a football season at all this year, given the seriousness of the disease.  But the Ohio High School Athletic Association was able to work with the ODH to develop appropriate protocols that would enable sports to resume.  But the question was to what extent would seasons be played.
In a compromise between the two organizations, the regular season was designed to start on time, but would be reduced in length to just six games.  Also, there would be no pre-season scrimmages.  And the playoffs would be open to any team that elected to participate.  So with six weeks of regular games and seven weeks of playoffs, the entire season would be completed by Thanksgiving.  This plan met the ODH's requirement that all games be played by that date, fearing an increase in the spread of the virus as winter approaches.
Players and coaches were required to follow specific safety procedures, such as face coverings and social distancing while on the sidelines and frequent sanitation of equipment.  There was also a provision for games to be canceled on account of a specific team's exposure to the virus at the time of play.
Fan attendance was limited to immediate family members of players, cheerleaders and bandsmen, but not to exceed the lower of either 15% of stadium capacity or 1500.  So a stadium the size of Massillon's, with 16,000+ seats, was restricted to just 1500, but in actuality was held to much less when the family count restriction was brought into play.  Also, bands were not permitted to travel.  Fortunately, the Massillon City Schools did a great job making each game available via internet broadcasting.
With the lateness of the decision to proceed, schools had just two weeks to construct 6-game schedules.  Naturally, leagues opted to stay exclusively within their own ranks, leaving independent teams like Massillon to schedule each other.  Fortunately, Federal League member Canton McKinley was able to accommodate the Tigers on its schedule.
Massillon had originally been slated to open the season with Nevada Bishop Gorman in a Nike Classic to be held at Benson Stadium in Canton.  But that event went away early.  Gorman was replaced with Pickerington North in a game that would be played at PBTS and televised by ESPN.  Only, that game was canceled too when the Ohio Capital Conference scheduled North to play Pickerington Central in Week 1.
Thus, the Tigers were about to face one of the most difficult regular season schedules they had ever encountered.  It included the likes of Lakewood St. Edward and Cleveland St. Ignatius and Cleveland Benedictine and Warren Harding and Canton McKinley.  But at least they had six games and, fortunately, they were able to get them all in without any cancellations.  One positive was that all six games were at home.
Most Booster Club events, such as the Duncan Plaza Kickoff, McKinley game festivities and season ending banquet, were canceled or held on Zoom Meeting.  For example, the Spring Kickoff was also held in this manner, where the guest speaker was Ryan Day, head coach of the Ohio State Buckeyes, participating from his home in Columbus.
For the playoffs, Massillon was assigned to Region 7, a Columbus-Stark region they had participated in during the 2018 season.  This meant that a potential matchup with state-champ favorite Akron Hoban could wait until the state finals.  And that's exactly what happened.
The Regular Season
Lakewood St. Edward (home) – In a game that had the flavor of a first scrimmage, Massillon rolled up 396 yards of total offense, including 262 yards and two touchdowns passing by Zach Catrone.  But the Tigers lost 24-23 on account of a kickoff return and a late trick play.
Columbus Bishop Sycamore (home) – Backup sophomore quarterback Jayvian Crable filled in admirably for the injured Catrone in leading the Tigers to a 35-0 victory.  It was Massillon 900th all-time win.
Warren Harding (home) – Massillon continued its recent domination of the Raiders with a 24-0 victory.  Catrone completed 21 of 31 passes, eight to Jayden Ballard and six to Martavien Johnson.
Cleveland Benedictine (home) – Johnson and Isaiah Clark combined for three pass interceptions to keep the Bennies at bay in a 28-10 victory.
Cleveland St. Ignatius (home) – Massillon recorded its second all-time victory over the Wildcats, 21-14.  Iggy assumed a 14-6 lead late in the third quarter following an 80-yard pass interception return.  But the Tigers came right back to tie the game on a Raekwon Venson 1-yard run.  On the Wildcat's next possession they failed to control a backward pass and Jaiden Wise pounced on the loose ball.  Venson then ran it in on the first play from scrimmage to secure the win.  Unfortunately, Venson was injured near the end of the game and was lost for the rest of the season.

2020 Tigers keep the bell following their 35-7 win over McKinley

Canton McKinley (home) – There were many heroes in this 35-7 victory.  Sophomore Willtrell Hartson (8.5 yards per carry) and senior Nick Liebler (6.3 yards per carry) filled in superbly for Venson and rushed for a combined 257 yards and three touchdowns.  Austin Brawley had eight solo tackles.  But, all-in-all it was a great team effort.  It was Massillon 5th win in a row over the Bulldogs and 9th of the last ten.
The Playoffs
Bye Week – Having a week off following the McKinley game re-energized the Tigers as they were about to initiate playoff competition.  No hangover funk this year.
Columbus Walnut Ridge (home) – Massillon opened up a 42-0 halftime lead and cruised to a 56-0 victory.
North Canton (home) – The Hoover passing attack tested the Tigers secondary.  But it wasn't enough and Massillon rolled to a 48-23 win.  Hartson rushed for 196 yards (15.1 yards per carry) and Catrone completed 9 of 10 passes.  It was the local's 500th all-time win at Paul Brown Tiger Stadium.
Westerville South (home) – The Wildcats had the best quarterback-receiver combination in Division 2 and played a competitive game with the Tigers, losing just 45-36, after falling behind 42-9 after three quarters.  Hartson set a new Massillon single-game record with 324 yards rushing.  He also averaged 12.0 yards per carry and scored three touchdowns.
Massillon Perry (regional finals) (at Perry) – Up just 7-6 at the half over the region's top seeded Panthers, the Tigers ran away in the second half to secure a 43-13 victory.  Quarterback Zach Catrone completed all ten passes and recorded a pass efficiency rating of 396 to set new Massillon marks in those categories.  He also racked up 234 yards and three touchdowns.  Ballard had seven catches for 150 yards.  Liebler became second all-time with 17.0 tackle points (11 solo, 12 assists).  Clark had 11.0 tackle points.

Martavien Johnson out-races Cincinnati LaSalle's Jaylen Johnson to the end zone to score the winning touchdown

Cincinnati LaSalle (at Marysville) – Massillon avenged the previous year's state finals loss to the Lancers, winning 14-10.  Down 10-7 late in the fourth quarter, Catrone connected with Martavien Johnson on a 24-yard touchdown pass with 2:44 left in the game and the Tigers then held on at the end to secure the victory.

Akron Hoban (state finals) (home) – The Knights showed why they were one of the top ten teams in the country by dominating the Tigers 35-6.  They also gained revenge from their 2019 loss to Massillon.
The formula for success for the season was running the football and playing good defense.  However, this was disrupted temporarily in Game 5 against Cleveland St. Ignatius when leading rusher Raekwan Venson (438 yards) was lost to an injury for the remainder of the season with the McKinley game looming the following week.  But it was "next man up," and sophomore Willtrell Hartson and senior Nick Liebler answered the bell.  Hartson would finish the season rushing 138 times for 1,111 yards (8.1/att.) and 13 touchdowns.
You cannot have a stout running attack without a good offensive line.  And this group did themselves proud, finding their way with the power run game.  It might have been that much better, save for an
injury to 320 lb. Rager Els, who was lost for the season in Game 1.  His loss was severely felt against the stout front 7 of Akron Hoban.
On defense, in spite of returning just a single starter, Massillon was able to assemble one of the best groups on that side of the in many years.  This is especially significant given the difficulty of the schedule.  Credit the program the Tigers now have in place as all eleven players were keys to this success.  When weighed against other Massillon teams that faced spread offenses (23-year period starting in 1998), the Tigers were able to produce the following defensive results:
Points per game – 14.3 (4th)
Rushing yards per game – 110 (2nd)
Total yards per game – 233 (3rd)
Yards per rush – 3.2 (3rd)
Yards per play – 4.1 (4th)
The Tigers finished the season with 909 wins and have now moved up to third in the national rankings.  The 21-game regular season winning streak ended with the loss to St. Edward.  Against public schools, the Tigers have extended their winning streak to 31 games.
Jayden Ballard set a new record for career pass reception yards (2,363) and touchdowns (37).  He was also invited to participate in the Under Armour All-American All-Star game.  Unfortunately, the game was canceled due to the Covid-19 Pandemic.
In other records, kicker Alex Bauer established career marks for total attempts (213) and total conversions (205); he also tied the record for field goal percentage (77.8); punter Magnus Haines set new career records for punt attempts (119) and punt yards (4,405); Caiden Woullard tied the record for career quarterback sacks (8.5).
Eleven players were named to the Stark County All-Star Team.  Sixteen were honored on the Division 2 All-Inland District Team, headlined by Jaeden Wise, who was named Defensive Player of the Year.  Nine advanced to the Division 2 All-Ohio Team, including first teamers Jayden Ballard, Terrence Rankl and Caiden Woullard.
Three players took advantage of NCAA early signing: Jayden Ballard (Ohio State), Terrence Rankl (Pittsburgh) and Andrew Wilson-Lamp (West Virginia).  Many other players will be signing later.
The state finals were originally scheduled to be played in Columbus at Fortress Obetz Stadium and it was in fact the site for the Division 1 game, which was played a week prior to the other divisions.  But during the following week, the City of Columbus put further restrictions on sporting events and it needed to be relocated.  In a late move, Massillon stepped up to the plate and hosted the remaining six games over a 3-day period to the relief of the OHSAA.
Let's hope that in 2021 the football season returns to normal.