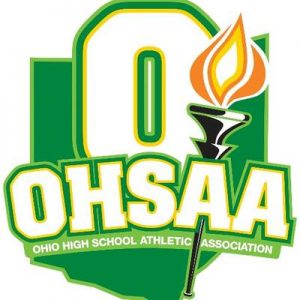 The Ohio High School Athletic Association has released its revised divisional and regional team assignments for the 2020 post-season playoffs.  With last year's competitive balance formula essentially in place once again this year, there are very few changes to Division 2.
One Division 1 team, Toledo Bowsher, moved down to Division 2, while interestingly no team moved up to replace them.  Cincinnati Elder, the 2019 Division 1 state runner-up, had the potential to also drop down on account of reduced enrollment, but the competitive advantage was sufficient to keep them in the top group.  Five Division 2 teams are now in Division 3, including Columbus DeSales, Chillicothe, Alliance, Sylvania Southview and Parma Padua.  Replacing them are University School, Dayton Belmont and Independence, which moved up from Division 3.
Massillon remains in Region 5 along with Akron Hoban.  The only change to the region is the departure of Alliance.
It appears that once again Division 2 will be a formidable challenge for any team.  So one has to ask: who among the 106 teams in that Division are expected to dominate?  A few names readily jump to the top, such as Akron Hoban, Cincinnati LaSalle, Massillon and Cincinnati Winton Woods.  And several others can also be thought of as in the mix; teams such as Mayfield, Toledo Central, Hudson and Avon.
So to figure out who are the contenders, the two best factors to consider are regular season record and playoff success.  A time span of the last seven years is considered, since this is the period of time since the OHSAA created a new Division 2 by dropping several former Division 1 teams into its ranks.  Also, only teams that have won at least 40 regular season games over those past seven years are considered.  The chart below matches these two factors against each other.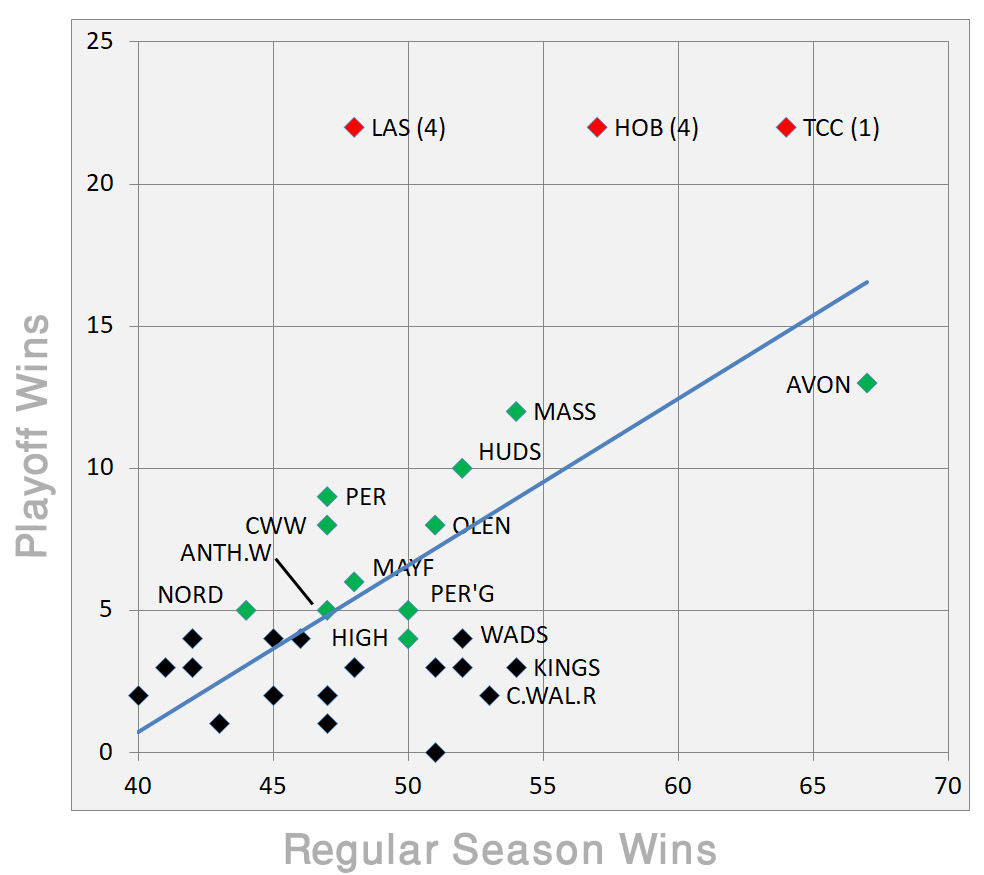 The "red" data points indicate teams that have won state titles.  The "green" data points represent teams that have won regional titles, but not state titles.  The remaining teams under consideration are as indicated in "black."  The "blue" line is a curve fit of all data points shown.  Those teams located above the line appear to excel more than their regular season record would predict otherwise.  Conversely, those below the line appear to struggle in the playoffs.
One can see that most of the teams are located in the vicinity of the "blue" line, although some, like Kings and Columbus Walnut Ridge win a lot of regular season games, but then fail in the playoffs against the better teams.  The most likely reason for this is apparent weaker schedules.
Well at the opposite end of the spectrum are the highly successful parochial schools, including Cincinnati LaSalle, Akron Hoban and Toledo Central (aside from Cleveland Benedictine, which has just a "black" data point).  These three schools have combined for six Division 2 state titles and four Division 3 state titles.  This in spite of the wide discrepancy in regular season marks, which of course vary on account of their difficulty of schedule.
Among the public schools Avon, Massillon and Hudson lead the pack.  All have shown great success both during the regular season and in the playoffs.  Although none has won that coveted season-ending prize, they have combined for nine regional titles and two state finals appearances.  Next up are Massillon Perry and Cincinnati Winton Woods.  They have garnered four regional titles and three state finals appearances.
Next year the OHSAA will increase the number of playoff qualifiers in each region from eight to twelve, giving many more teams the opportunity to record playoff wins.  Incidentally, had this system been place for the past seven years and had the teams in the region been the same as this year, Massillon would have been the only team in Region 5 to qualify for the playoffs in each and every year, while Hudson, Perry and Bedford would have qualified six times.  The Tigers would have had a bye in the first-round in five of those years; Hudson, Perry and Akron Hoban, three times each.
Below are details of all the teams that are considered the best in Division 2.
Cincinnati LaSalle
Regular Season Record: 48-22
Playoff Appearances: 5
Playoff Record: 22-1
Playoff Highlights: 4 state titles
 Akron Hoban
Regular Season Record: 57-13
Playoff Appearances: 5
Playoff Record: 22-1
Playoff Highlights: D2: 2 state titles; D3: 2 state titles
Toledo Central Catholic
Regular Season Record: 64-6
Playoff Appearances: 7
Playoff Record: 22-4
Playoff Highlights: D2: 1 regional title; D3: 1 state title; 3 regional titles; 1 state finals appearance
Avon
Regular Season Record: 67-3
Playoff Appearances: 7
Playoff Record: 14-6
Playoff Highlights: 3 regional titles
Massillon
Regular Season Record: 54-16
Playoff Appearances: 6
Playoff Record: 12-6
Playoff Highlights: 3 regional titles; 2 state finals appearances
Hudson
Regular Season Record: 52-18
Playoff Appearances: 6
Playoff Record: 10-6
Playoff Highlights: 3 regional titles
Massillon Perry
Regular Season Record: 47-23
Playoff Appearances: 4
Playoff Record: 9-4
Playoff Highlights: 2 regional  titles; 2 state finals appearances
Cincinnati Winton Woods
Regular Season Record: 47-23
Playoff Appearances: 3
Playoff Record: 8-3
Playoff Highlights: 2 regional titles; 1 state finals appearance
Olentangy Lewis Center
Regular Season Record: 51-19
Playoff Appearances: 4
Playoff Record: 8-4
Playoff Highlights: 1 regional title
Mayfield
Regular Season Record: 48-22
Playoff Appearances: 5
Playoff Record: 6-5
Playoff Highlights: 1 regional title
Anthony Wayne
Regular Season Record: 47-23
Playoff Appearances: 4
Playoff Record: 5-4
Playoff Highlights: 1 regional title
Nordonia
Regular Season Record: 44-26
Playoff Appearances: 3
Playoff Record: 5-3
Playoff Highlights: 1 regional title; 1 state finals appearance
Perrysburg
Regular Season Record: 50-20
Playoff Appearances: 4
Playoff Record: 5-4
Playoff Highlights: 1 regional title
Medina Highland
Regular Season Record: 50-20
Playoff Appearances: 4
Playoff Record: 4-4
Playoff Highlights: 1 regional title