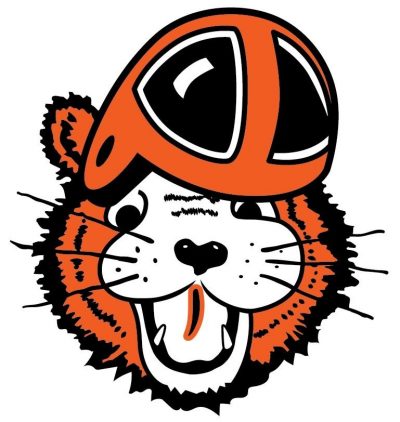 In 2019 Massillon wrapped up the regular season with a 24-14 victory over arch-rival Canton McKinley.  In so doing, they extended their regular season winning streak to 21 games, defeating an impressive list of opponents along the way.  They also went unbeaten for consecutive seasons, the first time the Tigers had accomplished that feat since Earl Bruce's 1964 and '65 state championship teams.  Then, to top it off, they advanced to the Playoff State Finals in each of those years.
But now new challenges await during the upcoming 2020 season, particularly in the opening game, which is slated to be against a to-be-named national opponent.  Should the Tigers get by that one, they will face more tough foes down the road.  But winning another ten games it is certainly an achievable goal.  Nevertheless, as sweet as that sounds, it's certain that the players would gladly trade all of that for a championship trophy at the end.  Nevertheless, the streak is real, it can't be ignored and is it ranked right up there with the accomplishments of other great Massillon teams.
Winning streaks do not happen by accident and in each one at least a couple of influential factors can be found.  Some schools have an exceptional class come through that can produce consecutive 10-win seasons, like Barberton in 2017 and '18.  Combined with 2016 and 2019, the Magics ran off 26 straight regular season wins.  Another example is Avon, which had a streak of 28 straight regular season victories between 2015 and 2018.   Upper Arlington in the late 1960s took advantage of "back-to-back" exceptional classes to win over 40 games in a row.  Others have solid football programs with equally impressive coaches, like Steubenville, which recently fashioned a 42-game winning streak (including playoff games) and just last year had a 63-game regular season win streak come to an end.
Then there are those that benefit from a continuous pipeline of top-level athletes, like the large parochial schools which, because of their inherent scholastic and athletic opportunities, attract many exceptional players each year.  In the 1970s Cincinnati Moeller put together a 40-game+ winning streak.  Then, after a loss to Cincinnati Princeton, they went on to win another 45 straight games.  Strength of schedule also plays into winning streaks; that is, a schedule devoid of competitive opponents.  Combine many of the above traits into a smaller school and a long winning streak is often the result.  A good example of that is private school Kettering Alter, the likes of which is one of the reasons behind implementation of competitive advantage for the post-season playoffs.

Prior to the playoffs, it was important for the large top schools to play very competitive schedules in order to receive the support of the various sportswriters who voted for the state champion.  Therefore, it was difficult at that time for those schools to produce long winning streaks.  They also didn't have the benefit of additional playoff games to add wins in a particularly good year.  Massillon's longest streak throughout its 120 plus years of history is 38 games, which was fashioned from 1937 to 1941.  During that span the Tigers captured the state championship each year and also added a pair of national championships.  In the 7th game of the 1937 season, Paul Brown's Tigers were defeated by New Castle, Pennsylvania 7-0.  It was their only loss that year.  The following week they defeated Youngstown Chaney 28-6 and they didn't stumble again until Game 5 of the 1941 season when, under coach Bud Houghton, the Tigers were tied by Mansfield 6-6.  During the streak, the average game score was an impressive 39-3.
But along the way, the Tigers also defeated some great teams.  In 1937 they dropped Canton McKinley from the ranks of the unbeatens by the score of 19-6, repeating that feat the following year with a 12-0 victory.  In 1939 Massillon defeated Alliance 47-0, which was their only loss that year.  Similar fates awaited several teams in 1940, including Cleveland Cathedral Latin (9-1) 64-0, Weirton, WV (9-1) 48-0, Erie East, PA (7-2-1) 74-0, Alliance (8-2-1) 40-0, Toledo Waite (9-1) 28-0, Youngstown East (8-2) 26-0, and Canton McKinley (8-1-1) 34-6.  It was indeed an impressive lot, enough to place a legitimate stamp on the record.
With the tie to Mansfield, however, the winning streak had come to an end.  But not the unbeaten streak, which was extended to nearly the end of 1942 season.  In that final game they were beaten by Canton McKinley, but they did establish an all-time Massillon record for that mark at 52 games.
Incidentally, the national all-time winning streak stands at 151 games, which was set by Concord De La Salle, California, in 1992-2003.  The Ohio all-time winning mark is 58 games, set by Delphos St. Johns at 57 in 1996 through 2001.  The corresponding unbeaten streak is owned by Ironton.  Their best is 58 games, which was established in 1983.  Massillon's 52-game unbeaten mark ranks fourth in Ohio.
In 1963-67, coaches Leo Strang, Earl Bruce and Bob Seaman combined to fashion a 30-game winning streak.  It began with a 38-0 victory over Mansfield, following a 13-6 loss to Akron Garfield the previous week, and it ended three years later with a 0-0 tie to Mansfield.  In 1963 the Tigers finished 9-1 with a second place state ranking.  But under Earl Bruce Massillon in each of the following two years  they went 10-0 and was awarded the state title.  Ironically, it was the Tigers in 1964 that defeated Niles McKinley 14-8, ending their 48-game winning streak (currently ranked 4th in Ohio).  Massillon then wrapped up the season with a 20-14 comeback victory over the previously-undefeated Bulldogs.
Number 3 in the Massillon record book is a 25-game winning streak set in 1951-54 by Chuck Mather and Tom Harp.  Mather won the first 23 games and then Coach Tom Harp added two more before losing to Alliance 19-7.  With an overall record of 38-2 during those four seasons, the Tigers were able to capture the state championship each year and national championships in '52 and '53.  They also bested their opponents by an average score of 41-15.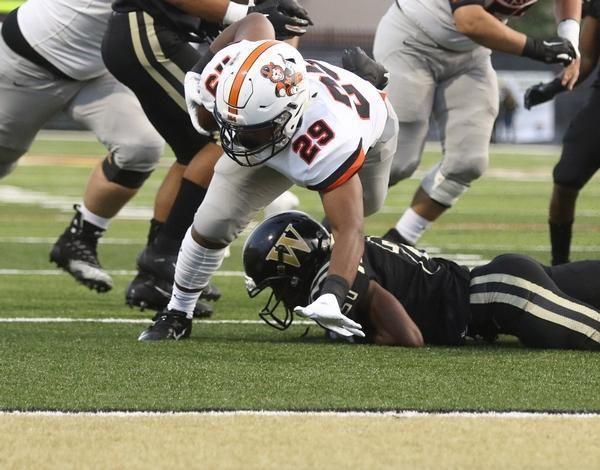 That brings us to the current streak of 21, which also matches Paul Brown's second longest.  Coach Nate Moore has been at the helm throughout, finishing 7-3 in 2017 and 10-0 in both 2018 and 2019, not counting his 8-2 playoff mark during those two years.  The average score of the games throughout the streak was 45-18.  It began following a 13-10 loss in Game 9 to Division 3 state semifinalist Akron St. Vincent.  The first win was over Canton McKinley (8-3) 16-15.  In 2018 Massillon went 10-0 and defeated Warren Harding (8-3) 51-21, Austintown Fitch (8-3) 42-14, East St. Louis, Illinois (9-3) 46-40 and Canton McKinley (9-3) 24-17.  Then last year they again finished 10-0, downing Akron St. Vincent (8-3) 44-14, Harrison City Penn-Trafford, PA (11-2) 42-21, Monroeville Gateway, PA (12-3) 48-12 and Canton McKinley (9-3) 24-14.  The Tigers have a chance to improve their ranking this year and, if they are fortunate enough to run the table, they will move into second place.
Brown's 21-game streak occurred in 1935-37 and began after a season-ending loss in 1934 to State No. 1 Canton McKinley.  During the streak, the Tigers were completely dominant, outscoring the opposition by an average of 51-3 and compiling three state and two national championships.  In 1936 they gave the Bulldogs their only loss of the season by the score of 21-0.  The streak came to an end in Game 2 of the 1937 season with a 6-6 tie vs. Mansfield (once again).  But a new streak, the aforementioned one of 38 games, was started just a few weeks later.
Twice Massillon compiled 20-game winning streaks.  The first was in 1949-51 by Chuck Mather, which included three state championships and one national championship.  The second was in 1958-60 by Leo Strang.  During that one, the Tigers captured two state crowns and one national title.
The Top 3 "unbeaten" streaks are 52 games in 1937-41, 32 games in 1963-66 and 31 "regular season" games in 1977-80.  Combined, those years include eight unbeaten seasons.
A complete list of Massillon streaks can be found here.
OHIO WINNING STREAKS
57 – Delphos St. John's (1996-2001)
54 – Versailles (1993-97)
49 – Dayton Jefferson Twp. (1970-75)
48 – Niles McKinley (1959-64)
45 – Cincinnati Moeller (1978-81)
44 – Marion Pleasant (1969-73)
42 – Steubenville (2005-07)
42 – Miami Trace (1976-80)
42 – Upper Arlington (1967-71)
OHIO UNBEATEN STREAKS
58 – Ironton (1977-83)
57 – Delphos St. John's (1966-2001)
54 – Versailles (1993-97)
52 – Massillon (1937-42)
49 – Dayton Jefferson Twp. (1970-75)
NATIONAL WINNING STREAKS
151 – Concord De La Salle, CA (1992-2003)
109 – Charlotte Independence, NC (2000-07)
104 – Pahranagat Valley, NV (2008-16)
92 – Shattuck, OK (2003-09)
90 – Morrison, OK (1989-95)