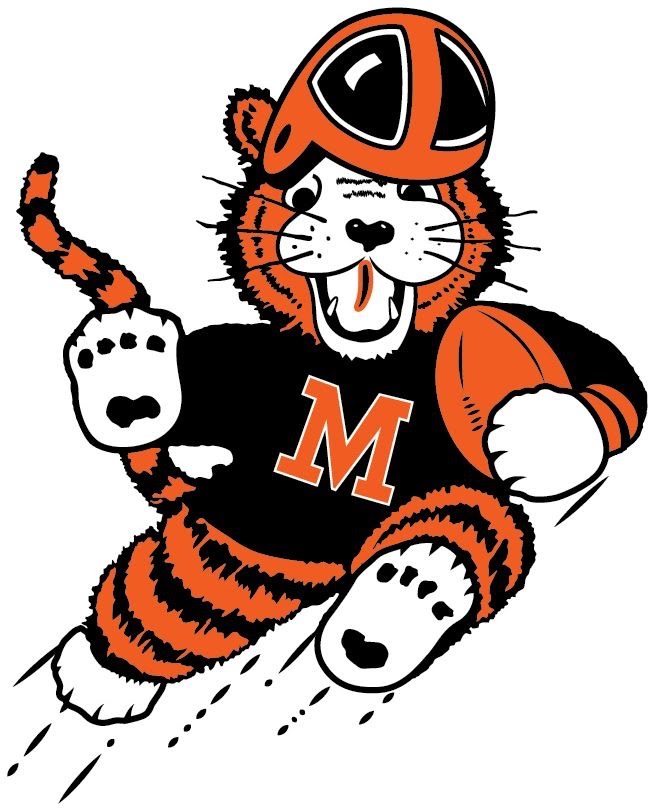 The 2019 season has long been over, but it was a good time at the banquet to look back on a great year and recognize those individuals that made so much success possible.  Outgoing Booster Club President Bruce Gallagher welcomed all and went great lengths to thank everyone who helped him accomplish the Club's goals of supporting the players throughout the past season.  Special tribute was paid to the Tiger Moms, who were instrumental in feeding the Tigers throughout the campaign.  Bruce also introduced next year's president, Eric Smith.
Head Coach Nate Moore then spoke to the several hundred players, coaches, parents and fans who attended, thanking nearly everyone for supporting the program.  But he couldn't talk enough about the past year.  "I'm so proud of this football team," he said.  "They played in 14 playoff games.  They set all kinds of records.  But what I'm most proud of is that they played for the City of Massillon.  They have reset the standard of Massillon football."
The 2018 Massillon football team was a hard act to follow: they won the most games ever during the season by fashioning a 14-1 record, they participated in the playoff state finals for the first time in 13 years and they had the all-time leading rusher in Jamir Thomas.  But the 2019 team did exactly that.  They met and in some cases exceeded that previous team.  Led by an outstanding senior class, these Tigers repeated both the 14-1 record and the appearance in the state finals.  And although nearly matching the offensive stats of the previous year, it was the defense that flexed it muscles the most in playing the best football on that side of the ball since the 2002 season.  Consider these accomplishments:
14-1 record (number of wins ties all-time record)
605 points scored (40.3 per game) (2nd all-time)
177 points allowed (11.8 per game) (fewest since 2002)
899 overall wins (5th in the country)
2nd consecutive undefeated regular season (first time since 1965)
4th consecutive playoff appearance (26th appearance overall)
3rd consecutive playoff regional title (13th overall)
2nd consecutive state finals appearance (5th appearance overall)
4th consecutive win over Canton McKinley; 8 of the last 9 (series record: 72-53-5)
17-14 victory over 2017 and 2018 Division II champion Akron Hoban
Defeated five out of five playoff opponents in regular season
Rated in the U.S. Top 50 by several national publications
Academic All-Ohio with an overall GPA of 3.37 during the football season
This team has also penciled itself into many areas of the record book, including the following:
2,910 passing yards (4th overall)
62.9 pass completion percentage (2nd overall)
10.5 yards per pass attempt (1st overall)
35 touchdown passes (3rd overall)
185.2 pass efficiency rating (1st overall)
5,602 total offensive yards (3rd overall)
7.4 yards per play (4th overall)
84 touchdowns (2nd overall)
337 passing yards vs. Perry (5th overall)
The senior class never lost to Canton McKinley.  They won more playoff games (11) in three years than any previous class.  They own a 21-game regular season winning streak.  And who can forget Ben Krichbaum's end-of-the-game sack of the Akron Hoban quarterback to seal the victory in the regional finals.  Then there were the two memorable passes from Aidan Longwell, one breaking the record for the longest pass ever and the other sealing the win over McKinley.  What a senior class.  They will also be a hard group to follow.
So at this evening's banquet the 2019 players took their final bows and in turn received a multitude of accolades, including participation awards for JV players, letters for varsity game participants, senior awards, captain awards and top player acknowledgments.
Captain Awards – Quarterback Aidan Longwell, Offensive Lineman Cole Jones, Defensive Lineman Manny McElroy, Inside Linebacker Ben Krichbaum, Outside Linebacker Preston Hodges and Honorary Captain Nathan Forte
All-County – Robbie Page, Preston Hodges, Aidan Longwell, Terrance Keyes, Jr., Jayden Ballard, Luke Murphy, Andrew Wilson-Lamp, Cole Jones, Manny McElroy, Alex Bauer and Zion Phifer
All-District – Aidan Longwell, Terrance Keyes, Jr., Jayden Ballard, Cole Jones, Caiden Woullard, Preston Hodges, Luke Murphy and Magnus Haines.
All-State – Aidan Longwell (1st Team), Jayden Ballard (1st Team), Cole Jones (1st Team), Luke Murphy (1st Team), Terrance Keyes, Jr. 2nd Team), Caiden Woullard (2nd Team), Preston Hodges (2nd Team), Magnus Haines (3rd Team) and Andrew Wilson-Lamp (Special Mention)
Through the Roof Player of the Year (Sponsored by Progressive Auto Group) – Aidan Longwell (offense) and Preston Hodges (defense)
Character Award – Ethan Tobin
Thayer Munford ACT Award – Deven Warfield
John Pizzino, Sr. Academic Football $1,000 Scholarship – Ahmon Williams
Paul David Academic Award – Anthony Pedro
Defensive Player of the Year – Preston Hodges
Co-Offensive Player of the Year – Terrance Keyes Jr.
Co-Offensive Player of the Year – Zion Phifer
Lifter Of the Year – Ben Krichbaum
Scout Team Offensive Player of the Year Offense – Tanner Pierce
Scout Team Defensive Player of the Year – Nick Hatheway
Ducky Schroeder Award Outstanding Lineman – Cole Jones (All-County, All-District, 1st Team All-State)
Special Teams Player of the Year – Seth Lance
Bob Smith / Bill Snyder Sportsmanship Award – Noah Richards
Lee Tressel Citizenship Award – Davon Woods
Tom Harp Coaches Award – Peyton Mendenhall
Touchdown Club Hardnose Award – Preston Hodges
Most Valuable Player – Aidan Longwell
Massillon Record Setters – Aidan Longwell (career passing yards, career touchdowns pass attempts, career pass completions, career yards per pass attempt, career touchdowns, season pass efficiency and longest pass completion), Jayden Ballard (career touchdowns, season touchdowns and longest pass reception) Caiden Woullard (season tackles-for-loss), Zach Catrone (career pass completion percentage) and Alex Bauer (season PAT kicks attempted, season PAT kicks made and career field goal percentage).
See you next year.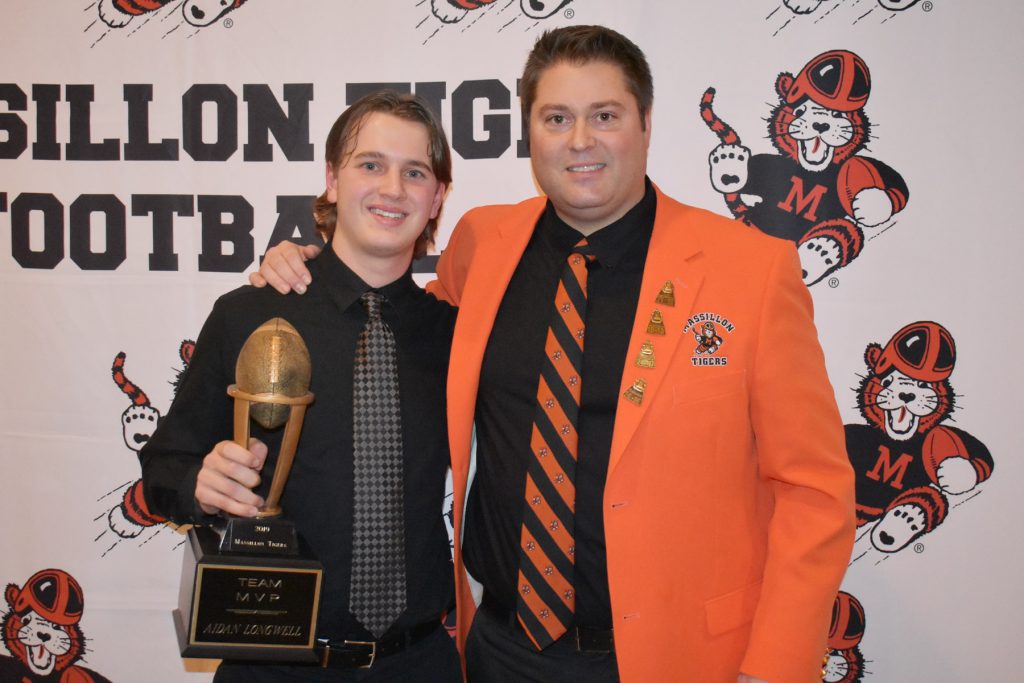 2019 Most Valuable Player Aidan Longwell with Head Coach Nate Moore