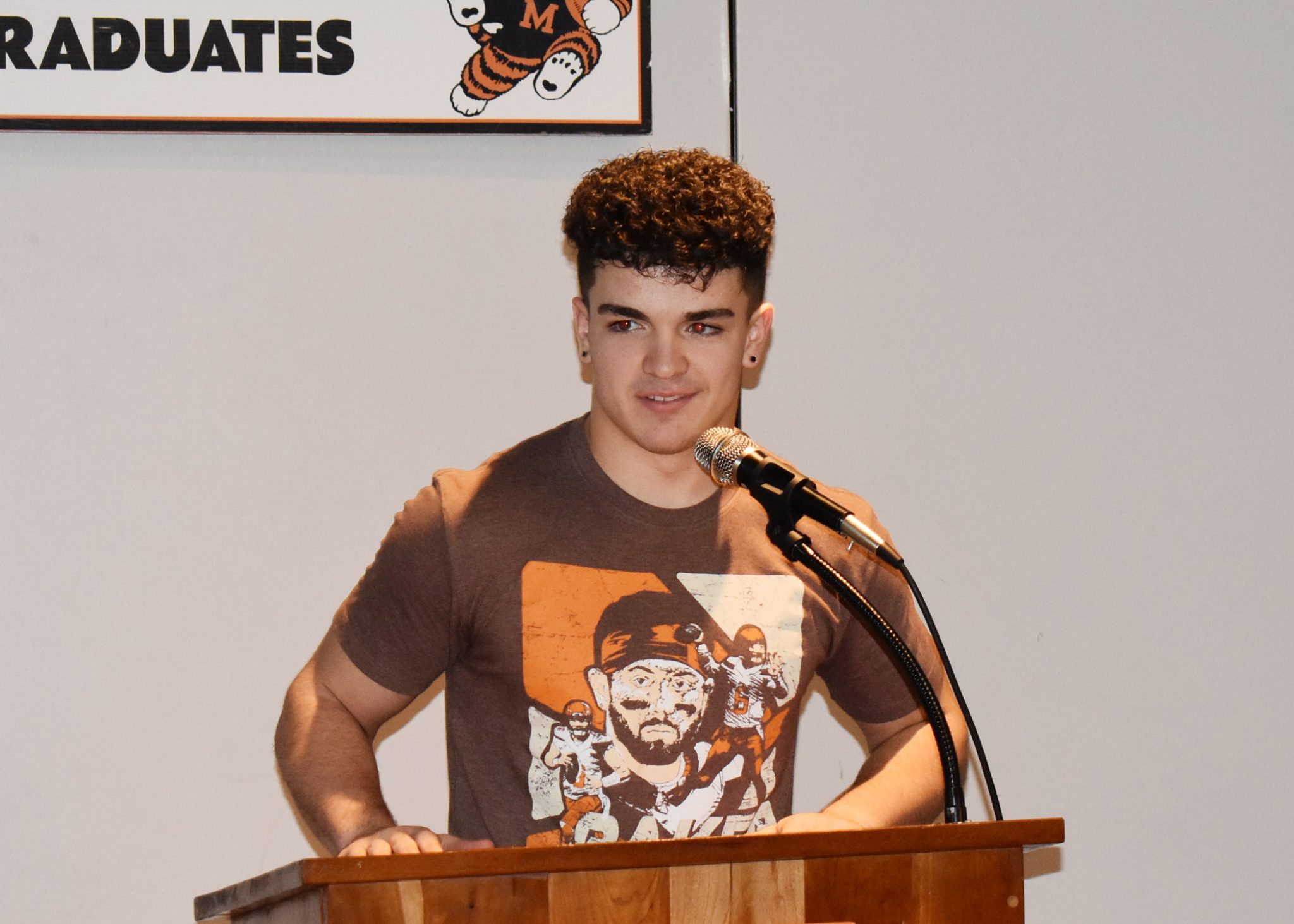 At the end of each season, the Touchdown Club honors one of the players with the "Bob Commings Memorial Hardnose Award."  That player would have received the most votes from among weekly tallies taken by the club members.  Past players honored include John Mulbach (Ohio State), David Whitfield (Ohio State), Chris Spielman (Ohio State), Shawn Crable (Michigan), Brian Gamble (Illinois/Ashland) and Jamir Thomas.
Bob Commings was a very successful coach for the Tigers from 1969 to 1973, compiling a record of 43-6-2, including Massillon's last state championship (1970) and qualification for Ohio's first ever state playoff games (1972).  Commings departed following the 1973 season to become head coach of the University of Iowa and later coached at GlenOak High School, for which their field was later named.
This year's Hardnose Award goes to senior outside linebacker and team captain Preston Hodges, recently named Second Team All-Ohio, First Team All-District and WHBC All-County.  Hodges' stats are aplenty, including:
3rd on the team in tackles with 37 solos and 56 assists
14.5 tackles for loss, accounting for 48 negative yards
1.5 quarterback sacks, accounting for 15 negative yards
4 pass interceptions returned for 78 yards and 2 touchdowns
5 pass breakups
9 passes defended
1 blocked punt
11 rushes for 79 yards and 2 touchdowns
3 punt returns for 18 yards and a touchdown
30 points scored
175 all-purpose yards
When asked about the award after the presentation, Preston said this: "It means everything to me.  I  know being an undersized guy you have to be a hard-nosed player.  You have to go all out every single play.  It's just the mindset you have to have going into every single game.  I really love the game of football and I just give it my all."  But the admiration for his teammates was not lost on him.  "I love this football team," he said.  "They've had my back every step of the way.  We all push each other to be better.  I created life-long friendships with this team, I can already tell.  I was very happy with our season.  It didn't end the way we wanted.  But I'll still love every single one of those guys and they're my brothers for life."
A new award was added to the ceremony this year for the player that comes to practice every day and gives maximum performance.  It's called the "Bucket Award."  And this year's winner is Jerron Hodges.