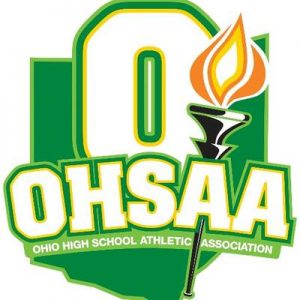 LaSalle Spoils Massillon's Title Hopes
December 5, 2019
CANTON It hasn't been too often this season Massillon has found itself trying to scramble from a second-half deficit.
Unfortunately for the Tigers, the first time they truly found themselves in that position came in Thursday night's Division II state championship game against Cincinnati La Salle. It proved to be too much, as they would suffer a 34-17 loss in front of 11,286 at Tom Benson Hall of Fame Stadium.
"First thing's first, you have to give credit to La Salle," Massillon coach Nate Moore said after his team finished with its second consecutive 14-1, state runner-up season. "They're a great football team and played a great ballgame. They put us in some tough spots, so you have to give them a lot of credit."
La Salle did so with a three-headed rushing attack that gained 337 yards, the most Massillon had given up in a game this season. The Lancers had a pair of 100-yard rushers, with quarterback Zach Branam gaining 166 yards on 22 carries while Gi'Bran Payne added 133 yards and a touchdown on 15 rushes.
Payne's lone score was a six-yard run which put La Salle in front 7-3 midway through the first quarter, on which he had been originally ruled down at the Tiger 1. It was the first play to be looked at by instant replay, which was approved for the state championship games for the first time this season.
Cam Porter was the third piece of the rushing attack for La Salle. Porter gained 57 yards on 18 carries, with three touchdown runs — giving the Lancers leads of 14-3, 21-10 and 28-17.
"If you watch us all year, that's what we do," said La Salle coach Pat McLaughlin, whose 13-2 team brought the school's fourth state title in the last six years. "We run the ball. We're not necessarily thinking plays, we're thinking players. We want to get Cam and Gi'Bran and Zach in space and making them defend the entire run game."
The problem for Massillon was that La Salle was able to defend much of its offense, especially in the second half. The Tigers did get a pair of long pass plays to Andrew Wilson-Lamp, a 59-yard completion to set up an opening-drive Alex Bauer field goal and the other a 69-yard touchdown to pull them within 21-17 in the second quarter.
Jayden Ballard also brought in a 38-yard touchdown pass in the second quarter to cut the deficit to 21-10. Ballard finished with seven catches for 88 yards, while quarterback Aidan Longwell was 12-of-23 for 245 yards.
"They were (changing) a little bit," said Longwell, who was held to 8-of-16 passing for 74 yards in the second half. "Their corners were playing off the ball a little bit more. We just didn't have a good play, I guess."
Massillon finished with 327 total yards. In the second half, however, the Tigers were only able to get 103 yards on 27 plays.
What also hurt Massillon was a pair of fumbles — of three total in the game — in its own territory. There was one in each half, and both resulted in points for the Lancers.
The first came on the first play of the second quarter, when the Tigers coughed it up at their own 17. Porter's first touchdown run, a six-yarder, would make it 14-3 La Salle.
The second came on the first play of Massillon's second third-quarter possession, this time on its own 38. The Lancers would close out that drive with Porter's final scoring run, a three-yarder, to make it 28-17 with just under two minutes left in the third.
"We've said it all week," said McLaughlin, whose team picked up Jake Seibert field goals of 43 and 38 yards in the fourth quarter. "Big games come down to three things. No. 1 is the turnover battle, and I think we were up three. So, the turnover battle, which we won; the ability to run the ball and stop the run, which we did, and then I think we have the No. 1 kicker in the nation, and it come down to plays in the kicking game. So, you stop the run, you force turnovers and you kick the ball, those six points were very valuable."
Reach Chris at 330-775-1128 or chris.easterling@indeonline.com.
On Twitter: @ceasterlingINDE