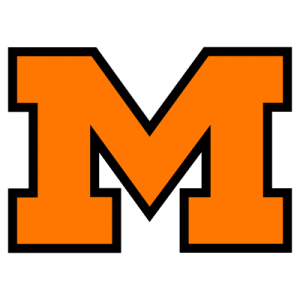 Round 1 of the playoffs goes to the Tigers as they posted a convincing 55-0 victory over Warren Harding.  It's the second time this year that Massillon defeated the Raiders, the first during the regular season, 49-7.  The Tigers are now 11-0 for the second consecutive year and have won 896 games all-time.  Next up is Massillon Perry.
The Booster Club is sponsoring a bus to the Perry game, which will leave at 4:30 pm from the K-Mart parking lot.  The cost is $20.00.  No food or beverage will be provided.  Tickets can be purchased at Keller's Office Furniture.
Senior Linebacker Ben Krichbaum was the guest player.  "Defensively, we have a big challenge ahead of us," said Krichbaum in addressing the Perry game.  "We had a good practice today and we'll be ready."
Head Coach Nate Moore was very pleased with the outcome last Friday and had special praise for defensive lineman Manny McElroy.  "We played pretty well defensively," he said.  "Our guys played really well up front.  Manny is a force on the inside.  He doesn't show up stat-wise, but he really makes our defense go.  He is a really good player.  He's so big and powerful.  Incredibly strong."
Massillon pretty much had its way in this one, with the game going to a running clock for most of the second half.  Terrance Keyes once again came up big, rushing 12 times for 188 yards and three touchdowns.  Defensively, the Tigers held Warren to just three total rushing yards off of 35 carries.  Overall, the Raiders totaled just 104 yards of offense and never penetrated the Massillon 35 yardline.
This week's game will mark the 18th meeting of Massillon and Perry, with the locals leading the series with 15 wins against two losses.  One of the losses came in the playoffs in 1999, while the Tigers own two playoff wins against the Panthers, in 2002 and 2006.  The last time the two teams met was in the 2015 season opener, with the Tigers prevailing 41-37. Perry would go on to lose that year to Cincinnati LaSalle in the Division II State Finals.  "It worked out like we wanted," said Moore, referring to the match with Perry.
Offensively, Perry utilizes almost exclusively a variation of the Wing-T, but with two wingbacks and one split end.  The jet sweep sets up the plays.  Look for lots of fullback dives and buck sweeps.  The primary running backs are Joshua Lemon, a 5′-10″, 180 lb. junior, and Dion Cundiff, a 6′-1″, 240 lb. senior.  Lemon has rushed 141 times for 1,350 yards (9.6 yds/att.) and Cundiff has rushed 194 times for 1,457 yards (7.5 yds/att.).  The pair take advantage of an offensive line that has three good sized players in Vinny Sciury, a 6′-4″, 290 lb. senior tackle, Max Millin, a 5′-11″, 275 lb. senior guard, and Adam Luster, a 6′-0″, 260 lb. senior tackle.
The quarterback is 5′-9″, 165 lb. Hayden Vinas, a junior.  He engineers the offense well and even runs some.  However, there is very little passing involved.  In fact, Perry this year has thrown just 42 times in eleven games and completed just under half of them.  Sometimes passes are thrown from play-action and other times the QB is in the shotgun.  The most passes they threw in any one game was nine against Jackson in a losing effort.  In that one they only completed three.
Defensively, expect to see the Panthers in an even front, with Sciury and Millon also playing on the defensive line.  Throughout the year they have gone with four linebackers and a cover-3, but this may not work well against the Tigers explosive passing game.  So they might switch to three linebackers with cover-4 to stop the deep pass like most teams the Tigers have faced this year.  Or they may to stay traditional and try to stop the run, something they've had good success with against average opponents.  They will bring some pressure on third down, but they're not considered a big pressure team.
Coach Moore thought Massillon would have an edge on special teams, in spite of them having a good punter.
Go Tigers.