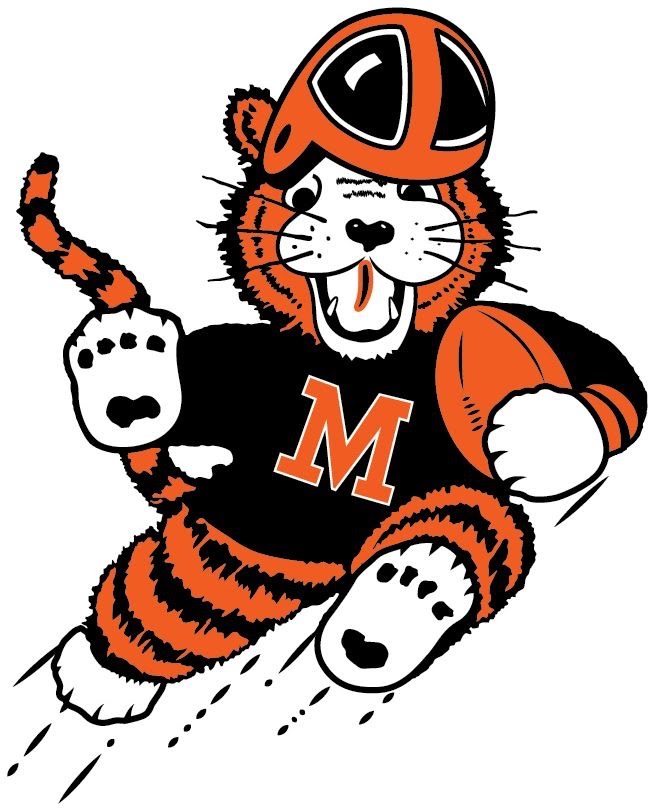 When a team completes the regular season undefeated and is considered an odds-on favorite to compete for the Division II State Title for the second straight year, it's no wonder that eleven players are recognized by the head coaches of Stark County for outstanding performance.  This year's honorees include six offensive players (quarterback Aidan Longwell, offensive lineman Cole Jones, wide receivers Jayden Ballard and Andrew-Lamp and running backs Terrance Keyes and Zion Phifer), four defensive players (lineman Manny McElroy, linebacker Preston Hodges and safeties Luke Murphy and Robbie Page) and one special teams player (kicker Alex Bauer).


Aidan Longwell – Quarterback.  Longwell, a repeat county all-star, is a 3-year starter that has set  Tiger all-time career records for yards passing, pass completions and touchdowns.  He also connected with Jayden Ballard for the longest ever touchdown pass, good for 95 yards.  To date this year, he has completed 113 of 171 passes for 1,851 yards and 21 touchdowns, with just 5 interceptions.  Aidan will attend Kent State University next year on a baseball scholarship.
Cole Jones – Offensive Lineman.  Jones, a 6′-3″, 305 lb. senior center, anchors a tremendous offensive line that has been instrumental in opening holes for the running backs and protecting the quarterback.  Through eleven games, the Tigers are averaging of 46 points and 395 yards per game, with just four quarterback sacks.  Expect Cole to play at the next level.
Jayden Ballard – Wide Receiver.  Ballard, a repeat county all-star, has 50 catches for 903 yards and 15 touchdowns.  The speedy junior caught a season-high nine passes against Canton McKinley and his high yardage game was 145 vs. Gateway, PA.  Jayden has verbally committed to play for Ohio State.
Andrew Wilson-Lamp – Wide Receiver.  Lamp has 38 catches for 674 yards and six touchdowns.  The junior receiver burst onto the scene in the opening game against Akron St. Vincent when he caught 11 passes for 232 yards and a touchdown.  The effort set a new Tiger single-game record for receiving yards.  Andrew has received offers to play at the next level from several Power-5 schools.
Terrance Keyes – Running Back.  The senior Keyes has become an explosive force this year in the Tiger backfield and is a major reason why the offense has racked up over 200 yards rushing per game.  To-date Terrance has rushed 194 times for 1,465 yards (7.6 yds./att.) and 23 touchdowns.  Six times he has eclipsed the 100-yard mark.
Manny McElroy – Defensive Lineman.  McElroy, a 5′-11″, 330 lb. senior, plays like a bull in a China shop, reeking havoc against opposing offenses.  Often double-teamed on account of his tremendous size and strength, Manny is skilled at bursting through the blocks to completely clog up the middle of the line.  He is part of a stout front-7 that has held opponents to just 2.5 yards per carry, the best mark since the spread offense came into vogue in the late 1990s.
Preston Hodges – Outside Linebacker.  Hodges, a senior, has a duel role in defending both the run and the pass and has done a stellar job throughout the season.  Currently, he has 23 solo tackles and 38 assists and is ranked 2nd on the team in tackle points.  Preston has also intercepted a team-high four passes and returned one for a touchdown.
Luke Murphy – Safety.  Murphy is the leading tackler on the team with 29 solo tackles and 33 assists, to go along with a pass interception and a blocked punt.  He has been instrumental in bottling up opposing running backs on sweep attempts.  Murphy will attend Kent Sate University next year on a football scholarship.
Robbie Page – Safety.  Page is also among the leaders defensively with 22 solo tackles and 9 assists to go along with two interceptions.  Woe is the receiver that catches the ball in his zone, because a big hit is on the way.
Alex Bauer – Kicker.  Bauer, a junior, had a another great season as the Tiger kicker.  This year he converted 60 of 62 extra point\ triess and 4 of 6 field goal attempts.  Alex is on pace to set many season and career Tiger kicking records by the time he graduates.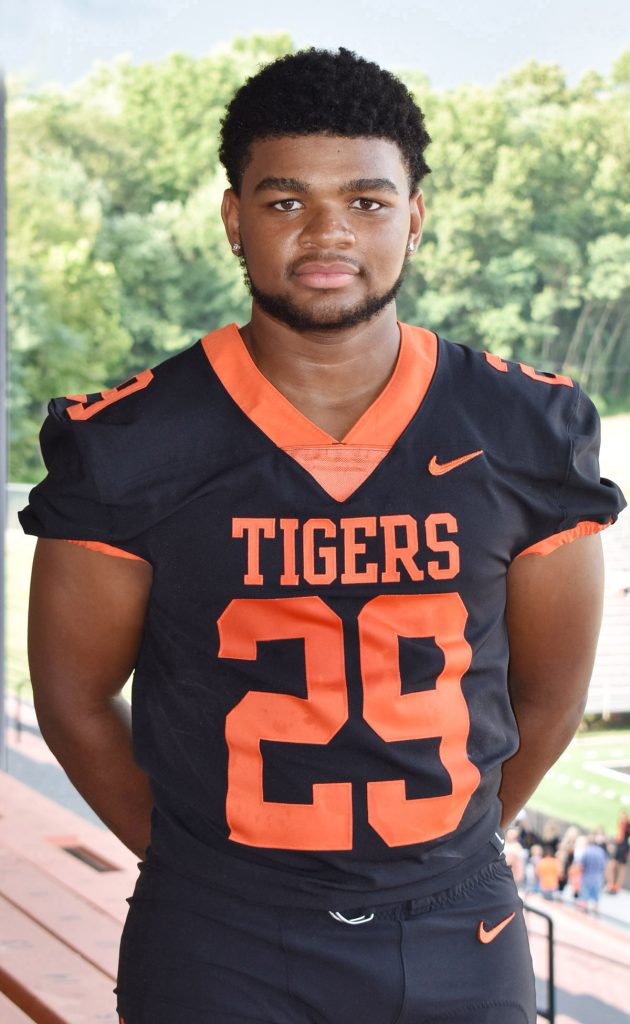 Zion Phifer – Most Valuable Player.  Phifer, who filled in admirably last year when running back Jamir Thomas missed the final game and a half, has committed himself to doing anything the coach wanted to help his team to victory.  Whether it be at running back, fullback or linebacker, Zion has given it his all.  This year he has rushed 55 times for 254 yards and scored eight touchdowns.  He also caught five passes for 84 yards.
Congratulations to all these fine Tiger players.