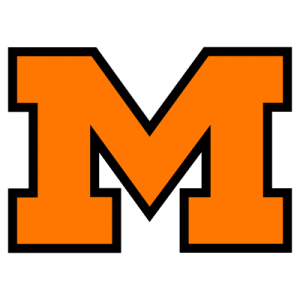 The meeting was a bit shorter this week owing to minimal discussion of last week's 56-0 blowout of Akron Firestone, which was incidentally Massillon's 890th all-time victory.  "That was fun, but it's over,": said Tiger head coach Nate Moore.
Scores from last week:
The varsity defeated Firestone 56-0 to run their record to 5-0.
The JV game with Firestone was canceled.
The freshmen defeated the combined Firestone freshmen and sophomores 32-0.  Their record is now 3-2.
The 8th Grade defeated Barberton 27-13.  They are now 3-1.
The 7th Grade defeated Barberton 48-6 to remain unbeaten at 5-0.
Around fifty seats are available on the buses to Austintown Fitch for the cost of $25.00.  The bus will arrive at the K-Mart parking lot at 4:00 pm and depart around 4:30 pm.  Tickets can be purchased at Keller's Office Supply.
The guest players this week were senior linebacker Ben Krichbaum and senior linebacker / running back Preston Hodges.  In the last three games Krichbaum has recorded six solo tackles and eight assists.  Hodges leads the team in tackle points with nine solo tackles and 20 assists.  He also has three tackles for loss and three pass interceptions.  Against Firestone Hodges blocked a punt and recovered it in the end zone for a touchdown and intercepted a pass that led to another score.  Both players briefly addressed this week's opponent, Austintown Fitch.  "It's going to be a big challenge this Friday," said Krichbaum.  "They have a good front seven.":
Fitch will host Massillon on Friday in a 7:00 pm start and enters the fray with a 3-2 record, with an average game score of 22-23.  Both teams have played Canton GlenOak and Warren Harding, with the Tigers defeating each handily and the Falcons suffering a setback against Warren.  Their scores are as follows:
Erie, PA (3-3): W 48-26
Youngstown Ursuline (0-5): W 27-7
Canton GlenOak (1-4): W 49-27
Warren Harding (4-1): L 7-10
Cleveland Benedictine (5-0): L 27-47
The Fitch offense revolves around a pair of alternating quarterbacks in junior Nate Leskovac (6′-0″, 187) and sophomore Devin Sherwood (5′-10″, 174), both of whom are adept at running the football.  This year they have favored the run 70% of the time, often utilizing the QB option.  The passing has been handled almost exclusively by Sherwood, who throws mostly off a sprint rather from the pocket.  Running back senior CJ Woodberry (5'9″, 168) is a returning starter and is very capable.  A couple of their wide receiver may be missing this week, but sophomore Tyler Evans (5'9″, 188) is good one to watch.  He is a talented "kid" according to Moore.  All of their skill players have good speed.  The offensive line averages 6′-0, 256 lbs. and returns two starters from last year, including senior Kyle Moore (6′-5″, 285) and senior Payton Short (5′-8″, 288).  They play well and finish blocks.
Defensively, Fitch operates out of a 3-3 odd stack with a cover-3 in the secondary.  Expect lots of blitzing, more than from any previous opponent to date.  The best player is senior defensive end Christian Armstrong, a 2-year returning starter.  In fact, all three linemen return from last year, including senior Joe Perez (5′-10″, 218), who Moore calls a "pretty good player."  Leskovac, also one of the quarterbacks, is their best linebacker and is very active at the position.  The secondary rotates a lot of players, but the group is led by Evans, who doubles as a wide receiver.
The special teams should be exciting to watch with multiple schemes used for both kickoffs and punts.  Regardless of the given situation, the Tigers will need to guard against on-side kicks, pooch kicks and short sideline kicks.  Don't expect any deep ones.  And a fake punt is always in play.
"We're thoroughly looking forward to this," said Moore.
Halfway through the regular season, Massillon is averaging a whopping 49 points per game and giving up just 11.  They are also averaging 399 yards per game, 170 on the ground and 220 through the air vs. 189 total yards by the opponent.  The leading ball carrier is Terrence Keyes, who has toted the ball 65 times for 397 yards and six touchdowns with a 6.1 per carry average.  Quarterback Aidan Longwell has completed 56 of 71 passes (79%) for 955 yards and 12 scores.  Against Penn-Trafford Longwell set a new record for career passing touchdowns and against Firestone he set a new mark for career passing yards.  Most of the passes this year have gone to Jayden Ballard (22-422, 8 TDs) and Andrew Wilson-Lamp (19-378, 3 TDs).  Ballard is also the leading scorer with 60 points.  The Tigers have only punted four times this year vs. 26 times for the opponents.  On defense, the top three tacklers are Preston Hodges, Luke Murphy and Caiden Woullard.  Alex Bauer has converted 34 of 35 extra point tries.  The Tigers have not attempted a field goal this year owing to a 95% (20 of 21) success rate in the red zone.
See you in Austintown.  Go Tigers!