Homer Floyd was destined to become a difference maker capable of drawing harmony out of discord.  "In some respects I was a community project," Floyd recalled. "My mother was ill a lot. I Iived on the Hill, I lived on Tremont Street, I lived with the Toles family in a foster home and I lived with Mrs. Dandridge. I had a lot of people touch my life in a variety of ways. I think all for the good." (1). "Massillon helped me to get my start," he said. "I was fortunate for the people involved in my life; they were all nice. Massillon was always nice to me and made certain I got the things I needed to be successful."
Homer played running back and defensive back for the Tigers from 1952 to 1954.  His championship career started in 1950 when he was a player on the Jones Junior High Undefeated City Championship Team. In his three years playing for the Tigers Massillon was 29-1, beating McKinley all three years.   In 1952 and 1953 under Coach Chuck Mather the Tigers were 10-0 both years, capturing the Ohio State Championship and National Championship each year. In his senior year the team suffered their only defeat in Homer's three years: a loss at Alliance, 19-7. "Homer Floyd looked like a thoroughbred," said Coach Tom Harp. "He just bounced when he walked – it was like twinkle-toes or something. Nice looking, streamlined kid. Didn't weigh much, 155 pounds. Could run like the wind, cut on a dime." (1)
In his junior year Homer led his team with 78 rushing points and was second in total points with 84. He was named All-County and Honorable Mention All-Ohio. As a senior and Tiger Co-Captain in 1954 under Coach Harp, Homer had an incredible year. He set a school record with a 103-yard pass interception return for a touchdown against Barberton. He was No. 1 in rushing touchdown points with 84, and No. 1 in total points with 104. That year he rushed for 1372 yards with an 8.9 avg. per carry.  Verses McKinley that year, he rushed for 263 yards on 28 carries and scored two touchdowns.  The 263 yards was an all-time single game record and all-time single game vs. McKinley record that stood for 37 years until Travis McGuire rushed for 302 yards against McKinley in 1991.  Homer was Stark County Player of the Year and First Team All-Ohio running back in 1954. Currently Homer ranks fourth in Single Game Rushing All-Time and third in Single Game Rushing All-Time vs. McKinley, having just been passed in both categories by Jamir Thomas in 2018.
ON TO KANSAS
Homer joined former Massillon coach Chuck Mather at the University of Kansas in 1955 after receiving scholarship offers from an estimated 50 schools, including Woody Hayes from Ohio State. But life would be different in Lawrence Kansas. He faced personal rejections. "You and your wife cannot live here," they said. "You cannot eat here."  In the theaters African-Americans had to sit in the balcony. Only two of the three theaters in Lawrence had balconies. Homer would use these life experiences to make the world a better place.
Homer was the best football player at Kansas and at the same time Wilt Chamberlain was the best basketball player at Kansas.  From 1956-1958 Homer lettered all three years. He led his team in rushing those three years and led his team in tackles two out of three years. Homer was also Big 8 All-Conference at Kansas in 1958. In his final home game he scored two touchdowns against rival Nebraska for a 29 – 7 victory. It was the biggest margin of victory in the two team's 66-game series.
During a 1957 game against TCU in Fort Worth Texas, the African -American players had to stay at a different hotel.  Homer shared that on one hand this was a very negative situation, but on the other hand it was a motivating factor in the sense that Chancellor Murphy got promises that it would never happen again. Homer said, "Our coach, Chuck Mather, was very much in the forefront of leading fights for African-Americans and Chancellor Franklin D. Murphy as well. Chancellor Murphy took it up himself to try to correct any issues that came up."
In October of 2018 Homer shared this story.  In the 1890s Kansas had African-American players on the team. But because of a lawsuit African-American players were not allowed to play football.  No African-American played football for Kansas in the 1900s until John Francisco and John Traylor both from Massillon joined their former Massillon coach Chuck Mather in 1954. It was a year later that Homer Floyd joined the team.  In 1958 Homer enjoyed one of his proudest moments.  He was voted by the players to be co-captain of the team which including himself had only six African-American players. For him to be accepted by his teammates continues to be one of his fondest memories. He shared that many of his white teammates had never been around African-American players. This meant a great deal to Homer. He called his experience at Kansas "Terrific, Absolutely."
WITH Permission of the University of Kansas Libraries
After Kansas Homer would play a year of Pro Football for the Canadian Football League Edmonton Eskimos in 1959 after being cut by the Cleveland Browns coach Paul Brown. "That (getting cut) could have been a blessing in disguise because I went on to have a successful career in other areas," Floyd said. He realized that there was life after football.
CIVIL RIGHTS
Homer Floyd has been involved in civil rights for 50 years dealing with racial segregation, school integration, equal pay for women, and the resurgence of hate groups.  It was January 19, 1968 when Mr. Floyd, who was Executive Director of the Kansas Commission on Civil Rights, shared the stage with the Rev. Dr. Martin Luther King Jr. This would be Dr. King's last speech to a college audience.  When Dr. King was assassinated on April 4, 1968; found in his coat pocket was note with the name Homer C. Floyd written on it.
On the Washington High School Distinguished Citizen Plague in Massillon, Ohio — it reads:
2013
Homer C. Floyd
Athletics/Civil Rights
Executive Director of the Pennsylvania Human Relations Commission (civil rights enforcement agency) 1970 – 2011
Settled and/or litigated landmark race and sex discrimination cases in the 70's and 80's which opened up opportunities for minorities and women in employment, housing, public accommodations, education.
Settled numerous cases for persons with disabilities, including a 6.4 million dollar case in the 80's that improved access to public places statewide.
Precedence setting race cases in housing involving predatory lending and modification of housing for persons with disabilities.
From June 1999 to 2011 led the processing and resolution of approximately 55,000 cases resulting in benefits (directly or indirectly) to over 8,000,000 individuals, including $121,000,000 in financial award.
Executive Director of the Kansas Commission on Civil Rights 1966 – 1970, the Omaha Human Relations Board 1965 – 1966, and the Topeka Human Relations Commission 1964 – 1965.
Served as a Consultant to U.S. Commission on Civil Rights 1966 – 1970.
Consultant to U.S. Equal Employment Opportunity Commission 1965.
Consultant to the Government of the Virgin Islands (Labor Dept.) 1980's.
Received numerous awards in Civil Rights, including New Pittsburgh Courier (newspaper) Top Hat Award 1970, Outstanding Service Award PA. State NAACP 1979, and 2010.
Distinguished Pennsylvanian Award by William Penn Committee 1981: IAOHRA Presidents award for outstanding Service 1987, 1993 and 2010: Pa House of Representatives Distinguished Service 2011: the Pa. Senate for Distinguished Service 2010; Talk Magazine Person of the Year 2008; Central Pa Martin Luther King Center 'Keeper of the Dream Award 2012."
U. S. Post Office Legacy Award 2004.
U. S. Equal Employment Opportunity Commission Outstanding Achievement Award 1999 and 2002.
Pa. State System of Higher Education Cornerstone of Excellence Award 2008.
EDUCATION
Washington High School (1955); B. S. University of Kansas (1961)
picture on the citizens award
In addition Mr. Floyd has done additional work at Fisk University and Washburn University.
Mr. Floyd retired January 2011 after 41 years as Director of the Pennsylvania Human Relations Commission. He was honored by The University of Kansas, his alma mater's Black Alumni Chapter's African-American Leaders and Innovators Project.
On Mr. Floyd's 80th birthday he was honored as the "Dean of Civil Rights in Pennsylvania" by the Martin Luther King Leadership Development Institute.
In October of 2018 Mr. Floyd was asked "after your distinguished career what thought or idea would you like to leave with the community of Massillon?"
His answer was profound.  "Access.  Access for the young people.  Access of information, access of people, access of life."
People from Massillon and Stark County recognize Homer Floyd as a Massillon Tiger Football Hero. But better said – more accurately – Mr. Homer C. Floyd is a true American Hero who happened to be from Massillon and played football for the Tigers.
Mr. Floyd's Hall of Fame Inductions include:
Stark County High School Football Hall of Fame, 2007
Massillon, Ohio Washington High School Wall of Champions, 2012
Massillon, Ohio Washington High School Distinguished Citizen, 2013
The University of Kansas K Club Once a Jayhawk, Always a Jayhawk, 2015
Massillon, Ohio Washington High School Tiger Hall of Fame, 2018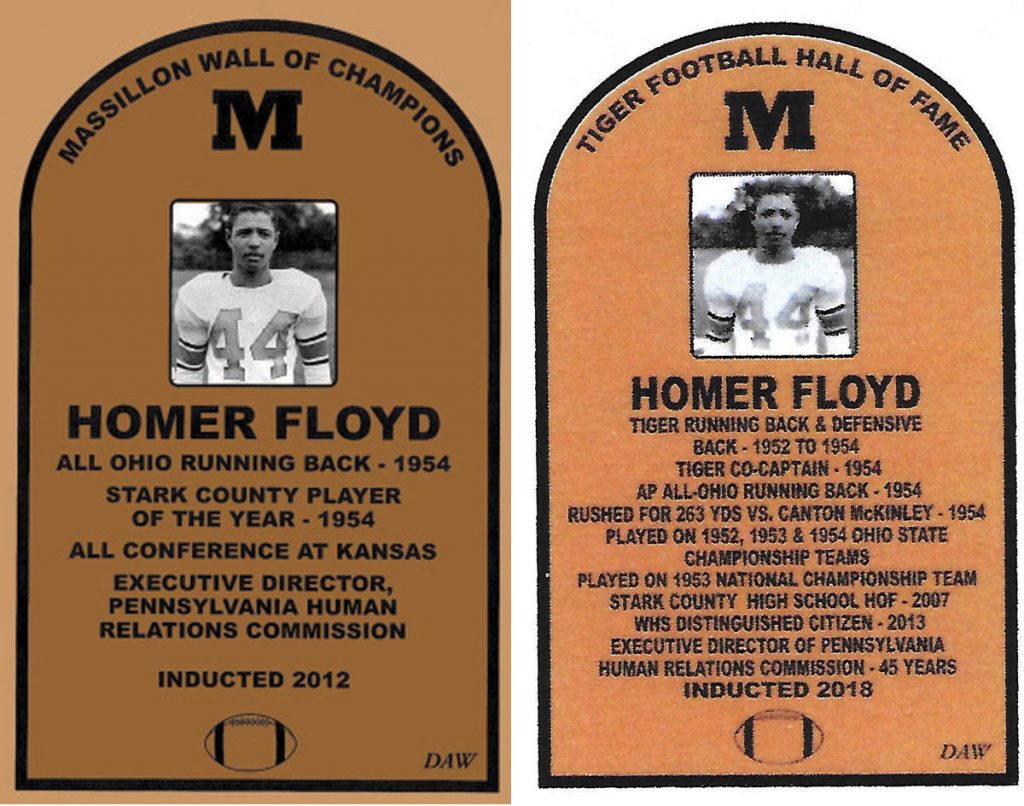 Written by Mike Riordan
Special Thank You to Mr. Homer Floyd
Contributors Ed Grier, Brock Herring, Gary Vogt, Linda Sasavicz
(1) Massillon Memories by Scott H. Shook
** Massillon Players in the 1956 Team Photo with Coach Chuck Mather
# 80 Bruce Brenner
# 33 Homer Floyd
# 43 John Francisco
# 63 Bob Kraus
# 71 Frank Gibson
# 32 Ray Lane
# 84 Jim Letcavits
# 45 Ernie Russell
# 22 John Traylor