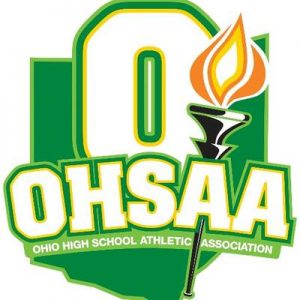 Thomas, defense carry Massillon past Ashland
Chris Easterling – The Independent
Video courtesy of Brian Skowronski – An Ashland point of view

WOOSTER It was cold. The field had a thin layer of snow on it at the start.
In other words, it was perfect conditions for Jamir Thomas and Massillon's defense to do what they do best in a 28-7 Division II Region 7 semifinal win over Ashland at Wooster's Follis Field.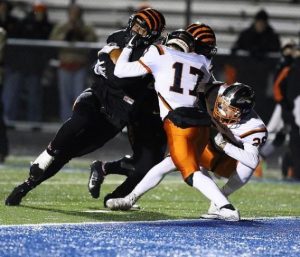 "The weather conditions were great," a happy Massillon coach Nate Moore said after his 9-3 team advanced to next week's regional final against New Albany at a site to be determined. "This is playoff football. I don't know what else you want; move to Florida if you don't like this."
Thomas and the Tigers defense certainly felt right at home in the conditions, with a 27-degree temperature at kickoff. The former carried the Massillon offense on his back, while the latter never let the explosive Ashland offense get off the ground.
The 6-foot-1, 212-pound Thomas bulldozed his way to a career-high 196 rushing yards on 37 carries. He also scored all four of the Tigers' touchdowns on runs of nine, three, 27 and three yards.
"He did a great job," Moore said of Thomas, who accounted for almost half of Massillon's 409 total yards.
Thomas provided the only first-half score, a 9-yard run just 22 seconds into the second quarter for a 7-0 Massillon lead. He would blow the game open with a pair of third-quarter runs within 114 seconds of each other – a 3-yarder with 2:24 left and a 27-yarder with 30 seconds left – to make it 21-0 Tigers going into the final quarter.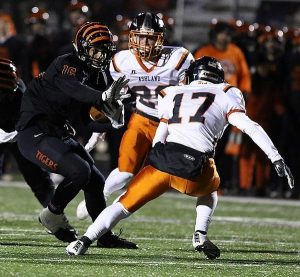 The final Thomas touchdown run came with 53 seconds remaining, a 3-yarder plunge.
"We got to go over and see them play McKinley (in Week 10), so I got to see them there," said Ashland coach Scott Valentine, whose team bows out at 9-3. "We knew he was good. As time went on, he broke some runs, but I was proud of our defense the way they played, especially the first half and even in the second half as far as containing some of that stuff."
While Ashland's defense was able to contain Massillon some of the time, the Tiger defense was able to contain the Arrows almost all of the time. The only Ashland touchdown was a 27-yard pass from Keagan Armitage to Bryke Williams with 7:33 remaining to pull it within 21-7.
A week after the Arrows put up 48 points in a come-from-behind win at Columbus Mifflin, it could never consistently get going against Massillon as they were held to 223 total yards. At least, they weren't able to get going enough to find the end zone.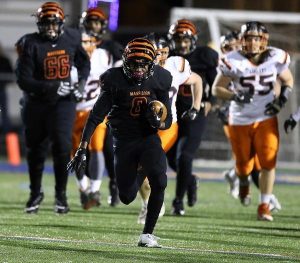 Armitage, Ashland's Mr. Football candidate, was limited to just 17-of-32 passing for 129 yards and the score. He did run for 87 yards on 17 carries, but fumbled twice.
"We played well," Moore said. "We forced some turnovers, which was huge for us, especially in the first half. I'm really proud of our guys."
Of course, Ashland proved to be its own worst enemy in many regards. The Arrows turned the ball over three times, compared to just one Tiger giveaway.
All three of the Arrow fumbles came in Massillon territory. A second-possession fumble at the Tiger 24; a fumble on a second-quarter run as Ashland was about to score a touchdown that went out of the end zone; and a third-quarter fumble at midfield.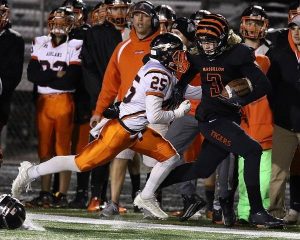 "That's the thing," Valentine said. "When you're playing good people in these situations, you can't turn the ball over. You can't have some of the penalties we had. Our kids laid it on the line; I'm proud of their effort. It's just those things hurt us."
Those turnovers also helped Massillon reach its first regional championship game since 2012