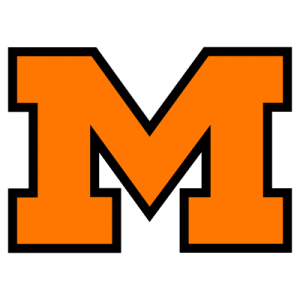 Tigers bounce back, flatten Firestone
Chris Easterling – The Independent
Oct 13, 2017 10:19 PM
MASSILLON Massillon's first possession Friday night against visiting Firestone went for a three-and-out. It was the first time the Tigers failed to score on their opening possession.
Problem for the Falcons was that Massillon had plenty of other possessions after that one in which it didn't go three-and-out. In fact, more often then now, they went for touchdowns, as the Tigers bounced back with a 35-6 win over Firestone at Paul Brown Tiger Stadium.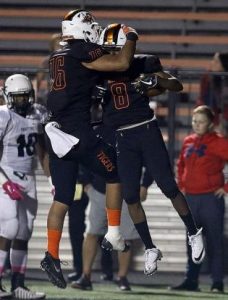 "I think we were focused and dialed in, which is what we needed to do," Massillon coach Nate Moore said after his team bounced back from a Week 7 loss to Canisius (N.Y.) to improve to 6-2. "I don't know how much better we got; we definitely played better. We need to get the film evaluated and evaluate this game just like we did the previous games and continue to get better every week.
Massillon also shook off any first-possession disappointment to make sure it established control of the game before the teams went to the locker room for halftime. The Tigers scored on four consecutive drives after its first one to open up a 28-0 lead going into the break.
It would take Massillon until its second possession of the second half to get on the board as well. That's when Aidan Longwell hooked up with Aydrik Ford for a 17-yard touchdown to make it 35-0 with 4:31 remaining in the third quarter.
That was one of three touchdown passes for Longwell. He also hit Jayden Ballard and Austin Kutscher for touchdowns in the first half.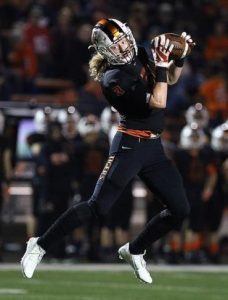 "We wanted to come out and make an effort to be more balanced," said Moore, whose team racked up 360 total yards in the game. "Certainly not perfect, but I thought we did well"
While the Massillon offense generated the points, the Tiger defense was able to do something it had struggled to do at times, even during the five-game win streak. It was consistently able to get off the field quickly.
Two passes to Darshun Williams – a 13-yarder on the Falcons' first drive and a 39-yarder on their sixth – accounted for the only two times in the first half in which Firestone managed to get across the 50. The first time, which reached the Tiger 43, ended in a punt from the Massillon 46.
The second one put the Falcons on the Massillon 19. The next four plays netted minus-5 yards before Anthony Ballard intercepted a pass in the end zone on fourth down with :38 remaining in the first half.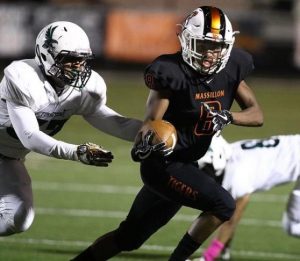 That was one of two first-half interceptions for the Tigers. Max Turner – who started due to a handful of players being suspended for the first quarter due to a violation of team rules – came up with a one-handed pick to squelch Firestone's second drive.
Remove Williams' two big plays and Firestone's offense netted just 38 yards on 25 first-half plays. Williams would put the Falcons on the board with a 34-yard touchdown catch from Joe Namsick with 8:49 remaining in the game.
The Falcons would finish with 232 yards on 54 plays. Of those, 83 came on the lone scoring drive of the game.
"I don't think there's any doubt we played better," Moore said. "Did we play to our potential? No. We need to continue to evaluate and improve. We'll do that again this weekend."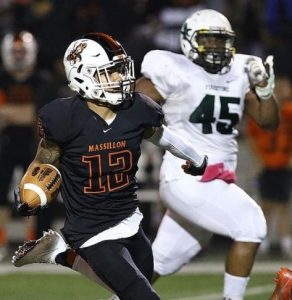 That defensive performance was counted by a workmanlike effort by Massillon's offense. One fact which was obvious from the very first possession was the Tigers' desire to work both the run and pass.
Of the four first-half touchdown, two were passes by Longwell and two were runs. Ballard and Kutscher each caught a score in the first quarter, while Tyree Broyles and Jamir Thomas each ran for a score in the second quarter.
At halftime, Massillon had run the ball 18 times for 111 yards, while Longwell was 11-of-14 for 136 yards passing. The Tigers would finish with 163 rushing yards on 35 attempts, while Longwell was 15-of-19 passing for 197 yards.