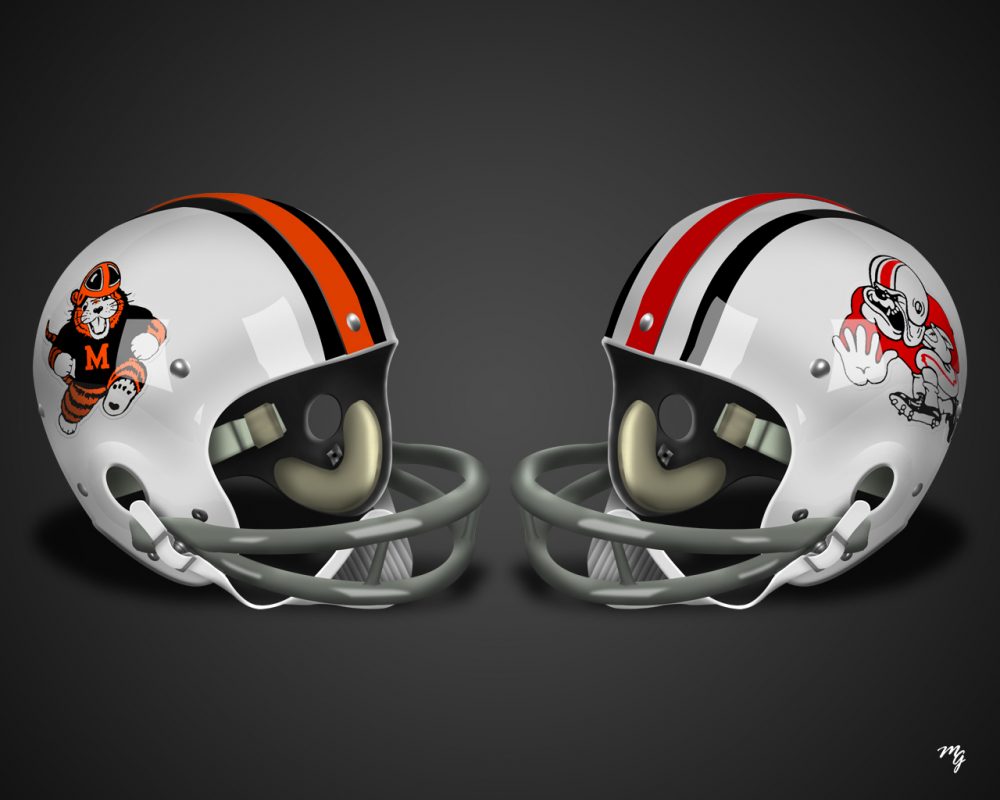 Timeless Rivals is a documentary film that chronicles the 120 year plus history of football's greatest rivalry between the Massillon Tigers and the Canton McKinley Bulldogs. They have been playing since 1894. In that century and a quarter, many notable players, coaches and innovations have emerged.
The tag line is: Professional Roots. College Heroes. The Prep Battle that Shaped Football. These two schools have greatly impacted the modern game. It would not be the same without them. Two pro football hall of famers and ten college hall of famers have participated in the storied rivalry. Fourteen Super Bowl rings have been accumulated between Tiger and Bulldog players. Five McKinley or Massillon graduates have become NFL head coaches. In short, we export football.
The Timeless Rivals crew interviewed close to 50 players, coaches and fans. They will tell the tale of the games, the stories, the anecdotes that have shaped the rivalry and how the rivalry has, in turn, shaped football on all levels. If you played in this game, coached in this game or rooted for one of these teams, you are part of football history. We invite you to witness this great story.
Notable interviews include:
Bill Belichick, New England Patriots, Head Coach
John McVay, Former General Manager, SF 49ers
Josh McDaniels, Offensive Coordinator, New England Patriots
Bob Vogel, Baltimore Colts, All Pro, Super Bowls III & V
Mark Thewes, Denver Broncos, Personnel Administration
Mike Doss, Indianapolis Colts, player
Mike Brown, Owner and President, Cincinnati Bengals
Chris Spielman, Former Detroit Lions and Broadcaster
Rick Spielman, General Manager, Minnesota Vikings
 Jim Tressel, Former Ohio State Head Coach,
 Earle Bruce, Former Ohio State Head Coach
 Don Nehlen, Former West Virginia Head Coach
Steve Luke, Green Bay Packers, player
Jim Houston, All Pro, Cleveland Browns, NFL Champion, 1964
Jon Kendle, Archivist, Pro Football Hall of Fame
Some others associated with the rivalry are: Professional Hall of Fame Inductees, Paul Brown, Marion Motley and Jim Thorpe, Percy Snow, Knute Rockne and Don James.
DVD's are $20.00 each and will make great keepsakes and stocking stuffers this year. Go to our Timeless Rivals Facebook page to purchase copies through PayPal during or after our premiers Oct. 21-27.
https://www.facebook.com/TimelessRivals/
Film tickets are $20.00
Massillon's Lions Lincoln Film dates and show times
Tickets $20.00 Please Call 1-800-838-3006 lionslincolntheatre.org      
Saturday              10/21     3:00pm and 7:00pm (team and band scheduled to be at the 3:00pm show ) reserved seating
Sunday 10/22     3:00pm and 7:00pm
Monday               10/23     7:00pm
Tuesday               10/24     7:00pm
Wednesday        10/25     7:00pm
Thursday             10/26     12:30pm and 3:30pm
Friday                    10/27     12:30pm and 3:30pm
Other Events happening…
Saturday              10/14     10:30 "Sports Time Machine, WHBC radio interview, Ted & Dave, Ray & Justin
Monday               10/16     11:30 PFHOF Luncheon Club, Ted and Dave guest speakers
Friday    10/27     9:00pm – 12:30am Timeless Rivals "After Party" Open to the public!! Come join the party!!
Saturday              10/28     2:00pm First MvM Game in the new Tom Benson Hall of Fame Stadium