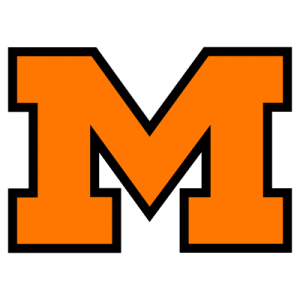 Tigers blitz Chardon early, roll to fourth straight
By JOE SHAHEEN
Joe.Shaheen@lndeOnline.com
It's shaping up as a very special season of Mas­sillon football.
The Tigers amassed over 500 yards of total offense and scored a school record 35 first quarter points in dealing the Chardon Hilltoppers a 49‑7 setback in front of 8,495 yards at Paul Brown Tiger Stadium Friday.
For Jim DiPofi, Chardon's sixth‑year head coach, it was his worst nightmare. Hoping to get into a ball control bat­tle in which his Wing‑T offense could eat up the game clock, DiPofi watched in hor­ror as the Tigers scored on their first five possessions to make it a rout early.
"That," said DiPofi, "is a great football team. They hit us square on the chin early.
"They have a quarterback who was throwing darts to receivers with great hands. When you start chasing them that opens up a lot of gaps. Then they have that speed that just slices you. It's like a three‑headed monster."
Tiger head coach Tom Stacy was aiming to land a knockout punch early and that's how things transpired.
"We got some big plays," Stacy said. "In this stadium that's what you've got to do to teams. We've got some guys who can make some big plays. We wanted to establish some domination early and we were able to do that."
Massillon opened the game with a nine‑play, 90‑yard drive that took 4:12 off the clock and was culminated by a 12‑yard Bobby Huth to Brett Huffman touchdown pass.
Huth opened the march with a 26‑yard pass comple­tion to Brian Gamble. Five plays later, Huth rolled to his left and with pressure in his face found Huffman running free over the middle. The senior tight end juggled the ball momentarily, regained control and left the Tigers in the red zone when he finally went down at the Chardon 14.
"We started off throwing the ball a lot more tonight," Huffman said. "Bobby threw one my way and I went up and got it for him.
"It was great getting into the end zone for the first time this year. I forget what it felt like. It was great. I was happy to get back there."
Stacy was thrilled at that development also.
"As good as player as Brett is we haven't used him quite as much as we should," Stacy said. "It was nice to see him get involved more."
Chardon went three‑and-­out on its initial possession and the Hilltoppers punt left the Tigers with first down at their own 45.
Huth dropped back and quickly found Gamble open at the Chardon 35. The junior running back cut to his right and was off to the races for a 55‑yard scoring play. Schott's kick put Massillon up 14‑0 at 5:58 of the opening stanza.
It was another three‑and-­out for Chardon on its second possession and again the Hilltopper punt gave Massil­lon possession at its own 45.
Once again Tiger lightning struck the Chardon defense but this time there was a lit­tle trickery involved. Backup quarterback Shawn Weisend snuck into the game at a wideout position and took a pitch from Huth on what ap­peared to be an end around. But Weisend pulled up and~ threw a strike to Trey Miller at the Chardon 28. Miller was in the clear and easily raced, to the end zone. Schott did the honors again and the Tigers were running away and hid­ing at 21‑0 with 3:56 to play in the first quarter.
"We've got to keep people off balance and that play gives people something they have to prepare for in the fu­ture," Stacy said of Weisend's strike to Miller. "We talked about that this week as a coaching staff, that we have to do some more of those wrinkles to give people something else to prepare for."
Chardon only ran two plays on its ensuing possession, fumbling on second down. Tiger cornerback Neil James recovered at the Hilltopper 28.
Lanale Robinson opened the possession for Massillon with a 12‑yard burst up the middle. One play later Robinson took a handoff and again attacked the middle of the Chardon defense. He broke through the line to the 12, bounced to the outside and raced to the corner of the end zone for Massillon's, fourth touchdown in less than 10 minutes of play. Schott's point after kick made it 28‑0 at 2:53 of the first.
The Hilltoppers fumbled the ensuing kickoff and Mike Porrini recovered for Massillon at the Hilltopper 15.
"You don't want to give them the ball inside the 15 yard line," DiPofi said. "They don't need any help. That's great football team. You can't give them the ball inside the 15."
Massillon fullback Robert Morris gained nine yard around right end on first down, and Robinson traversed the final six yards to the end zone ‑ again around tight end ‑ and Massillon was up 34‑0 on Schott's conversion boot.
Massillon's final first half touchdown capped off an eight‑play, 71‑yard drive. Gamble covered the final 3 yards on an innocent looking run off left tackle. He was cornered at the 20‑yard line by a Chardon defender but ran through the tackle and didn't stop sprinting until he reached pay dirt. Again Schott obliged and the Tigers carried a 42‑0 bulge into the locker room at halftime.
"You have to give credit where it's due," DiPofi said. "That's a great football team. It is very well coached. We played our hearts our but it, wasn't anywhere near enough. ,
"Tom is doing the right thing with these kids. He has them playing no‑nonsense downhill football. He has them executing."
Huth's final statistics were Roethlisberger‑like. He com­pleted 9 of 11 passes for 192 yards and two touchdowns.
"Bobby is playing with a lot of confidence," Stacy said. "He is making great deci­sions. He made a couple of great plays with his feet tonight to get balls to re­ceivers in tough situations. He continues to improve and impress. With the teams we play in the future, he needs to get better. We all do."