By JOE SHAHEEN
Joe.Shaheen@IndeOnline.com
The new season of network television programs has just begun but Rick Shepas had to feel like he was stuck watching reruns on Saturday night when Cleveland St. Ignatius turned a huge mistake on Massillon's first possession of the ball game into a quick touchdown.
It was exactly the way last year's Massillon-St. Ignatius game began and the end result was eerily similar, a 38-13 victory for the Wildcats. Now the question is, can the 3-3 Tigers somehow post three wins over their last four games – starting with this Saturday's visit to Lakewood St. Edward – just to finish at 6-4 and have a shot at qualifying for the playoffs.
For that to happen, Massillon will have to either beat No. 2-rated St. Edward this week or No. 7-rated Warren Harding in Week Nine – both on the road no less – and still count on victories over Friendship Edison of Washington D.C. a week from this Saturday and archrival Canton McKinley in Week Ten.
It's a tall order indeed, especially if the Tigers continue to shoot themselves in the foot before the crowd is even settled into their seats. Massillon was penalized for holding on the opening kickoff, then fumbled on
its first two plays from scrimmage, losing the second bobble to St. Ignatius on the Tiger 10-yard line. Three snaps later it was 6-0 Wildcats on a Rudy Kirbus to Collin Meador 3-yard touchdown toss. The point after made it 7-0 at 10:02 of the first quarter.
"It all came down to execution for us and we did not execute," Shepas observed. "There's no question that when you play in a football game like this you want to protect the football. Obviously in the first two snaps of the game we had the quarterback run into the running back on play number one. We had a fumble on play two. We put our defense against the wall. "Our problem tonight was execution as it has always been against Ignatius."
Unlike last year's Ignatius tilt, the Tigers bounced back after the initial touchdown, putting together a 10-play drive that finally stalled on the Wildcat 30-yard line. Then the visitors bore a gift for Massillon, fumbling the football to Tiger free safety Alex Dahlquist at the Ignatius 11.
Massillon pushed it to the 3-yard line, but a fourth-and-2 running play was snuffed out for no gain, giving the ball back to St. Ignatius on downs. "We got the fumble early and we took it in," said St. Ignatius coach Chuck Kyle. "They got a fumble and they had to make a decision. Field goal or . what do you do?"
The Tigers opted to go for it and came away empty. "Obviously it did hurt," said Shepas. "Our kids wanted to go for it in that situation. They were fired up but we just didn't get it in."
The Massillon defense stood tall the rest of the first half. St. Ignatius only other score came when Kirbus scrambled away from the Tiger pass rush, found a seam and sprinted 40 yards to the end zone late in the half. "It helps the offensive line so much when the quarterback can do that," Kyle said. "If you have a seam go ahead. Go ahead. It does cool the jets of the pass rush. Maybe you didn't call a quarterback draw but if it turns into that, that's fine because now the defensive line has to keep an eye on you."
The backbreaker, as far as the Tigers were concerned, came when Kirbus hooked up with Robby Parris for a 34-yard touchdown pass to cap off a nine-play, second-half opening drive. Massillon had St. Ignatius in a third-and-19 situation but couldn't defuse the bomb and the Wildcats led 21-0 midway
through the third period.
Kirbus and Parris repeated their act from near mid-field just over two minutes later to make it 28-0 and the stands began to empty at Paul Brown Tiger Stadium.
"St. Ignatius came out and executed the game plan we practiced for all week," Shepas said. "There was not one surprise that they came up with during the course of the game.
"When they have the lead at halftime, that opening drive of the second half is important. And in typical Ignatius fashion they take the ball and drive the football and burn a lot of clock and then score that touchdown. It does affect your momentum to a degree but we still had a lot to play for."
Massillon did put together a couple of late scores with Shawn Weisend under center after Quentin Paulik was sidelined by a late helmet-to-helmet hit out of bounds. But Kyle said afterward he had his reserves in when the Tigers tallied.
"I thought we matched up well against Ignatius and I still believe that," Shepas continued. "I think we match up well with a few of the next teams we play. Regardless of what people want to say, we play an exciting brand of football here. We have an attack defense. We have an exciting offense. We play the
top teams. This is a great place to watch a high school football game. Now we've just got to get ready to play. These are things people have to learn from. For me it's not a problem. I was raised in this fashion. It's another great week of football. A great opponent coming up and we'll just get ready for them."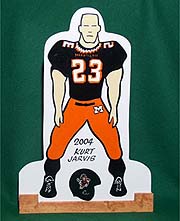 Kurt Jarvis