Tigers put up a fight but can't stop MCK
By JOE SHAHEEN
Joe.Shaheen @ IndeOnline.com
The record books will show the Massillon Tigers lost to the McKinley Bulldogs 20‑7 in the 112th Massillon‑Canton game on a sun drenched, wind‑swept Saturday afternoon at Paul Brown Tiger Stadium to complete their second consecutive 4‑6 campaign.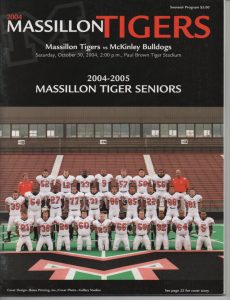 Still, Tiger coach Rick Shepas believes the season ended on a positive note with the way his team battled Warren Harding into double overtime in Week Nine and came within a couple of poor decisions in the passing game of topping playoff‑bound McKinley on Saturday.
"The last three or four weeks of practice have been great," Shepas said. "The attitude of our kids has been great. The way they've responded. The way they've worked. They've come out with focus. They've had fun. Within the locker room those things are all good.
"Many positive lessons were learned. I don't second guess anything we've done as a coaching staff throughout the year. Our goal is to do everything we possible can do for our kids. And that's where you leave it."
Mistakes, as has been the case all season, kept Massillon from pulling the upset. Two interceptions by the Bulldogs in the end zone were too much for the Tigers to overcome.
"Our guys played hard," said Shepas, who then addressed the Tigers' 2004 schedule. "I think there's something to be said for keeping our guys in a good frame of mind and preparing them with losing a few tough games.
"There's no moral victories in playing well against the good teams and not winning."
The Tigers' lone score came with 10:08 to play in the game when senior running back Caleb White, who had become something of a forgotten man in Massillon's running back rotation, dashed around right end for 77 yards and a touchdown.
Shepas spoke emotionally about the play afterward. "This thing is all about lessons that we learn," he said. "It's about something that takes place in a football locker room between players and coaches. When you talk about victories and lessons learned, you talk about Caleb White's run. That for me was the story of this McKinley game.
"It comes down to the lesson that both Caleb White and I learned throughout the course of this season. And that run that he had … I'll tell you what, it was great. It speaks of some strengths and I'm glad that happened for him today."
McKinley marched 71 yards in 11 plays the first time it touched the football. Ryan Brinson carried the ball on seven of those snaps, finally punching it in from a yard out. Beach Campbell's point after made it 7‑0 Pups at 4:16 of the first quarter.
The wind played havoc with a McKinley punt the second time the Pups had the ball, giving Massillon possession at the Bulldog 37. But the Tiger offense couldn't convert a first down and McKinley took over at its own 32.
On first down Mike Shaffer handed off to Brinson, who broke a tackle at the line of scrimmage, burst into the clear and didn't stop until he found the end zone 68 yards later. The point after failed but the Bulldogs were up 13-0 at 8:57 of the second quarter.
Massillon's next two possessions ended in punts but the Tigers got something going just before halftime with Shawn Weisend taking over for an injured Quentin Paulik at quarterback. He completed three straight passes to Eric Smith and a McKinley personal foul moved the ball to the Pups' 24. After a screen pass to Ramon Kelly picked up two yards, the Tigers tried a little razzle dazzle in the form of a flanker pass. But the throw into a crowd in the end zone was picked off by Brinson.
"We felt it was a good down and distance for a play like that," Shepas said of the second‑and‑8 call. "We were in a time out. We called two plays in the time out. And we said 'If it isn't there, don't force it.'
"If we would have executed it would have been a great call. If he'd have just thrown it away it wouldn't have been a significant play. That's the sad thing. That's the lesson some of our guys have to learn. That's the way it goes."
McKinley put together a nine‑play, 80‑yard drive to open the second half with Brinson doing the honors from two yards out to make it 20‑0 with most of the third quarter remaining.
After an exchange of punts, Massillon took over at midfield with 3:34 left in the third quarter. Weisend hit Brett Huffman over the middle for 36 yards to the McKinley 17, then took a hard hit in picking up eight more to the 9 on a bootleg keeper.
McKinley cornerback Kellen Showes intercepted a pass on the next snap and the Tiger threat was quelled.
"Shawn took that hit on the run and he was fuzzy," Shepas said. "We didn't know that on that play."
Massillon would finally get on the scoreboard on White's long run but the Tigers simply could not sustain anything offensively the entire game.
"Our defensive staff had a great game plan," said McKinley coach Brian Cross. "People don't talk about our defense enough. We held these guys to seven points. We only gave up one long touchdown run, that was the only long touchdown run we've given up this season. I'm extremely happy with the way our defense played.
We were stunned a little bit that they scored. Still, at 20‑7, we felt pretty good. We knew we had to still move the football, and that's something we didn't do well in the second half. The reason we didn't do it is because they were giving us a nine‑man front and making us throw the football. We tried to throw the football, and we had people open, we just didn't complete them."
"It's about something that takes place in a locker room between players and coaches. When you talk about victories and lessons learned, you talk about Caleb White's run. That for me was the story of this McKinley game."
Rick Shepas,
Massillon coach
McKinley 20
Massillon 7
McKinley 07 06 07 00 20
Massillon 00 00 00 07 07
SCORING
McK ‑ Ryan Brinson 1 run (Zach Campbell kick)
McK ‑ Brinson 68 run (Kick failed)
McK ‑ Brinson 2 run (Campbell kick)
M ‑Caleb White 77 run (Steve Schott kick)
INDIVIDUAL STATISTICS
Rushing
Massillon: Caleb White 2‑81 1 TD;
Ramon Kelly 9‑41;
Jermaine Moncrief 6‑13;
Lanale Robinson 3‑6;
Robert Morris 2‑4;
Quentin Paulik 3‑4.
McKinley: Ryan Brinson 34‑203 3 TDs;
Theo Goodright 6‑58;
Mike Shaffer 3‑6;
Mark Jackson 3‑4;
Mike Kirksey 1‑2.
Passing
Massillon: Shawn Welsend 6‑10‑69 1 INT,
Quentin Paulik 3‑6‑11;
Troy Ellis 0‑1‑0 1 INT;
Wayne Gates 0‑1‑0.
McKinley: Mike Shaffer 1‑7‑8;
Ryan Brinson 0‑1‑0 1 INT.
Receiving
Massillon: Eric Smith 3‑26;
Robert Morris 2‑6;
Brett Huffman 1‑37;
Kurt Jarvis 1‑5;
Wayne Gates 1‑5; Ramon Kelly 1‑2.
McKinley: Mark Jackson 1‑8.l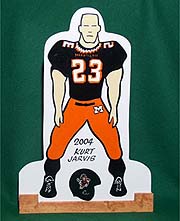 Kurt Jarvis