Tigers eye Warren after ripping Redmen
By GREG KOHNTOPP
Greg.Kohntopp@IndeOnline.com
Massillon quarterback Shawn Weisend and his Tiger teammates picked up where they left off after last week's monumental victory against St. Ignatius. Weisend, making his first career start, threw a 40-yard touchdown pass to wide receiver Trey Miller on the first play from scrimmage as the Tigers rolled to a 54-0 victory against Youngstown Woodrow Wilson Friday in front of 6,631 people at Paul Brown Tiger Stadium.
"I knew coming in that was the play call," Weisend said. "I had to think about it all last night and all day today. It was our plan to hit the long ball early."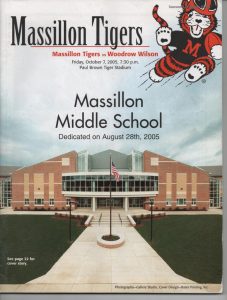 Weisend, who scored the winning touchdown with less than 10 seconds remaining against St. Ignatius, had a productive first start, completing 10-for-17 passes for 148 yards and three touchdowns. He added 38 yards on two carries.
"I think (connecting on the long touchdown) built Shawn's confidence," said Miller. "It got the team's confidence up and we rolled from there."
The No. 4 state-ranked Tigers (7-0) rolled off 15 fourth quarter points to come back to defeat the Wildcats 29-26. This week, a comeback wasn't necessary. Massillon struck for 35 first-half points, gained a total of 478 yards on offense and held to Redmen to 65 total yards.
But it wasn't a flawless victory. The Tigers had several dropped passes and also committed eight penalties for 70 yards.
"Without a doubt we made some mistakes", said senior tight end Brett Huffman. "We had a lack of focus after that big first play. We knew we were going to win, but there was a lack of focus. We have to iron that out before next week."
Three of the penalties came on third down after it appeared the Tigers had stopped the Redmen, only to give them new life.
Massillon head coach Tom Stacy said the Tigers can't afford mistakes like that against a struggling, but still dangerous Warren Harding team next Friday.
"That's a part of focusing," Stacy said. "A lot of those penalties were silly mistakes. We have to play much better next week or we are going to get killed."
But the good outshined the bad Friday.
The Tigers forced a three-and-out on the Redmen's first possession and proceeded to drive 60 yards on eight plays. Weisend showed he can also run with the ball. He faked an inside hand-off and scrambled around the end for 21 yards down to the Redmen 19-yard line. Three plays later, junior running back Brian Gamble took a handoff around the right end – gained a full head of steam – and ran over the Redmen defensive back Rashad Robinson at the 6-yard line before finally being tripped up at the one. Fullback Quentin Nicholson plunged into the end zone on the next play, making it 14-0.
It didn't take long for the Tigers to punch in another touchdown. This time after forcing a three-and-out, junior Andrew Dailey came off the left end and blocked Allen Vazquez's punt at the Redmen 10-yard line. The balled rolled back to the 7-yard line where defensive back Neil James pounced on it. Gamble scored two plays later on a 4-yard run.
Gamble, who finished with 123 yards rushing, capped a 13-play, 90-yard drive in the second quarter with a 13-yard touchdown run. Gamble rushed for 35 yards on three carries on the drive.
Weisend capped the first half with a 14-yard touchdown strike to fullback Robert Morris with 46 seconds remaining.
It only took one possession – and one more Weisend touchdown pass – in the third quarter before Stacy decided it was time to pull the starters.
Weisend capped a 4-play, 51-yard drive by connecting with senior tight end Brett Huffman on a 16-yard touchdown throw with 6:58 remaining in the third quarter. Steve Schott's extra point was blocked and the Tigers led 41-0.
"It think I could've done better tonight," said Weisend. "But I gave my best effort. I had a couple high throws, but I tried to make up for it on other plays."
Stacy agreed.
"He was hot and cold," the first-year head coach said. "He missed some routine passes. But I'm just glad this one is over with. I don't like to coach these types of games."
Senior running back Lanale Robinson scored on a 21-yard touchdown run later in the third and sophomore K.J. Herring scored from 1-yard out to cap the scoring for Massillon.