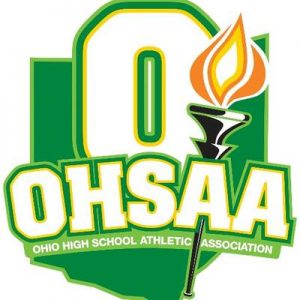 DIVISION I REGIONAL PLAYOFFS
Tigers unrelenting in Beating Bulldogs again Massillon runs past McKinley 35‑19, will meet Hoover in regional title game
By JOE SHAHEEN
Independent Sports Editor
This time, the Tigers made it look easy.
Two weeks after their dramatic three‑point victory over arch‑rival Canton McKinley, the Massillon Tigers parlayed a defense that held the Bulldogs without a first down for over two quarters and an offense that was 4‑of‑4 on fourth down while generating its usual 400 yards into a convincing 35‑19 victory in a regional semifinal game witnessed by 21,203 at the Rubber Bowl in Akron.
Massillon (11‑1) advances to a regional final contest next Saturday, against North Canton Hoover at a site to be determined by the Ohio High School Athletic Association today.
While this is uncharted territory for the Tigers during the Rick Shepas era, Massillon's sideline boss was not ready to characterize the win as his biggest in Tigertown.
"I don't know," Shepas said. "There, have been some great ball games in the four years I've been head coach here. I don't know if I'd consider this the biggest win.
"This is where I pictured our team to be last year and we didn't get it done. We're working hard with determination. We'll just keep coaching our kids, trying to get better."
Just two weeks after McKinley ran up over 400 yards of offense against the Tigers, the Massillon defense held the Bulldog attack to half that total when it truly counted the most.
"We were just a little more fundamental this time," Shepas explained. "We're taking less risks. We're watching our substitutions and we're asking our kids to work hard."
"We changed things on defense," explained senior linebacker Justin Princehorn. "We played a '50' look against them and I think that shut down their run game."
Indeed, McKinley netted just 89 yards rushing, 61 of which came on one play. That's 160 yards less than the Bulldog ground game generated in the Week Ten contest.
As was the case in the first game, Massillon carried a double‑digit lead into the halftime locker room. But the Tigers – who turned the ball over on their first possession of the second half two weeks ago ‑ came out and put together a textbook 15‑play, 97‑yard scoring march to open the third quarter and close the door on McKinley.
The drive began with a Justin Zwick nine‑yard completion to Stephon Ashcraft and concluded when Joe Jovingo laid out to snare a Zwick pass in the end zone for a seven-yard touchdown at 5:39 of the third quarter. David Abdul's point‑after made it Massillon 28, McKinley 7.
Throughout the drive, the Tigers continually beat the McKinley blitz as the Bulldogs sold out to try to get pressure on Zwick.
"We thought McKinley would bring more pressure than they did in the first game," observed Zwick.
"Tonight they blitzed us and we had stuff counteract it and it worked for us."
"Justin Zwick was very determined tonight," Shepas said. "Our offensive line has improved greatly during the season and you saw that tonight. And I can't say enough about our backfield combination of those three guys (Zwick, Robert Oliver and Ricky Johnson) back there."
Zwick, who passed the 10,000‑yard mark in career passing yardage on the touchdown pass that capped the game‑clinching third‑quarter drive, savored the victory for its historical significance.
"Our guys came out and we executed the way we wanted to," Zwick said. "The defense played a great game, we did our thing on offense and scored some points.
"It's ‑ real special. It's the first time the Tigers have beat the Bulldogs twice in the same year since 1963."
The Tigers scored the first time they touched the football after the Massillon defense forced McKinley into a three-and‑out series on the Bulldogs initial possession after the opening kickoff.
Junior running back Ricky Johnson ‑ who left the game in the first half with an ankle sprain ‑ took a handoff and hit into the middle of the McKinley line on third‑and‑two from the 41, and cut left for a 13‑yard gain and a first down at the McKinley 46.
Zwick then found Ashcraft wide open along the left sideline for 20 yards to the Bulldogs' 26.
Two plays later, on third‑and‑10, Zwick zeroed in on Devin Jordan in the right corner of the end zone for a 26‑yard touchdown at 7:02 of the first quarter. Abdul drilled the extra point and Massillon had drawn first blood at 7‑0.
McKinley was forced to punt after running four plays but the Tigers fumbled the kick and the Bulldogs recovered at the Massillon 29. The Pups stayed with the running game and moved to the Tiger 4‑yard line but Shalamar Gilmer coughed up the football when he was sandwiched by Cody Smith and Shawn Crable. Massillon junior safety Markeys Scott recovered the loose ball at the 2.
The teams traded punts with Massillon regaining possession at its 26 after Craig McConnell's nine‑yard return. The Tigers then embarked on a 17‑play drive. A 10‑yard Zwick‑to‑Jordan pass gave Massillon a first down at the McKinley 45.
Zwick hit Ashcraft on a seam pass for 16 yards, but it took a clutch three‑yard run by Oliver on a fourth‑and‑one play for Massillon to sustain the drive at the McKinley 36.
Jordan's leaping catch gave Massillon another first down at the 15. One play later, Oliver found a gaping hole up the middle, broke a McKinley tackle at the 5 and drove into the end zone to make it 13‑0 Massillon at 5:19 of the second quarter.
McKinley countered on its ensuing possession when Gilmer went around right end and sprinted 61 yards to paydirt to cap a three‑play drive. Matt Campbell's conversion kick was good and the Bulldogs had cut their deficit to 13‑7 at 3:42 of the first half.
Massillon came right back for its third score of the half. Zwick hit Jordan for 12 yards, then David Hill gained 13 yards over left guard to give the Tigers a first down at the McKinley 36. Oliver found another huge hole up the middle to the Bulldog 20.
Two plays later, on thirdand‑two from the 12, Zwick rolled left and found Ashcraft, who made a leaping catch along the left sideline at the 1.
Zwick called his own number on a bootleg around left end and walked into the end zone with just nine seconds to play in the half. The Tigers went for the two point‑conversion and Zwick completed an aerial to Jordan to give Massillon a two‑touchdown cushion at the half, 21‑7.
Then Massillon came out of the locker room and overcame a mishandled kickoff for the long scoring drive that put the contest out of reach for McKinley and started a mass exodus of Bulldog partisans from the Rubber Bowl.
The Tigers added another touchdown at 3:22 of the third quarter When Robert Oliver snagged a middle screen pass and picked his way into the end zone from 12 yards out, capping a nine‑play, 64 yard drive. Abdul's extra point kick closed the scoring for the Tigers.
"We came out and wanted to make a little bit of history by beating them twice in a season and we got it done," said Oliver, who had a game‑high 76 yards rushing. "It was all in the preparation during the week. That and our enthusiasm got it done. The difference between this game and the one two weeks ago is we settled down and played our game."
"We're on our way now," added Princehorn. "Everyone said this is the year to do it and that's what we're going to do." "I think this is our biggest win because it is a another step closer to our goal," pointed out Tiger co‑captain Marquis Williams. "The closer we get to our goal, the bigger the wins are."
MASSILLON 35
McKINLEY 19
MAS McK
First downs rushing 12 3
First downs passing 12 4
First downs by penalty 0 3
TOTAL first downs 24 10
Net yards rushing 163 89
Net yards passing 239 123
TOTAL yards 402 212
Passes attempted 33 20
Passes completed 24 10
Passes intercepted 1 1
Punts 4 5
Punting average 43.5 35.0
Fumbles/Lost 2/1 4/2
Penalties 7 2
Yards penalized 70 15
MASSILLON 7 14 14 0 35
McKINLEY 0 7 0 12 19
SCORING
MAS ‑ Jordan 26 pass from Zwick (Abdul kick)
MAS ‑ Oliver 15 run (Kick failed)
McK ‑ Gilmer 61 run (Campbell kick)
MAS ‑ Zwick 1 run (Jordan pass from Zwick)
MAS ‑ Jovingo 7 pass from Zwick (Abdul kick)
MAS ‑ Oliver 12 pass from Zwick (Abdul kick)
McK ‑ Gilmer 2 pass from Palumbo (Run failed)
McK ‑ Green 3 pass from Palumbo (Pass failed)
INDIVIDUAL STATISTICS
Massillon rushing: Oliver 17‑71, D. Hill 8‑67, Zwick 7‑12, Johnson 4‑17.
McKinley rushing: Palumbo 10‑17, Gilmer 9‑70.
Massillon passing: Zwick 24‑33‑239 3 TDs, INT.
McKinley passing: Palumbo 10‑20‑123 2 TDs, INT.
Massillon receiving: Jordan 6‑84, Ashcraft 6‑65, Jovingo 4‑53, Oliver 4‑27.
McKinley receiving: Smith 2‑45, Gilmer 2‑23, Corner 2‑15, Everett 2‑10.
Statistics courtesy of RICHARD CUNNINGHAM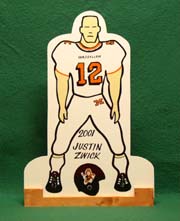 Justin Zwick