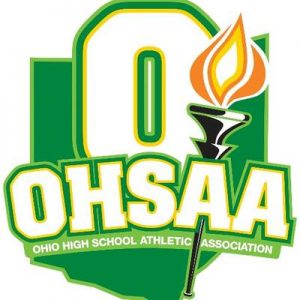 Tigers secure first playoff win since 1994
Ground game, defense key 31‑0 rout of Marion Harding
If you prick us, do we not bleed?
if you tickle us, do we not laugh?
if you poison us, do we not die? and if
you wrong us, shall we not revenge?
– William Shakespeare
By JOE SHAHEEN
Independent Sports Editor
Massillon had to wait a year to get its revenge but it tasted mighty sweet as the Tigers brushed off 15 penalties to eliminate the Marion Harding Presidents from post‑season play with a convincing 31‑0 decision in front of 9,106 at Paul Brown Tiger Stadium in a Division I Region 2 quarterfinal game, Saturday.
It was a payback time for the Tigers, who lost a controversial 17‑13 first round playoff decision to Marion Harding a year ago in a game that also saw 15 penalties called on Massillon, including a holding flag that nullified what would have been the game‑winning touchdown run by quarterback Justin Zwick in the final minute of play.
While revenge was not a topic of public discussion the week preceding the game, the Tigers admitted afterward that last year's disappointing playoff ouster was in the back of their minds in the days leading up to the game.
"We got some revenge tonight," Zwick admitted. "We talked about it as a team this week and it helped us focus on what we needed to do."
Zwick threw for two touchdowns but it was his contributions to the running game that helped put Marion Harding away. The 6‑foot‑5, 221‑pound senior rushed six times for 68 yards as Massillon amassed 415 yards of total offense against a Presidents team that prides itself on a rock‑ribbed defense.
"That was Justin's best game of the year," said Tiger coach Rick Shepas, who got his first playoff victory in three tries at Massillon. "He called 90 percent of the game tonight, checking off at the line of scrimmage."
It was a study, in balanced offense as the Tigers rushed for 243 yards and passed for 172 yards, keeping Marion's defense off balance all night long. Robert Oliver led the ground game with 100 yards on 14 carries.
It was also the Tiger defense's finest hour. Free safety Markeys Scott had two interceptions ‑ including a perfectly timed pick deep in Massillon territory on Marion's first possession of the night ‑ and outside linebacker Andy Alleman played like a man possessed as Marion quarterback Adam Huddle was forced into four turnovers.
"As a defense, we felt as if we didn't play very well the last two weeks and we wanted to come out and make up for it tonight," Alleman said. "We didn't feel like we did a good job stopping the run against McKinley or even the week before (against Dayton Chaminade.) Tonight we really got after them as a team."
"We talked about a shutout this week," admitted junior linebacker Shawn Crable. "We just came out with more intensity and did what the coaches told us to do. It sure came at the right time."
Massillon enjoyed a 10‑0 lead at halftime thanks to a David Abdul 27‑yard field goal and a perfectly executed inside screen pass to Oliver.
Ricky Johnson attacked the middle of the Marion defense and wasn't brought down until he'd gained 20 yards to the Presidents' 25. From there, Zwick again called his own number and after a fine cutback at the 20 ‑ carried the ball to the Marion 8‑yard line.
Johnson finished off the drive by sweeping around left end for the touchdown at 9:39 of the third quarter. Abdul's kick made it 17‑0 Massillon and Marion Harding was in deep trouble.
Dan Speicher's second sack of the game on Huddle midway through the fourth quarter set up Massillon's third touchdown. On the next play, Huddle's option pitch was bobbled and fell to the turf. Crable shoved Huddle away from the football and Jesse Liston recovered for the Tigers at the Massillon 33.
The Tigers went to the ground game. Three straight handoffs to Oliver netted a total of 33 yards. Then Johnson carried twice in a row for 13 more to give Massillon a second‑and‑two at Marion's 17. Zwick dropped back and threw across the field to Marquis Johnson at the 10. The senior wideout juked left and cut right, finding the end zone at 4:43 of the fourth quarter. Abdul's kick made it a 24‑0 Massillon lead.
The icing on the cake was Cody Smith's interception and 31 yards runback of a Huddle aerial to close the scoring at 4:18 of the fourth.
In the locker room after the game Shepas decried the spate of penalty flags which accounted for 143 yards in the wrong direction. He noted the primary flag thrower was the same official responsible for many of the holding penalties on Massillon in last year's playoff debacle.
But even those bad feelings couldn't put a damper on Massillon's first playoff win since 1994.
Marion Harding came out and successfully attacked the Massillon defense on the first possession of the game.
Beginning at the 20 after Abdul's kickoff reached the end zone for a touchback, Presidents' quarterback Adam Huddle hit split end Zack pattern for 14 yards. Three plays later, Huddle hooked up with Dominic Ross for eight more to the 47.
The drive appeared to have bogged down on the Massillon 41 where the Presidents faced fourth‑and‑seven. However, punter David Meginness caught the defense napping and ran around left end for 18 yards and a first down at the Tiger 22.
That's when Scott stopped the drive and killed Marion's momentum with a well timed interception at the 11‑yard line. Scott returned the pickoff to the 17 for Massillon's first possession of the game at 7:34 of the first period.
Zwick picked up a first down on a keeper around right end that netted 12 yards to the 38. Two snaps later he hit Stephon Ashcraft for 10 yards and a first down at the Marion 49.
The Tigers picked up another first down but the drive stalled after a false start and three incomplete passes. David Abdul's 59‑yard field goal attempt was blocked.
Marion gained a first down on its ensuing possession but was forced to punt and the Tigers began their second drive of the game at their own 18.
A holding penalty on Massillon set up a second‑and‑25 but Zwick lobbed a pass to Ashcraft along the left sideline for a first down at the 42.
Zwick gained seven yards and a first down on an option keeper around right end and a personal foul call against Marion moved the ball to the Presidents' 27.
Marquis Williams turned a short Zwick pass into an 18 yard gain. On the next snap, Joe Jovingo caught what appeared to be a nine‑yard touchdown pass but an illegal shift call against MassilIon negated the score.
The Tigers moved to the five but a clipping penalty stalled the drive. Abdul salvaged three points with a 25‑yard field goal at 6:41 of the second quarter and Massillon led, 3‑0.
Alleman's pass rush forced Huddle into a third down incompletion on Marion's ensuing possession and the Presidents were forced to punt after just three snaps.
Massillon took over at its 15 but Oliver picked up 14 yards around left end on first down to improve the Tigers' field position. One play later, David Hill went over left guard for eight yards and a first down at the Massillon 43.
Zwick then found Oliver for seven yards and a first down at the Marion 45. Two plays later, on third‑and‑two, Johnson went around right end for seven yards and another first down at the 29.
The march appeared in trouble after a false start and two incomplete passes that set up third‑and‑15 at the Marion 34-yard line. Zwick dropped back to pass, invited in the rush, then lobbed a perfect screen pass to Oliver.
The senior running back caught the ball at the 30 along the right hash mark and waited for his blocking to develop, finally cutting to the middle of the field at the 25, then sprinting virtually untouched to the end zone for a 34-yard touchdown pass and run.
Abdul's point after was true and the Tigers carried a 10‑0 lead into the locker room at halftime.
MASSILLON 31
MARION HARDING 0
M H
First downs rushing 14 7
First downs passing 8 3
First downs by penalty 1 3
TOTAL first downs 23 13
Net yards rushing 243 69
Net yards passing 172 63
TOTAL yards 415 132
Passes attempted 29 20
Passes completed 13 10
Passes intercepted 1 3
Punts 0 3
Punting average 0 37.7
Fumbles/Lost 0/0 1/1
Penalties 15 5
Yards penalized 143 38
MASSILLON 0 10 7 14 31
HARDING 0 0 0 0 0
SCORING
M ‑ Abdul 29 field goal
M ‑ Oliver 34 pass from Zwick (Abdul kick)
M ‑ Johnson 8 run (Abdul kick)
M ‑ Williams 17 pass from Zwick (Abdul kick)
M ‑ Smith 31 pass interception return (Abdul kick)
MEN INDIVIDUAL STATISTICS
Massillon rushing: Oliver 14‑100, Zwick 6‑68, Johnson 7‑56, Hill 6‑26.
Harding rushing: Troutman 22‑63.
Massillon passing: Zwick 13‑29‑172 2 TDs, 1 INT.
Harding passing: Huddle 10‑20‑63 3 INT.s
Massillon receiving: Oliver 5‑69, Williams 3‑45, Ashcroft 2‑36, Jordan 2‑13, Johnson 1‑9.
Harding receiving: Reidenbaugh 6‑58.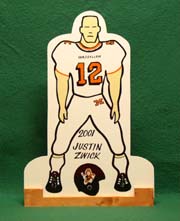 Justin Zwick