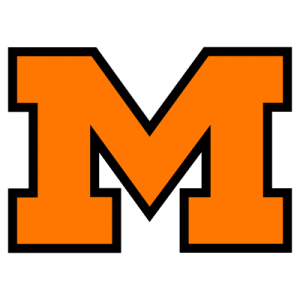 Tigers display mettle In topping Hoover
Massillon moves into state semifinals with 27‑7 win
By JOE SHAHEEN
Independent Sports Editor
They might want to change the Massillon Tigers theme song from "Eye of the Tiger" to "We Shall Overcome."
With three starters missing due to injury and illness, and two others battling to stay on the field despite being hospitalized within the past week, the Tigers dug deep and dealt the North Canton Hoover Vikings a 27‑7 setback to win the Division I Region 2 regional championship in front of a near capacity crowd at Fawcett Stadium, Saturday night.
Rick Shepas knew all week he would be without starting running back Ricky Johnson and starting defensive lineman Marquis Johnson. But on Friday night, as he and his wife were watching her nephew play in a Division IV regional final at Central Catholic High, Shepas got a telephone call from offensive coordinator Dan Murphy and the news wasn't good.
Starting right guard Tony Thornsberry, possibly the Tigers' most consistent offensive lineman this season, was hospitalized. He would have his appendix removed at 1 a.m. Saturday.
"I thought God was testing me a little bit," Shepas said. "I said, 'I'm going to have a little faith and trust in him and go to sleep and whatever is meant to be is meant to be.'"
Then as the team began to gather later Saturday morning, starting right offensive tackle J.P. Simon turned up sick. He had spent most of the early‑morning throwing up and was taken to the hospital where he was given a couple of liters of fluid intravenously.
"I told J.P., 'Buddy you've got to tough it out,"' Shepas said. "We didn't want to have that whole right side of the line gone. He toughed it out."
Simon was wobbly but he played. Tim Dewald filled in for Thornsberry and did an outstanding job, according to Shepas.
Meanwhile, cornerback Jamaal Ballard, who didn't play last week after having surgery on his thumb, returned to the lineup. The junior, his hand in a cast to protect the thumb, came up with not one but two interceptions as the Massillon defense rose to the occasion for the third consecutive week in post‑season play.
"I had to come out tonight and make a statement playing with my team," Ballard said. "I gave up a touchdown but I picked off two and took one to the house."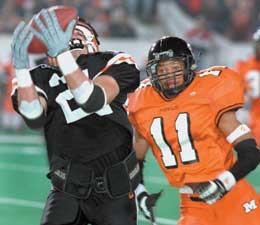 That interception return for a touchdown was called back because of a clipping penalty on the runback. But Massillon would score just the same as David Hill went around the left side of the line for an 18‑yard touchdown run that put the Tigers up 24‑7 with 6:30 to play in the football game.
"All I saw was an opening from Robert (Oliver) blocking and I just took it to it," Hill said. "Coach told me at halftime to run like I normally run, which is hard. The team had belief in me and I didn't want to let them down. So I did what I had to do."
Hill finished with 61 yards in 11 carries and may become an even bigger part of the offense next week as Oliver, who had 67 yards in 12 carries, suffered a knee injury that did not look good at game's end.
"We've been overcoming adversity for a long time," Shepas said. "It just seems to be a norm now."
The Tiger defense held North Canton to 95 yards of offense in the second half as Massillon took control of a 14‑7 game after intermission.
The Vikings rushing total for the entire contest was minus‑1 yard.
"We stuffed the run," said linebacker Justin Princehorn. "They got us on a couple of pass plays deep in the first half. We put in some adjustments and came out the second half and held them to no points."
"Coming off the first McKinley game, we don't want nobody to run on us," said linebacker Shawn Crable. "So when teams are running on us we get a little mad. We played kind of soft in the first half. The second half we came out with a little more fire and things went our way."
A 54‑yard quick kick by Justin Zwick helped set up Massillon's first scoring drive as North Canton was pinned deep in its own territory and was forced to punt when Dan Speicher stuffed a DeAngelo Thomas running play at the Vikings 8‑yard line.
After North Canton punted, two Zwick‑to‑Devin Jordan sideline passes generated 31 yards to give the Tigers a first down at the North Canton 23. Oliver picked up eight yards over left tackle and Zwick found Hill for four yards and another first down at the 11.
From there Zwick tossed a short pass to Oliver in the left flat. The senior snagged the ball at the 9 and went in untouched. David Abdul's kick made it 7‑0 Massillon at 9:16 of the second quarter.
North Canton showed its mettle on its next possession. Brad Reifsnyder lobbed a perfect pass to Jared Gulling for 22 yards to the Vikings 43‑yard line. On the very next play, Reifsnyder ‑ off play action ‑ went long to Curt Lukens for 57 yards and a touchdown. Reifsnyder tacked on the point‑after and it was a 7‑7 game at 7:45 of the second quarter.
Massillon turned the ball over on an interception on its ensuing possession but the Tiger defense rose up and forced the Vikings to punt, thanks in part to Craig McConnell's fine open field tackle on Thomas on a second down running play.
Massillon took over at its 14 and embarked on a 14‑play drive that included three Zwick runs that yielded three first downs and 33 yards.
On third‑and‑nine from the North Canton 18, Zwick floated left with the shotgun snap then threw back to Jordan on the right hash mark in the end zone for the score. Abdul's boot made it Massillon 14‑7 at halftime.
Abdul was true with a 22‑yard field goal that capped a 12‑play, 68‑yard drive to open the second half and the Tigers' 17‑7 lead held into the fourth quarter.
The Vikings penetrated down to the Massillon 13 in the opening seconds of the fourth quarter but a fourth-and‑two pass to Lukens was ruled incomplete and North Canton's last, best chance was gone.
"Not coming up with that score, we needed that to make it a 17‑14 game," said North Canton coach Don Hertler Jr. "We would have been right where we wanted to be.
"We knew they were talented, big and strong. Offensively they can beat you a lot of ways. I was just proud of the way our team fought."
A few minutes after that big fourth down play, Ballard's second interception would set up Hill's touchdown run.
Abdul closed the scoring with a 33‑yard field goal with 3:43 to play, setting up a rematch with St. Ignatius, a 40‑33 winner over Warren Harding in the Region I title game in Akron.
"We're just warming up fellows, just warming up," Princehorn shouted in the post‑game Tiger huddle. "It is meant to be."
MASSILLON 27
NORTH CANTON 7
M NC
First downs rushing 9 3
First downs passing 12 11
First downs by penalty 0 1
TOTAL first downs 21 15
Net Yards rushing 165 (-1)
Net yards passing 252 248
TOTAL yards 417 247
Passes attempted 38 35
Passes completed 23 15
Passes intercepted 2 3
Punts 4 5
Punting average 41.3 43.4
Fumbles/Lost 0/0 1/0
Penalties 11 5
Yards penalized 101 25
MASSILLON 0 14 3 10 27
N. CANTON 0 7 0 0 7
SCORING
M ‑ Oliver 9‑yard pass from Zwick (Abdul kick)
NG ‑ Luken 57‑yard pass from Reifsnyder (Reifsnyder kick)
M ‑ Jordan 18‑yard pass from Zwick (Abdul kick)
M ‑ Abdul 22‑yard field goal
M ‑ D. Hill 18‑yard run (Abdul kick)
M ‑ Abdul, 33‑yard field goal
INDIVIDUAL STATISTICS
Massillon rushing: Oliver 12‑65, D. Hill 11‑57, Zwick 5‑41.
N Canton rushing: Thomas 10‑23.
Massillon Passing: Zwick 23‑38‑252 2 TDs, 2 INTs.
N. Canton passing: Reifsnyder 13‑30‑208 TD, 3 INTs; Savage 2‑5‑40
Massillon receiving: Jordan 8‑105, Oliver 4‑31, Ashcraft 3‑46, Jovingo 3‑38, Williams 3‑29.
N. Canton receiving: Lukens 6‑104, Gulling 6‑97, Saylor 1‑30, Kline 2‑17.