Tiger defense stands tall over Little Giants
Fremont manages just one first down as Massillon wins number seven, 57-6
By JOE SHAHEEN
Independent Sports Writer
Fremont Ross head coach Mark Wetzel said one thing was for sure when he brought his Little Giants to Paul Brown Tiger Stadium to take on the Massillon Tigers.
Wetzel vowed his charges would give the Tigers a better game than did Youngstown Woodrow Wilson, a 56-8 loser to Massillon one week ago.
Wrong!
Justin Zwick cranked up his right arm for five touchdown passes and the Massillon defense limited Fremont to just one first down all night long as the Tigers rolled over the Little Giants 57-6 in front of 7,777 fans at Paul Brown Tiger Stadium on Homecoming Night, Friday.
A week after eschewing the pass in favor of the running game Zwick let it all hang out and the Little Giants were virtually helpless to stop him. The senior signal caller tied the school record with six touchdown passes while connecting on 22 of 37 aerials for 238 yards.
The Tigers tallied with less than two minutes elapsed in the game and the defense set it up by recovering a Fremont fumble at the visitors 28-yard line.
Robert Oliver went around right end for 13 yards and a first down and Zwick hit Devon Jordan at the 5 to set up the score.
On second down from the five, Zwick rolled right and hit Oliver at the two yard line. The senior running back stretched to haul in the football, then turned and found the end zone at 10:11 of the first quarter.
David Abdul's kick made it 7-0 Massillon.
"We really go off our defense," asserted Tiger coach Rick Shepas after the game. They've been sparking us.
"We've been playing on a short field all year long. When we don't have a lot of yardage or limited time of possessin at the end of a football game, it's because our defense puts us in great field position."
Fremont's Bo Martin showed the crowd that all the praise directed his way is well deserved, taking the ensuing kickoff at the one-yard line and sprinting 99-yards untouched for the score. Tiger senior Andy Alleman blocked the point-after kick to preserve Massillon's lead at 7-6 with 9:58 to play in the opening period.
The Tigers went to the ground game on their ensuing possession with senior Ryan Boyd ripping off a 24-yard gain to advance the ball to the 44. Three snaps later, Oliver hit into the middle of the line and burst free for a 16-yard gain to the Fremont 35.
Oliver gained nine yards on the next play then picked up the first down with a two-yard buck to the 24.
Then on third-and-six from the 20, Zwick made a nice play-action fake and hit Marquis Williams, who made a leaping catch at the 6.
Zwick found Jordan wide open in the endzone on the next play for six. Abdul's conversion made it 14-6 Massillon at 6:45 of the first quarter.
Oliver and Boyd, who played extensively because Rickey Johnson was out sick all week, combined for 155 yards rushing in 17 carries.
"Robert Oliver is becoming a more complete back every week," said Shepas. "Ryan Boyd has kept practicing and working hard and tonight he got another opportunity and came through for us again."
After the Tiger defense force Fremont into another in what would a long line of three-and-out series, Abdul drilled a 42-yard field goal at 3:13 of the first quarter.
Massillon's next possession began at its 18-yard line. The Tigers advanced the ball to the 36 when Oliver hit into the middle of the line, broke a couple of tackles and cut to the right sideline. He was dragged down 53 yards later at the Fremont 12.
Five plays later Zwick rolled left and zipped the ball to David Hill in the end zone for the touchdown. Abdul's kick made it Massillon 24, Fremont Ross 6 at 8:00 of the second quarter.
Another three-and-out series by Fremont set Massillon up with good field position at the visitors' 35. The Tigers failed to get a first down but Abdul salvaged the possession with a 45-yard field goal at 4:42 until the band show to put Massillon up 27-6.
The Tigers final touchdown of the first half capped a four play, 27 yard drive. Zwick found Jordan open on a slant pattern in the end zone from eight yards out. Abdul's kick made it 34-6 at 2:42 of the second quarter.
The score was set up by the Tiger defense, which not only stopped Fremont on three plays but also sniffed out a fake punt for a four yard loss.
The Little Giants – who scored 25 points against Cleveland St. Ignatius three weeks ago – ran 44 plays but managed just 13 net yards of total offense.
"We're just coming together," said junior linebacker Shawn Crable. "We're communicating better and working as a unit out there.
"It all starts up front. The line is playing so well that it lets the rest of us roam and make plays. The line deserves a lot of the credit."
"We're playing better together," agreed senior defensive tackle Dan Speicher. "I think it's because we're spending more time together. We're becoming more of a team."
The Tigers didn't let up after the halftime homecoming ceremonies, taking the second half kickoff and moving 78 yards for a touchdoen. Zwick's best pass of the evening came on the drive when he found a streaking Stephon Achcraft in stride along the left side line for 35 yards to the Fremont 1-yard line.
Two plays later, Zwick hit Marquis Williams in the end zone and it was 41-6 Massillon at 10:12 of the third period.
Craig McConnell, who had five punt returns for 47 yards, gave the Tigers great field position with a ten-yard return to the Fremont 30 after yet another three-and-out series by the Little Giants.
Nine plays and two penalties later, Zwick rolled right and hit Oliver in the end zone from a yard away. Abdul's kick made it Massillon 48, Fremont 6 at 4:51 of the third period.
A high snap from punt formation resulted in a Fremont Ross safety early in the fourth quarter.
The Tigers final tally came on James Helscel's one-yard quarterback sneak with severn minutes to play. Kris Reinhart tacked on the point after to account for the final margin.
Schedule taking shape – Massillon and Fremont Ross will meet in week two of the 2002 and 2003 seasons after signing a deal Friday.
The Tigers will open the 2002 campaign at home against Westerville South. Then comes games at Fremont, home vs. Garfield, home vs. St. Ignatius, at Austintown Fitch, home vs. Mansfield, and home vs. Woodrow Wilson.
Week eight is open at the moment, with a week nine game at Warren Harding and week Ten at home agains McKinley.
If the Tigers can find a suitable foe for week seven they will let Wilson out of its contract.
MASSILLON 57
FREMONT ROSS 6
M F
First downs rushing 10 2
First downs passing 9 0
First downs penalty 2 1
TOTAL first downs 21 3
Net yards rushing 185 -17
Net yards passing 270 20
TOTAL yards 455 3
Passes attempted 40 20
Passes completed 25 9
Passes intercepted 0 1
Punts 2 8
Punting average 35.0 32.0
Fumbles/Lost 3/2 3/2
Penalties 14 7
Yards penalized 105 53
MASSILLON 17 17 14 9 57
FREMONT 6 0 0 0 6
SCORING
M – Oliver 5 pass from Zwick (Abdul kick)
FR – Martin 99 kickoff return (kick blocked)
M – Jordan 6 pass from Zwick (Abdul kick)
M – FG Abdul 42
M – Hill 1 pass from Zwick (Abdul kick)
M – FG Abdul 45
M – Jordan 8 pass from Zwick (Abdul kick)
M – Williams 5 pass from Zwick (Abdul kick)
M – Oliver 1 pass from Zwick (Abdul kick)
M – Heiscel 1 run (Reinhart kick)
INDIVIDUAL STATISTICS
Massillon rushing: Oliver 14-109, Boyd 3-42, Acosta 4-17.
Fremont Ross rushing: Dickman 1-11.
Massillon passing: Zwick 22-37-238, 6 TDs; Heiscel 3-3-32.
Fremont Ross passing: Clark 8-17-26 1 INT; Martin 0-2, Yost 1-1-2.
Massillon receiving: Jordan 7-65, Williams 6-57, Ashcraft 3-53, Oliver 3-22.
Fremont Ross receiving: Moreno 2-11.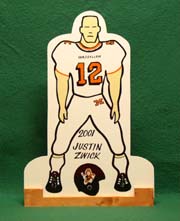 Justin Zwick