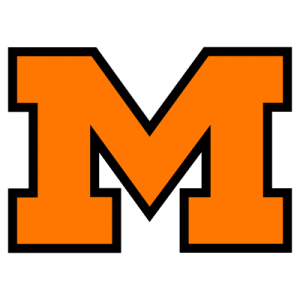 Tigers 'Battle' past Buchtel in the 4th
Anthony Battle's two touchdown receptions ensure initial victory
By JOE SHAHEEN
Independent Sports Editor
It was a season opener to remember as the Massillon Tigers rallied from a 12‑point deficit to whip the Akron Buchtel Griffins 35‑25 Friday night in front of 9,511 fans at Paul Brown Tiger Stadium.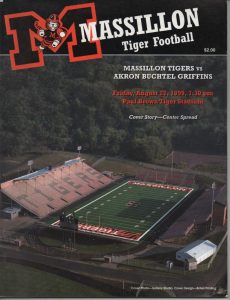 Buchtel led by as many as 12 points at 19‑7 late in the first half. But Massillon came back to score a touchdown with just over two minutes remaining in the second quarter, then outscored the visitors 15‑0 in the fourth quarter for the victory.
"I'm happy about the character we showed," said Tigers coach Rick Shepas. "We came from behind two or three times. We didn't hang our head. We didn't go out there and do anything crazy offensively."
What the Tigers did offensively was amass 356 total yards. Surprisingly, 238 yards of that total came on the ground as seniors Jon Stanke and Jessie Scott combined for 186 yards rushing in 20 totes, an average of over nine yards per carry.
It wasn't easy for Massillon. The Tigers, trailing 25‑20 with under two minutes left in the third quarter, missed a short field goal. The defense got the ball back in short order, but the offense went three‑and‑out and things weren't looking good as Buchtel had shown the ability to score at will throughout the contest.
But Massillon's Black Swarm defense forced a second consecutive three‑and‑out series by the visitors and this time the Tiger offense would not let the opportunity slip away.
On first down from near midfield, a Massillon receiver dropped a sure touchdown bomb. One play later, an unsportsmanlike conduct call against the Griffins set the Tigers up with first and ten at the Buchtel 40.
Stanke ripped off 28 yards over right guard after breaking a tackle at the line of scrimmage. On the very next play, Irwin found senior tight end Anthony Battle wide open in the left side of the end zone for six points. Then, after two time outs, Irwin hooked up with Rocky Dorsey for the two point conversion to make it 28‑25 Tigers with over seven minutes left in the game.
Battle, who did not play football, a year ago, admitted he had some doubts. "I didn't play all last season and I didn't know if I could still do it," he said. "But I went out and did it. When the ball came my way, I just knew I was going to catch it and I knew it was touchdown. We're going to score a lot of points this year."
Irwin indicated the dropped pass earlier in the go‑ahead drive is not something he is going to worry about. "If they catch it, they catch it," Irwin said. "If they drop it, they'll catch the next one. If they drop the ball, I'll come right back to them.
"Everyone makes mistakes. They might miss a block or drop a ball. If they drop a ball, I'll come right back to them."
Buchtel opened the scoring on the third play from scrimmage when quarterback Steve Reynolds kept the ball on the option and swept around the left side for a 69‑yard scoring run at 11:09 of the first quarter. The Griffs missed the extra point.
The Tigers answered on their second possession with a 13‑play, 98‑yard drive following a Buchtel punt. Stanke gained 23 yards up the gut on the first two plays of the series, then Scott swept around left end for 23 more to move the ball to near midfield.
The only third down play of the drive, was third and three at the Buchtel 17. Irwin calmly found Battle along the right sideline with a five yard aerial for the first down. Two plays later, Irwin found Scott wide open for a two‑yard touchdown pass. Brett Marshall's kick made it 7‑6 Massillon at 2:47 of the first.
Buchtel answered with its own sustained drive, marching 71 yards in 12 plays. Tim Murphy dove in from a yard out at 10:21 of the second quarter. A Griffins' two point pass attempt failed and it was 12-7 Buchtel.
The Tigers went three-and‑out and Buchtel responded with a 10‑play, 71‑yard march, capped by Reynolds eight‑yard option keeper over right guard and tackle. The conversion kick put the guests up 19-7 with 3:11 until the band show.
Scott's 15‑yard return of the ensuing kickoff and a facemask penalty against Buchtel gave the Tigers superb field position at the Griffs' 37. Scott then bucked off right tackle for 19 yards and Stanke gouged out nine more to set up second‑and‑one at the 9‑yard line.
Shepas called Stanke's number again and the fullback went over left guard, juked two potential tacklers and found pay dirt. The PAT kick failed but the Tigers had regained momentum before halftime, though still trailing 19‑13.
Massillon regained the lead with a six‑play, 72‑yard drive capped by Perry James 1‑yard run at 8:55 of the third quarter, but Buchtel came right back to reclaim the advantage on a five‑play, 71‑yard drive that included pass plays of 42 and 36 yards. Murphy's 1‑yard scoring burst at 5:22 of the third made it Buchtel 25, Massillon 20.
That led to Battle's heroics as the Tigers got the 1999 season off to a flying start. "Our first possession was our only bad possession," Irwin said. "After that the offense settled down. Our offense is so wide open. We can do anything we want. The backs played a great game tonight. It opened up the passing attack for us."
Shepas took note of the Tigers rushing statistics and tipped his hat to the offensive line of Greg Dickerhoof, Kreg Rotthoff, Seth Stefanko, Dan Leonard and Matt Shaffer. "Their defense is talented," Shepas said. "They were bringing six, seven, eight guys all the time. "During the week we put in that empty set which allows us to spread things out a little bit. That helped our guys pick up the blitzes and we were able to protect a little bit."
The offense protected the lead with a five‑play, 49‑yard scoring drive, capped by yet another Irwin to Battle touchdown pass at 2:05 of the fourth quarter. Marshall's PAT wrapped up the scoring.
MASSILLON 35
BUCHTEL 25
M B
First downs rushing 13 8
First downs passing 5 4
First downs by penalty 2 1
TOTAL first downs 20 13
Net yards rushing 229 224
Net yards passing 127 158
TOTAL yards 356 382
Passes attempted 21 13
Passes completed 12 6
Passes intercepted 0 0
Punts 3 5
Punting average 31.3 28.4
Fumbles/Lost 2/0 2/0
Penalties 4 11
Yards penalized 30 103
MASSILLON 7 6 7 15 35
BUCHTEL 6 13 6 0 25
SCORING
B – Reynolds 69 run (Pass failed)
M – Scott 2 pass from Irwin (Marshall kick)
B – Murphy 1 run (Pass failed)
B -Reynolds 9 run (Jones kick)
M – Stanke 9 run (Kick failed)
M – James 1 run (Marshall kick)
B – Murphy 1 run (Pass failed)
M – Battle 12 pass from Irwin (Irwin pass to Drobney)
M – Battle 12 pass from Irwin (Marshall kick)
INDIVIDUAL STATISTICS
Massillon rushing: Stanke 11‑97, Scott 9‑90, James 8‑49.
Buchtel rushing: Reynolds, 6‑103, Lovelace 8‑47, Murphy 16‑77.
Massillon passing: Irwin 12‑21‑127 3TDs.
Buchtel passing: Reynolds 3‑5‑110, Keith 2‑7‑29.
Massillon receiving: Dorsey 4‑44, Battle 3‑28, Robinson 1‑31, James 1‑11, Hendricks 1‑6, Stanke 1‑5.
Buchtel receiving: Chapman 4‑115.