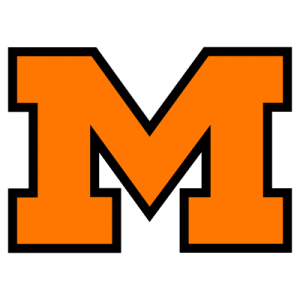 Tigers win at Lima Sr
Massillon makes big plays in fourth period
By MIKE KEATING
Independent Sports Writer
They have played only two regular‑season games, but the Massillon Tigers have proven they can come from behind at home and on the road. Exploding for 26 fourth quarter points, the Tigers improved their record to 2‑0 following a 33‑19 victory over host Lima Senior at Lima Stadium this past Saturday.
"This was a big win," said Massillon head coach Rick Shepas. "We played well in the fourth quarter. We won on the road. We beat a good program. Lima is a (former) state champion." Massillon has now beaten Akron Buchtel and Lima Senior, two teams whose forte is speed, speed and more speed.
The next challenge is against Akron Garfield at Paul Brown Tiger Stadium. Garfield improved to 1‑1 with a 14‑0 victory over Cleveland Benedictine this Saturday. "They're another good team," Shepas said. "They were picked to win the Akron City Series over Buchtel and we know Buchtel has a good team."
Shepas said his charges elevated their level of play defensively against Lima. "We tackled very well," he said. "We faced two good backs. And we didn't allow them to break off a big run." Lima finished with 110 rushing yards in 40 plays, a meager 2.8 yard average.
While they wore their new visiting white jerseys and orange pants, the Massillon defense lived up to its newly adopted Black Swarm moniker, gang tackling on almost every play. The interior linemen stuffed the majority of quick openers between the tackles. The outside linebackers crisp pursuit angles on option plays, forcing the speedy Lima backs to run laterally, instead of allowing them to turn the corner.
"We made some plays (offensively) the fourth quarter," said Massillon quarterback David Irwin. "But our defense played great the entire game." Still, Lima held a 12‑7 lead heading into the fourth quarter, scoring on two big third down pass plays.
But Irwin proved he could make the clutch throw in crunch 'time, connecting on three big third down passes in the fourth quarter. That first completion resulted in a 37‑yard touchdown pass to wide receiver Jesse Robinson on the first play of the fourth quarter. Robinson, a 5‑foot‑5, 141 pound junior, ran a fade pattern to the left corner and Irwin hit him perfectly.
While the two‑point conversion failed, the Tigers had gained a 13‑12 lead just eight seconds into the fourth quarter. Lima, now 1‑1, responded, moving the ball from its 45 to the Massillon 13. With a fresh set of four downs, the Spartans were in position to reclaim the lead.
Running back Greg Johnson bulled his way for three yards on a dive play. After the play was whistled dead, a flag in the Massillon secondary flew. Lima was penalized 15 yards for a dead‑ball personal foul. A second down‑and‑seven became second‑and‑22, forcing Lima to pass. It failed to connect on both subsequent attempts, with Massillon safety Jason Jarvis ending the drive with an interception at his team's 10, and a 44‑yard return to the Lima 46.
"We needed somebody to make a play and Jarvis stepped it up," Shepas said. "That was a big turning point in the game." Massillon, which used a noback look with three wide outs in the slot and two tight ends, went back to a more conventional set, lining up two running backs.
Improve record to 2-0 following a biq fourth quarter against Lima
On the first play from scrimmage, running back Perry James took a handoff from Irwin on a draw play, exploding up the middle for 41 yards to the Lima 5. The Spartans stiffened defensively, forcing the Tigers to lose a combined eight yards on two running plays, bringing up a third‑and‑goal from the Lima 13.
Wide receiver Anthony Battle angled toward the left corner, as Irwin dropped back to throw. Battle had gotten behind the Lima defender and Irwin hit him in stride for a 13‑yard touchdown. Brett Marshall's extra‑point made it 20‑12 with 7:20 remaining.
With plenty of time to force a tie, Lima took advantage of a pass interference penalty and had the ball to its 47. But the Spartans were held to one yard in the next three downs and were forced to punt.
Trent Seay, who averaged 39.8 yards a boot with high driving kicks, boomed another floater that pinned the Tigers back on their own 17.
Two running plays netted a combined two yards and the Tigers were facing a third-and‑eight situation. With Lima blitzing, Irwin launched a bomb to the right sideline in the direction of wide receiver Rocky Dorsey near midfield. Dorsey, who was wide open, caught the ball and wasn't hauled down until he reached the Lima 16.
That was the third straight third down pass Irwin completed in the second half. "They were blitzing six or seven people every play," Irwin said. "I got some great pass protection."
Emotionally charged, Massillon went back to its ground game. Running back Jon Stanke was given the ball on a draw plau, broke the line of scrimmage and cut to his right. Tight end Jeremiah Drobney knocked down two defenders with one block, and Stanke ran untouched into the end zone. Marshall's extra‑point made it 27‑12 with 3:32 left.
We wanted it more in that fourth quarter," said Massillon defensive end Ellery Moore, who was a force along with nose guard Mike Mattox, and linebackers Dan Studer, Steve Eyerman and Robert Oliver.
Any miraculous comeback by Lima was nixed when Massillon sophomore linebacker Robert Oliver picked off a pass and returned it 15 yards to the Spartan 20.
Irwin hit wide out Joe Price for 12 yards on the first play and then was replaced by Marshall at quarterback. Three plays later, Marshall hit Drobney on a tight end screen in the left flat. Drobney, a 6‑3, 197 pound junior, then ran 10 yards for a touchdown that made it 33‑12 with 2:09 to go.
Lima quarterback Nick Morris hooked up with wide out Trent Seay for a 48‑yard touchdown pass that closed out the scoring.
In the first half, Massillon took its first lead. A 33‑yard screen pass from Irwin to Drobney moved the ball to the Lima one. On the next play, James went off left guard for the touchdown, capping a four‑play, 56‑yard drive. Marshall's extra‑point kick made it 7‑0 at the 4:45 mark.
Lima got on the scoreboard at the 9:52 mark of the second quarter, when Morris turned a third‑and‑17 into six points, hitting running back Jeremy Wright on a crossing pattern for 20 yards., The extra‑point kick was wide left, and the Tigers still led 7‑6.
Morris delivered on another third down pass play that gave Lima its first and only lead, hooking up with wide out Richard Mahone. That 41‑yard touchdown pushed the Spartans ahead 12‑7 at the 5:40 mark of the third quarter.
But Massillon regained control of the game in the' fourth quarter, posting a 185‑101 edge in total yards.
MASSILLON 33
LIMA SR 19
M LS
First downs rushing 8 8
First downs passing 7 6
First downs by penalty 0 3
TOTAL first downs 15 17
Net yards rushing 144 110
Net yards passing 242 165
TOTAL yards 386 275
Passes attempted 23 26
Passes completed 13 8
Passes intercepted 1 2
Punts 6 7
Punting average 29.8 40.7
Fumbles/Lost 1/0 2/0
Penalties 9 2
Yards penalized 86 20
MASSILLON 07 00 00 26 33
LIMA SR 00 06 06 07 19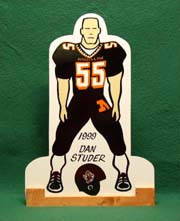 Dan Studer