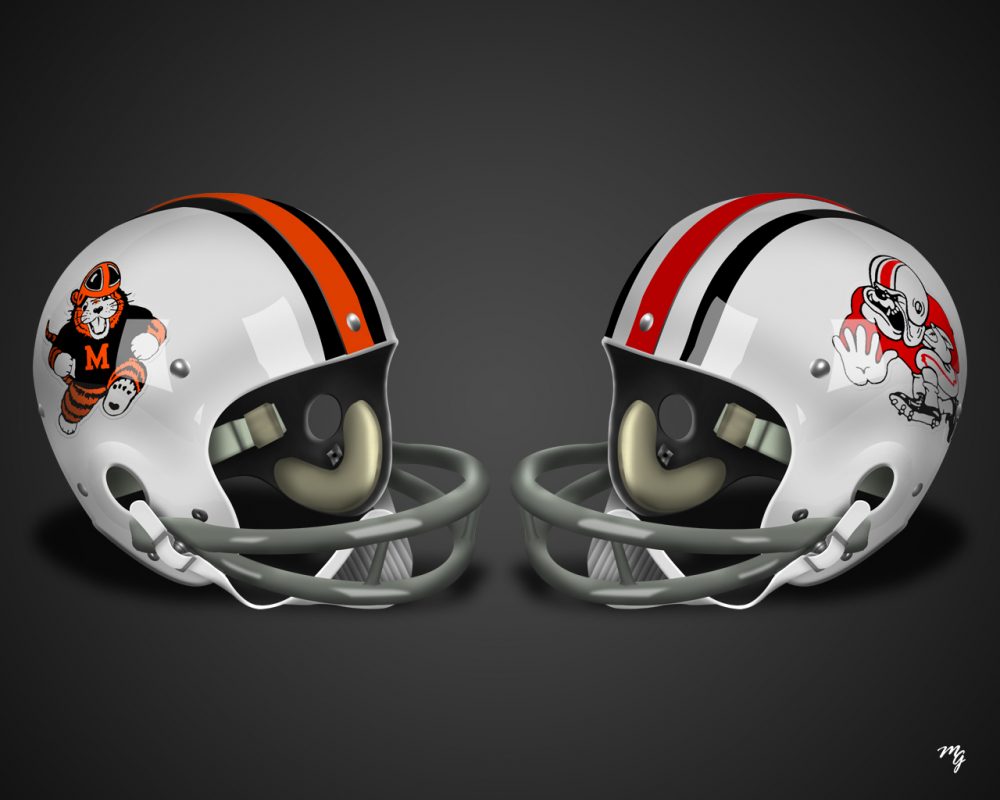 Tigers aren't satisfied, but have no option
By TODD PORTER
Repository sports writer
MASSILLON ‑ If you want to know how far the football program in Tigertown has to go, look no more than Saturday's 42‑20 loss to McKinley.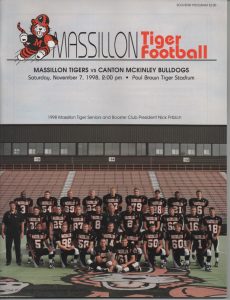 No, not the score. In fact, the game was closer ‑much closer ‑ than it indicates. The Tigers out-gained the Bulldogs in every significant statistical category except points.
However, look at the attitude.
Since when did a 22‑point loss to McKinley become a moral victory in Massillon?
"We're not going to take this laying down," Massil­lon head coach Rick Shepas said. "It has taken McKinley a long time to get to where they're at. It's going to take us a long time to get to where we want to go. We're not satisfied."
Besides Shepas, the general consensus is Massillon played its best game of the season Saturday afternoon in front of 19,848. The Tigers still lost, but they gained some legitimacy, and probably sent a chill down Bulldog fans' spines.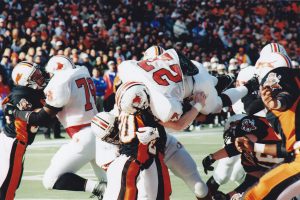 Massillon has come together to form ‑ of all things ‑ a team. The Tigers showed signs of that in the eighth week against Cincinnati Moeller, It was a game, like Saturday, that the Tigers lost in the sec­ond half. McKinley outscored Massillon 23‑3 in the second half.
This week, several Massillon players shaved their heads to capture the look of their clean‑shaven head coach. It was a good‑natured gesture.
It still took eight weeks for that bond to form. It took eight weeks for the players to believe in the system Shepas is running.
"I think it could have happened earlier in a lot of other places," Shepas said. "But because there are so many people talking to our kids and in their ears, it takes longer for that bond to form.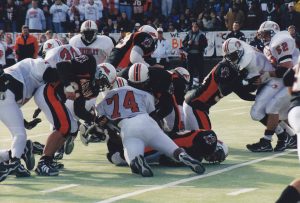 "I know our kids believe in the system here. With an off season that we didn't have here last year … I wondered about that. (Former McKinley head coach) Thom McDaniels resigned early, so McKinley got an early hire."
Shepas was not hired in Massillon until May 4. He was one of the last high school coaches hired in the state. He pressed together a coaching staff in a month. Consequently, Massillon needed the first half of the season to evaluate talent and see which players fit where.
Case in point is the quarterback position. Junior Dave Irwin spent more time leading the junior var­sity team than he did the varsity team this year. Yet, it was Irwin who had the most success. Saturday, he completed 65 percent of his passes and threw for 133 yards.
He may have broken a bone in his arm and was knocked out of the game in the fourth quarter. "I thought Dave played a helluva game," Shepas said.
Nevertheless, Saturday's loss was a morale victory for Massillon.
This is a team that finishes with a 4‑6 record. It is the Tigers' worst record since 1931 and first losing season since 1966 (4‑5).
"That doesn't bother me at all … not at all," Shep­as said of the losing season and being one of just three Massillon head coaches with a record below .500 since 1931. "High school football isn't always about winning and losing.
"We've had to take a lot of stands here I don't par­ticularly appreciate. But they were the stands that are going to make us a better team down the road."
If there is one good thing about this season for Shepas, it is the fact he saw a lot of players perform . Massillon may have the largest crop of returning let­termen next season.
"I want to make this clear to our people," Shepas said. "It's going to take a lot of time to go in the direction we want to go in. A lot of time."
McKinley 12 7 8 15 42
Massillon 7 10 3 0 20
McK – Doss 3 run (kick failed)
Mass – Irwin 2 run (Marshall kick)
McK – Doss 2 run (Pass failed)
Mass – FG Marshall 23
McK ‑ Doss 32 run (Armatas kick)
Mass – Miller 2 run (Marshall kick)
Mass – FG Marshall 20
McK – Doss 73 run (Friedman pass from McDanields)
McK ‑ Doss 1 run (McDaniels run)
McK ‑ Chavers recovery of blocked punt (Armatas kick)
MASS McK
First downs 22 11
Rushes‑yards 47‑229 29‑205
Passing 188 116
Comp‑Att‑Int 20‑31‑0 5‑12-0
Return Yards 91 6
Punts Avg. 3‑22.7 4‑36.3
Fumbles-Lost 2-0 1-1
Penalties-Yards 7‑61 4‑30
Total play 80 41
Time of Possession 31:21 16:39
INDIVIDUAL STATISTICS
RUSHING
Massillon:
Cleveland 22‑121,
Irwin 8‑36,
Lynn 6-34,
Wagner 1-1,
Miller 8-36,
Fichter 2-1.
McKinley:
Quincy 8‑45,
Doss 14-155,
Lucius 3-7,
McDaniels 4-(-2).
PASSING
Massillon:
Irwin 15‑23‑133-0‑0,
Fichter 5-8-55-0-0.
McKinley:
McDaniels 5-12-116-0-0.
RECEIVING
Massillon:
Lynn 7-66,
Radich 1-8,
Dorsey 5-50,
Price 4-49,
Allman 1-2,
Cleveland 2-13.
McKinley:
Friedman 1-28,
Hooks 3-65,
Lucius 1-23.
Pups finish off Tigers
wait till next year
Tigers seek respect;
By TODD PORTER
Repository sports writer
MASSILLON ‑ With a 4‑5 record, there was not much the Massillon Tigers could have gained by winning Saturday's game against McKinley at Paul Brown Tiger Stadium.
Pride and a..500 record.
More importantly, respect was on the line.
That was one thing first‑year Tiger head coach Rick Shepas wanted for his program. It looked as if Massillon was going to get it when the Tigers took a 20‑19 lead with 3:20 to play in the third quarter.
However, breakdowns and costly penalties on both sides of the football erased any hopes of a Massillon upset. McKinley won the 105th game, 42‑20.
The final margin came when the Pups blocked a punt and fell on the ball in the end zone in the game's final seconds.
When asked if the Tigers had earned respect, McKinley head coach Kerry Hodakievic said, "They played. well in the first half, anyway. We played our kind of football in the second half and we played well then."
But no respect.
"We're not going to get any respect until we win this game," Massillon head coach Rick Shepas said. "What their coach says doesn't matter. I'm not going to get caught up in saying things just because my town wants to hear them."
The Tigers played their best game to date. They had a solid game plan and exposed many of the Bulldogs' weaknesses. In fact, Massillon probably worried the Pups and scared their fans.
Massillon outgained McKinley 417‑321. It was the first time all season the Tigers gained more than 400 yards in total offense. They held the ball for 31:21, while McKinley had it for just 16:39. They doubled McKinley in first downs (22-11) and con­verted two field goal attempts.
The killer for the Tigers?
Penalties … again.
Massillon was penalized seven times for 61 yards, and most of them could not have come at worse times.
For example, a difference-­maker in the game came when Massillon quarterback Dave Irwin threw a strike to Joe Price. Irwin faked a reverse handoff to running back Marc Cleveland and Price left a McKinley defender wondering where he went. Price was wide open and Irwin delivered the ball for what appeared to be a 76‑yard touchdown.
Massillon was called for hold­ing, and Irwin may not have been able to throw the pass if not for the hold.
"I think we blow it open right there if we hit on that play," Shepas said. "That was a big play. I really think the game is blown open."
But it wasn't. The Tigers con­tinued on the drive and place ­kicker Brett Marshall was able to muster a field goal. But the Pups still led 12‑10.
Believe it or not, the Tigers committed a bigger penalty. With the score 27-20, the Massillon defense looked at if it were going to force McKinley to punt after just three plays.
On third‑and‑8 from the McKinley 32, Bulldog quarterback Ben McDaniels overthrew his receiver. It should have been fourth down. But a Massillon player pummeled McDaniel well after the play and McKin­ley had a first down. The Pups went on to score and take a 35-20 lead.
"I didn't get to see the play, but I'm sure it was the right call," Shepas said. "The officials called a great game in a big game like this."
Shepas was left to ponder what might have been.
"There was no pressure on us," he said. "We had nothing to lose before today."
The Massillon program may have gained some legitimacy for the first time all year. Maybe the Tigers made believers out of some.
The one thing they still lack is respect.
"We're not going to take this laying down," Shepas said.
They still have a lot left to gain.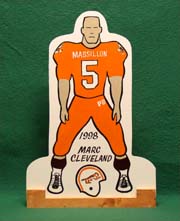 Marc Cleveland