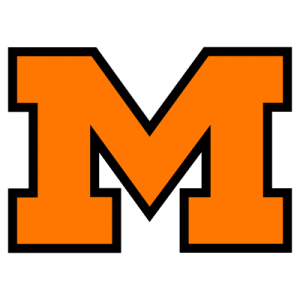 Cat nap is over
Tigers wake up and blow out St. V-St. M
Tigers follow the Script for victory
BY JOE SHAHEEN
Independent Sports Editor
Maybe, just maybe the Tigers have finally figured it out.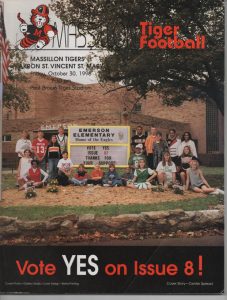 Massillon scored touchdowns on three of its first four possessions and went on to post a dominating 36‑7 victory over the ­Akron St. Vincent‑St. Mary's Fighting Irish at Paul Brown ­Tiger Stadium, Friday night.
It was the Tigers first victory, in the last four weeks and marked the first time they, scored as many as three touch­downs in a game since Week 3 against Garfield.
Fighting Irish coach Jim Meyer was not‑surprised to see Massillon play such a dominant game against his team, which was 6‑2 coming in to the contest.
"I've got to hand it to them," Meyer said, "They wanted this game and they came out and were very, very physi­cal.
"I watched tape on them and I knew it was going to be a physical game. I'm not surprised at all. I think they always had the mate­rial. I think they've been a sleeping giant for a while. Unfortunately for us they picked this week to wake up."
Tigers tailback Marc Cleveland broke the century mark‑in. rushing for the first time since mid‑season with 126 yards and two touchdowns in 16 carries. The senior says the team is hitting its stride.
"We're coming together as a team," Cleveland said. "We all just came together. We got tired of getting beat. We figured out we have to do what we have to do. We just have to fire off the line and punish the defense."
Senior tight end Marcus Simpson, who opened the scoring with a six‑yard touchdown reception, was overjoyed at the victory.
"It was just beautiful," Simpson said. "The offense came together and we all played good. I was just happy.
"That was my first touchdown and being a senior I was just thrilled to get a chance to help the team out. We've got a lot of momentum and we're starting to move."
Momentum was provided from the get go when Tigers junior Sam Young returned the Irish's opening kickoff 53 yards to the St. V 43-yard line.
Cleveland gained 10 yards on two running plays and Massillon quarterback Dave Irwin connected with tight end. Ellery Moore for 10 more to the Irish 24.
Then Cleveland bucked over left guard for 10 yards and Irwin scrambled for four more to set up second‑and‑6 from the 9‑yard line.
From there, Irwin tossed a short pass to Simpson, who was all alone in the right flat. He strolled into the end zone for six. Brett Marshall's PAT was true and Massillon led 7‑0 less than three minutes into the game.
Massillon linebacker Mike Mattox battled down an Irish third down pass and the visitors were forced to punt after just three snaps on their initial possession of the night.
The Tigers began their second drive from their 40 and methodically moved to the Irish 28. From there, Irwin hit Ron Lynn in the right flat for a 10‑yard gain, then Cleveland ran for 17 more on the flanker reverse to the 1-yard line.
Cleveland did the honors from a yard out and Marshall added the PAT to make it 14‑0 Tigers at 5:05 of the first quarter.
St. Vincent‑St. Mary again went three‑and‑out and the Irish punted the ball back to Massillon at its 26. The Tigers got a couple first downs but punted the ball back to St. V's. But on first down, Massillon's Brandon Clark made a gorgeous over‑the‑shoulder interception of a Ross Marconi pass to give the locals the ball at the visitors 34‑yard line.
Six plays later Irwin rolled left then threw back right and found Joe Price alone in the end zone for the six‑yard touchdown pass and a 20‑0 lead at 11:25 of the second period.
After another Irish punt, Massillon moved to the St. V's 1‑yardline, but had to settle for, a 19‑yard field go by Marshall to go up 23-0 with 4:17 left until halftime.
Although the Irish finally got on the scoreboard with a 67-yard march culminated by a 9-yard Marconi to Miquel Irvin touchdown pass, it was a practically perfect first half for the beleaguered Tigers, who led 23-7 at the intermission.
Irwin was especially sharp. The junior completed 9 of 13 aerials for 73 yards and two TDs in the first 24 minutes of play.
"Dave's pretty calm back there," Shepas said. "He doesn't seem to get rattled that much. He made some plays. He was 4-for-4 at one point and they were all at the right time and he put the ball where it needed to be. He did a nice job of directing that offense. We found some things we are good at … finally."
For the second week in a row, Shepas scripted his team's plays. And for the second week in a. row, the attack clicked.
"We did 24 plays this time instead of 17," Shepas revealed, "The first series we had set for six plays. We got the ball and in six plays we were in the end zone. That's a Bill Walsh thing and Mike Holmgren does it with the Packers.
It works best when you're struggling to find some continuity. The main thing is when you come out you have to get some gains. When you get the gains the script works well. You lose yardage on first down and the script isn't going to work well."
On reason the Tigers didn't have many negative yardage plays was their ability to control the line of scrimmage. Once again the offensive front of Mike Dean and Greg Dickerhoof at tackles, Joe Meanor and Chris Rich at guards and Dustin Clawson at center moved the defense around at the point of attack.
"In the games we haven't been successful, people have established the line of scrimmage on us." Shepas said, "Tonight were able to control the line on both sides of the ball."
The team exchanged punts on the first four possessions of the second half. Then the tigers defense came up with a big play. After Luke Shilling's punt rolled out of bounds at the St. V's 13-yard line, the Akron entry tried to execute a screen pass Massillon middle linebacker Sam Studer made a one-handed interception and fought his way to the six yard line before being gang tackled.
Three plays later, Irwin found Price on a 10-yard curl pattern in the end zone. Marshall's kick made it 30-7 Tigers at 11:48 of the fourth quarter.
The Irish turned the football over on second down of their ensuing possession and Cleveland applied some icing on the cake, going off his right tackle untouched for a 41-yard touchdown run.
In addition to putting it all together on offense, Massillon got over the hump by putting together two good haves of football.
"We tried not to make too many (halftime) adjustments because when we made adjustments we seem to make mistakes," Shepas noted.
The Massillon defense did its part registering four interceptions and limiting the Irish to a paltry 54 yards rushing.
One sobering note for the Tigers was an ankle injury suffered by two-way starter Ellery Moore. The junior tight end/defensive end says he'll be fine.
"It's McKinley week so I'm coming back," Moore said, "I'm not done."
"We played with heart and dedicated tonight . We're becoming a team. We're working together and becoming a team. Just like coach Shepas wanted us to do. Play together. Put our heads together and be one."
And for a night at least it worked to perfection.
MASSILLON 36­
ST. V-ST. M 7
M S
First downs rushing 11 4
First downs passing 7 3­
First downs by penalty 1 1
TOTAL first downs 19 8
Net yards rushing 209 54
Net yards passing 93 118
TOTAL yards 302 170
Passes attempted 18 25
Passes completed 12 7
Passes intercepted 1 4
Punts 6 7
punting average 39 35.3
Fumbles/Lost 1/0 0/0
Penalties 3 8
Yards penalized 40 61
MASSILLON 14 09 00 13 36
ST.V-ST.M 00 07 00 00 07
SCORING
M ‑ Simpson 8 pass from Irwin (Marshall kick)
M ‑ Cleveland 1 run (Marshall kick)
M ‑ Price 6 pass from Irwin (PAT failed)
M ‑ Marshall 19 field goal
St. V ‑ Irvin 9 pass from Marconi (Williamson kick)
M – Price 10 pass from Irwin (Marshall kick)
M – Cleveland 40 run (Kick(failed)
INDIVIDUAL STATISTICS
Massillon rushing:
Cleveland 16‑126,
Lynn 7‑33,
Miller 10‑24,
Wagner 4‑20.
St V rushing:
James 15‑59.
Massillon passing:
Irwin 12‑17‑93 3 TDs, 1 INT.
SL V passing:
Marconi 7-25-116 4 INTs, 1 TD
Massillon receiving:
Moore 4-22,
Cleveland 2‑25,
Price 2‑16,
Miller 1‑8,
Simpson 1‑8
St V receiving:
Irvin 4‑87.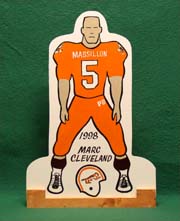 Marc Cleveland