Massillon's defense carries the day
By JOE SHAHEEN­
Independent Sports Editor
Chalk one up for the defense. The Massillon Tigers, saddled with injuries to three starters on offense, turned in a defensive performance worthy of its Black Swarm nickname to hand the Mansfield Tygers a 24‑7 defeat in front of 10,041 fans at Paul Brown Tiger Stadium, Friday.
The final score is somewhat deceiving in that the only score Mansfield managed was on a fumble recovery the Tygers returned 43 yards for a touchdown early in the third quarter.
"The defense had an outstanding week of preparation and I really felt they were ready for whatever Mansfield threw at them and they showed that tonight," said Tigers coach Rick Shepas. "If we hadn't fumbled the ball on offense, we would have pitched a shutout. We want to make sure the people know that we played that well on defense. It was an offensive turnover that gave them seven."
In one first‑half Mansfield offensive series, Tigers defensive lineman Mike Mattox made three consecutive tackles for losses to force a punt. It was typical of his play all night long. "They weren't really pass blocking that great and I was coming in unblocked practically every time," Mattox explained. "I really wanted to beat these guys bad. We wanted the shutout but the offense let them score seven points."
"Mike is outstanding at that position," added Shepas. "He is so quick off the ball and against those big offensive linemen he did the job." One reason Mattox was so effective was Mansfield was paying a great deal of attention to his running mate, Ellery Moore. Despite that, Moore also was a force on defense with several tackles behind the line of scrimmage against the frustrated Tyger attack.
"We pitched a shutout," Moore said. "We stepped it up for the offense and was patient with them because they had some adversity. But we're used to adversity. We've been going through it since December. So we're ready for that."
And Moore echoed Mattox's sentiments that last year's 21‑0 defeat at Mansfield was a motivating factor. "Payback was on our mind from jump street," Moore exclaimed. "We knew we had to come in and play hard . We knew they were going to play hard. It's a rivalry now. We're loving it."
While Massillon (4‑0) dominated the game statistically ‑ the Tigers owned an advantage in total yards of 357‑134 ‑ things were a little dicey for the locals for much of the second half after Mansfield (2‑2) cut the lead to 10‑7 on the fumble recovery and runback for a touchdown.
The Tigers finally got some breathing room mid‑way through the fourth quarter when quarterback Dave Irwin found junior wide receiver Jesse Robinson running free in the Mansfield secondary.
Irwin was on target with his pass and Robinson pulled away from the defense after gathering it in for a 64‑yard scoring play. Brett Marshall's point‑after kick was true and the Tigers had the cushion they needed at 17‑7 with 7:28 to go.
An 11‑yard Irwin to Rocky Dorsey scoring pass with 2:08 to play closed the scoring, but the Massillon defense had to rise up once again in the final moments to keep Mansfield out of the end zone. As was true throughout the game, the Black Swarm was equal to the task.
"Massillon's defense gave us some problems," admitted Mansfield coach Stanley Jefferson."They definitely created some problems. It was difficult for us to get our zone schemes going. We couldn't move the ball in a consistent manner. "They controlled the line of scrimmage in terms of us trying to zone block and that created some problems."
Mansfield also hurt itself, getting flagged 13 times for 125 yards in penalties, a statistic that bothered Jefferson. "I'm not allowed to speak on it," he said afterward. "If I speak on it … I, um, I can't speak on it. It'd be best for me not to say anything about some of those penalties."
Massillon was flagged 10 times for 74 yards. The game began as it was going to be a long night for the Tigers, who were without starting linebacker and tri‑captain Dan Studer and leading ground gainer Jon Stanke, both of whom were out with injuries.
Things went from bad to worse almost immediately when starting center Seth Stefanko went down with a severe knee injury on just the fifth play of the game. Stefanko's absence was often magnified because the Tigers utilize the shotgun formation in which the center must snap the ball three to four yards back to the quarterback.
The senior's absence was felt on Massillon's second series, which ended when Mansfield recovered a fumbled snap. But the Tigers persevered, thanks to their defense which forced Mansfield into punts on each of its first three possessions.
Massillon's first scoring drive of the evening began on its 37 yard line but appeared to be over when Mansfield intercepted the ball on third‑and‑seven from the 40. But the Tygers were flagged for roughing the passer and the locals took advantage of the break.
On first down from midfield, Stanke's replacement senior Dave Bumgarner got the football on a fullback counter and rumbled 39 yards to the 11. Two plays later, Irwin rolled to his left and, with a Mansfield defender in his face, tossed the ball to tight end Jeremiah Drobney at the 5. Drobney carried a Tyger defender into the endzone for the game's initial touchdown at 8:47 of the second quarter. Brett Marshall's conversion kick was good and the Tygers led 7‑0.
Mansfield looked as if it was going to retaliate, running the football for two first downs on the first three snaps of the ensuing possession.
But Mattox took over and almost single‑handedly stopped the march. The 6‑1, 213‑pound senior tripped up Mansfield's Maurice Bradley for a loss of three yards on first down, then recorded back‑to‑back sacks of Tygers QB Kris Kline on second and third downs for a total of 18 negative yards.
Massillon then launched a 12‑play drive from its own 15. It ate up all but 14 seconds of the final five minutes of the first half. Perry James gained 17 yards to move the ball to the 43, then consecutive completions to Drobney and Bumgarner advanced the ball to the 24. Three snaps later, Marshall was perfect on a 37 yard field goal to make it 10‑0 at halftime.
Mansfield failed to penetrate deeper than the Massillon 38 in the first 24 minutes of play. It would be that way all night long.
MASSILLON 24
MANSFIELD 7
Mas Man
First downs rushing 8 4
First downs passing 7 3
First downs by penalty 5 0
TOTAL first downs 20 7
Net yards rushing 134 52
Net yards passing 223 82
TOTAL yards 357 134
Passes attempted 22 12
Passes completed 15 7
Passes intercepted 0 1
Punts 4 8
Punting average 35.8 34.5
Fumbles/Lost 3/2 0/0
Penalties 10 13
Yards penalized 74 125
MASSILLON 00 10 00 14 24
MANSFIELD 00 00 07 00 07
SCORING
Mas ‑ Drobney 8 pass from Irwin (Marshall kick)
Mas ‑ Marshall 37 field goal
Man ‑ Berry 43 fumble recovery return (Wolf kick)
Mas ‑ Robinson 64 pass from Irwin (Marshall kick)
Mas ‑ Dorsey 11 pass from Irwin (Marshall kick)
INDIVIDUAL STATISTICS
Massillon rushing: Scott 9‑56, Bumgarner 6‑51, James 9‑31.
Mansfield rushing: Berry 8‑31, Bradley 5‑20, Dandy 3‑14.
Massillon passing: Irwin15‑22‑223 3 TDs.
Mansfield passing: Taylor 5‑9‑80, Kline 2‑3‑2 1 INT.
Massillon receiving: Bumgarner 5‑39, Drobney 4‑70, Hendricks 2‑4, Dorsey 2‑37, Robinson 1‑64, James 1‑9.
Mansfield receiving: C. Smith 4‑64.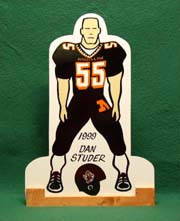 Dan Studer