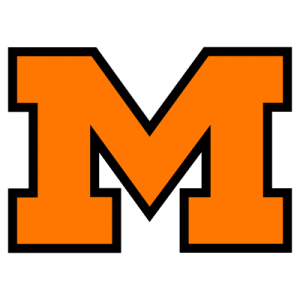 Picked off!
Interceptions turn tide against the Tigers
Tigers fall in Shepas debut
By JOE SHAHEEN
Independent Sports Editor
The first game of the Rick Shepas era at Massillon began on a positive note but a pair of third quarter interceptions were fatal to the homestanding Tigers who fell to Clovis West of California 21‑9 in front of 13,147 at Paul Brown Tiger Stadium, Friday.
The Tigers, unveiling Shepas' multiple pro offense, jumped out to a 7‑0 lead late in the first quarter and held that advantage at halftime. But the Tigers threw an interception inside the Clovis West 10‑yard line which turned the tide late in the third quarter and the visitors never let Massillon regain momentum.
"We hung tight at the begin­ning of the game," observed Clovis West coach Randy Blankenship. "Massillon plays good defense."
"But we wear people down. We just keep pounding and find the right combinations and we wore them down. We didn't make any adjustments at half' time. We just talked about getting our pads down and hitting ­somebody. They started to get tired if we got any more than four offensive plays in a row."
"That interception after a good defensive stand was huge," said Shepas. "Our offense and defense need to feed off each other. When the defense does a good job, the offense needs to kick it into gear. That's what this program needs to work on. It is hinging on those important things taking place."
It appeared Clovis might jump out early, stopping Massillon inside its 5‑yard line on the Tigers initial drive. After a nice punt return gave the Eagles pos­session at the Tiger 26, the visi­tors marched to the 6, but were stopped on downs by a swarm­ing Massillon defense.
Massillon stopped Clovis West's second possession when Alex Borbely fell on a fumble at the Tiger 23.
The Tigers launched their first sustained drive of the game, moving 77 yards in 11 plays. Tom Fichter hit Neil Buckosh for 11 yards and then found Rocky Dorsey along the right sideline for 11 more to move the ball to the Massillon 45. Three plays later Marc Cleveland burst off right tackle for 14 and the Tigers were in business at the Eagles' 28.
After an incompletion, Fichter hooked up with Dorsey along the left sideline at the Clovis West 10. The junior wide out made a leaping catch, then turned to find nothing but green between him and the end zone as the Tigers drew first blood.
Brett Marshall tacked on the extra point and Massillon led 7‑0 at the :12 mark of the first quarter.
Massillon mounted another sustained drive late in the first half, moving from its 20 to the Clovis West 20 as Fichter went 4 of 5 through the air. The senior hit Marcus Simpson for 17 yards to the Massillon 38 on the second snap of the drive, then connect­ed with Jason Clemens on a third‑and‑10 play for 19 yards to the Clovis West 43.
After two more completions to Dorsey moved the ball to the Clovis 20, a 15‑yard offensive pass interference call stalled the drive.
Clovis took the second half kickoff and moved the ball from its 28 to Massillon's 26 on eight consecutive running plays, but the Tiger defense stiffened an the Eagles turned the ball over on downs after failing to convert on fourth‑and‑two.
"The defense played a good, solid game," said Shepas. "That's a good Wing‑T team we faced. A good executing team we faced. With a little more offensive productivity they get less chances to touch the foot­ball and that makes it easier on our defense."
Massillon and Clovis exchanged punts following the Tigers defensive stand, setting up the game's turning point. Following a 10‑yard punt return by Dorsey, the Tigers took over at their 49 and Cleveland imme­diately made a big play, spinning off a hit in the backfield to pick up 21 tough yards around his right end.
"Our offense and defense need to feed off each other. when the defense does a good job the offense needs to kick it into gear" ‑ Rick Shepas,
The senior running back, added 14 more yards, carrying the ball on each of the next three snaps. Then on second‑and‑eight from the Clovis 16, Massillon tried a quick pass to the left sideline. Clovis West's Perron Wiley stepped in front of the throw and returned the ball 54 yards to the Massillon 36.
On the very next play, Sean Soares hit into the middle of the line and burst free for a 36‑yard touchdown run. The conversion kick tied the game at 7‑7 with 3:57 left in the third quarter.
"That interception was huge," Blankenship said. "That was really big. The kid who made the play wasn't able to play last year and I was really happy for him.
"Massillon threw some outs on us. I'm not worried about teams throwing outs because if you make a mistake you're going to get it picked off. It's a matter of time and being patient. We were just inches away (from intercep­tions) a couple of times."
The Tigers appeared to be ready to strike back when Cleveland ran 17 yards on Massillon's first snap after the ensuing kickoff. But three plays later, Clovis West's Brandon Gonzales stepped in front of an out pattern to the right sideline, made the interception and sprinted untouched 38 yards to pay dirt.
The point‑after made it 14‑7 in favor of Clovis West with 1:53 to play in the third.
An illegal participation penal­ty and a sack doomed Massillon's next drive and the Eagles took over at their own 37 following a punt. Two illegal pro­cedure penalties moved the visi­tors back to their 27, but on first‑and‑20, Soares hit into the middle of the Massillon line and came free. The 6‑foot‑1, 199 ­pound.senior turned on the jets and outran the Tigers defense for a 63‑yard touchdown that seemed to seal the outcome with 9:32 to play.
Massillon moved to the Clovis 33 on its next possession, but consecutive penalties ended the threat.
The Tigers last gasp came when Clovis snapped the ball out of its end zone on a punt for a Tiger safety with 4:06 left. But on Massillon's first play after the Eagles' free kick, the Tigers took an 11‑yard sack to turn out the lights.
"We had a couple holding penalties and the procedure penalties are frustrating," said Shepas. "Those came from our wide receivers, not our interior lineman. It changes the play call when you go from second‑and­-six to second‑and‑11. The play call you send in has to change."
"But we have to continue to believe in what we're building here. We're a football program that's only four months old. I think we improved again. The thing is we're still in an infancy state on offense and we may have to simplify more and more."
Cleveland certainly did his part in the opener. The 5‑9, 186-­pound senior toted the football 19 times for 97 yards, impress­ing Shepas along the way.
"Marc Cleveland pours his heart and soul into the football game," Shepas said.
CLOVIS WEST 21
MASSILLON 9
C M
First downs rushing 11 8
First downs passing 0 8
First downs by penalty 0 0
TOTAL first downs 11 16
Net yards rushing 237 88
Net yards passing 0 158
TOTAL yards 237 246
Passes attempted 7 27
Passes completed 0 13
Passes intercepted 0 2
Punts 5 9
Punting average 26.2 40.3
Fumbles/Lost 2/1 1/0
Penalties 3 10
Yards penalized 15 80
CLOVIS 0 0 14 7 21
MASSILLON 7 0 0 2 9
SCORING
M ‑ Dorsey 28 pass from Fichter (Marshall kick)
C ‑ Scares 36 run (Potteroff kick)
C ‑ Gonzales 43‑yard interception return (Potteroff kick)
C ‑ Scares 72 run (Potteroff kick)
M ‑ Safety, Clovis snap rolls out of end zone
INDIVIDUAL STATISTICS
Massillon rushing:
Cleveland 19‑97,
Miller 7‑33,
Radich 5‑9,
Burrigarner 2‑8.
Clovis rushing:
Scares 14‑162,
Chayly 2-26.
Massillon passing:
Fichter 8‑18‑2 107,
Eyerman 5‑9‑0 51.
Clovis passing:
Elbert 0‑7‑0 0.
Massillon receiving:
Dorsey 7‑104,
Clemens 1‑19,
Simpson 1‑17,
Buckosh 1‑11.