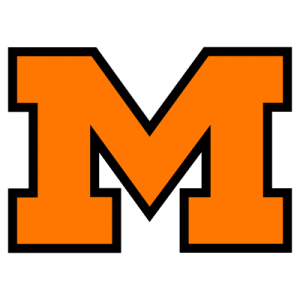 Tigers win isn't pretty
By JOE SHAHEEN
Independent Sports Editor
If the Massillon Tigers were trying to keep the McKinley Bulldogs in the dark for next week's annual season‑ending showdown, they did a good job of it with a lackluster 10‑3 victory over Akron St. Vincent‑St. Mary, in a light drizzle Friday night at Paul Brown Tiger Stadium.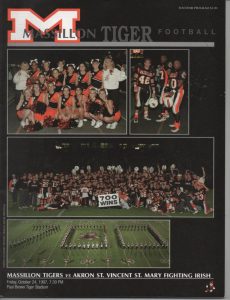 The Tigers, coming off last week's disappointment at Cincinnati Moeller, struggled all night long and trailed 3-0 at halftime. They lost three of four fumbles and had seven penalties for 55 yards, negating 336 yards of total offense.
"As good as we played last week offensively, we played just that poorly tonight," said Tigers coach Jack Rose. "I was concerned about a letdown from last week. It's a tough week to coach here, with McKinley up next. And St. Vincent‑St. Mary seems to always give us fits."
Part of the reason for the Tigers troubles was a fired up Fighting Irish team that was playing for its playoff life. The St. V defense was stout all night long and the offense kept Massillon off balance enough to hold a nearly four minute time of possession advantage the first half.
"Our kids are tough kids," said Irish first year coach Jim Meyer. "They work hard and they're in great shape.
"But the better team won. We couldn't make big plays when we needed it. Massillon is a great team. Give them credit."
The Tigers, 7‑2 on the season, won it with a 10-play march on the opening possession of the second half. Christian Morgan carried the ball on five of those snaps, ripping off a 17 yard gain over left tackle that moved the ball to the Irish 12 yard line. Two plays later, junior Marc Cleveland took an option pitch from quarterback Tip Danzy and outsprinted the visitors' defense to the right corner of the end zone for the only touch of the game.
Josh Hose drilled the point after conversion kick and Massillon led for the first time 7‑3 at 7:34 of the third period.
Actually, the Tigers most impressive drive of the night was on its final possession and began at the 7:12 mark of the fourth period at the Massillon 12.
On the fourth play of the march, Massillon faced a third down and 11 situation at its own 22, too deep in Tiger territory to pass the football. So Danzy gave, the ball to, Morgan who willed his way to a 15‑yard gain, a first down and across the 1,000‑yard season rushing barrier.
The senior tailback came out of the game at that point, having aggravated a hip pointer he suffered last week.
"Christian made some runs tonight where he didn't have any help at all," observed Rose. "On the one he got injured, I think he ran through their whole team. it was a terrific effort. He picked it up as the game went on. I think both of our backs did."
Morgan admitted the 1,000-yard plateau has special meaning, especially the second time around.
"I think a lot of people thought I wasn't going to get it this year, so I had to prove them wrong," Morgan said.
Meyer also took time to tip his hat to Morgan, who carried the ball 30 times for 167 yards.
"We thought the guy who did a good job was the tailback," Meyer said. "He was awesome."
After Morgan left the game, Danzy hooked up with tight end Seth Venables (4 receptions, 54 yards) for a 20 yard gain to the St. V 43.
"When the running game is going that well, you key on it and something else comes open," observed Meyer. "In this case it was their tight end."
Two plays later, Dave Hodgson tore off a 20 yard gain on a draw play, then added 15 more on the very next snap to set up Massillon with first and goal from the 5‑yard line.
But the Irish defense stiffened, and three plays later, Hose kicked a field goal to close the scoring with 1:23 left to play.
St. V had one more shot, but the Tigers defense pressured quarterback Ross Marconi all over the field and the possession went nowhere.
In fact, Josh Hill was in the Irish backfield throughout the contest, making Marconi's night very unpleasant.
"I like going after the quarterback," Hill said. "That's the best part about playing outside linebacker, going after the quarterback. So I had a lot of fun tonight."
"He's a great player," Rose said of Hill. "He's played that way all year. He's a great pass rusher and his speed lets him run down plays from behind."
Hill then turned his attention toward next week's showdown with McKinley.
"We're ready for them," Hill said. "They rained on our parade last year so it's our turn this time."
Morgan agreed. "We just got to pull it together for this final week," he said.
MASSILLON 10
ST. V‑St. M 3
M S
First downs rushing 14 1
First downs passing 5 4
First downs by penalty 0 1
TOTAL first downs 19 6
Net yards rushing 264 13
Net yards passing 68 103
TOTAL yards 332 116
Passes attempted 10 23
Passes completed 5 9
Passes intercepted 0 0
Punts 3 8
Punting average 40.3 27.6
Fumbles/Lost 4/3 1/0
Penalties 7 3
Yards penalized 55 15
MASSILLON 0 0 7 3 10
ST. V‑ST. M 3 0 0 0 3
S ‑ Williamson 23 field goal
M ‑ Cleveland 8 run (Hose kick)
M ‑ Hose 24 field goal
INDIVIDUAL STATISTICS
Massillon rushing:
Morgan 30‑167,
Hodgson 12‑70,
Danzy 10‑14,
Cleveland 1‑8,
Miller 3‑5.
St. V rushing:
Skipper 12‑39
Massillon passing:
Danzy 5‑10‑68
St, V passing:
Marconi 9‑23‑103
Massillon receiving:
Venables 4‑54
St. V receiving:
Irvin 4‑43,
Alvarado 1‑26,
Ja. Walter 1‑14,
Hlivko 1‑8,
Skipper 1‑5,
Jo. Walter 1-7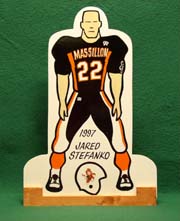 Jared Stefanko