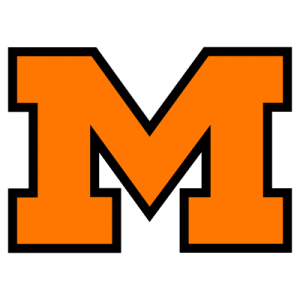 Tigers falter in 4th
By JOE SHAHEEN
Independent Sports Editor
Afterward, Moeller coach Steve Klonne talked like some who had dodged a bullet, while Massillon's Jack Rose had the look of someone who'd stopped one.
Moeller had just rallied from a seemingly insurmountable 24-­7 fourth quarter Massillon lead to hand the Tigers a devastating 28‑24 set back at Nippert Stadium in Cincinnati, Saturday. The Crusaders lingered on the field for a half hour following the game, reveling in their victory.
The Tigers sat stunned in their locker room, physically and emotionally spent from the drastic turn of events that saw them on the verge of upsetting the state's No. 3 ranked Divi­sion 1 squad only to see the game and a strong shot at the playoffs slip away.
The turning point, in Klonne's eyes, came when his offense went to a three wide receiver, set and spread out the Massillon defense.
"We're down 24‑7 and things aren't looking very good," Klonne said. "We got in trips and the two‑minute offense right away. The game came down to trips and our running backs running the football a little bit. We were fortunate to complete some passes and get into the end zone."
From Rose's perspective, the Tigers lost the game much ear­lier, when they failed to capital­ize on scoring opportunities in the first three quarters.
"We had our chances to blow the game wide open," he said. "But those dropped balls … ."
"When you play a team like that you don't feel comfortable with a 17‑point lead even in the fourth quarter because they have the ability to make the big play. The difference in the game was … except for one pass play where we make the big play, they have two or three plays that they make big plays out of and we didn't."
Massillon trailed 7‑6 at half­time, thanks to a 21‑yard Ryan Cooper to Casey Clark pass early in the second quarter. The Tigers came within a missed extra point of tying the score when Christian Morgan capped off a five‑play, 80‑yard drive by sweeping right into the end zone from three yards out with eight minutes until the band show. Two 25‑yard Tip Danzy to Dave Hodgson pass plays set up the score.
But the Tigers could have owned a one or two touchdown advantage at that point, if not for eight penalties (five for ille­gal procedure) and a couple dropped passes deep in Moeller territory.
"At halftime, I told the guys 'Catch the hall. Just catch the football,"' Rose said. "We had played good defense except for the one pass play they popped on us.
Massillon owned the third quarter, as Morgan steamed 80 yards for a touchdown on the first play from scrimmage after taking a pitch from Danzy around his left end. Danzy scored the two‑point conversion and the Tigers led 14‑7 before the fans had settled back into their seats.
The Tigers marched 80 yards in 11 plays on their second pos­session of the half, keyed by two long Hodgson runs on draw plays. Danzy put the fin­ishing touches on the drive when he lofted a perfectly thrown 28‑yard pass into the right corner of the end zone that Tyrie Clifford snagged for a touchdown with 1:38 left in the third period. Hose hit the PAT and it was 21‑7 Tigers.
Hose extended the lead to 24-­7 when he split the uprights with a 36‑yard field goal at 9:11 of the fourth quarter, but the lead began to crumble on Moeller's next possession.
After Hose's deep kickoff pinned the Crusaders at their 6‑yard line, the hosts went to a three wide receiver set. Moeller gained a first down on a Cooper scramble to the 23. From there, the senior quarter­back hit 210‑pound tailback Grant Crosthwaite with a swing pass on the right sideline and he did the rest, breaking two tackles and sprinting 77 yards to paydirt.
Tom Pucke's conversion kick made it 24‑14 at 8:30 of the fourth.
"They had the long end of the field," Rose observed. "They throw it to their back and we have him pinned on the side­line. But our DB doesn't follow through with the tackle and knock him out of bounds. He bumps him. You can't do stuff like that against a team like Moeller. It will get you beat every time."
Moeller got the ball back with 5:32 to play after a Massil­lon punt rolled dead at the 3. But Cooper hit Brad Murphy for 57‑yards on the second play of the series then found Clark for 13 more on the next snap to move the hall to the Tiger 27-­yard line. Six plays later, Crosthwaite found a gaping hole over right guard and scored from three yards out to make it a 24‑21 game at the 3:21 mark.
Then came the back breaker as Pucke executed the onside kick to perfection with the Cru­saders recovering the ball at the Massillon 30. Four running plays later, Chris Wiet­marschen went in from the 5 and the Tigers were history.
"Our kids were spent on defense," Rose said. "We don't have a lot of depth and we were rushing Cooper and chasing him around all night.
"We left our defense on the field the fourth quarter."
Klonne tipped his hat to the Massillon defense afterward.
"We could not run the ball at all against Massillon," he said. "Their front is physical and fast. They play some great defense.
"Our guys are cardiac arrest every week. But somehow they find a way to win."
MOELLER 28
MASSILLON 24
Mo Ma
First downs rushing 9 9
First downs passing 9 6
First downs by penalty 0 1
TOTAL first downs 18 16
Net yards rushing 141 193
Net yards passing 291 150
TOTAL yards 432 343
Passes attempted 17 24
Passes completed 12 8
Passes intercepted 0 0
Punts 4 5
Punting average 39.8 36.6
Fumbles/Lost 2/2 3/1
Penalties 2 11
Yards penalized 22 73
MOELLER 0 7 0 21 28
MASSILLON 0 6 15 3 24
SCORING
Mo ‑ Clark 21 pass from Cooper (Pucke kick)
Ma ‑ Morgan 3 run (Kick failed)
Ma ‑ Morgan 80 run (Danzy run)
Ma ‑ Clifford 28 pass from Danzy (Hose kick)
Ma ‑ Hose 36 field goal
Mo ‑ Crosthwaite 77 Pass from Cooper (Pucke kick)
Mo ‑ Crosthwaite 2 run (Pucke kick)
Mo ‑ Wietmarschen 4 run (Pucke kick)
INDIVIDUAL STATISTICS
Massillon rushing:
Hodgson 16‑121,
Mor­gan 6‑118,
Danzy 6‑4.
Moeller rushing:
Crosthwaite 15‑71,
Cooper 22‑78,
Wietmarschen 6‑20.
Massillon passing:
Danzy 8‑24‑150 1TD
Moeller passing:
Cooper 12‑17‑291 2 TDs.
Massillon receiving:
Clifford 3‑55,
Hodgson 2-49,
James 2‑36,
Venables 1‑10.
Moeller receiving:
Murphy 4‑119,
Crosth­waite 3‑93,
Clark 3‑38,
Brandt 1‑29,
Ryan 1‑
Moeller storms back
to beat Massillon 28-24
Crusaders score
three touchdowns
in final 8:30
By CAREY HOFFMAN
Enquirer contributor
Moeller scored three touch­downs in the final 8:30 to come from behind and score a 28‑24 victory over Massillon Saturday night at Nippert Stadium.
Moeller's winning touchdown was set up by an onside kick with 3:29 left in the game that the Crusaders' Matt Edwards recovered at the Massillon 30. Five rushing plays later, Chris Wietmar­schen scored on a five‑yard run to give Moeller its first lead since halftime.
Massillon had one final chance beginning at its own 34 with 1:23 left in the game. The Tigers faced a fourth‑and‑15 at their own 29, but a sack by Moeller's Joe Schulte ended the threat.
Moeller had cut the lead to 24‑20 when Grant Crosthwaite scored on a 77‑yard pass reception with 8:30 to play, then followed with a two‑yard run with 3:29 left.
A crowd announced at 5,074 watched as two of the state's greatest traditions met in game filled with playoff implications. Moeller (7‑1) came into the game ranked No. 3 in Ohio Division 1, while Massillon (6‑2) was ranked No. 16.
After Moeller held a 7‑6 half­time lead, Massillon stunned Moel­ler on the opening play of the second half. Tailback Christian Morgan, who had been held to 13 yards on seven carries in the first half, took a pitch left, cut back into the middle and went 80 yards for a go‑ahead score. Quarterback Tip Danzy's two‑point run put Massil­lon ahead 14‑7.
Massillon put Moeller in a two‑touchdown hole late in the third quarter after a long Moeller drive resulted in a missed field goal. Starting at its own 20, Massillon took 11 plays to move downfield.
The touchdown came on fourth­-and‑14 from the Moeller 29. A Moeller blitzer came through clean on Danzy, but just before he made the hit, Danzy launched a high‑arc­ing pass towards the corner of the end zone. Massillon's fastest play­er, wideout Tyrie Clifford, ran un­der the ball and made the catch, putting Massillon ahead, 21‑7.
After Moeller turned the ball over on downs in its own half of the field early in the fourth quarter, Massillon added to its lead, moving to a 24‑7 edge on Josh Hose's 36‑yard field goal.
Moeller finally got back on the scoreboard when quarterback Ryan Cooper found Crosthwaite on a dump pass on the sideline and Crosthwaite danced around a pair of defenders, then went 77 yards for a TD. That cut the Massillon lead to 24‑14 with 8:30 to play.
Both teams turned to the air to find offense – and points – in the first half.
Moeller struck first at the 9:46 mark of the second quarter, when Cooper hit receiver Casey Clark on a short curl‑in pattern and Clark weaved through traffic into the end zone for a 21‑yard TD that put Moeller up 7‑0.
Moeller had only eight yards offense prior to the drive. The drive's key play was Moeller's first completed pass of the night, a 48‑yarder from Cooper to Brad Murphy to the Massillon 33‑yard line.
Massillon 0 6 15 3 24
Moeller 7 0 0 21 21
Moe ‑ Clark 21 pass from Cooper (Pucke kick)
Mas ‑ Morgan 3 run (Kick wide)
Mas ‑ Morgan 80 run (Danzy run)
Mas ‑ Clifford 29 pass from Danzy (Hose kick)
Mas ‑ Hose 36 FG
Moe ‑ Crosthwaite 17 pass from Cooper (Pucke kick)
Moe ‑ Crosthwaite 77 run (Pucke kick)
Moe ‑ Wietmarschen 5 run (Pucke kick)
Records Mas 6-2, Moe 7-1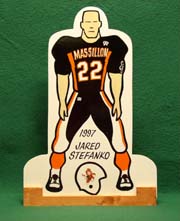 Jared Stefanko