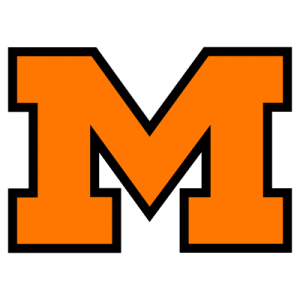 Tigers put it together vs. Walsh
By JOE SHAHEEN
Independent Sports Editor,
All week long, Jack Rose said it was time for the Massillon Tigers to put it all together; that they needed solid performances in all three phases of the game, offense, defense and special teams to beat Walsh Jesuit.
Rose got exactly that from Ohio's No. 1 ranked Division I team as the Tigers laid a 34‑10 shiner on the Warriors, in front of 12,811 fans at Paul Brown Ti­ger Stadium, Friday.
The Massillon offense racked up 340 total yards, including 309 on the ground and a 6.4 yards per rush average.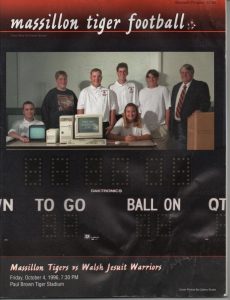 The Massillon defense blank­ed Walsh in the second half, coming up with three interceptions and surrendering less than 60 yards to the Warriors after the band show.
The Massillon special teams produced a blocked punt that was turned into a Tigers' touch­down and served as the final nail in the visitors' coffin.
At the end, Walsh Jesuit head coach Gerry Rardin was im­pressed.
"I'll tell you what," Rardin exclaimed, "they are a great football team. They are ex­tremely physical, they're big, and they have great skill players."
Once again, Christian Mor­gan was too much to handle. Massillon's junior tailback rushed 23 times for 142 yards and three touchdowns.
"Morgan's a great back and he has a powerful, quick line up in front of him, too," Rardin said.
Rose agreed.
"Christian's a big‑timer," Rose said. "He can play. He's a very good back."
Morgan was hardly a one ­man show on offense. Once again, fullback Jared Stefanko kept the defense from keying on his backfield mate, gaining 55 yards on just four carries. Eli­jah Blake came off the bench to rush for 59 yards on just three totes.
Throughout the week, Rose was confident the Tigers would prevail, despite the fact they struggled the week before at Austintown Fitch and were going against the No. 7 ranked team in Division III.
"I thought our offensive line could move them off the ball," he explained. "I felt very confi­dent we could do that."
Walsh drew first blood, mar­ching from its 20 to the Tigers 13, before the defense stiffened. The Warriors broke on top 3‑0 when Jeff Endress hit a 30‑yard field goal with 8:18 left in the opening period.
Massillon came right back, as Morgan broke off a 44‑yard run on the Tigers first play from scrimmage. Stefanko gained nine more on the second play and Massillon was in business at the Walsh 22. Three snaps later,, Morgan found a hole between­ right guard and tackle for a two yard touchdown. Josh Hose hit the PAT and Massillon led 7‑3 with just over two minutes to play in the first.
The Tigers turned the ball over on a fumble deep in Massil­lon territory on their second possession. Walsh struck quick­ly as quarterback Chris De­nholm hit Brian Willmott on a sideline pattern at the Massil­lon 1. Jon Subity powered in from there and the extra point made it Walsh 10, Massillon 7 with just 17 seconds elapsed in the second period.
Massillon appeared ready to strike back, driving from its 33 to the Walsh 6 on seven plays, highlighted by Stefanko's 34-­yard bolt over right guard and tackle. But the Warriors' de­fense stiffened and a 23‑yard field goal attempt hit the right upright and bounced back.
The game turned on the War­riors' next possession. They moved the ball from their 20 to the Massillon 40, but the Tiger defense forced a punt. Walsh's Tom Lopienski, trying to angle ­for the right sideline, shanked the ball badly. It sliced out of bounds at the Tiger 38, a punt of just two yards.
Ben Hymes zeroed in on De­vin Williams for 15 yards on first down to cross mid field. Three plays later, Walsh was flagged for unsportsmanlike conduct to move it to the War­riors' 21. Morgan did the rest, finding a huge cavity over right guard, breaking to the sideline and sprinting into the end zone for the touchdown with only 1:08 left in the half. Hose's kick made it 14‑10 and Walsh never recovered.
"Those two events really swung the momentum and you don't want that to happen against a team as good as Mas­sillon," Rardin said.
Following the second half kickoff, Massillon marched 59 yards in nine plays to build on ­the momentum swing it achieved just before halftime. Morgan carried on seven of those plays, including the final four. He scored on a two‑yard plunge off right guard with 9:07 left in the third. Hose converted to make it a 21‑10 game.
It appeared Walsh was going to retaliate. The Warriors, moved from their 21 to the 39 on four plays. But on second and five from that mark, Denholm tried to pass the ball over the middle. Tigers' safety Josh Kreider stepped in for the interception at the 41.
The Tigers offense struggled on their next two possessions, both of which ended with punts. Walsh Jesuit did not fare any better, Punting away the ball once. The second time the War­riors weren't as fortunate. On fourth‑and‑21 from their own six, Lopienski's punt was blocked by Tigers linebacker Josh Hill. Dusty Limbach corralled the bouncing ball in the end zone for six points. Hose's PAT made it 27‑10 with less than 10 minutes to play.
Massillon closed the scoring on its next Possession. Blake bolted 50 yards up the middle, finally being dragged down at the one‑yard line. The speedy senior tailback found paydirt on the next play. Hose tacked on the conversion kick at 6:49 of the fourth quarter.
Kreider credited the defen­sive line with his two picks.
"The defensive line just had a tenacious pass rush tonight and the DBs were on their receivers like flies on you‑know‑what," Kreider said. "We just wanted to find a way to get the offense back on the field.
"We knew Walsh was going to come to play and to challenge us. So we came out to play as well as we could. Even though we've been having a few in­juries in the defensive back­field, we are pulling together each week and doing the best we can until we get everybody back."
Hill, who followed a two‑sack game against Austintown Fitch, with a sack and that blocked punt, says the Tigers are sending a message.
MASSILLON 34
WALSH 10
M W
First downs rushing 13 5
First downs passing 2 5
First downs penalty 4 1
Total first downs 19 11
Net yards rushing 309 102
Net yards passing 31 95
Total yards gained 340 197
Passes attempted 8 20
Passes completed 3 7
Passes int. 0 3
Times kicked off 6 3
Kickoff average 47.2 38.3
Kickoff return yards 36 105
Punts 2 5
Punting average 38.0 20.8
Punt return yards 12 6
Fumbles 2 0
Fumbles lost 2 0
Penalties 4 9
Yards penalized 36 82
Number of plays 57 55
Time of possession 24:10 23:50
Attendance 12,816
WALSH 3 7 0 0 10
MASSILLON 7 7 7 13 34
SCORING SUMMARY
First Quarter
WAL ‑ Endress 30 FG
MASS ‑ Morgan 2 run (Hose kick)
Second Quarter
WAL ‑ Subity 1 run (Endress kick)
MASS ‑ Morgan 21 run (Hose kick)
Third Quarter
MASS ‑ Morgan 2 run (Hose kick)
Fourth Quarter
MASS ‑ Limbach fell on blocked punt in end zone (kick fail)
MASS ‑ Blake 1 run (Hose kick)
FINAL STATISTICS
Rushing:
Massillon
Morgan 23‑142.3 TDs;
Blake 3‑59;
Stefanko, 4‑55;
Hodgson 5‑19;
Brad­ley 6‑13;
Danzy 3‑10;
Hymes 3‑17;
Autrey 1‑4.
Walsh
Lopienski 17‑100;
Subity 8‑16, 1 TD
Passing:
Massillon
Hymes 3‑8‑31
Walsh
Denholm 7‑20‑95‑3.
Receiving:
Massillon
Williams 2‑31,
Morgan 1‑0.
Walsh
Willmott 4‑60, Powers 2‑27,
Subity 1‑8.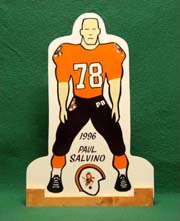 Paul Salvino