Walsh Jesuit gains its revenge
No. 1 ranked Warriors hand Tigers 34‑7 defeat
By JOE SHAHEEN
Independent Sports Editor
The post‑game team huddles told the story.
Walsh Jesuit coach Gerry Rardin was talking about taking it one week at a time while reminding his Warriors they are only half way home to their goal of a state championship
.
At the other end of the field, Massillon coach Rick Shepas was talking about focus and team and staying the course.
Final score Friday night in front of 9,266 fans at Paul Brown Tiger Stadium: Walsh Jesuit 34, Massillon 7.
It wasn't closer than the score­board indicated, either.
Walsh Jesuit, now 7‑0 and a good bet to retain its No. 1 rank­ing in the Division III poll, amassed 534 yards of total offense, 355 in the first half alone. Massillon managed but 100 yards of offense all night
.
The Warriors had the football for 31:37. The Tigers time of possession was about half of that – 16:23.
The visitors piled up 24 first downs to the hosts '7 first downs.
Walsh Jesuit scored on its first two possessions of the game, while Massillon's first two series of downs netted 10 yards total.
Warriors quarterback Dan Larlham rushed for 103 yards in just 11 carries and passed for 180 yards and two touchdowns.
A year ago, Larlham was at the helm of a Warriors team that endured a 27‑14 Tiger victory. That made Friday night's win that much better.
"We want everybody to know what we can do," Larlham said afterward. "We want everybody around to know this is what we're about … right here.
"Tonight we wanted to make sure we got on the board early and that we stayed after them in the second half after we got our Iead.
Rardin agreed the Warriors two quick scores set the tone and kept the Tigers from mounting
an upset bid.
"It was fortunate we jumped out quickly," Rardin ‑said‑ "Had we not done that, I think it would've been a lot tighter. But we got a couple of quick ones and it seemed to help us."
"We've come down here and played some really fine games. Last year we came down here and didn't play very well, so this one feels really good. Our kids played a good game and we get out with a victory. We've come down here and played well before and just ended up on the short end. So it is a good feeling."
Shepas was left searching for answers after the game, He was calm but obviously none‑too-­happy with his team's third lopsided loss in four games.
"The bottom line is real sim­ple," he said. "I'm going to come in here and do a good job for these kids. I'm going to start (Saturday) morning when we break down film. That's basical­ly what I had to tell them after the game.
"I feel like I can be more effective with them in getting things across. It's got to start with me. Everyone is disappoint­ed. Not too many people are happy. But I've got to take a look at what I'm doing in regard to getting some things across to this football team. I've got to start with myself. We have to keep teaching and keep going."
Shepas acknowledged the los­ing is having an effect on the confidence of his charges.
They feel the pulse of a lot of things around here and there are a lot of things that distract them mentally " Shepas said. "I feel to be effective I have to get the focus of this football team and I don't believe I have that captive of an audience yet. I'm working on that but they hear so many things. And then if things don't go well, they hear more things.
"This is a team game, a self­less game. It's not a selfish I have a good idea of what I need to do here. I'm going to work hard to keep implementing that plan. I'm going to keep my focus and that's the way it's going to go."
Walsh opened the game with a 35‑yard pass play that moved the football from the Warriors' 36 to the Tigers 29. Two plays later, on third‑and‑10, Larlham hit diminutive tailback Mike Marotto with a pass along the left sideline. Marotto snared the ball at the 10 and jaunted untouched into the end zone. Jeff Andrea drilled the PAT and the Warriors led 7‑0 less than two minutes into the game.
Massillon's first possession was doomed when quarterback Steve Eyerman was sacked by
.four Warriors on a second‑and-­10 play from the Tiger 26. Two snaps later Luke Shilling punted.
Walsh took over at midfield and moved the ball methodically toward the Massillon goal line. Fullback Dan Basch gained 24 yards in two carries, Marotto added eight and Larlham carried for six to set up first‑and‑goal from the Massillon 8. Larlham dropped back to pass, stood in the pocket as the pressure arrived and fired at the last possible moment. Tight end Bryan Biegie caught the ball at the 2 and fought his way into the end zone for the score. Andrea was true with the conversion kick and the Warriors led 14‑0 at the 6:45 mark of the first quartet.
Tigers senior Julian Miller electrified the home crowd with a stunning 80 yard kickoff return that began at the Massillon 10 and ended at the Walsh 10. Miller made two fine cuts, one at his own 35 and another near midfield that left the Warriors clutching thin air.
From the 10, the Tigers ran twice up the middle for no gain and threw an incompletion on third down. A field goal try was wide left and the momentum Miller had provided disappeared like the autumn leaves on a windy day.
Walsh put together a drive of seven plays covering 77 yards for its third score of the evening. Larlham hit wideout Aaron Moll with a 9‑yard touchdown pass but the big play of the march was a 44‑yard dash around left end by Marotto who finished with 192 yards on 22 carries.
Shilling's 67‑yard punt set the Tigers up with good field posi­tion late in the first half. Massillon, taking over at the Warriors 44, got a 14‑yard Eyerman to Marc Cleveland completion on the first snap of the series. Then Cleveland picked up seven yards on a draw play and nine more on a sweep round right end to move the all to the visitors' 11. On second‑and‑one, the senior tailback took the football on the draw play and juked his way to pay­dirt.
Brett Marshall converted the PAT kick and the Tigers hall time deficit was 21‑7.
Massillon got the second half kickoff and a grabbing the face­mask penalty against Walsh helped the Tigers move to the Warrior 40. But the drive stalled.
In fact, the Tigers were able to generate just 25 net yards of offense the second half as Walsh did what Glen Mills had the week before ‑ dominate at the line of scrimmage.
The good news for the Tigers? Only five penalties and just one turnover. But it wasn't enough to avoid their fourth loss in seven starts.
"Massillon is going through a rough time but I've always had a lot of respect for the community down here and I'm sure they're going to continue to support these kids," commented Rardin. "The one thing that looked a lit­tle bit different is the past Massillon teams have the big play guy, the one kid who is going to bust it. They don't have that this year, the one kid who can get them over the hump.
WALSH JESUIT 34
MASSILLON 7
M W
First downs rushing 4 15
First downs passing 2 8
First downs by penalty 1 1
TOTAL first downs 7 24
Net yards rushing 66 354
Net yards passing 34 180
TOTAL yards 100 534
Passes attempted 23 17
Passes completed 4 10
Passes intercepted 1 2
Punts 9 4
Punting average 41.4 38.5
Fumbles/Lost 0/0 0/0
Penalties 5 6
Yards penalized 59 61
WALSH 14 07 00 13 34
MASSILLON 00 07 00 00 07
SCORING
W ‑ Marotto 29 pass from Larlham (Andrea kick)
W ‑ Biegie 7 pass from Larlham (Andrea kick)
W ‑ Moll 9 run (Andrea kick)
M ‑ Cleveland 1 1 run (Marshall kick)
W ‑ Marotto 62 run (Andrea kick)
W ‑ Marotto 9 run (Kick failed)
INDIVIDUAL STATISTICS
Massillon rushing:
Cleveland 7‑31,
Miller 6-­19,
Stanke 1‑15,
Lynn 1‑3.
Walsh rushing:
Marotto 22‑192,
Larlham 11‑103,
Basch 9‑34.
Massillon passing:
Eyerman 4‑22‑34 1 INT.
Walsh passing:
Larlham 10‑17‑180 2 1NT, 2 TDs.
Massillon receiving:
Allman 2‑6,
Buckosh 1-­14,
Cleveland 1‑14.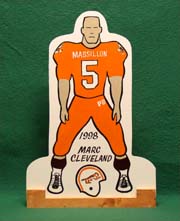 Marc Cleveland