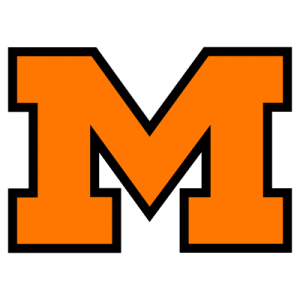 Tigers maul Madison in opener
By JOE SHAHEEN
Independent Sports Editor
The Massillon Tigers mar­ched 68 yards on 10 plays on their first possession of 1996, scoring a touchdown when a Mansfield Madison defender bobbled a sure interception and the ball fell into the hands of Ti­gers' wideout Devin Williams.
It was that kind of night for Massillon, which rolled past a veteran Madison squad 33‑6 in front of 12,131 at Paul Brown Ti­ger Stadium, Friday.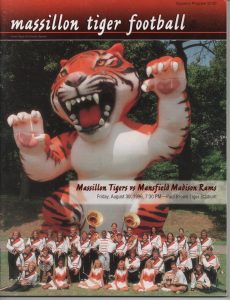 The Tigers unveiled their new dropback passing attack against a Madison defense that had eight returning starters from an 8‑2 1995 campaign. Massillon quarterback Ben Hymes hit on 11 of 16 passes for 102 yards and two touchdowns. Just as important, the senior was not intercepted all night long and contributed a 30‑yard run to the goal line in his first career start.
But the play that set the tone culminated the initial drive of the season. On second and nine from the Madison 10, Hymes rolled right and threw to Brian Baer in the end zone. Rams safety Kevin Stamper stepped in and appeared to have a drive ­killing pickoff. However, the ball bounced out of his grasp and into Williams arms for the score.
Josh Hose drilled the conver­sion kick and Massillon was out 7‑0 at the 7:07 mark of the first quarter.
"We went right into coverage on that play," pointed out Ti­gers coach Jack Rose. "Their free safety jumped the play and we didn't see him. We were for­tunate, but Devin Williams has a way of doing things like that, you know. He always finds those tipped balls."
Hymes made no bones about the fact he was lucky to avoid the interception.
"He was open in the end zone and I threw it a little behind him," Hymes recalled. "But my guys worked hard and helped me out a little bit."
Williams admitted he was fortunate to be where the ball bounced.
"I saw it bobbling in his hands," Williams said. "I was in the right place at the right time and it fell in my hands. Part of that is luck, part of it is instinct and knowing where the ball is going to be at on that play."
Madison crossed midfield on its initial possession of the even­ing, but a big hit by Tigers de­fensive back Henry McElroy on a third down completion stop­ped the Rams drive.
Madison earned one first down on its next drive but went three and out on the third pos­session of the evening. At that point the Tigers offense again got untracked. Elijah Blake ground out a first down at the Mansfield 42. Two plays later, with Hymes on the sideline be­cause of an open, scrape, Tip Danzy executed the option keeper around right end. He cut back at the Rams 30 and jitter ­bugged his way to the 12. A face­mask penalty moved the ball to the 8. On second and goal, Hymes found fullback Chris Au­trey with a soft toss in the end zone and Massillon led 13‑0 with 3:35 until halftime.
The Tigers defense continued to stifle Madison's flex bone attack, holding the visitors to three first half first downs and 56 total yards.
"The defense really played well," Rose said. "We can really snap to the ball this year. We're a much faster team and that's going to help us."
But the Massillon mentor was worried at halftime.
"We're up 13‑0 at halftime, but we had run 31 plays and only had 13 points to show for it, so I was a little concerned," Rose said. "I told the offense they we­ren't playing a real good tempo. There was no sense of urgency. The defense played with a sense of urgency. But overall, we made plays when we had to."
If the first touchdown of the night set the tempo, the de­velopments just after the band show sealed the visitors' fate. On the first play from scrim­mage in the third quarter, Madison quarterback Justin Larrick lost the handle on the football and Massillon's Eric Lightfoot recovered at the Rams 19.
A holding penalty on the Ti­gers first snap moved the ball back to the 31, but Hymes found daylight around left end on the option keeper, before going down at the one. Raphel Brad­ley bucked in from there and it was 19‑0 with just 29 seconds elapsed in the second half.
Hymes hit a Tiger in the Mas­sillon end zone on the next pos­session, but was victimized by a drop or the orange and black would've broken the game wide open midway through the third.
Madison finally got its offense untracked late in the third quar­ter, marching 53 yards in eight plays. Larick hit Stamper on a seven‑yard scoring toss with just :41 remaining in the quar­ter to make it a 19‑6 game after three.
Massillon did not allow its guests to keep the momentum, however. On third and two from the Tigers 47 on the ensuing pos­session, Bradley found a gap up the middle, hurdled a Madison defender at the Rams 48 and sprinted untouched the rest of the way into the end zone. Hymes ran in the two‑point con­version and Massillon held a commanding 27‑6 lead with just under 11 minutes to play.
The locals closed the scoring when sophomore defensive tackle Gordon Biggums scooped up a Madison fumble and rumbled 51 yards to the Rams 9. Two plays later, Brad­ley dove into the end zone from a yard out at the 7:39 mark of the fourth.
Madison coach Dana Woodr­ing was matter of fact about the outcome.
"You have an opportunity to stop them down there deep and give your offense a chance to get going on the first drive of the game and they come away with a touchdown," he said. "Then we didn't start the second half off very good.
"The Tigers are a very good football team. We're not going to take that away from them. They were the better team. They did the things they do well. They ran the off tackle very well. They have quick kids at the receiver spot. We had a lot of trouble manning up with them."
MASSILLON 39
MADISON 6
MASS MAD
First downs rushing 9 7
First downs passing 5 5
First downs penalty 0 0
Total first downs 14 12
Net yards rushing 176 139
Net yards passing 102 111
Total yards gained 278 250
Passes attempted 16 21
Passes completed 11 11
Passes int. 0 0
Times kicked off 6 2
Kickoff average 53.7 42.5
Kickoff return yards 26 80
Punts 4 6
Punting average 37.8 32.3
Punt return yards 41 0
Fumbles 4 4
Fumbles lost 1 3
Penalties 4 2
Yards penalized 32 14
Number of plays 56 54
Time of possession 26:06 21:54
Attendance 12,131
MADISON 7 6 6 14 33
MASSILLON 0 0 6 0 6
SCORING SUMMARY
First Quarter
MASS ‑ Williams 9 pass from Hymes (Hose kick)
Second Quarter
MASS ‑ Autrey 6 pass from Hymes (kick failed)
Third Quarter
MASS ‑ Bradley 1 run (run failed)
MAD ‑ Stamper 7 pass from Larrick (run failed)
Fourth Quarter
MASS ‑ Blake 52 run (Hymes run)
MASS ‑ Bradley 1 run (kick failed)
FINAL STATISTICS
Rushing:
Massillon
Blake 8‑106, 1 TD;
Danzy 2‑27;
Hymes 15‑26;
Bradley 9‑22,2 TDs;
Chapman 3‑6;
Childs 1 ‑1.
Madison
Lantz 13-­59;
Deel 6‑25;
Larrick 6‑23;
Kilgore 3‑22.
Passing:
Massillon
Hymes 11‑16‑102, 2 TDs;
Madison
Larrick 11‑21‑111, 1 TD.
Receiving:
Massillon
Williams 4‑30, 1 TD;
Baer 4‑30;
Martin 2‑46;
Autrey 1‑6, 1 TD.
Madison
Deel 5‑19;
Stamper 2‑13, 1 TD;
Henson 2‑33;
Hunt 1‑26;
Trammell 1­-20.