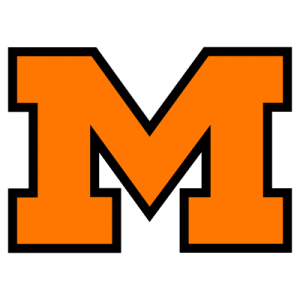 North Park goes south'  Tigers 6‑2; Irish up next
By JOE SHAHEEN
Independent Sports Editor
Vinny Turner got his 1,000 yard season.
Eddie Evans and George Whitfield Jr. got to rest their aching ankles.
Ben Hymes got to show the coaching staff there won't be a dropoff at quarterback if Whitfield should go down with injury.
And the Massillon Tigers kept their playoff hopes alive.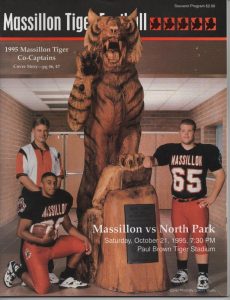 Those are just a few of the positives to come of Massillon's 51-7 conquest of the feisty but outclassed North Park Trojans, in front of 7,041 at Paul Brown Tiger Stadium, Saturday.
The outcome was never really in doubt after the Tigers took the opening kickoff and marched 65 yards in 10 plays to the visitor's end zone. Turner rushed eight times for 45 on the drive, including the final five over right guard an tackle to paydirt.
Josh Hose's point after kick made it 7-0 Tigers at the 7:08 mark of the first quarter.
North Park drove from its 29 to the Massillon 41 on its first possession, but was force to punt. Whitfield and Nate Wonsick hooked up for a 28-yard gain on a simple pass in the flats on first down. Then Turner found two gaping holes off the left side of the Tiger line to cover the final 35 yards and record his second touchdown of the evening.
Hose's placement made it 14-0.
North Park fumbled away the football on the second snap of its next possession and Lavell Weaver fell on it at the Trojans 22. Weaver was rewarded for his hustle when Whitfield handed him the football on first down. He followed the left side of the line into the end zone with :06 to play in the first quarter.
Again Hose's kick was true and rout was on at 21-0.
North Park went three-and-out and Rose sent in Hymes to play quarterback. On second down, the junior found Dusty Limback on a simple slant pattern near the Trojan' 35. Limbach on a simple slant pattern near the Trojans' 35. Limbach caught the pass in stride, found a seam and sprinted into the end zone for a 47-yard touchdown.
Before the half ended, Milo McGuire tackled North Park quarterback Jeff Lowe in the end zone for a safety. Ehjah Blake rang up a 13-yard TD run around left end, and Raphel Bradley scored from five yards out on a drive keyed by Hymes 30-yard sprint around right end on the option.
It was 44-0 at the intermission.
"I thought the offense ex­ecuted really well," observed Tigers boss Jack Rose. "We didn't know what to expect from (North Park). Everything they did was contrary to what they had shown before.
"Bell did a real nice job. He, executed the offense well. That was a nice slant pass to Dusty for the touchdown and he got to the perimeter well on the op­tion. That worked because Ben made it look like he was going to dish it off. I thought he showed some pretty good saavy out there."
That is not to say, however, that there is any doubt as to who the starting quarterback is in Massillon.
"George is still number one," Ross confirmed. "But I feel better after watching Ben under fire."
Rose had praise for the work of Paul Snyder, filling in for Evans at center, and for his entire stable of tailbacks, including senior Torrey Smith, who scored after breaking several tackles on a 28 yard run with 4:39 left in the third quarter. Matt Stanley's PAT was Massillon's 51st and final point of the evening.
On the ensuing kickoff, North Park's Mark Wayda, a 5-foot 8-inch, 165 pound junior fielded the ball at his 9-yard line. He found a gap to his left, got to the sideline and went the distance to avert the shutout.
"They were a lot better than the team that came down here two seasons ago," Rose said, before turning his attention to Friday's invasion by Akron St. Vincent-St. Mary's.
"They are a lot like Garfield. They are very physical up front on both the offensive and defensive lines. They are very strong up front and they may even be a little bigger than we are on the lines. They have a couple of quick backs and you can have a tough time finding them in the midst of those big linemen. Then, all of a sudden they pop out of there."
St. V-St. M's featured runner is 1,000 –yard gainer Andre Knott.
Making the Fighting Irish even more formidable is the fact the traditional season ender with McKinley is next week, presenting the temptation of looking ahead.
"We certainly can't afford to do that." Rose asserted. "This is a very dangerous team coming in here Friday. We have got to focus on them."
Rose says Evans should be ready this Friday, as will wide receiver Devin Williams and defensive lineman James Smith. Both starters sat out Saturday's tilt with the lingering effects of the flu bug.
MASSILLON 51
NORTH PARK 7
M N
First downs rushing 16 7
First downs passing 2 3
First downs penalty 1 0
Total first downs 19 10
Net yards rushing 305 132
Net yards passing 77 58
Total yards gained 382 190
Passes attempted 7 12
Passes completed 3 6
Passes int 0 1
Times kicked off 8 2
Kickoff average 46.6 32.5
Kickoff return yards 10 135
Punts 3 3
Punting average 24.3 30.0
Punt return yards 28 0
Fumbles 0 6
Fumbles lost 0 2
Penalties 2 8
Yards penalized 20 48
Number of plays 42 54
Time of possession 19:52 28:08
NORTH PARK 0 0 7 0 7
MASSILLON 21 23 7 0 51
SCORING SUMMARY
First Quarter
M ‑ Turner 5 run (Hose kick)
M ‑ Turner 15 run (Hose kick)
M ‑ Weaver 22 run (Hose kick)
Second Quarter
M ‑ Limbach 46 pass from Hymes (Hose kick)
M ‑ Safety, McGuire tackles QB in end zone
M ‑ Bradley 4 run (Stanley kick)
M ‑ Blake 13 run (Hose kick)
Third Quarter
M ‑ Smith 29 run (Stanley kick)
N ‑ Wayda 91 kickoff return (Wayda kick)
FINAL STATISTICS
Rushing:
Massillon
Turner 10‑85, 2 TD.
Smith 3-39, 1 TD;
Bradley 2‑47, 1 TD;
Blake 3‑32, 1 TD;
Hymes 1‑30;
Weaver 1‑22, 1 TD;
Morgan 3‑17;
Wonsick 3‑15.
North Park
Wayda 22‑118, 1 TD;
Vermeire 10‑42.
Passing:
Massillon
Whitfield 1‑3‑24, 0 TD 0 ints;
Hymes 2‑3‑53, 1 TD, 0 ints;
Danzy 0‑1.
North Park
Lowe 6‑10‑58. 1 ints;
Petersen 0, 2.
Receiving:
Massillon
Limbach 1‑46, 1 TD;
Wonsick 1‑24.
North Park
Stronks 4‑43;
Wayda 2-15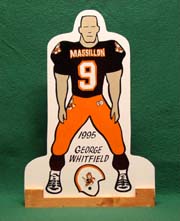 George Whitfield