Tiger skill shines through
Massillon has too much of just about everything for overmatched visitors
By CHRIS EASTERLING
Chris.Easterling@lndeOnline.com
The gifts were exchanged by the two teams prior to the Massillon Tigers' 2006 opener against North Park Collegiate out of Ontario. Once the game began, the Tigers weren't nearly as giving, rolling to 68‑6 victory over the Trojans in front of approximately 9,000 fans at Paul Brown Tiger Stadium.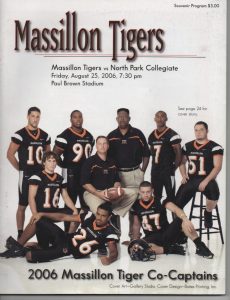 As little as the Tigers gave North Park, many gave even less credit to themselves for the lopsided rout. Massillon senior Brian Gamble shouted to no one in particular, "We got to get better," as he walked across the field for the postgame handshake.
"It was like a morgue in here at halftime," said Tiger coach Tom Stacy, whose coaching staff received hockey sticks from the North Park coaches during a pregame ceremony. "I told them after the game that's good. That means your expectations are high. We have enough veteran guys who know if they're playing well or not."
And to think the Tigers led 35‑6 at the intermission.
"The thing is, when you look at the score, how can you complain," Stacy asked rhetorically. "A young football team, and we knew going in that it was going to take some time to develop. I think this was a good building block for us."
The Tigers weren't a finished product entering the game, and head into next Saturday's home tilt against Washington, D.C., Woodson still searching for some of those answers. Most of the questions remain on defense, which despite scoring twice on interception returns in the first half, gave up its share of yardage as well to a North Park team which suited up only 29 players for its third appearance in Tigertown.
The Trojans accumulated 153 yards in the first half alone, including a 56‑yard run by bowling ball like running back Matt Socholotiuk which set up the Trojans' first score of the game with less than two minutes left in the first half. Socholotiuk finished with a game‑high 147 yards rushing.
"Our defense, we feel we can do better every game," said outside linebacker Michael Porrini. "So we feel like we could have done better. We could have wrapped up a little better. It was pretty good overall."
However, Massillon held North Park to just 64 yards in the second half.
"Are we happy with how we tackled at times? No," Stacy said. "But it's a start."
The Massillon offense, meanwhile, left little question in anyone's mind that it has a chance to live up to the high hopes expressed by Stacy.
The Tigers scored on seven of their first nine possessions, and the first time they couldn't change the number in the scoring column was due to a field goal which just slipped wide right from 26‑yards out on their second possession. The other time was the final play of the first half.
By the time the Tigers went to their backups with 5:17 left in the third quarter, it was 49‑6 Massillon. The first‑unit offense racked up 319 yards in just over a half of football, with 194 yards of that coming through the air on Bobby Huth's arm and another 85 yards rushing on the legs of Gamble.
"I thought it went pretty good," said Huth, who connected on 12‑of‑18 aerials. "I thought the offensive line played pretty well. I didn't play the way I should have played. The first play should have been a touchdown, but I underthrew it. I felt like I didn't throw the ball very well tonight."
The Tiger offense was explosive, but also methodical. Of the first six scoring drives, none were completed in fewer than six plays, even though they had three drives of 54 yards or less.
"I thought the second half, we had some bigger plays, and that's what we're kind of looking for," Stacy said. "We had some good drives, and we didn't rip off as many big ones in the first half as we would have liked. But you know what? Give them credit, too. Their kids were playing hard."
Stacy said before the season he wanted to showcase Gamble and Andrew Dailey, and the Tigers did just that. Gamble put Massillon in the lead for good with 8:15 left in the first quarter when he took a handoff to the right, skirted off tackle and outran the defense to the end zone for a 12yard touchdown.
Dailey, meanwhile, hauled in a pair of touchdown passes as part of a three‑catch, 80‑yard evening. The first was a 20‑yard strike in the end zone with 7:40 left in the second quarter, which gave Massillon a 21‑0 lead.
He then added a 51‑yard catch and run on a post pattern to make it 42‑6 with 9:58 remaining in the third quarter.
K.J. Herring wrapped up the Tigers' stretch of scoring with a pair of touchdown runs, the last a two‑yarder which gave the Tigers a 56‑6 lead with 2:00 left in the third quarter. Justin Turner and Cody Nickels added fourth-quarter touchdown runs.
"It's a start," Stacy said. "I'm never going to complain when you win like that."
Massillon 68
North Park 6
North Park 0 6 0 0 0
Massillon 14 21 21 12 68
SCORING SUMMARY
M ‑ Gamble 12 run (Schott kick) 8:15,1st
M ‑ Massey 26 int. return (Schott kick) 8:03, 1st
M ‑ Dailey 20 pass from Huth (Schott kick) 7:40, 2nd
M ‑ Leonard 9 pass from Huth (Schott kick) 4:14, 2nd
M ‑ Gamble 36 int. return (Schott kick) 2:22, 2nd
NP ‑ Dandle 9 pass from Maddock (McDonell kick blocked) :15, 2nd
M ‑ Dailey 51 pass from Huth (Schott kick) 9:58, 3rd
M ‑ Herring 10 run (Schott kick) 6:33, 3rd
M ‑ Herring 2 run (Maylor kick) 2:00, 3rd
M ‑Turner 29 run (Nickels kick failed) :41, 4th
M ‑ Nickels 43 run (Nickels kick failed) 1:50, 4th
INDIVIDUAL STATISTICS
Massillon rushing:
Gamble 12‑85, 1 TD, Herring 9‑64, 2 TDs.
North Park rushing:
Socholotiuk ing:
Massillon passing:
Huth 12‑18‑194, TDs, Ryder 3‑6‑27.
North Park passing:
Maddock 7‑15, 1 TD, 2 INTs.
Massillon receiving:
Dailey 3‑80, 2 TDs, Gamble 3‑28, Miller 3‑23.
North Park receiving:
Padmore 4‑32.