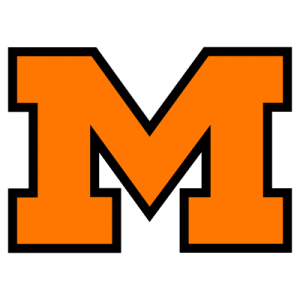 Tigers preserve playoff hopes
Top St. V ‑St. M. in OT as Bulldogs loom next
By JOE SHAHEEN
Independent Sports Editor
The Massillon Tigers came out of the locker room for Fri­day's game against Akron St. Vincent‑St. Mary's wearing their all orange uniforms in keeping with the Halloween season.
Little did the Tigers know the game would nearly turn into a nightmare before the Fighting Irish finally succumbed 28‑21 in two overtimes in front of 7,930 fans at Paul Brown Tiger Sta­dium.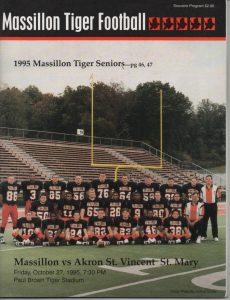 The victory boosts the Tigers to 7‑2 on the season and coupled with Glen0ak's '28‑0 upset loss to Jackson, boosts Massillon's chances to reach the playoffs with a victory over Canton McKinley next Saturday at Fawcett Stadium.
The Bulldogs were the last thing on the minds of the Tigers when St. Vincent‑St. Mary took a 21‑14 lead on the first series of overtime. The Irish handed the ball to tailback Andre Knott four consecutive times and the compactly built senior covered the 20 yards to paydirt on second and goal from the S. Scott Brown's conversion kick put the visitors up by 7.
Massillon looked to be in trou­ble with fourth‑and‑four from the 14 on its first possession of 0T. But George Whitfield Jr. ran the bootleg keeper and worked his way to the 8 for a first down.
With the Irish defense keying on Tigers tailback Vinny Tur­ner as it had all night long, full­back Lavell Weaver found a gaping hole over left guard on third‑and‑goal from the 3 for the equalizer. Jose Hose's PAT forced a second overtime.
Massillon got the ball first in the second extra period. Fullback Nate Wonsick found a cav­ity over right guard and bulled his way to the Irish 5 on first down. Turner went over right guard for the go‑ahead TD on the next snap and Hose made it 28‑21 with the kick.
St. Vincent‑St. Mary got a first down on its possession, but on second down Knott was strip­ped of the football by Tigers de­fensive lineman James Smith and Eric Lightfoot fell on the pigskin to preserve Massillon's dream of a third straight post­season playoff berth.
"We really got some big plays from some people in overtime," said a visibly relieved Rose. "On that fourth down play when George made the first down, that's the ballgame right there. ­Then we hit that good trap play there with Wonsick and he real­ly snapped it up in there."
While the end result was posi­tive, it was a halting perform­ance for much of the night by the Tigers against a Division III team that came into the contest with an unspectacular 4‑4 slate.
The Irish stuffed Massillon's rushing game in the first half. In fact, the Tigers did not get a first down on the ground in the first 24 minutes of play.
"They were doing the very same thing that Barberton did against us," Rose said. "They put eight men in the box and stopped everything inside.
"They didn't ask us for any game films this week, so I'm sure Barberton gave them their film on us."
Massillon got the running game untracked somewhat af­ter the band show, but it was the aerial game that helped pre­vent disaster. Whitfield hit on 9 of 14 passes for 98 yards and one interception. Most of the throws went to the tight end and full­back. Brett Wiles caught four for 31 yards. Wonsick snagged two for 27 yards.
"We tried to get to the peri­meter all night," Rose said. "We threw the ball out there and we ran the stretch play out there.
"Our timing just wasn't sharp. We didn't have a real good week of practice because of the illnesses."
The flu bug sapped, 19 players from practice on Tuesday and was a problem throughout the week.
While Massillon's running game was being stacked up by the Irish, the green and gold were moving the ball on the ground with some degree of effectiveness. Knott rushed the ball 36 times for 158 yards (4.4 yards per carry)‑ He was com­plemented by fullback Tony Short (7 carries for 39 yards), quarterback Brian Butash (12 for 32) and tailback Tomny Skipper (6 for 27).
As a team, St. Vincent‑St. Mary's outrushed Massillon 277‑138.
"Obviously, we didn't stop their run," Rose agreed. "They had a lot of second‑and‑shorts consistently throughout the game. That enabled them to run their whole offense against us.
"When they come to play, they're good. When they don't come to play, they're not very good. They didn't have a tur­nover until the end of the game. That's the thing that amazed me about them because they've been turning it over a lot this season."
Other than Knott's game ­ending fumble, St. Vincent‑St. Mary's did not have a turnover. However, the Fighting Irish failed to negate Massillon's punt block scheme early in the fourth quarter after a penalty pushed the visitors back to their 7.
Weaver came in from the right side of the Massillon line and got a hand on the kick which was downed at the 11-yard line. On the very first snap after the block, Turner went over left guard and tackle and scored to knot the game at 14‑14 with 10:40 to play in regulation.
"We went after that one and it was a huge turnaround for us," Rose said. "We really needed that right there. Lavell came up big on that play."
Massillon opened the scoring by marching 71 yards in 11 plays, keyed by Whitfield's pas­sing. The senior signal caller hit Wonsick for 24 yards, Devin Williams for 21 yards and Wiles for 10 yards to get the ball to the Irish 3. Three snaps later, Tur­ner scored from a yard out at 4:03 of the first quarter. Hose's kick made it 7‑0.
After a St. Vincent‑St. Mary's punt rolled dead at the Massil­lon 8, the Irish caught a break by recovering a fumble at the 13. Knott scored five plays later and the kick tied it at 7‑7 with 6:56 left in the first half.
The Irish came up with an in­terception at their 26 to quell Massillon's first drive of the second half, and marched 74 yards in 12 plays for the go ­ahead TD. Knott swept un­touched around his right end from six yards out and Brown's kick made it 14‑7 with 4:09 to play in the third.
Weaver's blocked punt led to the tying score for Massillon, setting up the thrilling overtime finish.
"The thing that bothers me is we weren't real crisp tonight," Rose said. "That's dis­appointing.
"Last week we executed a lot better. It's just a tough week to get a team ready to play. We came through it."
MASSILLON 28
St. V‑St. M 21
M V
First downs rushing 6 18
First downs passing 6 0
First downs penalty 1 0
Total first downs 13 18
Net yards rushing 138 277
Net yards passing 98 3
Total yards gained 236 280
Passes attempted 14 5
Passes completed 9 1
Passes intercepted 1 0
Times kicked off 3 3
Kickoff average 47.7 47.3
Kickoff return yards 36 23
Punts 4 5
Punting average 32.5 28.6
Punt return yards 0 0
Fumbles 1 3
Fumbles lost 1 1
Penalties 1 3
Yards penalized 5 22
Number of plays 51 71
Time of possession 20:19 27:41
Attendance 7,930
St. V‑St. M 0 7 7 0 7 0 21
MASSILLON 7 0 0 7 7 7 28
SCORING SUMMARY
First Quarter
Mass ‑ Turner 1 run (Hose kick)
Second Quarter
St. V ‑ Knott 2 run (Brown kick)
Third Quarter
St. V ‑ Knott 6 run (Brown kick)
Fourth Quarter
Mass ‑ Turner 11 run (Hose kick)
First Overtime
St. V ‑ Knott 5 run (Brown kick)
Mass ‑ Weaver 3 run (Hose kick)
Second Overtime
Mass ‑ Turner 5 run (Hose kick)
FINAL STATISTICS
Rushing:
Massillon
Turner 30‑130, 3 TDs;
Wonsick 1‑15;
Weaver 1‑3, 1 TD.
St Vincent‑St. Mary
Knott 36‑158, 3 TDs,
Short 7‑39,
Butash 12‑32,
Skipper 6‑27,
Brewer 3‑20.
Passing:
Massillon
Whittield 9‑14‑98‑1.
St Vincent‑St. Mary
Butash 1‑3‑3.
Receiving:
Massillon
Wiles 4‑31,
Wonsick 2‑27,
Baer 2‑19,
Williams 1‑21.
St. Vincent‑St Mary
Pierce 1‑3.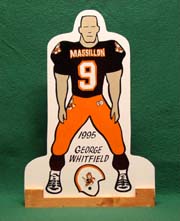 George Whitfield