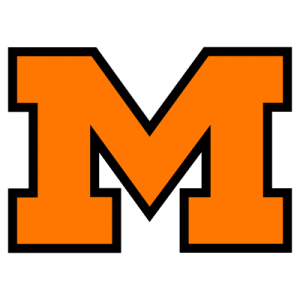 Bombs away!
Tigers go to the air to eliminate Irish
Big plays do in the Irish
By JOE SHAHEEN
Independent Sports Editor
The last time the Irish of Akron St. Vincent‑St. Mary's vi­sited Massillon for a Week 9 football game, it was more trick than treat for the Tigers as the Summit County entry took home a 28‑25 upset victory back in 1991.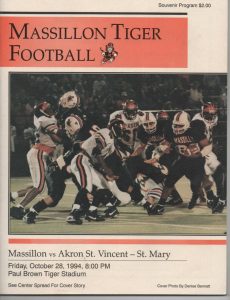 The Tigers took the field Fri­day night determined to learn from history. Despite the dis­traction of the historic 100th meeting with the McKinley Bulldogs looming just a week away, the orange‑and‑black tended to the task at hand and secured a 31‑15 victory at Paul Brown Tiger Stadium.
Massillon, just a week re­moved from a lethargic first half performance at Alliance, came out with both guns blazing on this night. On their very first snap, the Tigers made a state­ment by going for a long bomb. Willie Spencer Jr.'s pass for De­von Williams barely missed connecting, but it drew an ovation from the partisans and put a smile on Spencer's face.
Tigers coach Jack Rose noted the St. Vincent‑St. Mary's de­fense almost dared the offense. to throw deep.
"We figured we were going to have to put it up because they put eight or nine guys up on the line," Rose said. "We threw the deep ball early to try to get them off of us."
"We were trying to open the game up because their corners were playing right up on the line," explained Williams. "We showed them early we could beat them with our quickness."
The first down misfire did not frustrate the Tigers. On second down, Leon Ashcraft picked up 14 yards on a draw play to the Tiger 27. Spencer ran the boot­leg around left end for 17 more on the next play. Two plays la­ter, Spencer found Vaughn Mohler along the right sidelines for 16 yards to the Irish 22 and the Tigers were cooking.
Spencer executed the option to perfection on the next play, pitching the ball to Ashcraft at the last moment as the pair went around left end. Ashcraft, who finished the night with 138 yards on 17 carries, sailed down the left sideline and into the St. Vincent‑St. Mary's end zone. Nick Pribich added the conver­sion kick and Massillon led 7‑0 at 6:25 of the first period.
The opening drive was in stark contrast to the way things began for the locals a week ago at Alliance.
"We weren't very good last week," noted Rose. "We were flat. Every team hits that. That was our (flat) game last week. But that fiasco helped us focus this week‑"
The Tigers struck like light­ning early in the second quarter after an Irish punt to the Massil­lon 45. On second‑and‑10, Spencer found Ashcraft run­ning free along the left sideline and dropped a perfectly thrown pass in his lap. Ashcraft caught the ball near the Irish 30, cut back to the middle of the field at the 15 and was taken down on a shoestring tackle at the 2‑yard line.
On third‑and‑goal, from the one‑yard line, Spencer followed Eddie Evans and Tim Men­denhall into the end zone for a 13‑0 Tigers advantage.
St. Vincent‑St. Mary's brought a little lightning of its own and pulled it out on its next possession. On first‑and‑10 from their own 33, quarterback Bob Butash executed the play fake and found Joe Gilbride open on a deep post pattern. Butash hit Gilbride at the Mas­sillon 30 and he was off to the races for a 67‑yard touchdown strike to make it a 13‑7 contest at 8:19 of the second quarter.
The Tigers added a field goal late in the first half, marching from their 10 to the Irish 7. Ashcraft's 23‑yard run on the first play of the drive and Spencer's 29‑yard scamper on an option keeper one play later keyed the drive. Pribich drilled a 24‑yard field goal with :19 to play in the half to give Massillon a 16‑7 lead at the break.
The third quarter was un­eventful with the exception of a 49‑yard burst by Ashcraft that moved the ball from the Massil­lon 13 to the Irish 38. That drive stalled on downs at the St, V‑St. M 19.
Early in the fourth quarter, Irish defensive back Tony Pierce intercepted the Tigers near midfield but fumbled the ball back to Massillon.
Two plays later, Spencer found Williams on a deep post pattern and the sophomore would not be caught, notching a 48‑yard touchdown catch and run with 11:05 to play.
Tigers holder Mark Hiegl kept the ball on a fake conver­sion kick, sweeping around right end for the two‑point con­version and a 24‑7 lead.
"That was the big one," sighed Irish coach John Cistone of the double turnover. "It turned it around. You're still in the game and you think you're going to have good field posi­tion, then boom. Then they get the big touchdown. That knocks you down, especially when you're young. It makes it tough to come back."
"I was just trying to get a good fake so they would bite on the run," said Spencer of the touchdown bomb. "I watched Devon all the way. I just threw it up there and I got hit hard. But, the line gave me great pro­tection tonight."
"Willie took a big hit on that touchdown pass," observed Rose. "I was really proud of the way he stood in there. He took a hit on his blind side on that play. But he stood in there and stood in there and delivered a beauti­ful ball, You can't make a much better pass than that. Devon kept running and caught up with it and made the great catch."
The Tigers, 8‑1 going into next week's showdown with the Bull­dogs, wrapped it up with a 10‑play, 62-yard drive, capped by Jeremy Fraelich's six‑yard burst up the middle and into the end zone. Pribich's boot made it 31‑7.
The Irish scored on an 18‑yard touchdown pass with eight seconds to play, as both teams had their reserves on the field.
MASSILLON 31
ST. VINCENT 15
M V
First downs rushing 11 9
First downs passing 5 4
First downs penalty 0 0
Total first downs 16 13
Net yards rushing 255 126
Net yards passing 169 116
Total yards gained 424 242
Passes attempted 18 15
Passes completed 7 6
Passes int. 1 0
Times kicked off 6 3
Kickoff average 47.0 37.0
Kickoff return yards 89 100
Punts 2 7
Punting average 33.5 33.0
Punt return yards 1 0
Fumbles 0 2
Fumbles lost 0 1
Penalties 0 3
Yards penalized 0 16
Number of plays 60 47
Time of possession 24:17 23:43
ST. VINCENT 0 7 0 8 15
MASSILLON 7 9 0 15 31
SCORING SUMMARY
First Quarter.
M ‑ Ashcraft 26 run (Pribich kick)
Second Quarter
M ‑ Spencer 1 run (kick failed)
St. V ‑ Gilbride 67 pass from Butash (Hlivko kick)
M ‑ Pribich 24 FG
Fourth Quarter
M ‑ Williams 58 pass from Spencer (Hiegl run)
M ‑ Fraelich 6 run (Pribich kick)
St. V ‑ Hlivko 18 pass from Whitney (Knott pass from Whitney)
FINAL STATISTICS
Rushing:
Massillon
Ashcraft 17‑138;
Spencer 11‑61, 2 TDs;
Lewis 7‑32;
Fraelich 4-­22, 1 TD;
Turner 1‑4;
Hiegl 1 ‑(minus‑2).
St. Vin­cent ‑ Knott 16‑82, Lazar 4‑36, Whitney 3‑21, LaCause 6‑9, Butash 3‑(minus‑22).
Passing:
Masillon
Spencer 7‑18‑169‑1, 1 TD.
St. Vincent
Butash 5‑10‑98, 1 TD;
Whit­ney 1‑5, 18, 1 TD.
Receiving:
Massillon
Ashcraft 3‑78;
Mohler 3‑33;
Williams 1‑58, 1 TD.
St. Vincent
Shenigo 1‑25;
Gilbride 1‑67, 1 TD;
Hlivko 1‑18, 1 TD;
Knott 1‑3;
LaCause 1‑3.

Leon Ashcraft