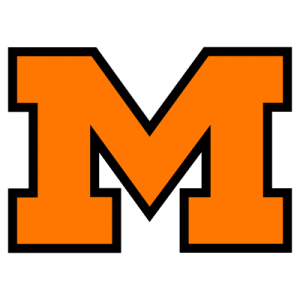 Rayen next for Tigers
By JOE SHAHEEN
Independent Sports Editor
While most northeast Ohio football fans were parked on front of their television sets Sunday to watch the develop­ing soap opera that is the, Cleveland Browns 1993 sea­son. Jack Rose was taking in some high school football.
On Sunday?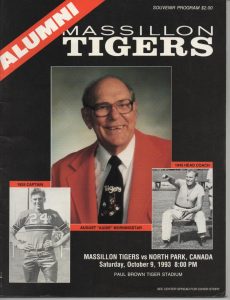 That's right. Instead of en­joying the cozy confines of their front rooms, Rose and several members of the Massillon Tiger football staff were in Youngstown to scout the Rayen Tigers' first post‑teachers strike game of the season. (The work stoppage was the reason the game was delayed until Sunday.)
Rayen, which invades Paul Brown Tiger Stadium Friday fell victim to Woodrow Wilson High 26‑0.
It wasn't the kind of shel­lacking the Tigers laid on the North Park (Ontario) Tro­jans on Saturday, but Rose re­ported it was thorough.
"You can tell they haven't played for a while," Rose said of Rayen. "I think Wilson had practiced. That's the way it looked to me."
Many people who witnessed Massillon's 61‑3 victory over the visitors from the Great White North, might guess the Trojans hadn't practiced. No­thing is further from the truth.
Fact is, North Park was over matched and it showed. Still, the Trojans ‑ to the player ‑ are probably happy they had the opportunity to test what is fast becoming recognized as one of the best high school football teams in Ohio.
As for Rose's assessment of Saturday's proceedings, it was succinct.
"We came out it injury free and that was what concerned us," Rose revealed. "I thought we did some good things.
"But we were honest with the kids all week. We told them we should win and we should win big if we did the right things. We were just concerned about shooting ourselves in the foot and with injuries and with just playing hard."
The Tigers appeared to be intent on digging themselves a hole early against North Park. Their first three plays from scrimmage included a dropped pass and a lost fum­ble. The visitors took advan­tage of the gift to drive to the Tigers' 5‑yard line, where a botched hold doomed a 22‑yard field goal attempt.
But, as if to get a jump on he post‑game exchange of gifts with the Canadians, the Tigers again coughed up the ball deep in their own terri­tory after a pair of 10‑yard running plays.
North Park used a first down pop pass from quarterback Jeff Dix to wide receiver Enes Medanhodzic to move it to the 17. Three plays later, Trevor Jones nailed a 38‑yard field goal and the Trojans led 3‑0.
The visitors' advantage lasted just over two minutes as the Tigers moved from their 35 ‑ following an out‑of-­bounds kick‑off ‑ to the North Park 40 on three straight run­ning plays. On first down at that point, Danzy rolled left and hooked up with Lonnie Simpson for 31 yards . On the next play, Danzy rolled the same way but kept the foot­ball for a nine‑yard touch­down run. The PAT made it a 7‑3 game at 4:02 of the first quarter.
Willie Spencer Jr. nabbed an interception three plays into North Park's ensuing possession to set the Tigers up at their own 40. On first down, Leon Ashcraft bolted 44 yards to the 16. Mike Paul picked up 14 more on the next snap. Then Danzy bootlegged around right end for the Touchdown. A muffed kick made it 13‑3 Massillon with 1:15 to go in the opening period.
Paul Schroeder picked off Dix on North Park's next series and rumbled 35 yards before being dragged down at the Trojans' 4‑yard line. On second down, Jake Laughlin ‑ a lineman inserted in the backfield for extra blocking – got the handoff and blasted into the end zone. Ashcraft's conversion run made it 21‑3 with just under 11 minutes to play in the first half.
North Park got a first down on its next possession, but was forced to punt from its 31. Mas­sillon's Kevin Buckland took the ball at the 33, followed his blockers to the right sideline and sprinted 67 yards for a touchdown. The kick made it 28-­3 and the Trojans were con­vinced.
But the beat went on. Two mi­nutes later, Ashcraft took a short pass and danced 38 yards for a touchdown. North Park threw an interception on the first snap following the TD, and Eddie Griffith picked his way for a spectacular 65‑yard re­turn, setting up a 5‑yard.scor­ing run by Courtney Herring.
Herring broke a run for 49 yards on Massillon's next pos­session, then found the end zone from five yards out on the next snap to make it 48‑3 at halftime.
Spencer was inserted at quar­terback to start the second half and marched the Tigers 66 yards in seven plays. The drive was capped by a perfectly thrown 24‑yard touchdown pass from Spencer to Victor Rede­rick.
Junior speedster Nate Lewis changed the scoreboard for the final time on a simple dive play that turned into a 96‑yard touch­down run with :19 left in the third quarter. The kick closed the scoring.
"We saw some good things from our young players," Rose said. "Courtney Herring ran real hard. I thought Willie (Spencer Jr.) did a nice job. He threw a beautiful pass for the touchdown. He's got great touch on the ball. Nate Lewis had that big run. He's got real good speed and a great work ethic."
Rose wouldn't mind getting some more playing time for his younger players this week against Rayen. But he wasn't convinced the Youngstown en­try is the same team that showed up Sunday.
"They have one of the best running backs in the country in Herman Benson, but he only ran it about five times," Rose observed. "I can't figure it out. Their starting quarterback and one of their wide receivers didn't play because of discipline problems. I'm sure they'll be back for us though."
In Benson (6‑foot‑2, 210), defensive end Andre Gibbs (6‑5, 235) and quarterback/corner back Damon Irby (5‑11, 175) Rayen has a trio of Division I prospects.
"Rayen has great team speed and it could be a problem,' Rose said. "Plus, with three legitimate Division I players, you don't want to let them hang around."
MASSILLON 61
NORTH PARK 3
M N
First downs rushing 5 3
First downs passing 5 5
First downs penalty 1 1
Total first downs 11 9
Net yards rushing 272 70
Net yards passing 135 68
Total yards gained 407 138
Passes attempted 6 25
Passes completed 5 10
Passes int. by 5 0
Times kicked off 10 2
Kickoff average 42.0 39.0
Kickoff return yards 24 71
Punts 0 5
Punting average 00.0 25.4
Punt return yards 82 0
Fumbles 4 2
Fumbles lost 2 0
Penalties 3 5
Yards penalized 25 35
Number of plays 41 54
Time of possession 22.05 25.55
NORTH PARK 3 0 0 0 3
MASSILLON 13 35 13 0 61
N ‑ FG Jones 38
M ‑ Danzy 8 run (Pribich kick)
M ‑ Danzy 1 run (Kick failed)
M ‑ Laughlin 1 run (Ashcraft run)
M ‑ Buckland 67 punt return (Endsley kick)
M ‑ Ashcraft 38 pass from Danzy (Pribich kick)
M ‑ Herring 4 run (Kick failed)
M ‑ Herring 5 run (Pribich kick)
M ‑ Redrick 24 pass from Spencer (Kick failed)
M ‑ Lewis 96 run (Szasz kick)
Individual Statistics
RUSHING:
Massillon
Lewis 4‑106,
Ashcraft 8‑83,
Herring 5‑56,
Paul 2‑15,
Fenton 3‑8,
Heck 3‑7,
Danzy 3‑3.
North Park
Catalano 16‑41.
PASSING:
Massillon
Danzy 2‑3‑0 70,
Spencer 2‑2‑0 38,
Heck 1‑1‑0 27.
North Park
Dix 10‑24‑5 68,
Medanhodzik 0‑1‑0.
RECEIVING:
Massillon
Ashcraft 1‑38,
Simpson 1‑32,
Manson 1‑27,
Redrick 1‑24,
Griffith 1‑14.
North Park
Medanhodzik 3‑29.